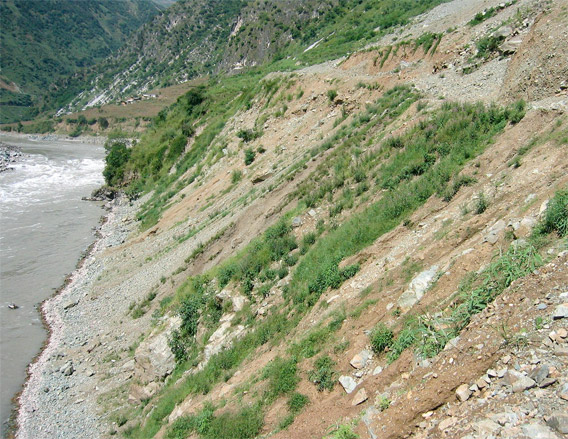 Landslides along the Salween River due to recent road construction near Daxingdi, Yunnan Province, China. Photo by Roy Sidle.
Mountain roads in rural Southeast Asia are providing market access for remote communities but causing significant environmental harm, including deforestation, landslides, and soil erosion, sometimes undermining the benefits they are intended to offer, warns a commentary published in Nature Geoscience.
Roy Sidle and Alan Ziegler note that though organizations like the Asian Development Bank, the Food and Agricultural Organization of the United Nations and the World Bank are supporting "aggressive" rural road expansion in mountainous regions of Southeast Asia under rural development schemes, increases in the density of such road networks are "directly linked to drastic transformation, or even elimination, of traditional shifting cultivation methods (as practiced in rural uplands), and have been implicated in deforestation and land exploitation in remote regions." They highlight soil erosion and river sedimentation as additional adverse impacts of ill-conceived and poorly planned roads. These can have consequences for downstream agriculture, water supplies, hydroelectric production, and aquatic ecosystems that support artisanal fisheries. They can worsen flooding and endanger villages that lie in areas at risk of rockfalls.
Sidle and Ziegler cite examples in Yunnan, China and Malaysia where landslide erosion was substantially higher near roads than in agricultural and forest areas.

Road in Indonesian New Guinea
The authors argue that these effects of mountain roads need to be factored into land management policy and decision-making.
"Land management is not sustainable without fully accounting for the impacts of road and trail networks on soil erosion and landslide hazards," they write.
"These long-term effects are directly associated with the proliferation of unpaved roads and trails, but this link has been largely ignored in deference to economic development in this region. International donor organizations, non-governmental organizations and local governments need to face up to the long-term problems that are being created by many of the economic development projects that they currently support. These transportation networks need to be better planned and constructed, with due attention to minimizing erosion and landslides, so that downstream communities and river systems are adequately protected."
CITATION: Roy Sidle and Alan Ziegler. The dilemma of mountain roads. NATURE GEOSCIENCE | VOL 5 | JULY 2012 | www.nature.com/naturegeoscience
Related articles