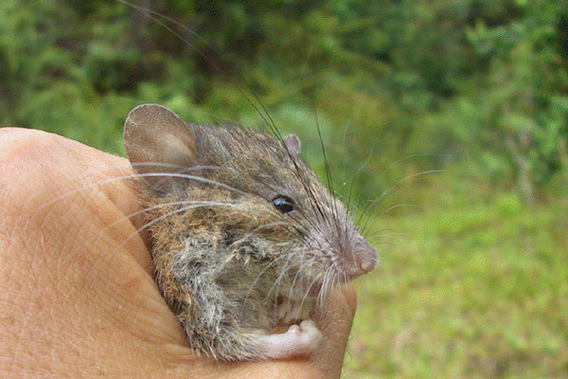 Christine's Margareta rat. Photo by: Alessio Mortelliti/Sapienza University.
Researchers have discovered a new species of rodent in Indonesia's Mekongga Mountains, reports the Jakarta Globe. The new rodent, Christine's Margareta rat (Margaretamys christinae), is only the fourth in the genus Margaretamy, all of which are found on the island of Sulawesi.
The new mammal's discoverer, Alessio Mortelliti with Sapienza University, told the Globe that the new species differs from its relatives by its smaller size, the white tip of its tail, and its habitat in high altitudes. Mortelliti named the new species after his girlfriend who accompanied him on the expedition.
"I strongly believe that it is very likely that several other undiscovered species may be present in the area, including other Margaretamys species," Mortelliti told the Globe.
Of the other three Margaretamys species, one is listed as Vulnerable by the IUCN Red List, a second Near Threatened, and a third Data Deficient due to a lack of information. Deforestation for agriculture is the primary threat. Around 80 percent of Sulawesi's forest have been lost or degraded. As for Christine's Margareta rat, it may be imperiled as well.
"These are all forest species, so are threatened by habitat loss and fragmentation," Mortelliti explained to the Jakarta Globe. "The Mekongga mountain range is threatened by logging and by expansion of cocoa plantations. The establishment of a protected area will surely help to conserve these rare endemic species."
On his expedition Mortelliti was also able to find the secretive dwarf squirrel (Prosciurillus abstrusus) and Dollman's spiny rat (Maxomys dollmani), both considered Data Deficient.
The discovery of new mammals is quite rare. For example in 2009, scientists discovered 19,232 new species, however only 42—or 0.2 percent—of these were mammals.
Related articles
'Beautiful' new snake discovered in Cambodia (photo)
(07/16/2012) Scientists have discovered a new snake species in the biodiverse rainforests of the Cardamom Mountains, reports Fauna & Flora International (FFI). The new reddish-hued serpent has been named after its country of origin by native herpetologist Neang Thy: the Cambodian kukri (Oligodon kampucheaensis).
New colorful rainforest frog named after Prince Charles (PICTURES)
(07/04/2012) Researchers have discovered a previously unknown species of frog and named it in honor of Price Charles, according to a paper published in the journal Zootaxa.
Genetic analysis reveals 79 new species of sharks and rays, many likely endangered
(06/27/2012) Analyzing the DNA sequences of 4,383 specimens of sharks and rays, researchers have discovered 79 potentially new species, raising both the known diversity of this predacious family and concerns that many species are likely more imperiled than thought. Already 32 percent of open ocean sharks and rays are considered threatened with extinction by the IUCN Red List, due largely to overfishing, finning, bycatch, and prey depletion.
New species threatened by mining dubbed the 'Avatar moth'
(06/19/2012) A new species of moth has been named after one of the world's most popular movie blockbusters: Avatar. Discovered on New Zealand's Denniston Plateau during a biodiversity survey by local NGO Forest & Bird this March, the new moth species is imperiled by plans for a coal mine on the plateau. The name—Avatar moth (Arctesthes avatar)—was chosen by its discoverers from a list of almost 100 entries by the public.
Herp paradise preserved in Guatemala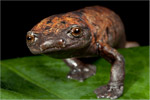 (05/29/2012) Fifteen conservation groups have banded together to save around 2,400 hectares (6,000 acres) of primary rainforest in Guatemala, home to a dozen imperiled amphibians as well as the recently discovered Merendon palm pit viper (Bothriechis thalassinus). The new park, dubbed the Sierra Caral Amphibian Reserve, lies in the Guatemalan mountains on the border with Honduras in a region that has been called the most important conservation area in Guatemala.
Blue tarantula, walking cactus, and a worm from Hell: the top 10 new species of 2011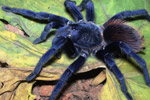 (05/23/2012) A sneezing monkey, a blue tarantula, and an extinct walking cactus are just three of the remarkable new species listed in the annual Top Ten New Species put together by the International Institute for Species Exploration at Arizona State University. This year's list includes a wide-variety of life forms from fungi to flower and invertebrate to primate.