Scientists in China have located a second population of the Myanmar snub-nosed monkey (Rhinopithecus strykeri), a primate that was only first discovered two years ago in Myanmar, also known as Burma. Long Yongcheng, scientist with the Nature Conservancy in China, told the China Daily that his team have discovered 50-100 Myanmar snub-nosed monkeys in the Gaoligong Mountain Natural Reserve near the border with Myanmar in Yunnan Province.
Chinese scientists were able to photograph and even videotape the species. But it was the monkey's scat and fur that proved it was the Myanmar snub-nosed monkey: DNA tests showed a 98.2 percent match with the species in Myanmar.
The Myanmar snub-nosed monkey first came to the world's attention in 2010 when a researcher announced its discovery based on a carcass killed by a local hunter Myanmar. Locals referred to the monkey as mey nwoah, or 'monkey with an upturned face', and noted that hunters could find them easily in the rain, because their noses caused them to sneeze from raindrops collecting in them.
At the beginning of this year, researchers released the first photos of the new primate—blurry shots taken by camera trap, but they documented the presence of the animals and some even showed mothers with babies and family groups. Dwelling deep in Myanmar's temperate forests, to date, the population in Myanmar has never been captured on handheld camera or even seen by a scientist.
The discovery of a second, albeit small, population in China is good news for the species, as the population in Myanmar is imperiled by hunting and trapping, activities which could worsen as logging makes inroads on their habitat. There are five species of snub-nosed monkey, all of them threatened, except the Myanmar snub-nosed monkey which hasn't been evaluated, but may fit the criteria for Critically Endangered.
Myanmar has one of world's the highest deforestation rates, which is at least partly driven by China's rising demand for raw logs and other commodities. Between 1990 and 2010, Myanmar lost 19 percent of its forest cover, or around 7,445,000 hectares, an area larger than Ireland. Experts warn that without strong regulations the pace of logging could even worsen as Myanmar opens up to international markets after years of military dictatorship.
Related articles
NGO: lifting sanctions on Myanmar must lead to forestry reform
(04/26/2012) Following historic elections, many foreign powers have relaxed or lifted sanctions against Myanmar, also known as Burma. But the Environmental Investigation Agency (EIA) warns that the end of sanctions presents Myanmar and the world with a choice: further plundering of the country's forests for outside markets or large-scale forestry reform.
Camera traps snap first ever photo of Myanmar snub-nosed monkey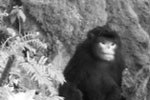 (01/10/2012) In 2010 researchers described a new species of primate that reportedly sneezes when it rains. Unfortunately, the new species was only known from a carcass killed by a local hunter. Now, however, remote camera traps have taken the first ever photo of the elusive, and likely very rare, Myanmar snub-nosed monkey (Rhinopithecus strykeri), known to locals as mey nwoah, or 'monkey with an upturned face'. Locals say the monkeys are easy to locate when it rains, because the rain catches on their upturned noses causing them to sneeze.
Photos: 208 species discovered in endangered Mekong region in 2010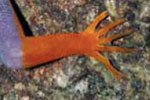 (12/14/2011) Last year researchers scoured forests, rivers, wetlands, and islands in the vanishing ecosystems of the Mekong Delta to uncover an astounding 208 new species over a twelve month period. A new report by the World Wide Fund for Nature (WWF) highlights a number of the new species—from a new snub-nosed monkey to five new meat-eating pitcher plants to a an all-female, cloning lizard—while warning that many of them may soon be gone as the Mekong Delta suffers widespread deforestation, over-hunting and poaching, massive development projects, the destruction of mangroves, pollution, climate change, and a growing population.
Picture: new monkey discovered in Myanmar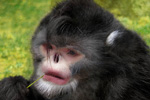 (10/26/2010) Hunters' reports have led scientists to discover a new species of monkey in the northern forests of Myanmar. Discovered by biologists from the Myanmar Biodiversity and Nature Conservation Association with support from primatologists with Fauna & Flora International (FFI) and the People Resources and Biodiversity Foundation, the strange looking primate is a member of the snub-nosed monkey family, adding a fifth member to this unmistakably odd-looking group of Asian primates. However, the species survives in only a small single population, threatened by Chinese logging and hunting.