Greenpeace protest in Indonesia. Courtesy of Greenpeace.
As fallout from its campaign against Asia Pulp & Paper grows, Greenpeace's critics have opened a new front on the environmental group, accusing it of "embezzlement", reports Mongabay-Indonesia.
Last week Rudy Gani, the leader of the Aliansi Mahasiswa Tolak LSM Asing (the Alliance of Students to Reject Foreign NGOs), a student group, filed a complaint against Greenpeace with local police alleging that the green group had misappropriated up to 20 billion Indonesian rupiah ($2.2 million) from supporters. Gani presented no actual evidence of embezzlement. His charge was predicated on a comparison of Greenpeace's reported income with extrapolation of Greenpeace's income based on the assumption that all 30,000 Greenpeace members in Indonesia pay the standard monthly dues of 75,000 rupiah ($8). Mongabay was unable to reach Gani for further comment.
Both Indonesia Corruption Watch and Greenpeace quickly shot down the claims.
"The backbone of the Greenpeace campaign is donations from individuals around the world, therefore the transparency and accountability are critical for Greenpeace," a spokesman for Greenpeace Southeast Asia told mongabay.com. "We see some tendentious efforts of Rudy Gani to continually bring misleading news and totally incorrect about Greenpeace in Indonesia since last year, which is based on bad assumptions and presumptions, without even once making an effort to clarify whether the allegation is true or not."
Indonesia Corruption Watch Coordinator Danang Widoyoko told Mongabay-Indonesia that Aliansi Mahasiswa's accusations seem to part of a smear campaign against Greenpeace Indonesia, whose recent market campaigns have hurt powerful interests in the palm oil and pulp and paper sectors.
"The question is, 'Who is funding the students?" asked Widoyoko, adding that the student group's accountability is almost non-existent. "Do they let public auditor check their funding? We probably will never know the source of their funding."
Suspicion immediately fell on Asia Pulp & Paper (APP), the main target of Greenpeace's current campaign. But APP denied any links to the group.
"APP has no relationship whatsoever to this group," an APP spokesperson told mongabay.com.
Nevertheless Aliansi Mahasiswa's police report was immediately championed by groups that advocate on behalf of APP internationally. Both the Consumer Alliance for Global Prosperity and World Growth International, which campaign against Greenpeace and criticize companies that have dropped APP products, highlighted the fraud charges in statements published yesterday.
It wasn't the first time Greenpeace has been pressured in Indonesia. Last year, during the height of its APP campaign, the group was hit with allegations of use lottery money to fund its operations (illegal in Indonesia) and was served with an eviction notice for its office in Jakarta. In October, John Sauven, the executive director of Greenpeace UK, was prohibited from entering Indonesia ahead of a critical meeting, while forest campaigner Andrew Tait was harassed and barred from re-entry. The campaign was accompanied by op-eds published in Indonesian newspapers and international media as well as messaging on blogs.
Greenpeace's campaign in Indonesia
Greenpeace is targeting APP for its forestry practices on the island of Sumatra. The paper giant continues to rely on conversion of natural forests and peatlands for fiber and plantations. These forests are critical habitat for endangered species including orangutans, elephants, and tigers, and store large amounts of carbon in their soils and vegetation.
The campaign has cost APP dearly. It has lost dozens of customers, including Xerox, National Geographic, Mattel, Gucci, Staples, Carrefour, Tesco, Kraft, Unisource, H&M, and Fuji, and Danone, among others. APP also lost its certification under the Forest Stewardship Council (FSC), a eco-standard.
Greenpeace earlier targeted palm oil giant PT SMART, an Indonesian company owned by Golden Agri Resources (GAR). After suffering waves of consumer defections, GAR last year adopted a policy that prohibits conversion of carbon dense forests, safeguards high conservation value areas, and requires free, prior informed consent in dealing with local communities. GAR has since seen business return.
Related articles
APP affiliates in U.S., Australia, pledge to drop controversial pulp supplier linked to deforestation
(03/17/2012) Two affiliates of Asia Pulp & Paper (APP) have announced they are severing at least some ties with the beleaguered paper giant, according to the Northern Virginia Daily and Greenpeace, an environmental group whose recent undercover investigation found ramin, a protected species, at APP's pulp mill in Sumatra.
War of words between Greenpeace, Asia Pulp & Paper over deforestation allegations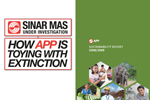 (11/16/2011) Greenpeace and Asia Pulp & Paper (APP), a giant global paper supplier, are locked in a heated battle over the activist group's allegations that APP products contain fiber sourced from the destruction of forests in Indonesia. At stake is APP's access to some of the world's most lucrative markets. Until APP provides solid evidence refuting Greenpeace's accusation that its pulp and paper production isn't coming at the expense of natural forests in Indonesia, APP will have a difficult time winning over critics.
Legal organization backs Greenpeace in fighting eviction for alleged zoning violation
(11/14/2011) The Indonesian Legal Aid Foundation (YLBHI) and other local NGOs are supporting Greenpeace as it battles eviction from its office in Jakarta over an alleged zoning violation, reports the Jakarta Globe.
Greenpeace legally registered in Indonesia, despite assertions to the contrary
(11/06/2011) Dispelling claims by critics that it operates illegally in Indonesia following two high-profile incidents with its non-Indonesian campaigners, Greenpeace Indonesia said it is legally registered to operate in the country.
Why is Indonesia afraid of Greenpeace?
(10/18/2011) Last week Indonesian immigration officials in Jakarta blocked Greenpeace director John Sauven from entering the country. Sauven, who two weeks earlier had obtained the proper business visa for his visit from the Indonesian embassy in London, was scheduled to convene with his team in Jakarta, travel to the island of Sumatra, and meet with officials and Indonesian businesses at a forestry conference. The following day, Greenpeace campaigner Andrew Tait was harassed by unknown individuals who attempted to serve him with a deportation warrant.
APP affiliate 'regrets' astroturfing on Indonesia deforestation claims
(08/21/2011) Solaris, an Australian affiliate of Asia Pulp and Paper (APP), has been caught astroturfing an article that repeated criticism of APP from Greenpeace. The article, which appeared on Mumbrella—an Australian media and marketing news site—garnered a multitude of negative comments which were later tracked to IP addresses used by Solaris. Astroturfing is corporate or government messaging falsified as coming from the public or a grassroots movement.
Barbie, Legos, other toys linked to destruction of Indonesia's rainforests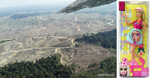 (06/07/2011) Some of the world's largest and most prominent toy-makers are sourcing their packaging materials from companies linked to large-scale destruction of Indonesia's rainforests, alleges a new report from Greenpeace. The report, How APP is Toying with Extinction, is based on forensic analysis of toy packaging from Mattel, which manufacturers Barbie and Hot Wheels toys; Disney, which makes a variety of toys linked to its movies; Hasbro, which produces GI Joe, Star Wars, and Sesame Street toys and various games like Monopoly and Scrabble; and Lego, which makes the iconic plastic building blocks. The analysis found traces of mixed-tropical hardwood (MTH) and acacia fiber which are principally sourced from Asia Pulp & Paper (APP), an umbrella paper products brand that sources from several companies that have been linked to rainforest destruction in Sumatra.
Debate over rainforest conservation gets heated
(05/18/2011) A debate over the need to conserve forests versus converting them for industrial use grew heated last week at Australian National University (ANU). A forum brought together policy experts, scientists, and a forestry lobbyist to discuss Australia's role in overseas forestry. But an exchange between William F. Laurance, an ecologist at James Cook University, and Alan Oxley, a former former Australian trade ambassador who lobbies on behalf of forestry interests, became the focus of the event.
Is Indonesia losing its most valuable assets?
(05/16/2011) Deep in the rainforests of Malaysian Borneo in the late 1980s, researchers made an incredible discovery: the bark of a species of peat swamp tree yielded an extract with potent anti-HIV activity. An anti-HIV drug made from the compound is now nearing clinical trials. It could be worth hundreds of millions of dollars a year and help improve the lives of millions of people. This story is significant for Indonesia because its forests house a similar species. In fact, Indonesia's forests probably contain many other potentially valuable species, although our understanding of these is poor. Given Indonesia's biological richness — Indonesia has the highest number of plant and animal species of any country on the planet — shouldn't policymakers and businesses be giving priority to protecting and understanding rainforests, peatlands, mountains, coral reefs, and mangrove ecosystems, rather than destroying them for commodities?
Scientists blast greenwashing by front groups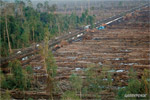 (10/27/2010) A group of prominent scientists has published an open letter challenging the objectivity of World Growth International, an NGO that claims to operate on behalf of the world's poor, and its leader Alan Oxley, a former trade diplomat who also chairs ITS Global, a marketing firm. The letter, published online in several forums, slams World Growth and ITS Global as a front groups for forestry companies. The scientists note that while the groups have not disclosed their sources of funding, they assert ITS receives funding from Sinar Mas, an Indonesian conglomerate that controls Asia Pulp & Paper (APP), a forest products brand, and Sinar Mas Agro Resources & Technology, a palm oil firm, among other companies.
Greenpeace ship escorted out of Indonesian waters
(10/25/2010) Greenpeace's Rainbow Warrior was escorted out of Indonesian waters today after the government refused to let the ship dock in Jakarta. The activist group said the Indonesian navy prevented the ship from restocking on food, water, and fuel prior to being evicted.
Misleading claims from a palm oil lobbyist
(10/23/2010) In an editorial published October 9th in the New Straits Times ("Why does World Bank hate palm oil?"), Alan Oxley, a former Australian diplomat who now serves as a lobbyist for logging and plantation companies, makes erroneous claims in his case against the World Bank and the International Finance Corp (IFC) for establishing stronger social and environmental criteria for lending to palm oil companies. It is important to put Mr. Oxley's editorial in the context of his broader efforts to reduce protections for rural communities and the environment.
The Nestlé example: how responsible companies could end deforestation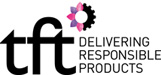 (10/06/2010) The NGO, The Forest Trust (TFT), made international headlines this year after food giant Nestlé chose them to monitor their sustainability efforts. Nestlé's move followed a Greenpeace campaign that blew-up into a blistering free-for-all on social media sites. For months Nestle was dogged online not just for sourcing palm oil connected to deforestation in Southeast Asia—the focus of Greenpeace's campaign—but for a litany of perceived social and environmental abuses and Nestlé's reactions, which veered from draconian to clumsy to stonily silent. The announcement on May 17th that Nestlé was bending to demands to rid its products of deforestation quickly quelled the storm. Behind the scenes, Nestlé and TFT had been meeting for a number of weeks before the partnership was made official. But can TFT ensure consumers that Nestlé is truly moving forward on cutting deforestation from all of its products?
Asia Pulp & Paper fumbles response to deforestation allegations by Greenpeace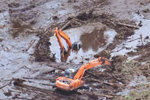 (09/28/2010) A new audit that seems to exonerate Asia Pulp & Paper from damaging logging practices in Indonesia was in fact conducted by the same people that are running its PR efforts, raising questions about the much maligned company's commitment to cleaning up its operations. The audit slams Greenpeace, the activist group that accused Asia Pulp & Paper (APP) of illegal and destructive logging in Sumatra in its July 2010 report, How Sinar Mas is Pulping the Planet. It runs through each of the claims laid out in the Greenpeace report, arguing some are speculative or improperly cited. But the audit doesn't actually deny that APP is clearing forests and peatlands for pulp plantations. In fact, the audit effectively confirms that the company is indeed engaged in conversion of 'deep' peat areas, but argues that this activity isn't illegal under Indonesian law.
How Greenpeace changes big business
(07/22/2010) Tropical deforestation claimed roughly 13 million hectares of forest per year during the first half of this decade, about the same rate of loss as the 1990s. But while the overall numbers have remained relatively constant, they mask a transition of great significance: a shift from poverty-driven to industry-driven deforestation and geographic consolidation of where deforestation occurs. These changes have important implications for efforts to protect the world's remaining tropical forests in that environmental groups now have identifiable targets that may be more responsive to pressure on environmental concerns than tens of millions of impoverished rural farmers. In other words, activists have more leverage than ever to impact corporate behavior as it relates to deforestation. A prime example of this power is evident in a string of successful Greenpeace campaigns, which have targeted some of the largest drivers of deforestation, including the palm oil industry in Indonesia and Malaysia and the soy and cattle industries in the Brazilian Amazon. The campaigns have shared a common approach: target large, conspicuous consumer-facing companies that sell in western markets.
Blackwashing by NGOs, greenwashing by corporations, threatens environmental progress
(11/12/2009) Misinformation campaigns by both corporations and environmental groups threaten to undermine efforts to conserve biodiversity and reduce environmental degradation, argues a new paper published in the journal Biotropica. Growing concerns over climate change and unsustainable resource extraction have put companies that exploit the environment in the spotlight. Some firms have responded by taking measures to reduce their environmental impact. Others have alternatively engaged in sophisticated marketing campaigns intended to mislead consumers on their environmental performance, maintaining that environmentally-destructive practices are instead benign. At the same time some activist groups have been guilty of exaggerating claims of environmental misconduct in order to boost support for their campaigns and therefore their fundraising efforts.
Palm oil lobby group launches public relations push to counter environmental complaints
(11/02/2009) A report released by World Growth International in late September claimed that environmentalists are waging a "morally indefensible" campaign against palm oil. The report accurately highlighted the high productivity of oil palm — the world's highest-yielding commercial oilseed — and noted that the crop has created jobs and driven rural development in Malaysia and Indonesia. Critically, World Growth also downplayed chief concerns about the rapid expansion of oil palm cultivation across southeast Asia, notably worries that palm oil production is contributing to deforestation, putting endangered wildlife like the orangutan at risk, and adversely affecting climate. To make its case, the report made some questionable claims, asserting that oil palm plantations sequester more carbon than natural forests and that deforestation is driven by poverty rather than industrial activities.