Aerial view of jungle and delta in Indonesian Papua. Photo by: Rhett A. Butler.
A palm oil company has paid indigenous Moi landowners in Indonesian Papua a paltry $0.65 per hectare for land that will be worth $5,000 a hectare once cultivated, according to a new report by the Environmental Investigation Agency (EIA) and Indonesian NGO, Telepak. The report outlines similar disadvantageous deals in timber with the same companies breaking their promises of bringing education and infrastructure.
"Papuans, some of the poorest citizens in Indonesia, are being utterly exploited in legally questionable oil palm land deals that provide huge financial opportunities for international investors at the expense of the people and forests of West Papua," said Jago Wadley, EIA Senior Forest Campaigner, in a press release.
During investigations in 2009, the EIA and Telepak interviewed the Moi tribe about their interactions with palm oil producer PT Henrison Inti Persada (PT HIP). Although the tribe never received a copy of the contract, the EIA was able to secure a hand-written contract for the 1,420 hectares of forest.
"Highly one-sided negotiations were characterized by persuasion and pressure from company staff backed by local government officials and, at times, intimidation from military and police," the report reads. "Landowners unanimously reported they had initially agreed to release large areas following up-front cash offers, but also largely due to company promises of benefits such as new houses, vehicles, and free education for their children."
Yet, the tribe was paid over 7,000 times less than the company expected to profit, and the promises of a better life never materialized.
The tribe told the EIA that the primary reason for signing the contract was the promise of free education. However, they were not told that education would only be offered to a few students selected by the company who would receive three years of polytechnic education in Java for free—but with conditions. In exchange for the education these same students must commit to working for the palm oil company, PT HIP, for seven years. The EIA says the scheme "verg[es] on indentured labour."
The Noble Group, a commodities trading giant, has a majority stake in PT HIP, but did not respond to questions from mongabay.com regarding the report and if it planned to investigate the allegations.
The report goes on to accuse Norway of profiting off the exploitation of Indonesian Papuans by investing in Noble Group, even while the Nordic nation spends a billion dollars to jump-start a program in Indonesia to reduce deforestation. Norway is a major backer of Indonesia's first Reducing Emissions from Deforestation and Forest Degradation (REDD+) program, but at the same time has invested nearly $50 million in Noble Group through its sovereign wealth fund.
"Norway is perhaps now the biggest state investor—albeit indirectly—in deforestation in Papua and West Papua," notes the report, which adds that this "[highlights] how unreformed global investment markets maintain the perverse incentives that are the biggest threat to forests and the success of REDD+."
The EIA says it has urged the Norwegian government to drop these controversial shares for two years, but that "the country's Finance Ministry and Prime Mister's office continue to authorize increased investment in Indonesian forest destruction—investment far greater than that paid to Indonesia thus far to reduce emissions from deforestation."
Economic exploitation for land wasn't the only issue. The Moi tribe was also underpaid for its wood according to the report. Valuable merbau wood (Intsia bijuga) milled by the Kayu Lapis Indonesia (KLI) Group fetched the Moi tribe $25/cubic meter, but garnered the company in the international market $875/cubic meter. In all, KLI made $9 million from its investment, with Australia buying over a third of the wood. Merbau is primarily used for flooring, and has been overexploited to the point of being endangered in some Southeast Asian countries.
The EIA also found several instances of clearing of plantations occurring before permits were granted and forest being illegally logged. The environmental group calls on the Indonesian and provincial governments to investigate these irregularities.
Related articles
More than 1 million acres of New Guinea forest cut from Indonesia's forest moratorium
(02/16/2012) More than 400,000 hectares of land — including 350,000 hectares of peatland — in Indonesian New Guinea lost their protected status during a November 2011 revision of Indonesia's moratorium on new forest concessions, reports a new analysis by Greenomics-Indonesia, a Jakarta-based NGO.
Police hired by loggers in Papua New Guinea lock locals in shipping containers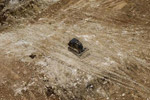 (04/16/2012) Locals protesting the destruction of their forest in Papua New Guinea for two palm oil plantations say police have been sent in for a second time to crack-down on their activities, even as a Commission of Inquiry (COI) investigates the legality of the concession. Traditional landowners in Pomio District on the island East New Britain say police bankrolled by Malaysian logging giant Rimbunan Hijau (RH) have terrorized the population, including locking people in shipping containers for three consecutive nights. The palm oil concessions belongs to a company known as Gilford Limited, which locals say is a front group for RH.
Logging company fined $100 million for illegal logging in Papua New Guinea
(06/28/2011) In a landmark court decision a judge has slapped a logging company with a nearly $100 million (K225.5 million) fine for large-scale illegal logging. Last week, Malaysian timber company, Concord Pacific, was sentenced to pay four forest tribes for environmental destruction in the first ruling of its kind for Papua New Guinea.
Indonesia set to clear 3 million ha of rainforest in New Guinea
(02/01/2011) Indonesia's Ministry of Forestry has approved conversion of some 3 million hectares of natural forest in Papua province, on the island of New Guinea, according to new analysis by Greenomics Indonesia, an environmental group.
Greening the world with palm oil?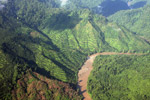 (01/26/2011) The commercial shows a typical office setting. A worker sits drearily at a desk, shredding papers and watching minutes tick by on the clock. When his break comes, he takes out a Nestle KitKat bar. As he tears into the package, the viewer, but not the office worker, notices something is amiss—what should be chocolate has been replaced by the dark hairy finger of an orangutan. With the jarring crunch of teeth breaking through bone, the worker bites into the "bar." Drops of blood fall on the keyboard and run down his face. His officemates stare, horrified. The advertisement cuts to a solitary tree standing amid a deforested landscape. A chainsaw whines. The message: Palm oil—an ingredient in many Nestle products—is killing orangutans by destroying their habitat, the rainforests of Borneo and Sumatra.
Indonesia grants slew of last-minute logging concessions on eve of moratorium
(01/25/2011) Indonesia's Minister of Forestry granted nearly 3 million hectares of plantation forestry concessions the day before the country's president was due to sign a decree establishing a two-year moratorium on new logging licenses, reports a new analysis by Greenomics, an Indonesian environmental group.