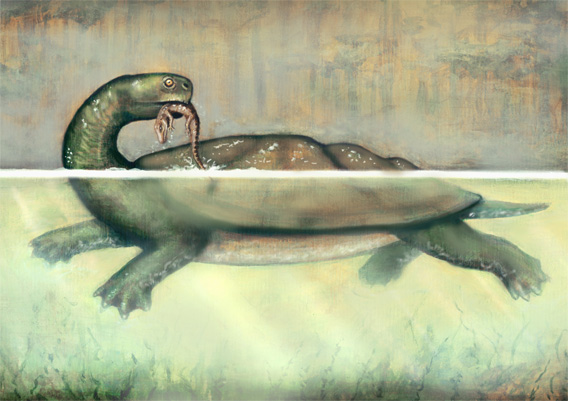 Reconstruction of Carbonemys preying upon a small crocodylomorph. Courtesy of Cadena et al. 2012

Researchers working in Colombia has discovered the fossilized remains of a giant freshwater turtle that lived some 60 million years ago.
The turtle, named Carbonemys cofrinii or the "coal turtle", had a shell measuring 5 feet 7 inches and an overall size comparable to a Smart car.
"We had recovered smaller turtle specimens from the site. But after spending about four days working on uncovering the shell, I realized that this particular turtle was the biggest anyone had found in this area for this time period – and it gave us the first evidence of giantism in freshwater turtles," said Edwin Cadena, the North Carolina State University researcher who discovered the fossil.
Carbonemys cofrinii lived in a period about 5 million years after dinosaurs went extinct. In an era without dinosaurs, the turtle species and other reptiles like the giant Titanoboa cerrejonensis snake grew to massive size. Carbonemys cofrinii was so large and had such powerful jaws that it could have fed on crocodiles.
"We found many bite-marked shells at this site that show crocodilians preyed on side-necked turtles," added co-author Dan Ksepka, also a researcher at N.C. State. "None would have bothered an adult Carbonemys, though – in fact smaller crocs would have been easy prey for this behemoth."
Carbonemys cofrinii would have been most closely related to the modern day side-necked turtles.
The newly discovered turtle is described in the Journal of Systematic Palaeontology.
CITATION:
Authors: Edwin Cadena, Dan Ksepka, Carlos Jaramillo, Jonathan Bloch. "New pelomedusoid turtles from the late Palaeocene Cerrejon Formation of Colombia and their implications for phylogeny and body size evolution" The Journal of Systematic Palaeontology
Related articles