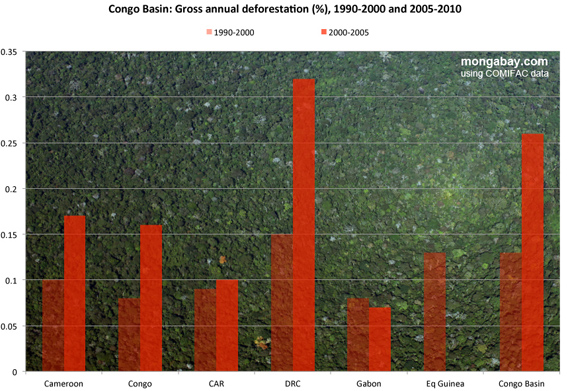 Deforestation in the Congo Basin. Click image to enlarge.
Deforestation in the Congo Basin has increased sharply since the 1990s, reports an extensive new assessment of forests in the six-nation region.
Released by the Central African Forests Commission (COMIFAC) and members of the Congo Basin Forest Partnership, The State of the Forest finds that the region's annual gross deforestation rate doubled from 0.13 percent to 0.26 percent between the 1990s and the 2000-2005 period. Gross degradation caused by logging, fire, and other impacts increased from 0.07 percent to 0.14 percent on an annual basis. Despite the jump, rates in the Congo Basin remain well below those in Latin America and Southeast Asia, but the region is seen as a prime target for future agroindustrial expansion.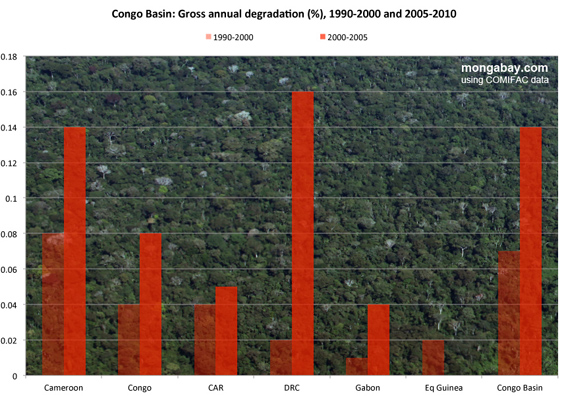 Degradation in the Congo Basin, 1990-2000 and 2000-2005. Click image to enlarge.
The data is based on advanced satellite mapping as well as field studies. More than 100 authors contributed to the report, which is released every two years. Researchers involved in the project are now working to analyze data for the 2005-2010 period.
The report lists five primary direct drivers of deforestation: fuelwood collection and production; agriculture, both subsistence and industrial; mining and oil extraction; expansion of plantations for biofuels; and logging. It notes that logging activities — which degrade forests — often facilitate future deforestation.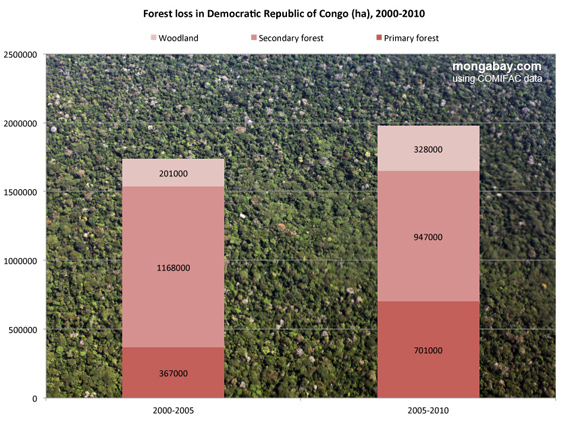 Deforestation by forest type/classification in DRC, 2000-2005 and 2005-2010. Click image to enlarge.
The report says forest zoning and stronger regulatory framework could help reduce deforestation in the Congo Basin, which provides important ecosystem services to humanity, including carbon storage and contributing the rainfall generation in surrounding agricultural areas. The forests of the region are key habitat for a number of endangered species, including forest elephants, chimps, and gorillas. The State of the Forest argues that the Reducing Emissions from Deforestation and Forest Degradation (REDD+) program could emerge as a critical source of funds for forest protection efforts.
Nevertheless, the report warns that high rates of population growth, coupled with immigration and global demand for commodities, will pose ongoing challenges for the health and productivity of Congo Basin forests.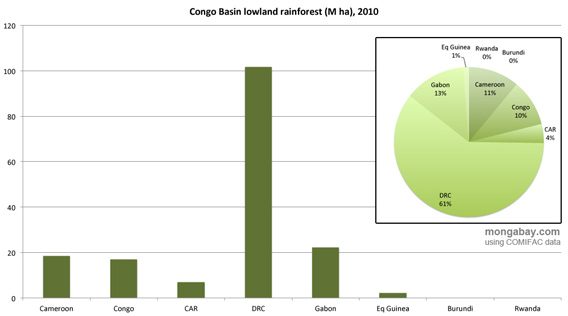 The Congo Basin includes the Democratic Republic of the Congo, Cameroon, Republic of Congo, Central African Republic, Gabon, and Equatorial Guinea. Burundi and Rwanda are also included in portions of the report. Click image to enlarge.
Cameroon
Congo
CAR
DRC
Gabon
Eq Guinea
Congo Basin
Gross annual deforestation (%)
1990-2000
0.1
0.08
0.09
0.15
0.08
0.13
0.13
2000-2005
0.17
0.16
0.1
0.32
0.07
0
0.26
Net annual deforestation (%)
1990-2000
0.08
0.03
0.06
0.11
0.05
0.02
0.09
2000-2005
0.03
0.07
0.06
0.22
0
0
0.17
Gross annual degradation (%)
1990-2000
0.08
0.04
0.04
0.02
0.01
0.02
0.07
2000-2005
0.14
0.08
0.05
0.16
0.04
0
0.14
Net annual degradation (%)
1990-2000
0.06
0.03
0.03
0.06
0.04
0.03
0.05
2000-2005
0.07
0.03
0.03
0.12
-0.01
0
0.09
For margin of error, see the report
CITATION: de Wasseige, C. et al (2012). The Forests of the Congo Basin – State of the Forest 2010. Publications Office of the European Union, Luxembourg. ISBN: 978-92-79-22716-5 | DOI: 10.2788/47210
Related articles
Locals clash with 'sustainable' FSC logging company in the Congo
(05/22/2011) Two separate protests against logging companies by local communities have turned violent in the Democratic Republic of Congo (DRC), leaving at least one dead. According to Greenpeace, one of the companies involved in the violence, Sodefor, is sustainably certified by the Forest Stewardship Council (FSC). Given that the industry in DRC is rife with social conflict and corruption, Greenpeace is advocating that FSC place a moratorium on certifying new industrial-style logging concessions in the central African nation.
Congo legalizes 15 logging concessions, prompting concern that moratorium will be lifted next
(03/13/2011) The Democratic Republic of Congo (DRC) has legalized 15 logging concessions that were previously listed as illegal under an effort to clean up the industry of widespread corruption. The environmental group, Greenpeace, fears that the move precedes an announcement to lift the DRC's moratorium on granting any new logging concessions, which would open the Congo Basin to widespread logging.
Congo cancels logging contracts covering 13M hectares
(01/21/2009) Democratic Republic of Congo (DRC) canceled nearly 60 percent of the country's timber contracts following a review of 156 logging concessions granted in recent years, reports Reuters. The anti-corruption probe found that 91 deals covering nearly 13 million of hectares of forest were granted under questionable circumstances or during a moratorium on logging contracts following the 1998-2003 civil war.
Logging company Danzer accused of tax fraud in the Congo
(07/31/2008) A major European logging company is using an elaborate profit-laundering system to smuggle timber revenue out of Africa and avoid paying taxes to the governments of the Democratic Republic of Congo (DRC) and the Republic of the Congo, alleges a new report published by Greenpeace.
Does logging contribute to AIDS deaths in Africa?
(06/14/2008) Logging activities in tropical Africa may pose hidden health risks to wildlife and humans according to a veterinary pathobiologist speaking at a scientific conference in Paramaribo, Suriname.
NASA images show expansion of logging in Congo rainforest
(07/15/2007) New high resolution images of logging roads in the Congo region of Africa are helping researchers understand the expansion of industrial logging in Central Africa.
Logging roads rapidly expanding in Congo rainforest
(06/07/2007) Logging roads are rapidly expanding in the Congo rainforest, report researchers who have constructed the first satellite-based maps of road construction in Central Africa. The authors say the work will help conservation agencies, governments, and scientists better understand how the expansion of logging is impacting the forest, its inhabitants, and global climate.
Illegal logging threatens Congo's forests, global climate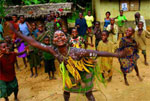 (04/11/2007) Despite government and World Bank assurances to the contrary. a new report from Greenpeace finds that illegal logging is rampant in the Democratic Republic of Congo (DRC). The report, Carving up the Congo, reveals that in spite of a 2002 moratorium on new logging, over 15 million hectares of rainforest have been concessioned to loggers with little regard to the environmental impact or compensation to affected communities.