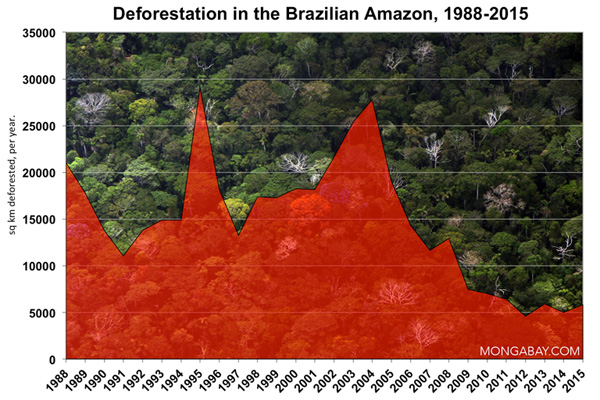 Deforestation in the Brazilian Amazon, 1988-2011. Photos by Rhett A. Butler.
Brazil's Congress will delay its vote on a controversial revision to its forest code, which regulates how much forest can be legally chopped down, reports Brazilian state media.
Agencia Brasil said the vote has been rescheduled for Tuesday, March 13, to allow more time to rally support for the bill, which has split lawmakers between a pro-agriculture block known as the ruralistas and those who worry the changes could drive more deforestation and grant amnesty for farmers who illegally cleared forest in the past. The current text has been revised to include greener provisions relative to the original version championed by ruralistas.
Deforestation has fallen by about 80 percent since the Brazilian Amazon since 2004. A combination of macroeconomic factors, increased law enforcement and conservation measures, improved forest monitoring, pressure from environmentalists, and private sector initiatives are credited for the decline. However scientists fear that continuing deforestation, combined with the effects of climate change — including two recent droughts that were the worst on record — could push the Amazon toward a critical tipping point in coming decades.
Overall, forest cover in the Brazilian Amazon, which accounts for more than 60 percent of the Amazon rainforest, declined by nearly 20 percent since 1970.
Related articles
Is the Russian Forest Code a warning for Brazil?
(12/19/2011) Brazil, which last week moved to reform its Forest Code, may find lessons in Russia's revision of its forest law in 2007, say a pair of Russian scientists. The Brazilian Senate last week passed a bill that would relax some of forest provisions imposed on landowners. Environmentalists blasted the move, arguing that the new Forest Code — provided it is not vetoed by Brazilian President Dilma Rousseff next year — could undermine the country's progress in reducing deforestation.
Brazil passes controversial Forest Code reform environmentalists say will be 'a disaster' for the Amazon
(12/06/2011) The Brazilian Senate tonight passed controversial legislation that will reform the country's 46-year-old Forest Code, which limits how much forest can be cleared on private lands. Environmentalists are calling the move "a disaster" that will reverse Brazil's recent progress in slowing deforestation in the world's largest rainforests.
Science has been nearly silent in Brazil's Forest Code debate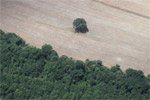 (08/09/2011) A recent push to revise Brazil's forest code has emerged as one of the more contentious political issues in the country, pitting agribuisness against environmentalists trying to preserve the Amazon rainforest. Historically, the forest code has required private landowners to maintain a substantial proportion of natural forest cover on their properties, though the law has often been ignored. While both sides claim to be basing their recommendations on the 'best science' available, Brazilian scientists say they haven't had much of a voice in the debate. In fact, says Antonio Donato Nobre, a researcher at the Amazon Research Institute and Brazil's National Space Research Institute, 'throughout the development of the said revisions, Congress has neither invited nor commissioned a coordinated and serious contribution from the scientific community.'