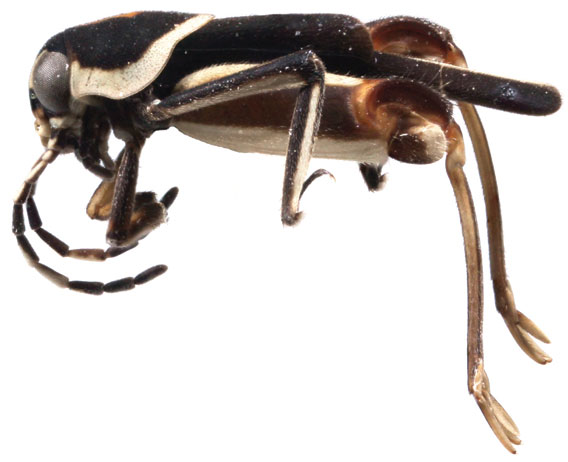 Ripipteryx mopana, a new species discovered in Belize. Photo by: Sam W. Heads, Steven J. Taylor.
Scientists have discovered the first ever insect in the Ripipterygidae family in Belize. Measuring only 5 millimeters (0.19 inches), the tiny insect uses its powerful legs to leap away from predators much like a grasshopper. In fact, the new species is in the Orthoptera order which includes grasshoppers.
"Belize is famous for its biodiversity, although very little is known about the insect fauna of the southern part of the country. This is particularly true of the Orthoptera," said entomologist and lead author on the paper, Sam Heads, said in a press release. "The new insect is the first representative of it's family ever to be found in Belize. Given the amount of high quality habitats in the region, it isn't really surprising that new species still await discovery, especially in the less-explored areas."
Researchers named the new species Ripipteryx mopana after the Mopan tribe, members of the Mayans, who inhabit the region. Although they discovered only one specimen of the new insect, they note in the paper that it was unique enough to immediately describe a new species.
"Very little is known about the biology of this genus and its closest relatives" adds Heads. "The group as a whole is rather poorly studied and even though we continue to document new species, we still have a long way to go".
Scientists discover nearly 20,000 species annually, many of them in tropical rainforests and most of them insects.
CITATION: Heads SW, Taylor SJ (2012) A new species of Ripipteryx from Belize with a key to the species of the Scrofulosa Group (Orthoptera, Ripipterygidae). ZooKeys 169: 1-9. doi: 10.3897/zookeys.169.2531
Related articles
Photo: World's smallest chameleon discovered in Madagascar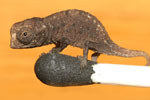 (02/15/2012) Scientists have discovered four new species of super-tiny chameleons in Madagascar, according to a new paper in PLoS ONE. The smallest of the new species, Brookesia micra, is found only on the small island of Nosy Hara and has been dubbed the smallest chameleon in the world, measuring from nose to tail 29 millimeters (1.14 inches) at its largest. Scientists believe it represents a notable example of island dwarfism.
Photo: new blue, red, yellow lizard discovered in the Andes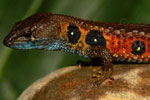 (02/13/2012) Researchers have discovered a new species of lizard in the Peruvian Andes, whose males sport beautiful colors, according to a paper in ZooKeys. The highest-dwelling known species of the genus Potamites, the new lizard, dubbed Potamites montanicola, was found in forest streams at 1,500 to 2,000 meters (4,900 to 6,500 feet). The species was discovered as apart of a biodiversity monitoring program by COGA, a Peruvian fossil fuel company.
Vampire and bird frogs: discovering new amphibians in Southeast Asia's threatened forests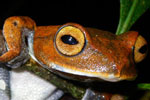 (02/06/2012) In 2009 researchers discovered 19,232 species new to science, most of these were plants and insects, but 148 were amphibians. Even as amphibians face unprecedented challenges—habitat loss, pollution, overharvesting, climate change, and a lethal disease called chytridiomycosis that has pushed a number of species to extinction—new amphibians are still being uncovered at surprising rates. One of the major hotspots for finding new amphibians is the dwindling tropical forests of Southeast Asia.