While pro-life activists usually target abortion, a new campaign is working to broaden the pro-life message. A $250,000 media campaign in the U.S., including TV spots and radio ads in eight states, hopes to pressure conservative senators to protect unborn children by supporting the Environmental Protection Agency's (EPA) regulations on mercury emissions from coal-fired plants.
"One in six babies born in the U.S. have harmful levels of mercury in their blood. Pro-life members of Congress should be doing everything they can to protect the unborn from this threat. Medical research shows that unborn children's mercury levels are twice the levels of their mothers. There is no known safe level of mercury for our unborn," says Reverend Mitch Hescox, president of the Evangelical Environmental Network (EEN). EEN is heading the campaign.
| | |
| --- | --- |
| | Castle Gate coal-fired power plant in Utah. Nearly half of the US's electricity is from coal, the most carbon intensive energy. Photo by: David Jolley. |
Stemming largely from America's dependence on coal-fired plants, mercury is released from burning coal and ends up in local water systems, often contaminating fish and shellfish. Presence of high mercury levels in pregnant women and breast-feeding mothers has been linked to interference with proper brain development in fetuses and babies, including attention issues, lower IQs, coordination problems, and developmental disabilities.
"I believe every life is a precious gift from God. I expect members of Congress to protect the unborn," says Reverend Tracey Bianchi in the commercials, "and coal-burning power plants in our region have helped raise mercury levels in our waters, threatening the unborn with permanent brain damage."
Burning coal for energy is also one of the primary drivers of climate change, since coal is the most carbon-intensive fuel source.
According to their website EEN "seeks to equip, inspire, disciple, and mobilize God's people in their effort to care for God's creation."
Related articles
Top 20 banks that finance big coal
(11/30/2011) A new report from civil and environmental organizations highlights the top 20 banks that spend the most money on coal, the world's most carbon-intensive fossil fuel. Released as officials from around the world meet for the 17th UN Summit on Climate Change in Durban, South Africa, the report investigated the funding practices of 93 major private banks, finding that the top five funders of big coal are (in order): JPMorgan Chase, Citi, Bank of America, Morgan Stanley, and Barclay's.
IEA warns: five years to slash emissions or face dangerous climate change
(11/13/2011) Not known for alarmism and sometimes criticized for being too optimistic, the International Energy Agency (IEA) has warned that without bold action in the next five years the world will lock itself into high-emissions energy sources that will push climate change beyond the 2 degrees Celsius considered relatively 'safe' by many scientists and officials.
Activists worldwide push for leaving the fossil fuel age behind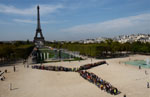 (09/25/2011) On six continents, in over 75 percent of the world's countries, people came out en masse yesterday to attend over 2,000 events to demonstrate the power of renewable energy to combat global climate change. As apart of the 'Moving Planet' campaign organized by 350.org, activists created a giant human-windmill in Paris, gave out bike lessons in Buenos Aires, practiced evacuation measure in the Pacific island of Tuvalu imperiled by rising sea levels, and marched in Cape Town for a strong agreement at the next UN climate meeting hosted in Durban, South Africa.