Amazon rainforest in Peru. Photo by Rhett A. Butler
The Amazon rainforest has been named one of the "New 7 Wonders of Nature of the World", according to the Swiss group that organized the competition.
The New7Wonders Foundation named Halong Bay in Vietnam; Iguazu Falls in Brazil, Argentina, and Paraguay; Jeju Island in Korea; Komodo island in Indonesia; Puerto Princesa in Palawan, Philippines; and Table Mountain in South Africa as the other six.
The winners emerged after months of voting. Originally some 447 were candidates for the title.
The Amazon is the world's largest rainforest and provides critical services for mankind: 70 percent of South America's GDP is produced in the region fed by Amazon rainfall. Another one of the "New 7 Wonders of Nature of the World" is also powered by the Amazon rainforest: Iguazu Falls.

Iguazu falls on the border of Brazil and Argentina. Photo by Rhett A. Butler
Despite the Amazon's importance, its forests continue to fall. While Brazil has made great progress in reducing deforestation in recent years, scientists fear that climate change, combined with continuing forest loss, could put much of the Amazon at risk, leaving it at greater risk of fire and drought. Already some of the forecasts are looking prescient: in the past five years the Amazon experienced the two worst droughts over recorded.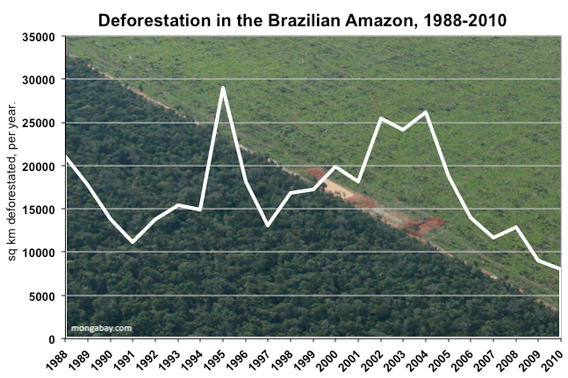 Related articles