The black rhino, which is considered critically endangered, in captivity. Photo by Rhett A Butler


The western black rhinoceros (Diceros bicornis longipes) roams the woodlands of Africa no more.
The rhino, one of four sub-species of black rhino, was declared extinct this week by the IUCN, five years after the last extensive survey of its habitat in Cameroon turned up no evidence of surviving individuals.
The western black rhino was once widespread across the savannas of central-west Africa but decline due to hunting in the early 20th century. The population rebounded in the 1930s due to conservation efforts, but reversed as these waned. The population was in the hundreds by 1980 and declined to 10 by 2000.
| | |
| --- | --- |
| | Black rhino and calf in Tanzania's Ngorongoro Crater |
The rhino becomes the second declared extinct this year. Last month the Vietnamese rhino, a subspecies of the Javan rhino, was officially listed as extinct. Both species were the victim of habitat loss and poaching. Both were ultimately done in by the Chinese rhino horn trade, which has driven the price of horn beyond gold, despite no evidence to suggest horn has any power beyond the placebo effect.
All of the world's remaining rhino species are considered at risk of extinction. All are threatened by the rhino horn trade.
The next rhino likely to go extinct is the northern white rhino (Ceratotherium simum cottoni), a central African subspecies of white rhino. The Javan rhino is meanwhile down to less than 40 individuals in Sumatra's Ujung Kulon National Park.
Emslie, R. 2011. Diceros bicornis ssp. longipes. In: IUCN 2011. IUCN Red List of Threatened Species. Version 2011.2. . Downloaded on 11 November 2011.
Related articles
Malaysia must take action to avoid extinction of its last rhinos
(11/05/2011) Malaysia must take immediate action to prevent the extinction of the handful of rhinos that survive on the island of Borneo, says a coalition of environmental groups.
South Africa hits record poaching of rhinos—again
(11/03/2011) Two months before the end of the year, the number of rhinos killed for their horns in South Africa has surpassed last year's breaking record, reports conservation organizations WWF and TRAFFIC. So far, 341 rhinos have been lost to poaching this year; while last year saw a total record of 333. The news follows last week's announcement that the Vietnamese rhino (Rhinoceros sondaicus annamiticus), a subspecies of the Javan rhino, has gone extinct—the last individual killed by a poachers' bullet. Rhinos are killed for their horns which are used in traditional Chinese medicine, even though numerous studies have shown there is no medicinal benefit to consuming rhino horn.
The last goodbye: Vietnam's rhino goes extinct (PICTURES)
(10/26/2011) In 2009 poachers shot and killed the world's last Vietnamese rhinoceros (Rhinoceros sondaicus annamiticus), a subspecies of the Javan rhino. The Vietnamese rhino was the last rhino species that survived on the southeast Asia mainland.
How do we save the Sumatran rhino?

(06/06/2011) Some conservation challenges are more daunting than others. For example, how do you save a species that has been whittled down to just a couple hundred individuals; still faces threats such as deforestation, poaching and trapping; is notoriously difficult to breed in captivity; and is losing precious time because surviving animals are so few and far-apart that simply finding one another—let alone mating and successfully bringing a baby into the world—is unlikely? This is the uphill task that faces conservationists scrambling to save the Sumatran rhino (Dicerorhinus sumatrensis). A new paper in Oryx, aptly named Now or never: what will it take to save the Sumatran rhinoceros Dicerorhinus sumatrensis from extinction? analyzes the conservation challenge, while putting forth a number of recommendations.
Down to 50, conservationists fight to save Javan Rhino from extinction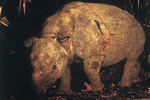 (05/17/2011) Earlier this year, the International Rhino Foundation launched Operation Javan Rhino to prevent the extinction of the critically endangered Javan Rhinoceros (Rhinoceros sondaicus), formerly found in rain forests across Southeast Asia. Operation Javan Rhino is a multi-layered project which links field conservation, habitat restoration, and management efforts with the interests of local governments and communities. The following is an interview with Susie Ellis, Executive Director of the International Rhino Foundation.
Belief and butchery: how lies and organized crime are pushing rhinos to extinction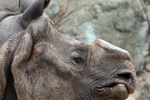 (05/11/2011) Few animals face as violent, as well organized, and as determined an enemy as the world's rhinos. Across the globe rhinos are being slaughtered in record numbers; on average more than one rhino is killed by poachers everyday. After being shot or drugged, criminals take what they came for: they saw off the animal's horn. Used in Traditional Chinese Medicine, which claims that it has curative properties, rhino horn is worth more than gold and cocaine on the black market. However, science proves all this cash and death is based on a lie. 'There is no medicinal benefit to consuming rhino horn. It has been extensively analyzed in separate studies, by different institutions, and rhino horn was found to contain no medical properties whatsoever,' says Rhishja Larson.