Brazil revised upward its estimate of how much Amazon rainforest was destroyed last year, reports the Associated Press.
The Environment Ministry now says some 7,000 square kilometers (2,700 square miles) of Amazon rainforest were cleared between August 2009 and July 2010, up 8.5 percent from the 2,491 square kilometer estimate published last year. Brazil often revises initial annual deforestation statistics following greater analysis of satellite imagery.
Despite the upward revision, deforestation during the 2010 year was the lowest since annual recording keeping began in the late 1980s.
Deforestation for 2011 is tracking moderately higher than last year. An official estimate is expected in November or December.
Deforestation in Brazil is typically measured on a calendar year ending in July, when cloud cover in the region is at a low point. Deforestation usually peaks in the Brazil Amazon during the dry season which runs from July through October.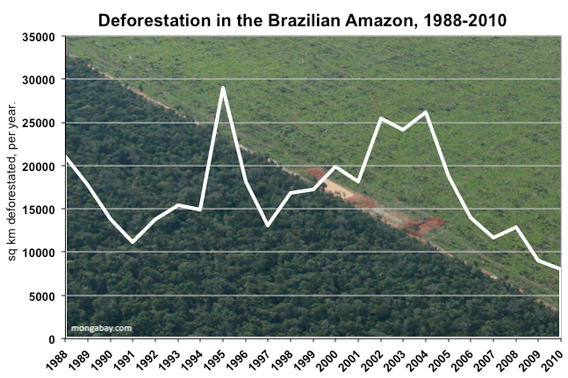 Related articles
Amazon deforestation up moderately in August, but forest degradation falls
(09/22/2011) Deforestation in the Brazilian Amazon continues to be slightly higher than this time last year, reports a new bulletin from Imazon, a Brazilian NGO.
62% of deforested Amazon land ends up as cattle pasture
(09/04/2011) 62 percent of the area deforested in the Brazilian Amazon until 2008 is occupied by cattle pasture, reports a new satellite-based analysis by Brazil's National Institute for Space Research (INPE) and its Agricultural Research Corporation (Embrapa).