A series of actions protesting forest destruction in Australia led to seven arrests last week. Led by a new NGO, The Last Stand, the activists targeted Australian retail giant Harvey Norman for allegedly being complicit in the destruction of native forests in Australia, which harbor many imperiled species found no-where else.
"Climbers have abseiled from the top of the Sydney Opera House to stand up for our iconic Aussie forests and say 'No Harvey No! Stop selling Aussie forest destruction!' We have come to the centre of Sydney to send a clear message to Harvey Norman that profiting from the destruction of our spectacular forests is absolutely unacceptable," said Ula Majewski, spokesperson for The Last Stand.
The action on the Sydney Opera House led to five arrests, while two other activists were arrested when they took to the roof of a Harvey Norman store in Melbourne and hung another banner.
| | |
| --- | --- |
| | Activists scale Sydney Opera to hang banner calling out Harvey Norman retail chains for alleged forest destruction. Photo by: Charlotte Buckton. |
In July, the NGO Markets for Change, released a report after a year-long investigation of the supply chain, which leads to Harvey Norman's show room. According to the report, Harvey Norman wood product's largely come from native forests in Australia. In many cases, after forests were cut down in Australia, the wood was shipped to China for manufacturing and then back to Australia for sale.
"Retailers have a unique and powerful role to play in stopping the ongoing destruction of these irreplaceable forests. It is time for them, as a matter of urgency, to use their purchasing power and become part of the solution to this long running environmental issue in Australia," reads the report. "Markets for Change believes it is already possible for Australia to cases the use of native forest timber for furniture products and replace them with timber from plantations."
Harvey Norman released a statement on its website saying that it "fully supports sustainably harvested forest products that are used in the furniture, bedding and flooring products sold in our stores."
The company says it a member of the 'Australian Made Campaign' and that wood products sold in its stores are under the government's Australian Forestry Standard.
The destruction of Australia's forests for wood products has been a hot button issue for decades with critics saying the government is complicit in the destruction.
"Hundreds of people across the planet have taken action today to tell Harvey Norman that profiting from Australia's forest destruction is absolutely unacceptable in this day and age" said Majewski. According to The Last Stand, over 30 actions took place worldwide.
Australia has the highest rate of mammal extinctions (27 are recorded extinct) in the world. Eighty percent of the continent's mammals are endemic.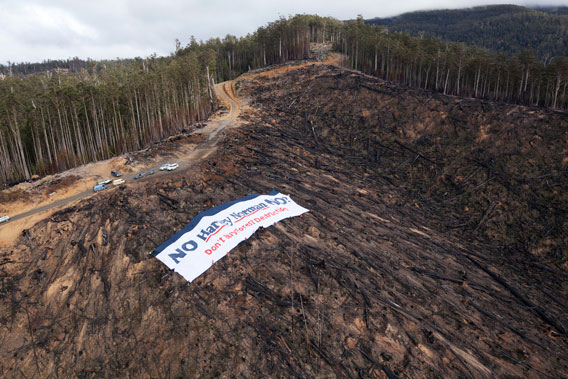 'No Harvey No' banner at clear cut in Tasmania. Photo by: Rob Blakers.
Related articles
Australia forest destruction connected to local products
(05/15/2011) Some of Australia's most popular stores are driving the destruction of native forests, according to a report by a new environmental group Markets for Change (MFC). Furniture, building materials, and paper products were found to be coming at the expense of native forests in Australia and being sold by over 30 businesses in the country, such as Freedom Furniture, Bunnings, Officeworks, Staples, Target, Coles, and Woolsworths.
APP affiliate 'regrets' astroturfing on Indonesia deforestation claims
(08/21/2011) Solaris, an Australian affiliate of Asia Pulp and Paper (APP), has been caught astroturfing an article that repeated criticism of APP from Greenpeace. The article, which appeared on Mumbrella—an Australian media and marketing news site—garnered a multitude of negative comments which were later tracked to IP addresses used by Solaris. Astroturfing is corporate or government messaging falsified as coming from the public or a grassroots movement.
Australian 'green' buildings used illegally logged wood from rainforests allege activists
(07/27/2011) A 'green' building development being built by Frasers Property Australia in Sydney has been accused of using illegally-sourced plywood from Malaysian state of Sarawak in Borneo, according to a new Greenpeace report. The wood in question comes from a subsidiary of Samling, a company that has been connected to illegal logging and abusing the rights of indigenous groups in the past. After the revelations came to light, Frasers Property Australia said they would conduct an audit of the wood which was provided to them by Australian Wood Panels (AWP).