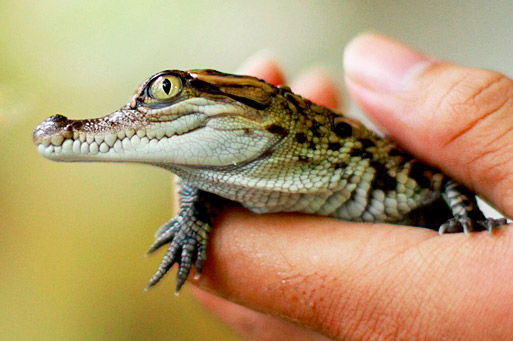 Rare Siamese Crocodile hatchling in Laos. M. Douangmyxay/WCS Laos Program
Conservationists are celebrating the hatch of 20 critically endangered Siamese crocodiles at the Laos Zoo, according to the Wildlife Conservation Society.
The crocodile eggs were collected from the wild and incubated at the zoo under a new program that aims to save wetlands in Laos' Savannakhet Province.
"We're thrilled at the prospect of augmenting the wild population of Siamese crocodiles with a new batch of healthy juveniles," said Chris Hallam, Conservation Planning Advisor for the Wildlife Conservation Society's Lao PDR Program and the crocodile project coordinator, in a statement. "It's a small but important step in helping to conserve a valuable part of the natural heritage of Lao PDR for the benefit of future generations."
The program includes a livelihood component to ensure local communities are involved with, and benefit from, conservation efforts.
"This integrated project promotes the conservation of an entire landscape by highlighting the critical connections between an endangered species and local livelihoods," said Joe Walston, Director of WCS's Asia Program.
Wetlands across southeast Asia are in danger due to urban expansion, overfishing, and agroindustrial development. Siamese crocodiles are at risk from hunting and habitat loss. The species has disappeared from much of its former range through Southeast Asia and parts of Indonesia, according to WCS.