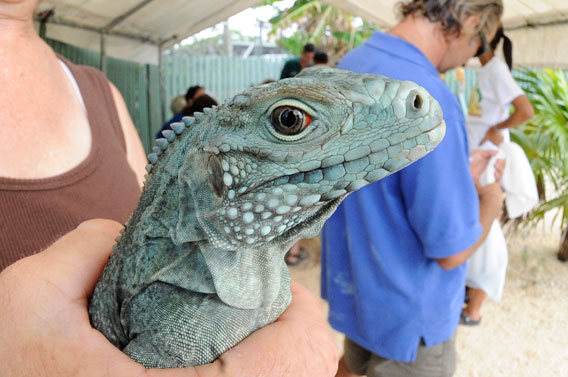 A young blue iguana awaiting a health assessment. Photo credit: Julie Larsen Maher/Wildlife Conservation Society.
The blue iguana (Cyclura lewisi) was once king of the Caribbean Island, Grand Cayman. Weighting in at 25 pounds, measuring over 5 feet, and living for over sixty years, nothing could touch this regal lizard. But then the unthinkable happened: cars, cats, and dogs, along with habitat destruction, dethroned Grand Cayman's reptilian overlord. The lizard went from an abundant population that roamed the island freely to practically assured extinction. In 2002, researchers estimated that two dozen—at best—survived in the wild. Despite the bleak number, conservationists started a last ditch effort to save the species. With help from local and international NGOs, the effort, dubbed the Blue Iguana Recovery Program, has achieved a rarity in conservation. Within nine years it has raised the population of blue iguanas by twenty times: today 500 wild blue iguanas roam Salina Reserve.
How did they do it?
Blue iguanas are raised in captive breeding until they are two years old—big enough to keep feral cats at bay, which were decimating juvenile iguanas. Once they hit two, they are released in the 625 acres of Salina Reserve. Populations are then monitored.
"For the past several years, we've succeeded in adding hundreds of animals to the wild population, all of which receive a health screening before release," explains Dr. Paul Calle, Director of Zoological Health for Wildlife Conservation Society (WCS)'s Bronx Zoo, who has aided in screening iguanas ready for release.
The program has been such a success that conservationists have started releasing blue iguanas in a new protected area, the Colliers Wilderness Reserve. This month the program has had confirmation of the first blue iguana breeding in the area.
The current goal is to reach 1,000 blue iguanas. Given the success to date that goal may be met quickly.
"We expect to reach our goal of 1,000 iguanas in managed protected areas in the wild in a few years. After that, we will monitor the iguanas to make sure they are reproducing in the numbers needed to maintain the wild population. If we get positive results, we will have succeeded," Fred Burton, director of the Blue Iguana Recovery Program, said in a press release.
Aside from WCS the program has received support from the Durrell Wildlife Conservation Trust and the International Reptile Conservation Foundation.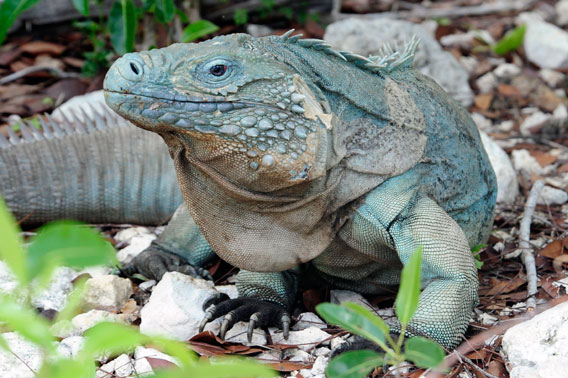 An adult blue iguana. Photo credit: Julie Larsen Maher/Wildlife Conservation Society.
Related articles
Brainy lizards rival birds in intelligence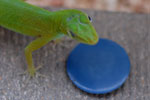 (07/13/2011) Reptiles have long been thought to be dim-witted, but a new study in Biology Letters finds that the Puerto Rican anole, a type of lizard, can match birds in smarts. Using cognitive tests that have been previously used on birds, researchers with Duke University found that the lizards were capable of solving a problem they've never encountered before, remembering the solution in future trials, and even changing techniques when presented with new challenges. In fact, the tiny anoles solved the test with fewer tries than birds. Given reptiles' reputation of being slow-on-the uptake the head author, Manuel Leal, said the findings are 'completely unexpected'.
Endangered Madagascar wildlife on sale in Thailand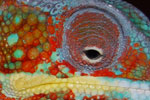 (06/19/2011) Conservation group TRAFFIC uncovered nearly 600 Madagascar reptiles and amphibians on sale in Thai markets, including endangered species and those banned for sale by the Convention on International Trade in Endangered Species of Wild Fauna and Flora (CITES). The animals, representing 24 reptiles species and 9 amphibians, are being sold for the international pet trade.
"We know there is a significant ongoing illegal trade in protected species from Madagascar, mainly destined for Asia, which has been exacerbated by the current political situation in the country leading to weaker enforcement of existing laws and safeguarding of protected areas," says Richard Hughes, WWF's Representative in Madagascar.
Traditional Chinese medicine trade takes toll on Indonesia's geckos
(06/01/2011) The call of the tokek, or gecko, is one of the most familiar sounds in Indonesia. Next to the smell of clove cigarettes, the calls to prayer, the friendly smiles and the ferocious afternoon rainstorms, it stands as one of the most easily identifiable characteristics of the country.