A review of mongabay.com's April 2011 stories.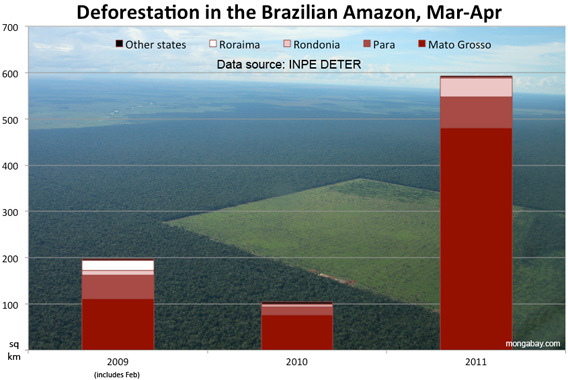 Click to enlarge
May was a big month for tropical forest news. Brazil and Indonesia dominated the headlines and list of most popular stories for the month.
The Brazilian government confirmed a short-term surge in deforestation in Mato Grosso, a bellwether state in the southern Amazon, raising fears that recent gains in slowing forest loss may be reversed. Suspicion immediately fell on ranchers and farmers who are said to be expecting amnesty for illegal clearing under a bill that would amend the country's Forest Code. That bill passed the Chamber of Deputies, Brazil's lower house, just hours after an environmentalist and his wife were assassinated by gunmen thought to be linked to illegal loggers in Rondonia. Three days later, another prominent environmentalist was gunned down in Pará. The Brazilian government launched an investigation into the murders.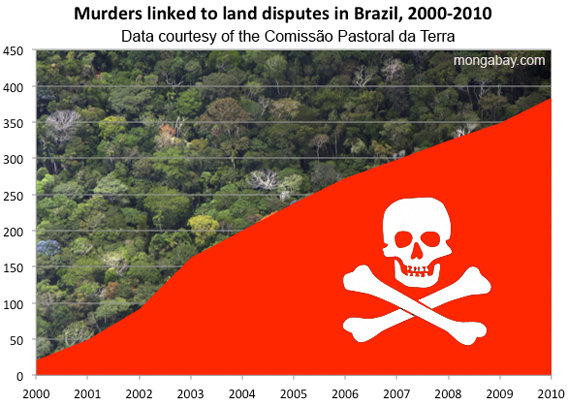 Murders tied to land disputes in rural Brazil, cumulative total of 383 since 2000.



Meanwhile Indonesia, through a presidential instruction, finally unveiled the details of its five month-overdue moratorium on new logging and plantation concessions in primary forest areas and peatlands. The moratorium proved deeply disappointing to environmentalists, who hoped it would include secondary forests and now fear that it could fail to curb greenhouse gas emissions from deforestation. Some national parks were excluded from the instruction, raising questions on the status of existing protected areas in Indonesia.
Other popular stories on mongabay.com in May were two interviews on rhinos. The first, conducted with Rhishja Larson of Saving Rhinos, covered global rhino poaching for the traditional Chinese medicine market. The second was an interview with Susie Ellis, Executive Director of the International Rhino Foundation, about the plight of the Javan Rhino, which is now down to less than 50 individuals (zero live in captivity). In the interview Ellis addressed recent claims by Asia Pulp & Paper, a controversial paper supplier, that is is playing a significant role in protecting rhinos.
Most popular mongabay.com news articles – May 2011
NOTE: Italicized titles represent news articles posted during the month.