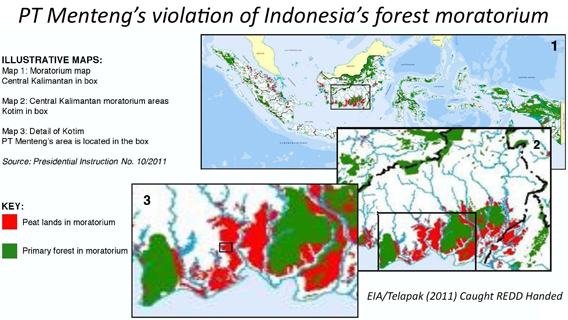 An undercover investigation has found evidence that a subsidiary of Malaysian palm oil company has illegally cleared forest in breach of the Indonesia's moratorium on new permits in primary forest areas and peatlands.
A field investigation conducted last month by the Environmental Investigation Agency (EIA) and Telapak found that PT Menteng Jaya Sawit Perdana (PT Menteng), a palm oil company owned by Malaysia-based Kuala Lumpur Kepong Berhad (KLK), has cleared peat forest near Sampit in Indonesia's Central Kalimantan province without securing proper licenses. PT Menteng had only a Location Permit, not the Plantation Business Permit required under Indonesian plantation law or a permit from the Ministry of Forestry releasing the 7,400-ha (18,300-acre) concession.
EIA and Telapak visited the concession on May 19, the same day President Susilo Bambang Yudhoyono officially signed Indonesia's moratorium on new concessions. The two-year moratorium is part of Indonesia's commitment to reduce emissions from deforestation and peatlands degradation under a $1 billion REDD+ agreement with Norway.
"Crime and corruption in Indonesia's forestry sector has resulted in President Yudhoyono's moratorium being undermined the very day it was signed," said EIA forest campaigner Tomasz Johnson in a statement. "Without significant law enforcement improvements, REDD+ looks set to fail in Indonesia."
| | |
| --- | --- |
| | Photo by EIA/Telapak |
The finding that a KLK subsidiary is breaking the moratorium is significant because the government of Norway is an investor in the Malaysian conglomerate. Norway has more than $41 million worth of KLK shares in the portfolio of its sovereign wealth fund, which includes other logging and plantation companies linked to deforestation in Indonesia.
"Norway's Government Pension Fund Global (GPFG) has investments in scores of plantation and logging companies in Indonesia, including four major groups operating 24 plantation subsidiaries without relevant permits in the Central Kalimantan Pilot Province," said EIA in a statement. "Norway has made roughly five times more money from plantations and logging in Indonesia and neighboring countries during the past year – including illegal operations – than it has granted to Indonesia thus far under the US$1bn REDD+ Letter of Intent."
Research by EIA and Greenomics, an Indonesian NGO, has shown that the value of Norway's investments in forestry companies has dramatically increased over the past year. EIA estimates that Norway's holdings are now worth $678 million, up from $437 million last year. Roughly $145 million of this is profit, while $95 million represents new investments in these companies in 2010.
| | |
| --- | --- |
| | Norway's forestry investments in Indonesia. Chart by EIA/Telapak |
"Relying only on the moratorium and REDD money will not solve the problem of deforestation in Indonesia, and with such poor forest governance in this country we should all be aware of countries such as Norway which are able to take a profit from deforestation," said Telapak Campaigns Director Hapsoro.
Caught REDD Handed, the report detailing investigation, says that illegal forest clearing by plantation companies is rampant in Central Kalimantan, which serves as the pilot province for Indonesia's REDD+ program. A separate investigation by the government's Anti-Forest Mafia Taskforce found that 282 of 325 plantation companies operating in the province lacked the proper permits. Damages to the Indonesian state from these operations and illicit mining were estimated at $18.6 billion.
Cases cited in the Anti-Forest Mafia Taskforce investigation amounted to 107,000-ha worth of concessions, but the EIA/Telapak report says that illegal plantations in the province may top 300,000 ha.
In light of the findings, Caught REDD Handed calls for immediate action by the governments of Norway and Indonesia.
EIA and Telapak say Norway should investigate the four plantation companies named in the Anti-Forest Mafia Taskforce investigation that are part of its portfolio; institute coordination between the Ministry of Finance and the Ministry of Environment "to ensure Pension Fund investments adhere to the goals of REDD+ in Indonesia and worldwide"; and use its "privileged financial position and positive climate change reputation to engender frank and open debate at the international level on how to make investment and commodity markets crime- and deforestation-free."
The report urges Indonesia to launch an investigation into PT Menteng and "significantly improve" law enforcement in the plantation sector. It asks the government to employ Indonesia's new timber verification system, Sistem Verifikasi Legalitas Kayu (SVLK), to "audit for forest clearance without relevant permits." Finally, EIA and Telapak ask President Yudhoyono to ensure that the moratorium map, which defines what forest is off-limits for new concessions and will be updated every six months, is "strengthened rather than weakened in future revisions."
Without these efforts, "regulatory chaos and a culture of impunity in Indonesia's plantation sector pose a serious threat to the moratorium and any meaningful attempt to protect the nation's forests and reduce carbon emissions," according to EIA and Telapak.
Note: KLK did not respond to mongabay.com's request for comment.