Above ground biomass map of Indonesia from Saatchi at al (2011).
In May, Indonesia President Susilo Bambang Yudhoyono issued a presidential instruction laying out the specifications for a two-year moratorium on new concessions in primary forests and peatlands. The moratorium aims to create a window for Indonesia to enact reforms needed to slow deforestation and forest degradation under its Letter of Intent with Norway, which would pay the Southeast Asian nation up to a billion dollars for protecting forests.
President Yudhoyono is using the agreement with Norway as a cornerstone of his 7/26 low carbon development strategy for Indonesia. 7/26 refers to achieving 7 percent economic growth while reducing emissions by 26 percent from a business-as-usual scenario in 2020. Indonesia, which is the world's third largest greenhouse gas emitter due primarily to deforestation and degradation of carbon-dense peatlands, is one of only a handful of large developing countries that has committed to reducing greenhouse gas emissions in a relatively short time-frame. For comparison, the United States, the world's second largest emitter and the richest country, has made no binding commitment reduce emissions.


Click image to enlarge


But while President Yudhoyono's commitment to curtailing emissions has been widely lauded, the moratorium has received mixed reviews from green groups, some of which have been disappointed that it did not include more areas of forest. These organizations note that some secondary forests have high conservation value for biodiversity and store large amounts of carbon. Further, critics of the moratorium say that important protected areas appear to be left off the map that defines which areas are off-limits to conversion. Some have questioned whether the moratorium, as presently defined, will help Indonesia meet the 7/26 target.
However, Agus Purnomo, President Yudhoyono's Special Advisor for Climate Change, disagrees. Speaking with mongabay.com in late May, Purnomo said President Yudhoyono's instruction on the moratorium lays the course for sustainable economic growth in Indonesia.
"Indonesia is moving in the right direction, almost passed the point of no return, on the course toward a sustainable and low-carbon economy," he said. "Environmental sustainability has become an integral part of Indonesia's economic development at the highest level of policy-making."
Purnomo said the legally-binding policy should help push the forestry sector from destructive business-as-usual approaches toward greener forest management. He noted that responsible Indonesian companies may see improved market access, and perhaps price premiums, for their products.
AN INTERVIEW WITH AGUS PURNOMO, PRESIDENT YUDHOYONO'S SPECIAL ADVISOR FOR CLIMATE CHANGE
mongabay.com: Is the Inpres a step toward a greener, more sustainable economy?
Agus Purnomo: Yes, the INPRES is a big step to move forward to more sustainable economy. This is the first Inpres on moratorium of new licenses that Indonesia ever had, and it happened during SBY's presidency.
| | |
| --- | --- |
| | West Kalimantan. Photos by Rhett Butler |
Indonesia is moving in the right direction, almost passed the point of no return, on the course toward a sustainable and low-carbon economy. Environmental sustainability has become an integral part of Indonesia's economic development at the highest level of policy-making.
The presidential instruction to suspend the issuance of new licenses for two years is intended to create the space for governance improvement, especially in primary forests and peat lands in Indonesia. It is intended to balance economic development with social and environment protection, as part of a comprehensive policy to reduce greenhouse gases emissions (GHGs) from deforestation and forest degradation (REDD).
The President has laid the course for sustainable growth in Indonesia, through his 7-26 commitment, which is achieving 7 percent economic growth while reducing emissions by 26 percent from a business-as-usual scenario in 2020.
This policy should be used by the industries and local governments as the turning point from unsustainable forest and forest/peat land utilization practices to a new realization of the old concept of 'sustainable forest management" and "sustainable plantation".
When implemented properly, the forest and peat land governance improvement will give positive impacts to the industry such as access to global markets where more countries are asking for sustainable certification of their imported goods. In the long run, the certified wood and agriculture products will receive a premium price and loyal customers.
mongabay.com: Is the Inpres legally binding? What are the sanctions should a company or bupati fail to comply?
| | |
| --- | --- |
| | >West Kalimantan. Photo by Rhett Butler |
Agus Purnomo: The INPRES 10/2011 is a direct instruction from the President to his ministers, heads of government agencies, governors and heads of districts (Bupati). Insubordination is punishable under Indonesian law.
There will be legal sanctions ranging from administrative punishments to sentencing by the court for public officers who deliberately refuse to comply the INPRES. If bribery is involved then the officer will face criminal charges with high potential of being convicted and going to jail.
The government is also serious in reforming local election process so that the practice of using forests as collateral for local campaign financing can be significantly reduced.
mongabay.com: Why did it take 5 months for the Inpres to be issued?
Agus Purnomo: The delays were mainly because of high expectations that were raised by many parties to this Presidential Instruction. Some stakeholders were demanding a panacea of all forestry problems from this single suspension policy, while others would like to maximize profits by maintaining business-as-usual practices, including converting peat lands for agriculture and opening up new mining areas in primary forests.
The government has been consistent in delivering a series of policy reforms to implement sustainable growth. The suspension policy is one of several policy changes that will be delivered this year, including the creation of an REDD+ Agency, an independent MRV mechanism and a prudent agency for REDD payments to local communities.
The delay, however, has increased buy-ins of the Presidential Instruction. Such increased ownership by government agencies and local stakeholders active in managing forest resources are important in delivering the planned changes during this suspension policy.
mongabay.com: Has the REDD+ Taskforce assumed any of the roles traditionally assigned to the Ministry of Forestry?
| | |
| --- | --- |
| | Sumatra. Photos by Rhett Butler |
Agus Purnomo: The INPRES 10/2011 is simply an instruction to suspend the issuance of new licenses to the Minister of Forestry, Minister of Environment, Minister of Home Affairs, Head of the Presidential Unit for Development Monitoring, Head of National Land Agency, Head of Mapping and Survey Coordination Agency, Head of Spatial Plan Coordination Agency, Head of REDD+ Taskforce, Governors and the Head of District (Bupati).
However, the REDD+ Taskforce is finalizing the designs of an REDD+ agency and an MRV (measuring, reporting and validating) agency that will have some roles traditionally assigned to the Ministry of Forestry.
+Do you believe the Inpres has the potential to trigger fundamental reforms in the forest sector?
Agus Purnomo: The INPRES is limited by its nature of instruction to suspend new licenses and to improve governance in forestry and peat lands. We can certainly use the INPRES as the legal basis to reform forests and peatland management. Once the new REDD+ Agency is operational and also when the Financing Agency starts deliver hundreds of millions of dollars in payments to local communities, the INPRES will have the driving force to facilitate the planned reforms.
| | |
| --- | --- |
| | Sumatra. Photos by Rhett Butler |
One of the instructions in the INPRES 10/2011 is an assignment to the Presidential Delivery Unit (UKP4) to monitor the implementation of Indonesia's REDD+ programs. This specific assignment underlines the importance of improving coordination among government agencies in achieving significant reduction of greenhouse gases emissions.
The two-year suspension gives us time to solve the underlying issues such as revisions of provincial and district level spatial plans and resolutions for land tenure conflicts for a sustainable management of our natural resources. It gives opportunity to improve regulatory framework for land use and establishing a database system with in-depth information on degraded land.
The government is also about to issue an REDD+ Strategy that supports economic growth while keeping the carbon emissions low. Our REDD+ objectives will be attained through peat-land and forest management.
mongabay.com: Given that the extent of the moratorium is relatively small compared to the total forested area of Indonesia, what measures are being considered to ensure that the 7/26 objectives can be achieved?
Agus Purnomo: The primary forests and peat lands covered by this suspension policy is a huge area of 72 millions hectares, three times the size of United Kingdom. It is beyond doubt that the areas under this suspension policy cover majority of Indonesia forested area. Those who argued otherwise are deliberately misleading the public.
| | |
| --- | --- |
| | Sumatra. Photo by Rhett Butler |
More than 30 million hectares of forests are completely or partially damaged. This secondary forests are available for economic activities such as agricultural expansion, mining and construction of new infrastructure. Indonesia is serious in protecting the remaining primary forests and by utilizing the degraded lands, such primary forests will stay as permanent forest while economic activity, especially poverty alleviation programs, can be sustained and increased.
By providing industries and companies with access to degraded land for future growth and expansion, the government is encouraging new investments that will bring jobs and reducing poverty in remote areas. President Yudhoyono is known for his 4 tracks strategy which is "pro-growth, pro-job, pro-poor and pro-environment".
mongabay.com: What is the expected areas of primary, secondary, and peat lands that will be developed that are excluded from the moratorium because they have an existing license?
Agus Purnomo: The indicative map of primary forests and peat lands is attached to the Presidential Instruction and designed in a way so that it can be revised every six months to accommodate changes and corrections. Those maps are opened for public scrutiny and can be downloaded from a website that will be announced within a few weeks. The size of each area can be calculated from the indicative map.
mongabay.com: Will there be any review of existing licenses? Is there any potential for land swaps?
| | |
| --- | --- |
| | Central Kalimantan. Photo by Rhett Butler |
Agus Purnomo: Review of licensing process and other management standards will take place within the two-year suspension period. Review of existing licenses and land swaps are possible upon request and when circumstances required. However, the government is committed to provide legal certainty for existing licenses, especially for those who have obtained a "principle permit". The INPRES is prohibiting the Minister of Forestry to issue new principle permits within the next two years.
For extension of expired licenses, a join commission will be created to evaluate the compliance of the management unit in the past. Performance of existing license holders will be monitored and evaluated rigorously. When the license holders failed to comply with standards and regulations, their licenses will be reviewed.
mongabay.com: Is there any estimate how much land will be exempted for mining, energy, and food development? Will the MIFEE project in Papua likely proceed?
Agus Purnomo: We have not come to that level of details in the planning for this suspension policy. More information will be distributed in the coming months. What we have at this stage is a master plan of economic expansion that will bring additional infrastructures, improve connectivity of our archipelagic nation and facilitate new investments.
Related articles
Lack of clarity complicates Indonesia's logging moratorium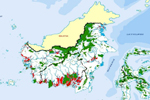 (05/27/2011) Lack of clarity makes it difficult to assess whether Indonesia's moratorium on new logging concessions in primary forest areas and peatlands will actually reduce greenhouse gas emissions from deforestation, according to a new comprehensive assessment of the instruction issued last week by Indonesian President Susilo Bambang Yudhoyono. The analysis, conducted by Philip Wells and Gary Paoli of Indonesia-based Daemeter Consulting, concludes that while the moratorium is "potentially a powerful instrument" for achieving the Indonesian president's goals of 7 percent annual growth and a 26 percent reduction in greenhouse gas emissions from a projected 2020 baseline, the language of the moratorium leaves significant areas open for interpretation, potentially offering loopholes for developers.
Indonesia's moratorium disappoints environmentalists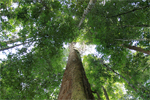 (05/20/2011) The moratorium on permits for new concessions in primary rainforests and peatlands will have a limited impact in reducing deforestation in Indonesia, say environmentalists who have reviewed the instruction released today by Indonesian President Susilo Bambang Yudhoyono. The moratorium, which took effect January 1, 2011, but had yet to be defined until today's presidential decree, aims to slow Indonesia's deforestation rate, which is among the highest in the world. Indonesia agreed to establish the moratorium as part of its reducing emissions from deforestation and degradation (REDD) agreement with Norway. Under the pact, Norway will provide up to a billion dollars in funds contingent on Indonesia's success in curtailing destruction of carbon-dense forests and peatlands.
Is Indonesia losing its most valuable assets?
(05/16/2011) Deep in the rainforests of Malaysian Borneo in the late 1980s, researchers made an incredible discovery: the bark of a species of peat swamp tree yielded an extract with potent anti-HIV activity. An anti-HIV drug made from the compound is now nearing clinical trials. It could be worth hundreds of millions of dollars a year and help improve the lives of millions of people. This story is significant for Indonesia because its forests house a similar species. In fact, Indonesia's forests probably contain many other potentially valuable species, although our understanding of these is poor. Given Indonesia's biological richness — Indonesia has the highest number of plant and animal species of any country on the planet — shouldn't policymakers and businesses be giving priority to protecting and understanding rainforests, peatlands, mountains, coral reefs, and mangrove ecosystems, rather than destroying them for commodities?
Election cycle linked to deforestation rate in Indonesia
(04/14/2011) Increased fragmentation of political jurisdictions and the election cycle contribute to Indonesia's high deforestation rate according to analysis published by researchers at the London School of Economics (LSE), the Massachusetts Institute of Technology (MIT), and South Dakota State University (SDSU). The research confirms the observation that Indonesian politicians in forest-rich districts seem repay their election debts by granting forest concessions.
Indonesia can meet low carbon goals without sacrificing economic growth, says UK report
(04/14/2011) Indonesia can meet its low carbon development goals without sacrificing economic growth, reports an assessment commissioned by the British government.