The map underpinning Indonesia's moratorium on new concessions in primary forests and peatlands is "inaccurate", an Indonesian forestry official told The Jakarta Post.
Forestry Ministry secretary-general Hadi Daryanto said the estimate that the moratorium would cover 64 million hectares of primary forest was inaccurate. He said that lack of current satellite data impeded the process of classifying forest.
"The accuracy is not essential for an indicative map [on the forest moratorium]," he was quoted as saying by The Jakarta Post.
"We will revise it [the map] every six months, if there are findings with scientific proof."

Click image to enlarge (Greenpeace analysis February 2011)


The revelation came as Greenomics Indonesia, an activist group, reported that nine blocks of forest categorized by the government as primary forest are actually secondary forest.
Other analysis has found that some existing protected areas — including Sumatra's Bukit Tigapuluh and Tesso Nilo — are conspicuously absent from the map.
Environmentalists have criticized the coarse scale of the map, which is 1:19 million. The Forestry Ministry says it will soon publish a 1:250,000-scale map.
Related articles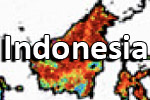 Interview with Indonesian climate official on rainforest logging moratorium

(06/03/2011) In May, Indonesia President Susilo Bambang Yudhoyono issued a presidential instruction laying out the specifications for a two-year moratorium on new concessions in primary forests and peatlands. The moratorium aims to create a window for Indonesia to enact reforms needed to slow deforestation and forest degradation under its Letter of Intent with Norway, which would pay the Southeast Asian nation up to a billion dollars for protecting forests.
Lack of clarity complicates Indonesia's logging moratorium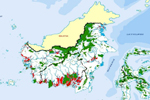 (05/27/2011) Lack of clarity makes it difficult to assess whether Indonesia's moratorium on new logging concessions in primary forest areas and peatlands will actually reduce greenhouse gas emissions from deforestation, according to a new comprehensive assessment of the instruction issued last week by Indonesian President Susilo Bambang Yudhoyono. The analysis, conducted by Philip Wells and Gary Paoli of Indonesia-based Daemeter Consulting, concludes that while the moratorium is "potentially a powerful instrument" for achieving the Indonesian president's goals of 7 percent annual growth and a 26 percent reduction in greenhouse gas emissions from a projected 2020 baseline, the language of the moratorium leaves significant areas open for interpretation, potentially offering loopholes for developers.
Is Indonesia losing its most valuable assets?
(05/16/2011) Deep in the rainforests of Malaysian Borneo in the late 1980s, researchers made an incredible discovery: the bark of a species of peat swamp tree yielded an extract with potent anti-HIV activity. An anti-HIV drug made from the compound is now nearing clinical trials. It could be worth hundreds of millions of dollars a year and help improve the lives of millions of people. This story is significant for Indonesia because its forests house a similar species. In fact, Indonesia's forests probably contain many other potentially valuable species, although our understanding of these is poor. Given Indonesia's biological richness — Indonesia has the highest number of plant and animal species of any country on the planet — shouldn't policymakers and businesses be giving priority to protecting and understanding rainforests, peatlands, mountains, coral reefs, and mangrove ecosystems, rather than destroying them for commodities?