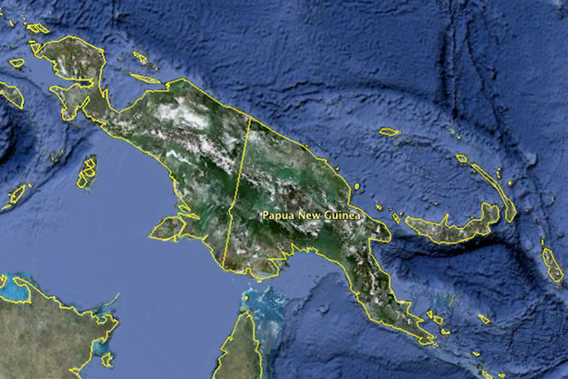 Papua New Guinea, as viewed from Google Earth, covers the eastern half of the island of New Guinea, as well as other Pacific Islands.
The government of Papua New Guinea yesterday suspended its controversial Special Agricultural and Business Leases program which has granted logging and plantation development concessions to mostly foreign corporations across 5.2 million hectares of community forest land, reports the Courier-Post.
The leases (SABLs) emerged as a hot political issue in Papua New Guinea, where 97 percent of land is communally owned. In some cases SABLs were granted without permission or knowledge of the local community, a direct violation of Papua New Guinea's Lands Act. SABLs allow companies to clear forest without complying with existing forestry regulations.
Acting Prime Minister Sam Abal said the government would immediately suspend leases and launch an official inquiry. He cited "concern" for the rights and interests of customary landholders.
"The Commission will investigate the grant of Special Purpose Agriculture and Business Leases, covering some 5.2 million hectares of customary land to ensure all legal requirements have been followed and that the leases are being used for the purposes intended in the legislation," Abal said in a statement.
"Further, all Forest Clearance Authorities granted under the existing leases are to be suspended until the Commission of Inquiry process has been completed.
"This is to ensure that forest areas are not cleared where there may be no guarantee that genuine agricultural projects will follow."
The move comes after local protest and complaints from prominent scientists, including the Association for Tropical Biology and Conservation (ATBC), the world's largest professional society devoted to studying and conserving tropical forests. Last month ATBC urged the government to declare a moratorium on SABLs.
William Laurance, a scientist at James Cook University and a member of ATBC, applauded the decision.
"This is a wise move by Acting Prime Minister Sam Abal," Laurance told mongabay.com. "There's a great deal of nervousness in PNG about these SABLs, given their long-term nature and the fact that they're mostly held by foreign corporations. Many PNG residents call them "land-grabs."
Laurance added it is now critical that Abal appoint "truly independent people—not industry puppets" for his Commission of Inquiry.
Laurance also highlighted the role of independent media in reporting on the SABLs issue.
"Thank goodness for the Courier-Post Newspaper in PNG, which has been investigating this issue thoroughly," he said. "The National newspaper, which is the other major paper in PNG and is owned by the Malaysian logging giant Rimbunan Hijau, has supported the SABLs or been tacitly silent."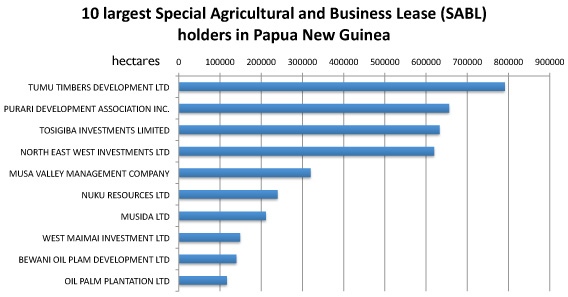 Chart by mongabay.com.
Related articles
Scientists urge Papua New Guinea to declare moratorium on massive forest clearing
(04/19/2011) Forests spanning an area larger than Costa Rica—5.6 million hectares (13.8 million acres)—have been handed out by the Papua New Guinea government to foreign corporations, largely for logging. Granted under government agreements known as Special Agricultural and Business Leases (SABLs), the land leases circumvent the nation's strong laws pertaining to communal land ownership. Now, the Association for Tropical Biology and Conservation (ATBC), the world's largest professional society devoted to studying and conserving tropical forests, is urging the Papua New Guinea government to declare a moratorium on SABLs.
5 million hectares of Papua New Guinea forests handed to foreign corporations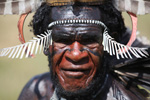 (03/23/2011) During a meeting in March 2011 twenty-six experts—from biologists to social scientists to NGO staff—crafted a statement calling on the Papua New Guinea government to stop granting Special Agricultural and Business Leases. According to the group, these leases, or SABLs as they are know, circumvent Papua New Guinea's strong community land rights laws and imperil some of the world's most intact rainforests. To date 5.6 million hectares (13.8 million acres) of forest have been leased under SABLs, an area larger than all of Costa Rica. "Papua New Guinea is among the most biologically and culturally diverse nations on Earth. [The country's] remarkable diversity of cultural groups rely intimately on their traditional lands and forests in order to meet their needs for farming plots, forest goods, wild game, traditional and religious sites, and many other goods and services," reads the statement, dubbed the Cairns Declaration. However, according to the declaration all of this is threatened by the Papua New Guinea government using SABLs to grant large sections of land without going through the proper channels.
Stopping export logging, oil palm expansion in PNG in 2012 would cost $1.8b, says economist
(03/07/2011) Stopping logging for timber export and conversion of forest for oil palm plantations would cost Papua New Guinea roughly $2.8 billion dollars from 2012 to 2025, but would significantly reduce the country's greenhouse gas emissions, according to a new analysis published by an economist from the University of Queensland.
Foreign corporations devastating Papua New Guinea rainforests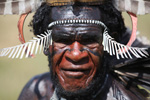 (10/21/2010) A letter in Nature from seven top scientists warns that Papua New Guinea's accessible forest will be lost or heavily logged in just ten to twenty years if swift action isn't taken. A potent mix of poor governance, corruption, and corporate disregard is leading to the rapid loss of Papua New Guinea's much-heralded rainforests, home to a vast array of species found no-where else in the world. "Papua New Guinea has some of the world's most biologically and culturally rich forests, and they're vanishing before our eyes," author William Laurance of James Cook University in Cairns, Australia, said in a statement.
Papua New Guinea strips communal land rights protections, opening door to big business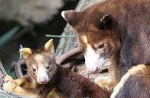 (06/30/2010) On May 28th the parliament in Papua New Guinea passed a sweeping amendment that protects resource corporations from any litigation related to environmental destruction, labor laws, and landowner abuse. All issues related to the environment would now be decided by the government with no possibility of later lawsuits. Uniquely in the world, over 90 percent of land in Papua New Guinea is owned by clan or communally, not be the government. However this new amendment drastically undercuts Papua New Guinea's landowners from taking legislative action before or after environmental damage is done. Essentially it places all environmental safeguards with the Environment and Conservation Minister.
How activists and scientists saved a rainforest island from destruction for palm oil
(02/12/2008) In mid-January, Mongabay learned that the government of Papua New Guinea had changed its mind: it would no longer allow Vitroplant Ltd. to deforest 70% of Woodlark Island for palm oil plantations. This change came about after one hundred Woodlark Islanders (out of a population of 6,000) traveled to Alotau, the capital of Milne Bay Province, to deliver a protest letter to the local government; after several articles in Mongabay and Pacific Magazine highlighted the plight of the island; after Eco-Internet held a campaign in which approximately three thousand individuals worldwide sent nearly 50,000 letters to local officials; and after an article appeared in the London Telegraph stating that due to deforestation on New Britain Island and planned deforestation on Woodlark Island, Papua New Guinea had gone from being an eco-hero to an 'eco-zero'.