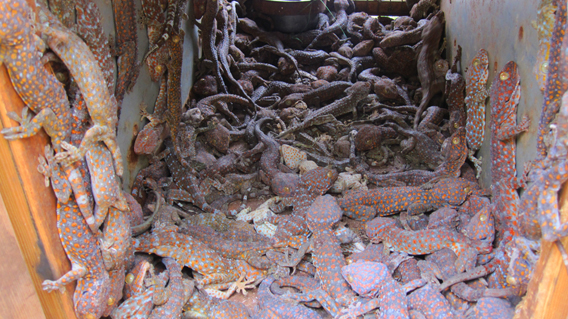 Over a thousand geckos discovered in the trunk of a taxi in Cambodia. Photo courtesy of Wildlife Alliance.
Over a thousand tokay geckos (Gekko gecko) were found in a single trunk of a taxi by the Wildlife Rapid Response Team (WRRT), forestry officials, and military police in Cambodia. WRRT is wildlife-crimes program run by Wildlife Alliance.
Boxes filled the taxi's trunk. In the boxes were bags stuffed with 1,027 tokay geckos, of which nineteen had perished.
"[The tokay geckos] were likely going to be turned into food or possibly dried out for use in traditional medicines. There are also reports that Malaysian syndicates are buying them to fight them in rings, with onlookers gambling on the results," reads a blog from Wildlife Alliance on the incident.
| | |
| --- | --- |
| | Over a thousand geckos discovered in the trunk of a taxi in Cambodia. Photo courtesy of Wildlife Alliance. |
Both the alleged wildlife trafficker and the taxi driver, a relative of the trafficker, were apprehended. The pair do not face jail time as the species is not considered endangered, however they face a maximum fine of three times the market value of the species, in this case nearly $4,000.
The surviving thousand-plus lizards were returned to the wild.
Native to much of tropical Asia, tokay geckos are considered generally common, although they have not been evaluated by the IUCN Red List. In some parts of the world they have been introduced and thus are considered pesky invasive species. However in their native habitat, they help keep insect numbers in check.
Related articles
Customs officials confiscate over a thousand monitor lizards headed to China
(04/11/2011) Thai Customs officials have confiscated 1,800 Bengal monitor lizards on the border between Thailand and Malaysia, reports the AFP. Officials said the lizards were likely headed to China for consumption.
Top 25 most endangered turtles: Asian species in crisis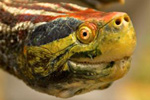 (02/23/2011) Surviving hundreds of millions of years on Earth have not saved turtles from facing extinction at human hands. A new report by the Wildlife Conservation Society (WCS) and the Turtle Conservation Coalition, identifies the world's 25 most imperiled turtles, including one that is practically assured extinction: 'Lonesome George' the last Abdington Island tortoise in the world. The list includes four turtle species from South and Central America, three from Africa, and one from Australia. But Asia is the hotbed for turtles in trouble with 17 of the top 25 species, or 68%. The numbers are even more alarming if one looks only at the top ten: eight of the top ten are in Asia, and six of these in China.
Forgotten species: the subterranean Gekko gigante

(04/08/2010) Travelers to tropical destinations are likely familiar with the gecko. Clinging to walls and ceilings of buildings—sometimes staring down at you from the bedroom ceiling or glancing at you quizzically from the bathroom door—the small adhesive-footed lizard could be aptly described in some tropical areas as ubiquitous. Despite the apparent commonness of some species, geckos are delightful lizards with round wide eyes, a thick gripping tongue, and of course that amazing knack of seemingly defying gravity with specialized toe pads. But not all geckos are as easily found—or as common—as those hanging out, literally, in a jungle lodge. The Gekko gigante, also known as the Gigante narrow-disked gecko, has been little- noticed by the public. Even scientists know little about the lovely gray-and-blue gecko beyond the fact that it lays its eggs on cool moist cave walls in two Philippine Islands.