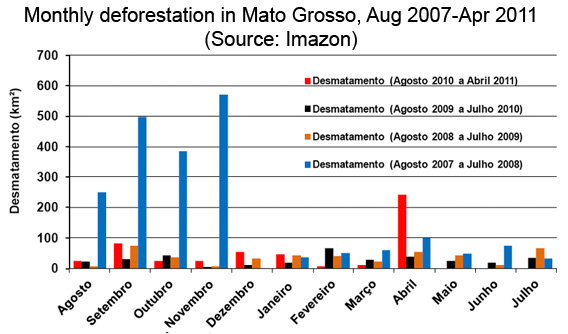 Analysis by Imazon, a research institute, has confirmed a huge surge in deforestation in a critical part of the Brazilian Amazon.
Imazon's satellite-based deforestation detection system recorded a near doubling in forest clearing in the state of Mato Grosso from August 2010-April 2011 over the year-earlier period. The findings are significant because Mato Grosso, which accounts for the bulk of Amazon deforestation in most years, is a bellwether for deforestation trends in Brazil.
Imazon's analysis shows that deforestation amounted to 243 km square in Mato Grosso in the month of April, a 537 percent increase over April 2010. But forest degradation — logging, burning, and thinning of forest that often precedes deforestation — reached 1,755 square kilometers in the month, up from 13 square kilometers April a year earlier.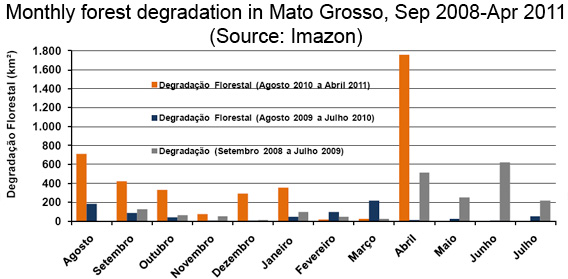 The news comes just days after data leaked by Brazil's national space research agency INPE also showed a big increase in deforestation. But INPE hasn't officially released the data from its rapid deforestation detection (DETER) system, which has now been delayed by more than two months.
Imazon and other groups say the spike in deforestation is related to the ongoing debate over Brazil's forest code. Anticipating a weakening in the code that would grant amnesty for deforestation, farmers and ranchers have been clearing swathes of forest. Dry conditions, lingering from last year's worst-ever drought, have exacerbated the situation.
SAD Alerta Mato Grosso Abril 2011 [Portuguese]
Related articles
Information leak: Amazon deforestation increases sharply while forest code debated

(05/16/2011) Deforestation has increased sharply in Mato Grosso over the past nine months according to information leaked to Folha.com.
Monitoring deforestation: an interview with Gilberto Camara, head of Brazil's space agency INPE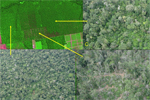 (02/08/2011) Perhaps unsurprisingly, the world's best deforestation tracking system is found in the country with the most rainforest: Brazil. Following international outcry over immense forest loss in the 1980s, Brazil in the 1990s set in motion a plan to develop a satellite-based system for tracking changes in forest cover. In 2003 Brazil made the system available to the world via its web site, providing transparency on an issue that was until then seen as a badge of shame by some. Since then Brazil has become recognized as the standard-bearer for deforestation tracking and reporting—no other country offers the kind of data Brazil provides. Space engineer Gilberto Camara has overseen much of INPE's earth sensing work and during his watch, INPE has released several new exciting capabilities.