Some of Australia's most popular stores are driving the destruction of native forests, according to a report by a new environmental group Markets for Change (MFC). Furniture, building materials, and paper products were found to be coming at the expense of native forests in Australia and being sold by over 30 businesses in the country, such as Freedom Furniture, Bunnings, Officeworks, Staples, Target, Coles, and Woolsworths.
"Australian families do not want to buy into this destruction. They want to know that the everyday products they buy are not endangering wildlife or leading to increasing climate pollution. Well known retailers need to become part of the solution and not the problem—that means rapidly moving away from using native forests to environmentally responsible plantation timber for their products," said Tim Birch, CEO of Markets for Change, in a press release.
Markets for Change is asking these stores to commit to a procurement policy that would ban products made from native forests or from old growth forest destruction abroad. The organization encourages consumers to purchase products certified by the Forest Stewardship Council (FSC) only if products have 'full FSC certification', and to avoid products with 'FSC-controlled wood' or 'mixed source certification'.
According to the report: "This level of certification is unacceptable because it continues to be given to companies that are undertaking logging operations in native forests in Australia. These logging activities are destroying native forest ecosystems."
Industrial logging is currently permitted in 76% of Australia's nearly 150 million hectares of native forests. Currently, logging is ongoing in Tasmania, Victoria, New South Wales, and Western Australia.
Businesses in Australia selling products made from native forests according to Markets for Change: Australian Floor Style, Australia Post, Bedshed, Bunnings, Decorug, Dick Smith, Domayne, Embelton, Everyday Living, Freedom Furniture, Focus on Furniture, Forty Winks, Furniture Court, Furniture One, Harvey Norman, Home Trimber and Hardware, Hudson Building Supplies, IGA, Mitre 10, Office Choice, OfficeMax, Office Products Depot, Officeworks (which also stocks paper from Indonesia), OzDesign, Perfect Timber Floors, Sleep City, Snooze, Staples, Target, and Woolsworths.
Related articles
Australia cracks down on illegal timber
(12/16/2010) The Australian government has announced the creation of new legislation which will put further restrictions on the import of foreign wood products in effort to halt the flow of illegally logged timber. Taking effect next year, the laws will require importers to disclose the sources of all timber products, even paper.
Genetic analysis uncovers new parrot on the edge of extinction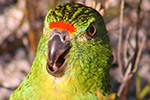 (11/23/2010) Down to just over 100 individuals, DNA analysis has revealed one of the world's most imperiled bird species: the western ground parrot Pezoporus flaviventris.. Genetic evidence collected from museums specimens, some well-over a century old, have led scientists to "cautiously suggest" that Australia's ground parrot be split into two distinct species—the eastern and the western—and not subspecies as they are currently considered. According to the study, the ground parrot species split apart some two million years ago, around the same time as the first members of the genus Homo evolved.
Loss of old growth forest continues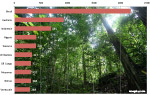 (10/06/2010) A new global assessment of forest stocks by the U.N. Food and Agriculture Organization (FAO) shows continuing loss of primary forests since 2005 despite gains in the extent of protected areas. FAO's Global Forest Resources Assessment 2010 reveals some 13 million hectares of forest were cleared between 2000 and 2010, down from around 16 million hectares per year during the 1990s. Loss of primary forest—mostly a consequence of logging—averaged 4.2 million hectares per year, down from 4.7 million hectares per year in the 1990s.