On Wednesday, the National Oceanic and Atmospheric Administration (NOAA) issued its biennial report identifying six countries whose fisheries have been engaged in illegal, unreported, or unregulated (IUU) fishing during the past two years. The report comes at a time when one-fifth of reported fish catches worldwide are caught illegally and commercial fishing has led to a global fish stock overexploitation of an estimated 80 percent.
The countries listed in the report – Colombia, Ecuador, Italy, Panama, Portugal, and Venezuela – have fishing vessels which engaged in practices such as fishing during closed seasons, using banned driftnets, and possessing undersized bluefin tuna. Other violations included illegal gear modifications, fishing without proper authorization, and problems with vessel registry lists.
The identified nations will have two years to comply with mandates against IUU fishing or risk economic sanction.
"If a nation fails to take appropriate action to address the instances of illegal fishing described in the report, that nation's vessels may be denied entry into U.S. ports and the President may prohibit imports of certain fish products from that nation or take other measures," said Russell Smith, NOAA deputy assistant secretary for international fisheries. "We are encouraged that the nations identified in 2009 have taken significant actions to address illegal fishing by their vessels, and we are now reaching out to the six countries identified in today's report,"
| | |
| --- | --- |
| | A sea turtle entangled in a piece of abandoned driftnet. Photo by NOAA |
The report is a result of the Magnuson-Stevens Act, the primary law governing marine fisheries, and was initiated by a new amendment which directs NOAA to research and address illegal fishing practices in fleets around the world. The fist report released by NOAA was in 2009 and listed China, France, Italy, Libya, Panama, and Tunisia as its top IUU fishing offenders. These countries have taken steps by penalizing vessels which engage in illegal practices or adopting new laws to strengthen control of their fishing fleets.
However, of the countries listed in the recent report, Italy and Panama have been carried over from 2009. NOAA states that while the governments of these countries took corrective actions to address the problems of its fisheries, vessels were still found to be conducting illegal fishing practices such as use of driftnets and purse-seining in areas closed to that activity.
The practice of driftnetting involves letting loose a large net which passively snares fish while it drifts along on prevailing ocean currents. The method has a large rate of by-catch and has been found to be especially dangerous for marine mammals. The EU bans their use completely, while a global moratorium was enacted in 1992 which forbids the use of driftnets over 2.5 kilometers in length.
"Illegal fishing must be stopped," said Smith, "as it subjects our fishermen to unfair competition and undermines efforts to sustainably manage the valuable fish stocks around the world that so many communities depend on for food and jobs."
Related articles
Environmentalists: fishing quota could be death sentence for bluefin tuna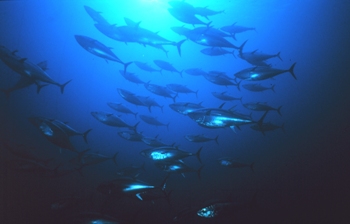 11/28/10 Once again, the International Commission for the Conservation of Atlantic Tuna (ICCAT) has flouted warnings from conservationists, evidence from scientists, and even recommendations from the European Commissioner Fisheries and Maritime Affairs in its most recent fishing quota for the Atlantic bluefin tuna. Meeting last week in Paris, ICCAT agreed to a 2011 fishing quota of 12,900 metric tons, 600 less than this year's quota. Yet, environmentalists from a wide-range of organizations have been warning for years that without a moratorium on bluefin fishing—or at least a drastic reduction in quotas—the species is at risk of extinction. ICCAT's own scientists say that the current quota gives the species a 70% chance of recovery.