Illegal logging is rampant in Vietnam, according to a new report from the the Ministry of Agriculture and Rural Development's General Forestry Department.


As reported by Viet Nam News, there have been 2,463 illegal logging cases across Vietnam so far this year. Action to address logging has resulted in 44 forest rangers being injured and four deaths.


Illegal logging was worst in the northern provinces of Bac Kan, Lang Son and Thai Nguyen; the central provinces of Quang Binh, Quang Nam and Khanh Hoa; and the Central Highland province of Dak Lak. according to the report.


Despite the report, Vietnam has seen a reversal in net forest loss in recent years due to reforestation. According to the FAO, forest cover increased by roughly 50 percent between 1990 and 2010, including 2.5 million hectares of new planted forests. But old growth forests have continued to fall, with primary forest cover plunging 79 percent over the period. Today about 80,000 hectares of primary forest remains in Vietnam.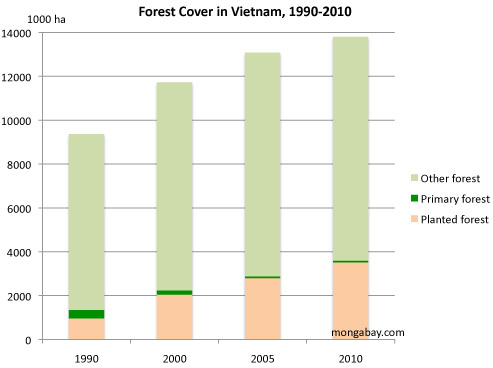 Primary forest—the most biologically-rich and carbon dense form of forest—is a top conservation priority for Vietnam. Nevertheless primarily forest cover declined by 5.9 percent over the past five years.
Related articles
Vietnam outsources deforestation to neighboring countries
(09/02/2009) Taking a cue from its much larger neighbor to the north, Vietnam has outsourced deforestation to neighboring countries, according to a new study that quantified the amount of displacement resulting from restrictions on domestic logging. Like China, Vietnam has experienced a resurgence in forest cover over the past twenty years, largely as a result a forestry policies that restricted timber harvesting and encouraged the development of processing industries that turned raw log imports into finished products for export. These measures contributed to a 55 percent of Vietnam's forests between 1992 and 2005, while bolstering the country's stunning economic growth. But the environmental benefit of the increase in Vietnam's forest cover is deceptive: it came at the expense of forests in Laos, Cambodia, and Indonesia. Authors Patrick Meyfroidt and Eric F. Lambin of the Universite Catholique de Louvain in Belgium calculate that 39 percent of Vietnam's forest regrowth between 1987 and 2006 was effectively logged in other countries. Half of the wood imports into Vietnam were illegal.