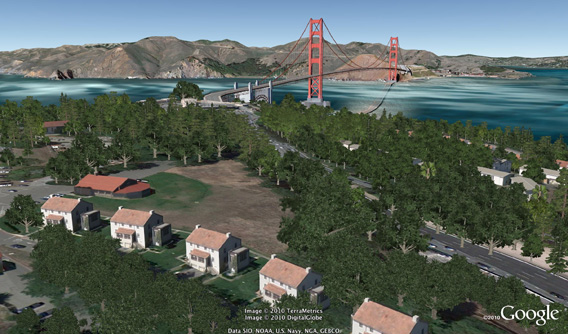 Trees in the Presidio, near the Golden Gate Bridge in San Francisco.
With world leaders meeting at climate talks in Cancun to discuss the future of forests, Google has added 3D trees to the latest version of Google Earth.
Google has populated several major cities with more than 80 million virtual trees based on an automated process that identifies trees in satellite images. The realistic 3D representations are based on actual tree species found in urban areas. For example, San Francisco's Golden Gate Park has nearly a dozens species, including Green Ash, various maples, and cypress, while Tokyo's Yoyogi Park, Shinjuku Gyoen and the Akasaka Imperial Grounds contain Ginkgo, Flowering dogwood, and Cherry trees, among others. New York City, Davis, Berlin, Athens, and Chicago are also represented. More than 40 tree species are currently included.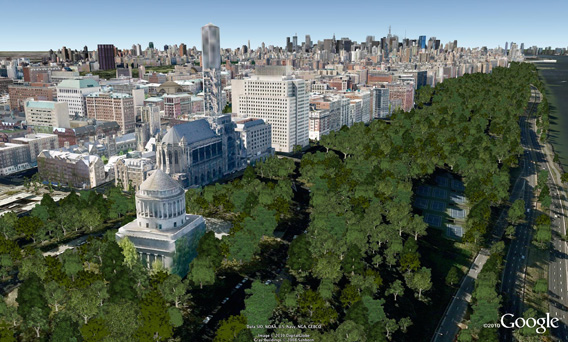 Trees in the Riverside Park, New York City.
But Google has also extended realistic tree coverage to sites in some of the world's most biologically diverse forests. Working with environmental organizations involved in its Google Earth Outreach program, Google has modeled trees in East Africa, the Brazilian Amazon, and coastal Mexico. Google hopes the initiative will help highlight the groups' efforts to protect endangered forests and generate sustainable livelihoods for communities.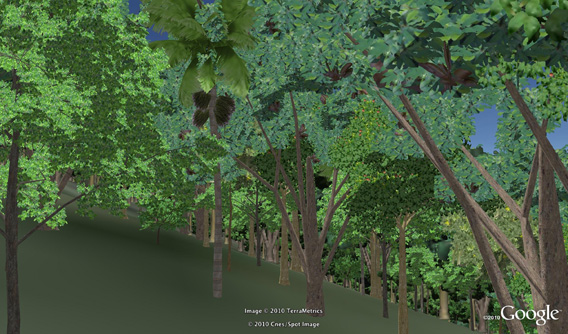 Rainforest trees in Surui territory, Acre, Brazil.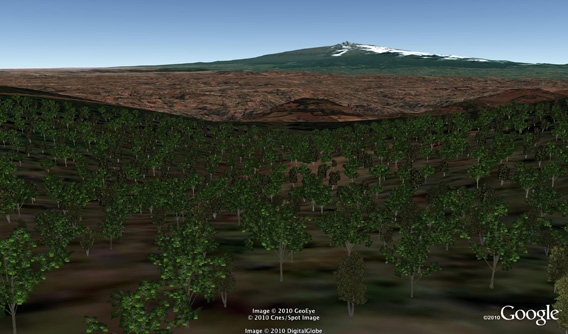 Greenbelt Movement reforestation site in Kenya.
In Brazil, Google worked with the Surui tribe and the Amazon Conservation Team to model some of the most "culturally significant" trees in the Surui's tract of Amazon rainforest. These include the acai palm, known for its protein- and antioxidant-rich fruit; the Moriche palm, an important source of food; the cacao tree, used to produce chocolate; the Cashew tree; and the Brazil Nut, among others.
| | |
| --- | --- |
| | CONABIO mangrove project. |
Meanwhile in Kenya, Google Earth populated five sites run by the Green Belt Movement with native tree species communities are using to reforest degraded landscapes. In Mexico, Google Earth worked with CONABIO, Mexico's National Commission for the Knowledge and Use of Biodiversity, to model mangrove forests, which serve as nurseries for marine life and protect coastal regions from erosion.
"[This] is a visualization of what trees look like all over the world," Peter Birch, Google Earth Product Manager, told mongabay.com. "By highlighting select forest regions, Google Earth is helping tell stories about forests and those organizations."
The latest version of Google Earth includes two other major new features: integrated "Street View", which enables users to zoom from space directly to an on-the-ground view of a place, and improved access to historical imagery, which allows viewers to see how locations have changed over time. Historical imagery can be particularly useful in the context of deforestation. For example, a Google Earth user viewing the area surround the Surui territory can see forests disappear over time as loggers and ranchers move into the region. Today the Surui forest is an island in a largely deforested landscape.
Related articles
Google Earth animation shows Brazilian plans to turn Amazon into 'series of stagnant reservoirs'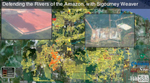 (08/30/2010) The decision last week by the Brazilian government to move forward on the $17 billion Belo Monte Dam on the Xingu river will set in motion a plan to build more than 100 dams across the Amazon basin, potentially turning tributaries of the world's largest river into 'an endless series of stagnant reservoirs', says a new short film released by Amazon Watch and International Rivers.
Google Earth boosts deforestation monitoring capabilities
(02/07/2010) Google has taken a step towards ramping up the deforestation monitoring capabilities the Google Earth Engine by contracting Massachusetts-based Clark Labs to develop an online version of its Land Change Modeler application.
Biggest private funder of Amazon conservation teams with Google and scientists to develop earth monitoring platform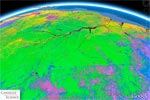 (12/18/2009) The Gordon and Betty Moore Foundation, the largest private funder of Amazon rainforest conservation, is playing an unheralded but integral role in the development of the Earth Engine platform, a system that combines the computing power of Google with advanced monitoring and analysis technologies developed by leading environmental scientists. The platform, which was officially unveiled at climate talks in in Copenhagen, promises to enable near real-time monitoring of the world's forests and carbon at high resolution at selected sites before COP-16 in Mexico.
Google's Earth Engine to help tropical countries monitor forests
(12/16/2009) A powerful forest monitoring application unveiled last week by Google will be made freely available to developing countries as a means to build the capacity to quality for compensation under REDD, a proposed climate change mitigation mechanism that would pay tropical countries for protecting forests, according to a senior Google engineer presenting at a side event at COP15 in Copenhagen.
How satellites are used in conservation
(04/13/2009) In October 2008 scientists with the Royal Botanical Garden at Kew discovered a host of previously unknown species in a remote highland forest in Mozambique. The find was no accident: three years earlier, conservationist Julian Bayliss identified the site—Mount Mabu—using Google Earth, a tool that's rapidly becoming a critical part of conservation efforts around the world. As the discovery in Mozambique suggests, remote sensing is being used for a bewildering array of applications, from monitoring sea ice to detecting deforestation to tracking wildlife. The number of uses grows as the technology matures and becomes more widely available. Google Earth may represent a critical point, bringing the power of remote sensing to the masses and allowing anyone with an Internet connection to attach data to a geographic representation of Earth.
Development of Google Earth a watershed moment for the environment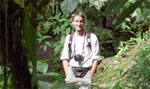 (03/31/2009) Satellites have long been used to detect and monitor environmental change, but capabilities have vastly improved since the early 1970s when Landsat images were first revealed to the public. Today Google Earth has democratized the availability of satellite imagery, putting high resolution images of the planet within reach of anyone with access to the Internet. In the process, Google Earth has emerged as potent tool for conservation, allowing scientists, activists, and even the general public to create compelling presentations that reach and engage the masses. One of the more prolific developers of Google Earth conservation applications is David Tryse. Neither a scientist nor a formal conservationist, Tryse's concern for the welfare of the planet led him develop a KML for the Zoological Society of London's EDGE of Existence program, an initiative to promote awareness of and generating conservation funding for 100 of the world's rarest species. The KML allows people to surf the planet to see photos of endangered species, information about their habitat, and the threats they face. Tryse has since developed a deforestation tracking application, a KML that highlights hydroelectric threats to Borneo's rivers, and oil spills and is working on a new tool that will make it even easier for people to create visualizations on Google Earth. Tryse believes the development of Google Earth is a watershed moment for conservation and the environmental movement.
Photos: Google Earth used to find new species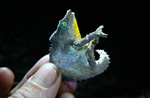 (12/22/2008) Scientists have used Google Earth to find a previously unknown trove of biological diversity in Mozambique, reports the Royal Botanic Gardens in Kew. Scouring satellite images via Google Earth for potential conservation sites at elevations of 1600 meters or more, Julian Bayliss a locally-based conservationist, in 2005 spotted a 7,000-hectare tract of forest on Mount Mabu. The scientifically unexplored forest had previously only been known to villagers. Subsequent expeditions in October and November this year turned up hundreds of species of plants and animals, including some that are new to science.