On July 20th two unidentified men rode up to Amit Jethwa on a motorcycyle as he was coming out of his office in Ahmedabad and shot him dead at point blank range. Jethwa had recently filed a petition against illegal logging in the Gir Forest, the last home of the Asiatic lion, a subspecies of the African lion listed as Endangered by the IUCN Red List.
Jethwa was pursuing action against illegal logging through the Right to Information Act in India, which allows any citizen to request information from a public authority. It is rumored that the illegal mining in Gir Forest had ties to politicians. The father of Amit Jethwa has accused an MP of being behind Jethwa's murder.
Jethwa was also the creator and head of the Gir Nature Youth Club, which focused on working with local youth to preserve the forest and its famous lions.
This is not the first time a citizen employing the Right to Information Act in India has been murdered. Five other RTI activists, as they are known in India, have been killed.
Related articles
Violence a part of the illegal timber trade, says kidnapped activist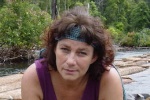 (07/07/2010) The European parliament made a historical move today when it voted overwhelmingly to ban illegal timber from its markets. For activists worldwide the ban on illegal timber in the EU is a reason to celebrate, but for one activist, Faith Doherty of the Environmental Investigation Agency (EIA), the move has special resonance. In early 2000, Doherty and an Indonesian colleague were kidnapped, beaten, and threatened with a gun by illegal loggers in Indonesian Borneo.
Nestle caves to activist pressure on palm oil

(05/17/2010) After a two month campaign against Nestle for its use of palm oil linked to rainforest destruction spearheaded by Greenpeace, the food giant has given in to activists' demands. The Swiss-based company announced today in Malaysia that it will partner with the Forest Trust, an international non-profit organization, to rid its supply chain of any sources involved in the destruction of rainforests. "Nestle's actions will focus on the systematic identification and exclusion of companies owning or managing high risk plantations or farms linked to deforestation," a press release from the company reads, adding that "Nestle wants to ensure that its products have no deforestation footprint."
Activists lock themselves in Cargill headquarters as new report alleges illegal deforestation
(05/05/2010) Following a damning report from the Rainforest Action Network (RAN) alleging illegal clearing of rainforest in Indonesia by agriculture-giant Cargill, activists have infiltrated Cargill headquarters in Wayzata, Minnesota and refuse to come out until the CEO agrees to meet with them. According to local reports, five activists are locked inside a staircase, while others are protesting outside the building.