The 'mystery alien-beast' discovered by four teens in Panama and widely reported in the media over the past few days is likely a deformed sloth.
A week ago four teens playing near a creek in Cerro Azul, a community in the northern part of Panama City, encountered the creature, which they claim approached them. The teens threw rocks and beat the animal to death before returning to take pictures. The photos reveal a white hairless creature with clawed toes. Other than its lack of fur, the animal closely resembles a three-toed sloth, a mammal found widely in the Central American country.

Mystery beast in Panama. Image from Telemetro.


Living sloth
Nevertheless the local media has played up the story, reporting that zoologists are unable to identify the "alien-like" creature. But DNA testing should soon confirm what most are saying: the animal is a sloth.
As a consequence of a slow news cycle towards the end of summer, August and September tend to be peak months for sightings of "strange" and "unidentified" creatures including unusual marine life, malformed animals and the mythological beasts like the Chupacabra, the Mongolian Death Worm, Big Foot, and the Loch Ness Monster.
Related
Chupacabra story is a hoax; likely a Xolo dog breed (Nov 1, 2007)

An alleged chupacabra carcass found in Texas is likely a hoax to sell T-shirts say dog experts. The animal, described in an Associated Press report last week as "a cross between two or three different things", was found as road kill last month near the Texas town of Cuero. The woman who discovered the carcass has been using it to market chupacabra T-shirts. In lively Internet discussions dog breeders say the carcass appears to be that of a Xoloitzcuintle or Xolo, otherwise known as a Mexican Hairless dog, rather than the blood-sucking creature of legend.
New carnivorous plant big enough to swallow a rat
(08/11/2009) A newly discovered carnivorous plant in the central Philippines is large enough to catch a rat, according to a story by the BBC. Nepenthes attenboroughii, named after naturalist and broadcast David Attenborough, is a member of the pitcher plant family, so-called because it is shaped like a large pitcher. The plant preys on insects and animals that fall into its gaping maw.
Dragonflies migrate 14,000-18,000 km from India to S. Africa
(07/16/2009) Millions of dragonflies migrate thousands of kilometers across the Indian Ocean from southern India to Africa, reports the BBC.
Did fish poisoning drive Polynesian colonization of the Pacific?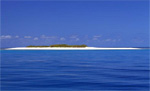 (07/07/2009) The reasons behind the colonization of the Pacific islands have long been sources of controversy and fascination. Now a new study looks into toxic fish poisoning as a possible migration catalyst. Between AD 1000 and 1450, Polynesian colonization of the South Pacific flourished. The voyages that were undertaken in the discovery of these new lands were very dangerous and the people who conducted them undoubtedly had good reasons to do so. Researchers from the Florida Institute of Technology have performed research which shows that toxic ciguatera fish poisoning would provide sufficient impetus for such risky voyages.
Will jellyfish take over the world?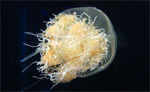 (06/16/2009) It could be a plot of a (bad) science-fiction film: a man-made disaster creates spawns of millions upon millions of jellyfish which rapidly take over the ocean. Humans, starving for mahi-mahi and Chilean seabass, turn to jellyfish, which becomes the new tuna (after the tuna fishery has collapsed, of course). Fish sticks become jelly-sticks, and fish-and-chips becomes jelly-and-chips. The sci-fi film could end with the ominous image of a jellyfish evolving terrestrial limbs and pulling itself onto land—readying itself for a new conquest.
Frogs species discovered living in elephant dung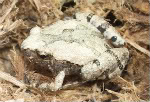 (06/10/2009) Three different species of frogs have been discovered living in the dung of the Asian elephant in southeastern Sri Lanka. The discovery—the first time anyone has recorded frogs living in elephant droppings—has widespread conservation implications both for frogs and Asian elephants, which are in decline. "I found the frogs fortuitously during a field study about seed dispersal by elephants," Ahimsa Campos-Arceiz, a research fellow from the University of Tokyo, told Monagaby.com.
Birds can dance, proving humans aren't the only ones with rhythm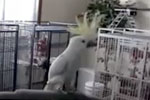 (04/30/2009) Another ability long-thought to belong solely to humans, like tool-use or counting, does in fact occur in other species, according to two new studies. In this case, it is the capacity to move rhythmically with music. Studying two different birds the research groups found that the birds weren't just moving randomly or mimicking owners, but actually changing the tempo of their movement to match the music—in other words, dancing.
Massive freshwater stingray takes 13 men to pull it ashore in Thailand
(02/27/2009) It took ninety minutes and thirteen men to reel in an astounding specimen of giant freshwater stingray on the Ban Pakong River in Thailand. At seven feet wide and weighing an estimated 580-770 pounds (265-350 kilograms), the monstrous fish is thought to be the largest freshwater fish ever caught with a rod and line, according to Fishsiam, a company that provides fishing tours in Thailand.
Rediscovery of the solenodon, a rare venomous mammal, in Haiti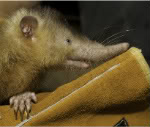 (01/09/2009) In the journal Oryx researchers from EDGE, a program of the Zoological Society of London (ZSL), have announced the rediscovery of a small population of Hispaniolan solenodons in Haiti. At the same time scientists in the Dominican Republic have taken the first ever footage of this endangered mammal.
Yeti 'proof' actually belongs to cliff-dwelling goral
(10/14/2008) In 2003 an Indian forester claimed to have seen a Yeti three days in a row. Dipu Marak, general secretary of the Achik Tourism Society and Yeti enthusiast, followed the man's trail and discovered strands of hair that he believed belonged to the mysterious creature. According to popular tradition, the Yeti is an ape-like animal that lives in the Himalayan forests.
Bigfoot "discovery" looks to be a hoax
(08/18/2008) A much-hyped press conference claiming to present evidence of the existence of Bigfoot offered little in the way of proof but a lot of shameless self-promotion by the "discoverers".
Unlike humans, tree shrews don't get drunk
(07/28/2008) The pentailed treeshrew, sporting a mouse-like body and feathery tail, seems an unlikely drinker. Yet, new research shows that this one-and-half ounce creature's main food source, the nectar of the bertam palm, is highly fermented. The nectar can contain a peak alcohol concentration of 3.8 percent. This is a little less than a Bud Light.
To reproduce, parasite transforms ant into juicy red berry
(01/17/2008) Scientists have discovered a parasite that transforms the appearance of its host, an ant, into that of a juicy red berry that birds are more likely to eat and disperse into new habitats, reports an article published in The American Naturalist. It is the first example of fruit mimicry caused by a parasite, say the researchers who discovered the parasite, a nematode or roundworm found in the canopy of tropical forests ranging from Central America to the lowland Amazon.
Chupacubra is actually a hairless coyote
(11/02/2007) DNA analysis has identified the creature discovered on a Texas ranch as nothing more than a coyote, according to the Associated Press. The animal may have had mange or another sickness or disorder.
Scientists find fish that literally lives in trees
(10/17/2007) Scientists have found a fish that literally lives in trees, according to research published in The American Naturalist and highlighted in New Scientist Magazine.
Harpoon proves whale is 115-130 years old
(06/12/2007) A 19th-century weapon found in the neck of a 50-ton bowhead whale caught off Alaska shows that cetaceans can live more than 100 years, reports the Associated Press (AP).
Viagra helps hamsters recover from jet lag
(05/21/2007) A small dose of Viagra (sildenafil) can help hamsters recover more quickly from a six-hour advance in its daily cycle, report researchers in the early online edition of the Proceedings of the National Academy of Sciences (PNAS).
World's only blue lizard heads toward extinction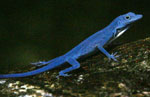 (03/07/2007) High above the forest floor on the remote Colombian island of Gorgona lives a lizard with brilliant blue skin, rivaling the color of the sky. Anolis gorgonae, or the blue anole, is a species so elusive and rare, that scientists have been unable to give even an estimate of its population. Due to the lizard&spod;s isolated habitat and reclusive habits, researchers know little about the blue anole, but are captivated by its stunning coloration.
Snake becomes poisonous by eating toxic frogs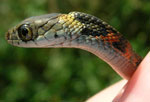 (01/29/2007) A new study shows that the Asian snake Rhabdophis tigrinus becomes poisonous by sequestering toxins from its prey which consists of venomous toads. While sequestering defensive toxins from prey is unusual among terrestrial vertebrates it is not unknown. Research published last year by Valerie C. Clark of Cornell University showed that poison dart frogs (Dendrobates species) and their Madagascar counterparts, the Mantella frogs, sequester toxic skin chemicals, called alkaloids, from the ants they eat. These alkaloids protect the frogs from predation. Similarly, some garter snakes are known to store tetrodotoxin from ingested newts while birds in New Guinea appear to sequester poisons from insects.
Unusual prehistoric shark beast captured in Japan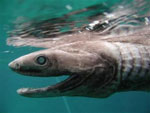 (01/24/2007) A rare frilled shark was captured live by fishermen off the coast of Japan. The toothy eel-like creature was taken to Awashima Marine Park in Shizuoka where it later died according to Reuters.
China uses snake-based earthquake prediction system
(12/27/2006) A province in southern China has come up with a unique way to predict earthquakes: snakes. According to China Daily and as reported by Reuters, the earthquake bureau in Nanning, capital of the Guangxi province, has set up a 24-hour video feed to monitor the behavior of snakes at snake farms. The scientists say that snakes are particularly sensitive to vibrations caused by impending earthquakes.
In search of Bigfoot, scientists may uncover unknown biodiversity in Malaysia
(02/01/2006) Malaysian scientists are scouring the rainforests of Johor state in search of the legendary ape-man Bigfoot, supposedly sighted late last year. But they are more likely to encounter some less fantastic but unique creatures that dwell in these still unexplored ecosystems.
Sex vs. Intelligence: Bigger balls mean smaller brain
(12/13/2005) In a recent study of bats, Scott Pitnick, professor of biology at Syracuse University, found that testis size is negatively correlated with brain size. In other words, the bigger the balls of a bat species, the smaller its brain.