A return of El Niño could boost average global temperatures: the two warmest years on record — 1998 and 2005 — have occurred during ENSO events.
Ocean temperatures in the central and eastern Pacific have shifted into El Niño conditions, increasing the likelihood of anomalously dry conditions in Southeast Asia and other unusual weather patterns, according to the National Oceanic and Atmospheric Administration (NOAA) Climate Prediction Center.
NOAA reports that sea surface temperatures remain 0.5°C to +1.5°C above-average across much of the equatorial Pacific Ocean and says that current forecasts indicate "El Niño conditions will continue to intensify and are expected to last through Northern Hemisphere winter 2009-10." But the agency notes that conditions are still weak, meaning that it is too soon to determine whether a full-blown El Niño-Southern Oscillation climate pattern (ENSO) will develop.
| | |
| --- | --- |
| | Weekly sea surface temperature anomalies in July. Courtesy of NOAA |
David Adamec, head of the Ocean Sciences Branch at NASA Goddard Space Flight Center, says that the Southern Oscillation, the atmospheric component of ENSO, has yet to pick up, according to a post on NASA's Earth Observatory web site:


As of July 26, the trade winds in the western Pacific (near Indonesia) had shifted direction and were blowing weakly toward the east (see NOAA wind anomaly graphic), but across the central and eastern Pacific, easterly trade winds were still of average or slightly above-average strength. For an ENSO event to fully develop, Adamec explains, the easterly trades will have to weaken across a much wider area of the Pacific than they have at present.

ENSO events historically occur every 3 to 8 years when "prevailing easterly winds over the eastern equatorial Pacific weaken or reverse, water temperatures in the central and eastern Pacific climb, and rainfall declines over most tropical land areas," according to NASA's Earth Observatory site. The strongest ENSO occurred in 1997-1998 when hot and dry conditions contributed to large-scale bleaching of coral reefs and massive fires that devastated vast expanses of forest across Indonesia. The second strongest ENSO occurred in 1982-1983, causing billions in damages around the world.
The two warmest years on record — 1998 and 2005 — have occurred during ENSO events.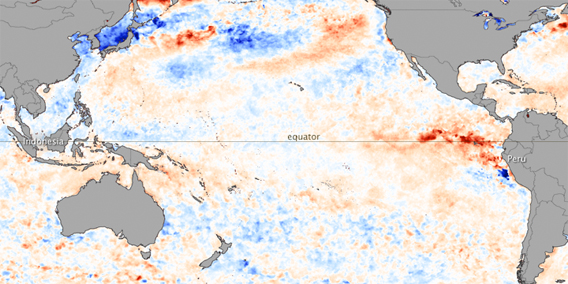 In July 2009, the National Oceanic and Atmospheric Administration (NOAA) Climate Prediction Center reported that ocean temperatures in the central and eastern Pacific had shifted into El Niño—anomalously warm—conditions. El Niño conditions are evident in this sea surface temperature anomaly image based on data from the Advanced Microwave Scanning Radiometer for EOS (AMSR-E) on NASA's Aqua satellite on July 26. THe current data are compared to long-term average temperatures (1985-1997) measured by the Advanced Very High Resolution Radiometers that have flown on several NOAA missions.
Places where temperatures were near normal are cream-colored, places where temperatures were warmer than normal are red, and places where temperatures were cooler than normal are blue. An area of dark red occupies the eastern Pacific off the coast of Peru and Ecaudor (north of Peru), indicating temperatures were much warmer than average. Meanwhile, across the Pacific, ocean temperatures around Indonesia were slightly cooler (light blue) than usual.
NASA image by Jesse Allen, using AMSR-E data processed and provided by Chelle Gentemann and Frank Wentz, Remote Sensing Systems. Caption by Rebecca Lindsey.
Impacts of past ENSO events
South America: Flooding in Peru and Ecuador, drought in the south. Reduced upwelling in the eastern Pacific in the past has adversely affected anchovy harvests off the coast of Peru, contributing a rise in food prices since the fish are an important ingredient in chicken and livestock feed and guano from birds that feed on anchovies is a source of fertilizer for U.S. farmers. El Niño can exacerbate dry conditions in the central Amazon Basin increasing the risk of fire.
Southeast Asia/West Pacific: Much of the western Pacific has been affected by drought conditions, boosting the risk of fire. In 1982-83, extensive wildfires in Borneo burned more than 9 million acres (3.6 million ha) of rainforest and croplands, while in 1997-98 fires sent a dense haze over six Asian countries. China experienced its worst drought in 50 years during the 1997-1998 ENSO event (the Yellow river ran dry in September 1997), reducing grain and cotton yields.
Australia/Papua New Guinea: Australia and Papua New Guinea experience drought and fires. In 1997-1998 aid agencies reported famine among highland populations in PNG.
United States: Past ENSO events have brought strong storms to the Western United States, especially California. Florida and the Gulf generally see fewer hurricanes while the Midwest sees a warm winter. The East Coast sees increased rainfall.
Africa: El Niño worsens drought in southern and western Africa, while bringing heavy rains to the Horn.