Madagascar needs relief help after deadly cyclones
Madagascar needs relief help after deadly cyclones
wildmadagascar.org
March 30, 2007
| | |
| --- | --- |
| | Photo by Julie Larsen Maher |
A deadly cyclone has struck one of the most biologically diverse parts of the planet, forcing people from their homes and damaging their only source of livelihood.
Cyclone Indlala has displaced more than 100,000 people and caused widespread crop losses in northeastern Madagascar according to reports from relief organizations. 100-mph (165 km/h) winds and heavy rains caused considerable damage in coastal areas in the northeastern part of the Indian Ocean island. 95 people were reported dead but there are fears of spreading water-borne disease.
Cyclone Indlala was the fifth cyclone to hit Madagascar in the past three months, following Anita, Bondo, Clovis, and Favio. The Malagasy Government estimates that 100,000 people have been affected by flooding and more than 150,000 farming families have lost an estimated 90,000 hectares of crops from the five storms. The government reports that 80 percent of the country's vanilla crop has been lost — Madagascar is the world's largest producer of vanilla.
Prior to Cyclone Indlala, the most destructive of the five storms, Madagascar requested more than $242 million in aid for relief efforts, both for flood damage and a worsening drought in the far south of the island, but as of last week, the U.S. had committed $100,000.
| | |
| --- | --- |
| Photo by Julie Larsen Maher | |
"Urgent assistance is needed to provide for the many thousands of people affected by this overwhelming series of natural hazards," UN Emergency Relief Coordinator John Holmes said.
"Madagascar has been hit by a series of cyclones this year, which has drained in-country supplies," UN Resident Coordinator Bouri Sanhouidi said. "We need to replenish relief supplies to ensure that we are prepared, as more rains are expected along with possible cyclones."
The worst affected district is Maroantsetra, an area famed for its tropical forests and biodiversity. Much of the town flooded. Antalaha, a town on the northeastern coast has been 80 percent destroyed according to reports.
"The center of the cyclone struck Antalaha town with strength and remained there for a full day (15 March) without moving further," said Helen Crowley, Madagascar Program Director for the Wildlife Conservation Society (WCS), an organization that has a number of projects in the area and is working to assist the relief effort. "Only the concrete buildings have survived there."
Crowley said that relief efforts will need to address both short-term and long-term problems in the affected areas..
| | |
| --- | --- |
| | Photo by Julie Larsen Maher |
"We have a major immediate crises (getting food and shelter to people and dealing with water-borne diseases) but also some very significant longer term issues of re-placing lost crops, repairing infrastructure (including schools and clinics as well as roads and bridges)."
"There is urgent need to help here," she said. "WCS will be working with MedAir and CARE to get the emergency effort out to the remote villages with whom we work and begin preparing to rebuild income opportunities."
WCS is asking for help with the relief effort, especially in reaching villages in the remote areas of the Masoala Peninsula and Makira Forest.
"Your support can make a difference in peoples' lives," she said.
How you can help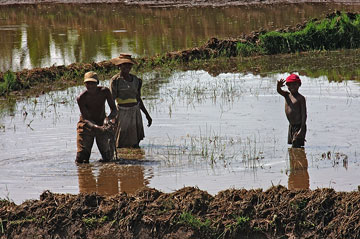 Rice fields in Maroantsetra just prior to Cyclone Indlala.
Photo by Julie Larsen Maher / WCS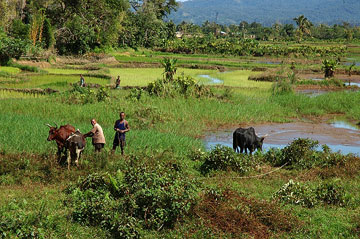 Malagasy family working in a rice paddy in Maroantsetra just prior
to Cyclone Indlala. Photo by Julie Larsen Maher / WCS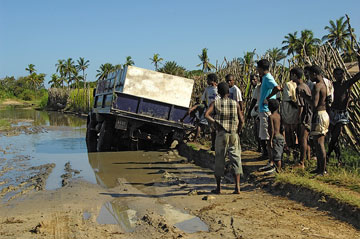 Truck on a flooded road. Poor infrastruture is one hurdle
hindering economic growth in Madagascar's according to the U.N.
Photo by Julie Larsen Maher