Dubai's artificial islands have high environmental cost
The Price of "The World": Dubai's Artificial Future
Tina Butler, mongabay.com
August 23, 2005
| | | |
| --- | --- | --- |
| | | From south to north, the artificial island sites in this image are Palm Jebel Ali, Palm Jumeirah, The World, and Palm Deira. Palm Jebel Ali and Palm Jumeirah appear largely complete in this image, looking like giant palm trees enclosed in huge arcs. Palm Deira, intended to be an even bigger palm tree when complete, is in the earliest stages of construction. In between Palm Jumeirah and the site for Palm Deira is the site for The World, which, when complete, will resemble a world map. NASA images courtesy of the NASA/GSFC/MITI/ERSDAC/JAROS, and U.S./Japan ASTER Science Team. |

EDITOR's NOTE: Dubai, a city-state in the United Arab Emirates with a population of around one million, would be one of the world's smallest but wealthiest countries on its own thanks to the oil wealth of its inhabitants.


In addition to its penchant for acquiring records for the Guinness Book of World Records, Dubai has lately embarked on an ambitious plan to boost its international standing in the eyes of the world's rich (and its neighbors) by building a number of artificial islands. These islands, which will house luxury residences, villas, and hotels, are a growing concern for environmentalists due to their impact on the local marine ecology. Dubai should be concerned as well for the long-term viability of the plan — rising sea levels from global climate change could spell trouble for its audacious and ostentatious investments. As Earth Island Journal puts it, "How ironic that the very people who drive rising sea levels through their businesses, which emit much of the world's greenhouse gases, will undoubtedly be some of the first to experience the devastating effects of climate change."


The Price of "The World": Dubai's Artificial Future

While there have been numerous articles written recently about the proliferation of artificial island projects, the astounding "The World" venture among them, few have addressed or assessed the environmental impact of such massive undertakings and the transformation of both the sea and landscape. Until recently, Nakheel, the government-controlled corporation developing these ambitious projects, has been able to focus predominantly on promoting rather than defending the islands, but new evidence of environmental detriment is bringing the company and its projects under fire from certain groups.
Inspired by the three artificial palm tree-themed islands projects that are nearing completion, The World is a heady $14 billion endeavor, consisting of 300 individual islands arranged to mimic the shape of the globe's landmasses. Ranging in size from five to 20 acres, and with 50 to 100 meters of water separating each island, the total area encompasses just over 20 square miles. The development is located about two and a half miles off the coast of Dubai city. Islands go for $7 million to $35 million each.
From the air, The World and Palm projects create a highly visible impression on the landscape of Dubai. And back down at sea level, significant changes in the marine environment are leaving a visual scar of another type. As a result of the dredging and redepositing of sand for the construction of the islands, the typically crystalline waters of the gulf of Dubai have become severely clouded with silt. Construction activity is damaging the marine habitat, burying coral reefs, oyster beds and subterranean fields of sea grass, threatening local marine species as well as other species dependent on them for food. Oyster beds have been covered in as much as two inches of sediment, while above water, beaches are eroding with the disruption of natural currents.
| | |
| --- | --- |
| | CIA Map of Dubai and the United Arab Emirates |
The profound underwater changes currently taking place as a result of construction are only matched by the grandiose vision of Nakheel developers. Plans for one palm island project, The Palm, Jumeirah, includes an artificial diving park complete with four themed areas from which enthusiasts can choose One area called Snorkler's Cove will feature traditional marine life as well as an added incentive–a daily deposit of a single solid gold one-kilogram bar, worth $15,629 at current gold prices. Developers also intend to transfer and sink several wrecks for a more dramatic diving experience. Project backers assert that such additions will actually help attract fish and other marine life by providing shelter and leading to reef expansion and community diversification.
This optimistic outlook aside, another archipelago project, the Palm Jebel Ali, is located in a formerly protected marine reserve. The management of Jebel Ali marine reserve, the Persian Gulf's second most biodiverse marine system, was taken away from the Dubai Municipality Protected Areas Unit and passed over to Nakheel developers to build the island. Few can argue that the replacement of these natural formations with artificial structures can be a true substitute for what is being destroyed and result in a net gain in marine biodiversity. Further, ecologists fear that standardizing of the marine environment will alienate native species and encourage the likely introduction of new, foreign and possibly destructive species.
| | |
| --- | --- |
| | Palm Island Resort, Dubai, United Arab Emirates, is featured in this image photographed by Expedition 10 Commander Leroy Chiao from the International Space Station. The resort is under construction on reclaimed land silhouetted against the dark waters of Dubai's Persian Gulf coast. Advertised as "being visible from the Moon," this man-made palm-shaped structure displays 17 huge fronds framed by a 12-kilometer protective barrier. When completed, the resort will sport 2,000 villas, 40 luxury hotels, shopping centers, cinemas, and other facilities. When completed, the resort is expected to support a population of approximately 500,000 people. Photo courtesy of NASA. |
Environmentalists' concerns about the present state of Dubai's waters are not without warrant. Coral reefs and their associated mangrove and sea grass habitats function on varied levels, providing a number of integral services. Among these values are the provision of food and shelter for a wide range of marine species, the protection of coastal regions from storms, the prevention of coastal erosion and the support of commercial fishing and recreational activities–namely scuba diving and sport fishing.
Troubled waters are nothing new for Dubai or any other marine region. The health of the coral reefs has been in a state of continuous decline over the past 50 years. The Arabian Gulf is one of the most grievously affected areas, with recent estimates of habitat loss pegged at 35 percent. Increases in temperature and salinity have previously been attributed as the leading factors in reef habitat degradation, but the new pressure from dredging serves only to exacerbate the declining state of the environment.
Nakheel concedes that its various artificial archipelago projects have indeed buried reefs and changed the environment, but argues that the company will try to alleviate and even reverse some of the detrimental effects by building artificial reefs upon completion of the islands. What is more, the company has employed a marine biologist to monitor and rehabilitate damaged reefs. Imad Haffar, the research and development manager of Nakheel predicts local fauna will flourish in the newly constructed environment, but ecologists fear otherwise.


Environmentalists and scuba divers alike report that so much silt has been stirred up from dredging that organisms and the reef itself are slowly being choked by the sediment particles. The current activity has essentially destroyed Dubai's diving industry even if temporarily, and enthusiasts have left the area for clearer waters. Once dredging and construction are complete, the waters should clear, but will anyone recognize what has been left behind?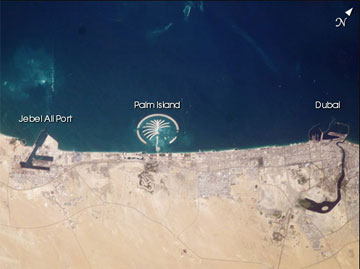 PALM ISLAND MANMADE RESORT NEARING COMPLETION IN 2003.
Photo courtesy of NASA.

Further academic reading
Purkis SJ, Riegl B (2005) Spatial and temporal dynamics of Arabian Gulf coral assemblages quantified from remote-sensing and in situ monitoring data (Jebel Ali, Dubai, U.A.E.). Marine Ecology Progress Series 287:99-113.
Riegl, B. (1998) A new reef marine reserve in the southern Arabian Gulf: Jebel Ali, Dubai (UAE). Coral Reefs 17(4): 398.
Rebuttal Response from an Environmental Scientist at Nakheel
I just read your article on Nakheel's marine projects off the coast of
Dubai. I must say that it was very well written and I enjoyed it
thoroughly.

If I can take a minute of your time, I'd like to pass on some news
regarding the colonization of our Palm projects by a diverse array of
marine biota.

Just recently we discovered that the channels between the fronds of
the Palm projects seem to be ideal habitat for seagrass meadows. We've
discovered large tracts of two species of seagrasses establishing in
these areas. The protection offered by the crescent offers a sheltered
environment favourable to seagrasses. The Palm Jumeirah crescent
itself represents about 40 hectares of rocky reef. I dive on it every
week and it is flourishing with invertebrate and vertebrate fauna.
We've recorded dolphins, manta rays, sharks, trevally and more within
the waters of Palm Jumeirah.

You've raised a good point though. There is a philosophical question
as to whether habitat creation through rocky reefs, seagrass meadows
and extensive intertidal beaches (70km on Palm Jumeirah) is sufficient
mitigation for our island building activities. The previous habitat
beneath the footprint of Palm Jumeirah was an open pelagic environs
above denuded benthic sediments. Such habitat type is very important
to numerous species, however, this habitat type is also very well
represented in the Arabian Gulf. The richness of flora and fauna
taking advantage of the habitat offered by our projects does indeed
exceed the diversity previously found on the site. However, looking at
the scale of our projects relative to the Gulf, this shift in the
species composition is very minor and localized and most unlikely to
have an adverse effect on the broader marine environment. In an ideal
World, no one would interfere with any natural environment but at
least our projects continue to provide healthy habitat unlike say
agriculture, mining, most terrestrial residential developments or any
project on a greenfield site for that matter.