News articles on wcs

---
Mongabay.com news articles on wcs in blog format. Updated regularly.










New York Aquarium entirely 'underwater'

(10/30/2012) Hurricane Sandy, which brought storm surges that reached 14 feet to New York City, has put the Wildlife Conservation Society's New York Aquarium "under water," according to a statement from the organization. The aquarium is located on the Coney Island boardwalk, in the heart of an area where rescue operations are currently under way to save people stranded in their homes. There are reports that flooding has reached some people's roofs.
Photos: Asia's disappearing species

(09/05/2012) To highlight the plight of Asia's biodiversity, which is facing a range of threats from deforestation to the wildlife trade, the Wildlife Conservation Society today released a list of Asian species in need of immediate conservation action.
Manta rays tracked by satellite

(05/11/2012) Satellite tracking technology has revealed new insights into the behavior of manta rays, reports the Wildlife Conservation Society (WCS). The findings are published in this week's issue of the journal PLoS.
Sowing the seeds to save the Patagonian Sea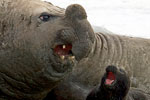 (09/07/2011) With wild waters and shores, the Patagonia Sea is home to a great menagerie of marine animals: from penguins to elephants seals, albatrosses to squid, and sea lions to southern right whales. The sea lies at crossroads between more northern latitudes and the cold bitter water of the Southern Ocean, which surround Antarctica. However the region is also a heavy fishing ground, putting pressure on a number of species and imperiling the very ecosystem that supplies the industry. Conservation efforts, spearheaded by marine conservationist Claudio Campagna and colleagues with the Wildlife Conservation Society (WCS), are in the early stages. Campagna, who often writes about the importance of language in the fight for preservation, has pushed to rename the area to focus on its stunning wildlife.
Viable population of snow leopards still roam Afghanistan (pictures)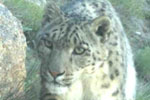 (07/13/2011) Decades of war and poverty has not exterminated snow leopards (Panthera uncia) in Afghanistan according to a new paper in the International Journal of Environmental Studies, written by researchers with the Wildlife Conservation Society (WCS). Instead the researchers report a healthy population of the world's most elusive big cat in Afghanistan's remote and peaceful Wakhan Corridor region. Monitored by camera trap in the region, WCS researchers were able to identify 30 snow leopards in 16 different locations.
Escaped Bronx Zoo cobra found! (picture)

(03/31/2011) The missing Bronx Zoo cobra that caused consternation among some New York residents while becoming a pop culture icon has been found after a thorough search of the zoo's Reptile House.
Top 25 most endangered turtles: Asian species in crisis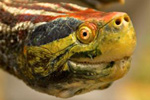 (02/23/2011) Surviving hundreds of millions of years on Earth have not saved turtles from facing extinction at human hands. A new report by the Wildlife Conservation Society (WCS) and the Turtle Conservation Coalition, identifies the world's 25 most imperiled turtles, including one that is practically assured extinction: 'Lonesome George' the last Abdington Island tortoise in the world. The list includes four turtle species from South and Central America, three from Africa, and one from Australia. But Asia is the hotbed for turtles in trouble with 17 of the top 25 species, or 68%. The numbers are even more alarming if one looks only at the top ten: eight of the top ten are in Asia, and six of these in China.
The role of wildlife conservation in human health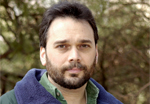 (09/07/2010) Livestock farming is an important traditional way for communities in sub-Saharan Africa to build and maintain wealth, as well as attain food security. Essentially, the transfrontier or transboundary conservation areas (TFCA) concept and current internationally accepted approaches to the management of transboundary animal diseases (TADs) are largely incompatible. The TFCA concept promotes free movement of wildlife over large geographic areas, whereas the present approach to the control of TADs (especially for directly transmitted infections) is to use vast fences to prevent movement of susceptible animals between areas where TADs occur and areas where they do not, and to similarly restrict trade in commodities derived from animals on the same basis. In short, the incompatibility between current regulatory approaches for the control of diseases of agro-economic importance and the vision of vast conservation landscapes without major fences needs to be reconciled in the interest of regional risk-diversification of land-use options and livelihood opportunities. An integrated, interdisciplinary approach offers the most promising way to address these issues—one where the well-being of wildlife and ecosystems, domestic animals, and Africa's people are assessed holistically, with a "One World – One Health" perspective.
Farming snails to save the world's rarest gorillas

(04/28/2010) In a place of poverty and hunger, how do you save a species on the edge of extinction? A difficult question that conservationists have long-been working to tackle, the Wildlife Conservation Society (WCS) has come up with a new plan to protect the world's most endangered gorilla, the Cross River gorilla, from poachers by providing locals with an alternate and better income from farming snails.
Once common tortoise from Madagascar will be 'extinct in 20 years'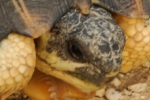 (04/05/2010) The radiated tortoise, once common throughout Madagascar, faces extinction within the next 20 years due to poaching for its meat and the illegal pet trade, according to biologists with the Turtle Survival Alliance (TSA) and the Wildlife Conservation Society (WCS). Returning from field surveys in southern Madagascar's spiny forest, they found regions without a single turtle. Locals said that armed bands of poachers were taking truckloads of tortoises to be sold in meat markets. The tortoise is also popular in the underground pet trade, although it is protected by CITES (Convention on International Trade in Endangered Species).
Savior of endangered crocodiles dies of malaria

(02/25/2010) Crocodile-expert and conservationist, Dr. John Thorbjarnarson, died of falciparum malaria in India on February 14th at the age of fifty-two. While many conservationists work with publicly popular animals like tigers and whales, Thorbjarnarson's passion was for crocodiles. A Senior Conservation Scientist with the Wildlife Conservation Society (WCS), Thorbjarnarson proved instrumental in saving both the Orinoco crocodile and the Chinese crocodile from extinction.
Head of UN urges 'a wake-up call' to save biodiversity

(02/14/2010) Speaking at the American Museum of Natural History in New York City, UN Secretary General Ban Ki-moon said that "business as usual is not an option" to protect the world' s biodiversity. The failure of governments worldwide to meet their pledges to protect biodiversity by 2010 is "a wake up call" according to Ki-moon.
Bronx Zoo puts 'extinct' frogs on display

(02/02/2010) The Bronx Zoo has a put a most unusual frog on display: the Kihansi spray toad. For one thing, the Kihansi spray toad survived on only 5 acres in the Kihansi gorge in Tanzania, adapted to the areas' unique and constant mist from the gorge and a waterfall. For another, female Kihansi spray toads give birth to live young, instead of laying eggs. Finally, the Kihansi spray toad is extinct—at least in the wild.
Breeding area of 'world's least known bird' discovered in Afghanistan

(01/13/2010) Named in 2007 the 'world's least known bird', the large-billed reed warbler has officially lost that title as researchers with the Wildlife Conservation Society (WCS) have discovered its breeding ground in the remote Wakham Corridor in the Pamir Mountains of Afghanistan. "Practically nothing is known about this species, so this discovery of the breeding area represents a flood of new information on the large-billed reed warbler," said Colin Poole, Executive Director of WCS's Asia Program said in a press release.
World's rarest gorilla caught on film

(12/16/2009) The first ever professional footage of the world's rarest gorilla, the Cross River gorilla ( Gorilla gorilla diehli), has been shot deep in the forested mountains of Cameroon. The only other existing footage of this Critically Endangered subspecies was taken from far away by a field researcher in 2005.
New reserve created in Cambodia with REDD in mind

(10/26/2009) Cambodia's Royal Government's Council of Ministers has declared the creation of the Seima Protection Forest, a 1,100 square miles (2,849 square kilometers) park home to tigers, elephants, and endangered primates. The park's creation was developed in part by the Wildlife Conservation Society's (WCS) "Carbon for Conservation" program, which intends to protect high-biodiversity ecosystems while raising funds through carbon sequestration schemes such as Reducing Emission from Deforestation and Degradation (REDD).
Vlad the Impaler of the bird world now at Bronx Zoo: skewers prey on thorns and barbed wire
(09/15/2009) The loggerhead shrike, also known as the 'butcher bird', employs a feeding strategy that would have been right at home in 15th Century Transylvania. Like the infamous Vlad the Impaler (the brutal prince which Bram Stoker based Dracula off), the loggerhead shrike is truly skilled at impaling. Using its hooked beak to break the spines of insects, lizards, rodents, and even other birds it then impales them on thorns or barbed wire to hold them while it disembodies them. Now, the Wildlife Conservation Society's (WCS) Bronx Zoo has brought the loggerhead shrike into its collection, but the shrike is there to illustrate more than its unique feeding practices.
Critically-endangered turtle seen in the wild for the first time by scientists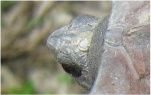 (09/03/2009) Scientists have stumbled on the Arakan forest turtle for the first time in the wild, according to a report by the Wildlife Conservation Society (WCS). One of the world's rarest turtles, the Arakan forest turtle was thought to be extinct for 86 years, before being discovered in an Asian food market in 1994. It has never before been observed in the wild by scientists. A team with WCS found five of the Critically Endangered turtles in a wildlife sanctuary in Myanmar (also known as Burma). The rarely-visited sanctuary was originally created to protect Asian elephants.
New non-invasive painkiller developed for the world's biggest cats

(09/01/2009) The world's big cats are not easy patients, especially when trying to give them pain killers after a procedure. They will tear off transdermal patches; they are too powerful to restrain for easy—and safe—injections or pills; and when in pain they generally refuse food, making it impossible to hide the drugs in their dinner. Now, however, veterinarian researchers from Wildlife Conservation Society's Bronx Zoo and the University of Tennessee believe they have found a solution: a surgically implanted, mini-pump that provides pain relief, and can be easily removed after the patient makes a full recovery.
Photos: snow leopard in Afghanistan

(08/31/2009) Using camera traps, the Wildlife Conservation Society (WCS) has captured the elusive and rare snow leopard on film in Afghanistan for a second time. The feline was caught on film in the Sast Valley in Afghanistan's Wakhan Corridor. The snow leopard is currently listed as Endangered by the IUCN. The cat is also listed as protected under Afghanistan's new endangered species list, which outlaws hunting it. The IUCN estimates that only 100-200 snow leopards still survive in Afghanistan.
Father's Day Photo: Male lion with daughter

(06/19/2009) To celebrate Father's Day, the Wildlife Conservation Society released this photo of the lion, "M'wasi", and his daughter Moxie taken at the Bronx Zoo by photographer Julie Larsen Maher.
Photos: camera traps capture snow leopards in Afghanistan
(06/09/2009) It has been estimated that Afghanistan only has 100 snow leopards left, however photos from camera traps placed by the Wildlife Conservation Society (WCS) show that there may be hope for snow leopards in the war-torn nation after all. Working in Afghanistan's Wakhan Corridor, WCS set up five camera traps. Four of the five camera traps took photos of snow leopards, including 22 images in total.
Another milestone in Afghanistan: listing of endangered species

(06/08/2009) Thirty-three species are included in Afghanistan's first-ever listing of protected wildlife. Well-known animals like the snow leopard, wolves, and brown bears received full legal protection from hunting and harvesting alongside lesser-known species like the paghman salamander, goitered gazelle, and Himalayan elm tree. The protected species list consists of twenty mammals, seven birds, four plants, one amphibian, and one insect.
Vietnam's commercial wildlife farms threaten Asia's species
(05/22/2009) Commercial wildlife farms are not alleviating pressure on wild populations as claimed by proponents, but exacerbating the problem according to a new report by the Wildlife Conservation Society (WCS) and Vietnam's Forest Protection Department. Such farms, which rear snakes, turtles, crocodiles, tigers, monkeys, and other—often rare—species, are meant to provide customers throughout Southeast Asia with legally produced 'wild' meats and other products.
After seizure, gorilla receives MRI scan free of charge
(03/26/2009) The Wildlife Conservation Society announced today that a 42-year-old western lowland gorilla named Fubo received a free MRI scan after suffering a seizure at his home in the Bronx Zoo's Congo Gorilla Forest exhibit. The MRI was provided by The Brain Tumor Foundation, which sent a 48-foot-long moveable MRI facility to the zoo. Overseen by vets, zookeepers, and various medical personnel, the scan revealed that Fubo had a lesion on his left temporal lobe of his brain.
Cameroon gets gorilla park

(02/18/2009) Cameroon has created a new national park to protect a population of 600 gorillas, along with other threatened species such as chimpanzees, forest elephants, buffaloes, and bongo.
Love puppet used to teach bird how to find mate

(02/14/2009) At the Wildlife Conservation Society's Bronx Zoo Paprika, a male red bird of paradise, presented a challenge for senior wild animal keeper, Patti Cooper. Upon his return from another zoo, Paprika came back with increased human imprinted behaviors, including speaking some English words. While entertaining to some, this wasn't helping him attract a female of his species. Not wanting to give up on him, Patty enlisted the aid of Carolyn Fuchs in WCS's exhibit shop. Together Patty and Carolyn came up with the idea to create a female red bird of paradise puppet to broaden Paprika's horizons and give him another chance at love.
Camera trap photos reveal bushmeat hunting threat to jaguars in Ecuador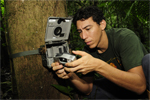 (01/27/2009) Jaguars are the largest cats of the Americas and third largest cats in the world. The primary rainforest in the Amazon region of Ecuador is among their last remaining strongholds. Jaguars are listed as "vulnerable" in Ecuador, and Santiago Espinosa, Wildlife Conservation Society (WCS) fellow, PhD candidate from University of Florida/Gainesville, and WWF fellow, wants to know just how many jaguars are left in his home country. He is developing strategies to protect them by determining their numbers and the factors that threaten them through a unique method of non-invasive photography.
Wildlife trade creating 'empty forest syndrome' across the globe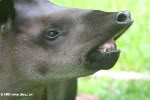 (01/19/2009) For many endangered species it is not the lack of suitable habitat that has imperiled them, but hunting. In a talk at a Smithsonian Symposium on tropical forests, Elizabeth Bennett of the Wildlife Conservation Society (WCS) outlined the perils for many species of the booming and illegal wildlife trade. She described pristine forests, which although providing perfect habitat for species, stood empty and quiet, drained by hunting for bushmeat, traditional medicine, the pet trade, and trophies.
Population of Asian elephants discovered in Malaysian park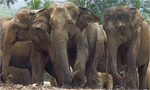 (01/15/2009) A population of 631 Asian elephants has been documented in Malaysia's Taman Negara National Park, reports the Wildlife Conservation Society (WCS). The population may be the largest in Southeast Asia. Scientists from WCS and Malaysia's Department of Wildlife and National Parks (DWNP) counted elephant dung piles to estimate the protected area's population size. There were no previous scientific population surveys for elephants in the park.
Indonesian coral reef recovering after devastating tsunami and years of destructive fishing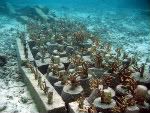 (01/05/2009) On December 26th, 2004 an earthquake recorded at a magnitude of 9.3 in the Indian Ocean created a massive tsunami that struck nations across the region. Enormous waves took the lives of nearly 250,000 people while destroying cities and towns in minutes. The tsunami also caused extensive environmental damage, including reef systems along many coastal areas. Four years after the tsunami researchers from the Wildlife Conservation Society (WCS) have returned to site of the disaster to survey the damaged reefs and work with local communities on preserving this important resource. After exploring sixty sites of coral reef off the coasts of Aceh, Indonesia, the scientists report that reefs damaged by the 2004 tsunami are on the path to recovery.
Fear and conservation

(12/10/2008) How does fear shape the behavior and conservation of deer, moose and antelope, not to mention carnivores such as wolves, bears, and even tigers? What is the natural state of wildlife, and how do animals know or learn which species to ignore or fear? Should we reintroduce predators to former habitats, even though the prey animals may be unprepared for their return?
Researchers catch, then release, world's rarest big cat in Russia

(10/30/2008) The world's rarest big cat is alive and well. At least one of them, that is, according to researchers from the Wildlife Conservation Society (WCS) who captured and released a female Far Eastern leopard in Russia last week. The capture was made in Primorsky Krai along the Russian-Chinese border by a team of scientists from WCS and the Russian Academy of Sciences Institute of Biology and Soils (IBS). The team is evaluating the health and potential effects of inbreeding for this tiny population, which experts believe contains no more than 10-15 females.
Moose Mission in New York's Adirondacks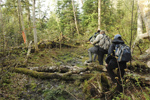 (09/05/2008) Bushwhacking our way through nearly impenetrable bogs and blow down in the central woods of the Adirondacks in northern New York, I am wondering…how can a MOOSE move through this stuff? Weighing nearly 1400 pounds and standing six to seven feet tall, moose favor the dense mixed forests that surround the lakes and ponds of the Adirondacks, the largest publicly protected area in the contiguous United States. About 6 million acres of boreal forests, mountains, and lakes in northern New York are within the boundaries of the Adirondacks, half of which are public lands, the other half are private. The relatively cool climate and available plants on the many riparian banks of the area make for a moose mecca.
Photo: commonly-kept gecko was thought to be extinct in the wild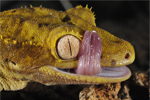 (09/04/2008) The Crested Gecko is endemic to South Province, New Caledonia in the South Pacific. While the species is widely kept in the pet trade, the species was long believed extinct in the wild until it was rediscovered in 1994. It is now known to have three distinct populations and its conservation status is currently being evaluated by the IUCN. Trade in wild-caught individuals is presently banned.
Brazil asks rich countries to fund Amazon conservation

(08/02/2008) Brazilian President Luis Inacio Lula da Silva officially unveiled plans to raise a $21 billion fund for protecting the Amazon rainforest. The plan, which was originally announced several months ago, aims to be funded by foreign donations. Contributors will not be eligible for carbon credits that may be generated by reductions in deforestation.
Photos of surgery on an injured red-tailed hawk

(08/01/2008) Dr. Paul Calle, Director of Wildlife Health Center at the Wildlife Conservation Society's Bronx Zoo headquarters, and Cornell University resident Dr. Maren Connolly examine a red-tailed hawk found unable to fly by a park ranger in Rockland County.