News articles on sustainability

---
Mongabay.com news articles on sustainability in blog format. Updated regularly.






EU's sustainable biofuels push angers Malaysia, Brazil

(11/07/2008) Eight developing countries threatened to file a World Trade Organization complaint against the E.U. for its proposed legislation to require imported biofuels to meet environmental standards, reports Reuters.
Rainforest fungus generates biodiesel, may drive energy of the future

(11/04/2008) A fungus recently discovered in the Patagonian rainforest has shocked biologists and environmentalists: the fungus produces gas almost identical to diesel. In a paper announcing the discovery in Microbiology, scientists state that they believe the fungus, called Gliocladium roseum, could become an incredibly efficient green energy source.
Rainforest agriculture preserves bird biodiversity in India

(11/04/2008) Conservation of biodiversity and agriculture have long been considered conflicting interests. Numerous studies have shown that when agricultural replaces a forest, biodiversity greatly suffers. However a new study finds it doesn't have to be that way.
Green New Deal will spark global economy, create jobs

(10/22/2008) A "Global Green New Deal" that focuses the world economy "towards investments in clean technologies and 'natural' infrastructure such as forests and soils is the best bet for real growth, combating climate change and triggering an employment boom," according to a new initiative led by the United Nations Environment Programme (UNEP).
Nature helps with ADHD—may even out-perform medication

(10/21/2008) Children with ADHD are better able to focus after a twenty-minute walk in a natural setting, according to a study published in the Journal of Attention Disorders. The study compared walks in nature to those in urban or residential areas and found that the child's ADHD improved most after walking in a green space.
Challenges of starting a green business

(10/20/2008) While green design offers the potential to greatly improve the sustainability of new goods and services without sacrificing performance, developing and bringing such products to market is a challenge, said a panel of innovators from companies using nature as inspiration for new technologies. Speaking at the 2008 Bioneers conference in San Rafael, California, Stephen Dewar of WhalePower, Charles Hamilton of Novomer, and Jay Harman of PAX Scientific told biomimicry expert Jane Benyus that radically new approaches to solving design and engineering problems is often met with skepticism from the existing market.
Company that turns CO2 into eco-friendly plastic gets new CEO

(10/20/2008) Novomer, a firm developing biodegradable plastics using carbon dioxide instead of petroleum as a feedstock, today announced the appointment of Jim Mahoney as its new chief executive officer and the relocation of company headquarters from Ithaca, N.Y. to Boston, Mass.
Financial crisis could pave way for greener economy inspired by nature

(10/20/2008) Biomimicry — the use of nature to inspire design — could serve as a model for a greener economy that rises out of the ashes of the financial crisis, said experts meeting at a sustainability conference in the San Francisco Bay Area. Speaking at the three-day Bioneers conference in San Rafael, Janine Benyus, a leading voice in the emerging field of biomimicry, said that nature offers lessons that can be applied to build better and more sustainable products and services as well as economic models.
Indonesia to audit all timber operations to cut illegal logging

(10/17/2008) The Indonesian Forestry Ministry has announced a policy that requires timber companies to have their wood stocks audited to ensure the wood is derived from sustainably managed forests, reports The Jakarta Post. The measure is expected to curtail illegal logging in a country where a large proportion of timber is of illicit origin.
Zoos: Why a Revolution is Necessary to Justify Them

(10/05/2008) Watching a Siberian tiger kill a grey squirrel for a half-hour proved to be one of my most enlightening experiences at a zoo. It was a weekday; I was alone, not even an employee passed by. The tiger pounced on the squirrel, flipped it into the air like a juggler's ball, pinned it and rolled it. A short reprieve from this unlikely encounter and the bloodied, half-crushed squirrel attempted an escape, dragging itself across the grass; the tiger watched curiously, let it go a few feet then pounced again. My whole self suffered over the squirrel's pain and torture while marveling in the same instance at the tiger's power, the ease with which it knocked the rodent along the ground. Here in an institution where nature is faked was a relatively truthful half-hour: nature's brutality, grace, ugliness, awe, beauty, and tragedy were reveled. I never could conclude whether the Asian terror was just playing or if it simply lacked the knowledge (as has been proven with many captive cats) to finish off the squirrel. Either way, it took a long time for the rodent to die.
Eco-friendly shade-grown coffee buffers farmers against climate change

(10/03/2008) Shade-grown coffee plantations will be more resistant to climate change than conventional plantations, report researchers writing in the journal Bioscience. Shade grown coffee is already lauded for its environmental benefits including supporting high levels of biodiversity and requiring less fertilizers and pesticides.
U.S. needs environmental standards for biofuels

(10/02/2008) The U.S. lacks criteria to ensure that cellulosic ethanol production will not harm the environment, warn scientists writing in the journal Science. The researchers say that with proper safeguards, cellulosic ethanol can help the U.S. meet its energy needs sustainably.
Palm oil firm becomes first to win eco-certification

(09/28/2008) United Plantations, a Malaysia-based palm oil producer, has become the first oil palm plantation firm to be certified for adopting the strictest standards of sustainability for palm oil production, according to Bernama.
Europe cuts biofuel targets to 4% in 2015, 6% in 2020

(09/12/2008) The E.U. voted to relax biofuels targets following widespread criticism of their social, economic, and environmental impacts. Thursday the European Parliament's Industry and Energy Committee said it would push a plan calling for a 5 percent share of renewables in transport fuel by 2015 and a 10 percent target by 2020, a reduction from the 20 percent target set forth in March 2007. The plan effectively cuts targets for biofuels produced from conventional feedstocks to four percent in 2015 and six percent in 2020.
Small-scale fisheries are "best hope" for sustainability in developing world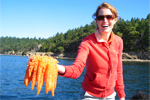 (09/08/2008) Fish stocks are declining globally. While the consumer in the industrial world has yet to feel the full impact of this decline, those in the developing world know it well. Local small-scale fishermen are catching less fish to feed growing populations. Jennifer Jacquet of the Sea Around Us Project believes the hope for sustainable seafood lies in these very fisheries.
Pre-Colombian Amazonians lived in sustainable 'urban' society

(08/28/2008) Researchers have uncovered new evidence to support the controversial theory that parts of the Amazon were home to dense 'urban' settlements prior to the arrival of Europeans in the 15th century. The study is published this Friday in the journal Science. Conducting archeological excavations and aerial imagery across a number of sites in the Upper Xingu region of the Brazilian Amazon, a team of researchers led by Michael Heckenberger found evidence of a grid-like pattern of 150-acre towns and smaller villages, connected by complex road networks and arranged around large plazas where public rituals would take place.
Markets could save rainforests: an interview with Andrew Mitchell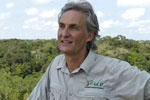 (08/17/2008) Markets may soon value rainforests as living entities rather than for just the commodities produced when they are cut down, said a tropical forest researcher speaking in June at a conservation biology conference in the South American country of Suriname. Andrew Mitchell, founder and director of the London-based Global Canopy Program (GCP), said he is encouraged by signs that investors are beginning to look at the value of services afforded by healthy forests.
PG&E will build the world's largest solar power plant

(08/15/2008) California electricity producer PG&E Thursday announced a plan to build two giant solar photovoltaic power plants that will cover 12.5 square miles and have a peak generating capacity of 800 megawatts.
Investors seek profit from conserving rainforest biodiversity

(08/13/2008) An investment firm has launched the first tropical biodiversity credits scheme. New Forests, a Sydney, Australia-based company, has established the Malua Wildlife Habitat Conservation Bank in Malaysia as an attempt to monetize rainforest conservation. The "Malua BioBank" will use an investment from a private equity fund to restore and protect 34,000 hectares (80,000 acres) of formerly logged forest that serves as a buffer between biologically-rich forest reserve and a sea of oil palm plantations. The conservation effort will generate "Biodiversity Conservation Certificates", the sales of which will endow a perpetual conservation trust and produce a return on investment for the Sabah Government and the private equity fund.
Carbon tax will ease transition to sensible climate policy

(08/13/2008) The management of carbon dioxide and the climate represent both an economic development challenge and the ecological problem of the next hundred years. Energy use, economic success and carbon dioxide emissions are, currently, intertwined. A carbon market that represents the true cost of energy and the disposal of our waste products in the environment is a potential long-term policy mechanism for carbon dioxide management. However, the strong interconnection between carbon dioxide emissions and economic success distinguishes the carbon market from other environmental markets used to control pollution. Therefore evolution to that solution is not straightforward; there are a series of necessary steps needed to develop a market.
How sustainable is your canned tuna? It depends on the retailer

(08/13/2008) To aid concerned tuna-lovers, Greenpeace has ranked eight of the top canned tuna retailers in order from most sustainable to least. Canned tuna from John West, the biggest retailer of tuna in the UK, proves to be the worst of the lot, whereas Sainsbury's is the most environmentally-friendly. In a press release Greenpeace said that Sainsbury's is "the only tinned tuna brand that is fished using sustainable methods".
7 steps to solve the global biodiversity crisis

(08/11/2008) Many biologists believe Earth is entering a sixth mass extinction event, one that has is the direct of human activities, including over-exploitation, habitat destruction and introduction of alien species and pathogens. Climate change — largely driven by anthropogenic forces — is expected to soon increase pressure on Earth's biodiversity. With population and per-capita consumption expected to grow significantly by the mid 21st century, there seems little hope that species loss can be slowed. Nevertheless, writing in the journal PNAS, Stanford biologists Paul R. Ehrlich and Robert M. Pringle suggest seven steps to help improve the outlook for the multitude of species that share our planet.
Private equity firm to sell biodiversity offsets from rainforest conservation

(08/06/2008) An investment firm has launched the first tropical biodiversity credits scheme. New Forests, an Australia-based company, has established the Malua Wildlife Habitat Conservation Bank in an attempt to monetize rainforest conservation. The "Malua BioBank" will use an investment from a private equity fund to restore and protect 34,000 hectares (80,000 acres) of formerly logged forest that serves as a buffer between biologically-rich forest reserve and a sea of oil palm plantations.
Corporations become prime driver of deforestation, providing clear target for environmentalists
(08/05/2008) The major drivers of tropical deforestation have changed in recent decades. According to a forthcoming article, deforestation has shifted from poverty-driven subsistence farming to major corporations razing forests for large-scale projects in mining, logging, oil and gas development, and agriculture. While this change makes many scientists and conservationists uneasy, it may allow for more effective action against deforestation. Rhett A. Butler of Mongabay.com, a leading environmental science website focusing on tropical forests, and William F. Laurance of the Smithsonian Tropical Research Institute in Panama believe that the shift to deforestation by large corporations gives environmentalists and concerned governments a clear, identifiable target that may prove more responsive to environmental concerns.
Gore launches second campaign... for Earth

(07/17/2008) In a speech Thursday, Al Gore challenged the U.S. to generate 100 percent of its electricity from zero carbon emission sources within 10 years. Speaking at Washington's Constitution Hall, Gore said America's security, environmental and economic crises are all related, and that measures to rein in greenhouse gas emissions will make the U.S. stronger, safer, and cleaner. "The survival of the United States of America as we know it is at risk," Gore said. "I don't remember a time in our country when so many things seemed to be going so wrong simultaneously."
Birds face higher risk of extinction than conventionally thought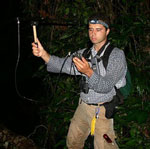 (07/14/2008) Birds may face higher risk of extinction than conventionally thought, says a bird ecology and conservation expert from Stanford University. Dr. Cagan H. Sekercioglu, a senior research scientist at Stanford and head of the world's largest tropical bird radio tracking project, estimates that 15 percent of world's 10,000 bird species will go extinct or be committed to extinction by 2100 if necessary conservation measures are not taken. While birds are one of the least threatened of any major group of organisms, Sekercioglu believes that worst-case climate change, habitat loss, and other factors could conspire to double this proportion by the end of the century. As dire as this sounds, Sekercioglu says that many threatened birds are rarer than we think and nearly 80 percent of land birds predicted to go extinct from climate change are not currently considered threatened with extinction, suggesting that species loss may be far worse than previously imagined. At particular risk are marine species and specialists in mountain habitats.
Oceans hold vast potential for wind power

(07/09/2008) The North Pacific, Tasmania, New Zealand, Tierra del Fuego in South America, and the mid-latitudes of the Atlantic and Pacific oceans are potential locations for wind power generation, according to new satellite data from NASA.
Australia's largest retailer Woolworths greenwashes rainforest destruction in Indonesia, allege activists

(07/07/2008) Despite a year of protesting, Woolworths continues to carry paper sourced from 'the worst fibre manufacturer in the world'. Woolworths Limited is Australia's largest retailer and the world's 25th largest; it is also the only Australian company to make into the top twenty-five. It is the "Wal-mart of Down-Under". And much like Wal-mart, Woolworths has attempted to become more green recently. Though, according to a recent campaign entitled "Wake Up Woolworths", this is merely the worst in greenwashing.
Whale biomimicry inspires better wind turbines

(07/07/2008) By studying and mimicking the characteristics of the flippers, fins and tails of whales and dolphins, engineers have devised more a efficient way to generate wind power, reports a researcher presenting at the Society for Experimental Biology's Annual Meeting in Marseille, France.
The green movement has to become a rainbow-colored movement in order to be successful

(06/23/2008) Van Jones, a social and environmental activist, believes a greener economy not only could save the planet, but also must provide pathways out of poverty for America's disadvantaged communities. A civil rights lawyer from Yale University, Jones started promoting the idea of "green-collar jobs" in 2005 through the Ella Baker Center for Human Rights in Oakland, California. In September 2007, he launched the "Green for All" campaign. Jones recently took time to share his perspectives with Mongabay.com.
Amazon beef producer creates eco-certified meat product with help of scientists

(06/08/2008) Independencia Alimentos SA, Brazil's fifth-largest beef producer, will create an "eco-certified", branded beef product from the Amazon's Xingu region. Certification will be based on criteria established by Alian?a da Terra, an Brazilian NGO that seeks to improve the environmental performance of ranchers and beef producers in the world's largest rainforest. The new beef product will include a per-kilo "ecosystem service fee" — calculated with the help of scientists at the Woods Hole Research Center — to facilitate a financial reward for the producer's environmental stewardship.
Big Farms Can Make the Leap to Organic Farming, Study Suggests

(06/04/2008) Large fruit and vegetable growers can adopt the methods of small-scale organic farms while maintaining crop yields, keeping pests in check, and improving the health of their soil, researchers report in the July 2008 issue of Agriculture, Ecosystems and Environment.
Cellulosic biofuels may be viable alternative to gas within 5 years

(06/02/2008) A new institute in the San Francisco Bay Area is seeking to make cellulosic biofuel an economically viable alternative to corn ethanol and gasoline within the next five years. The Joint BioEnergy Institute (JBEI), a partnership between three national laboratories and three Bay Area universities, was formed in June 2007 after the U.S. Department of Energy awarded the institute a $125 million grant to develop better methods for making liquid biofuels from the natural cellulose in trees and grasses. JBEI researchers expect cellulosic biofuels to yield more energy, produce less greenhouse gases, and have less impact on the environment than other alternatives to gasoline, such as corn ethanol.
Food miles are less important to environment than food choices, study concludes

(06/02/2008) Shoppers concerned about the environment should not place "buying local" at the top of their list of priorities when purchasing food, according to a study published online on April 16 in the journal Environmental Science & Technology. The fuel burned in transporting food items from farm to marketplace creates just a small percentage of the total greenhouse gas emissions associated with the food. Instead, consumers should shift their diets to include more foods that require less energy to produce in the first place.
Honolulu, Los Angeles have the smallest carbon footprint among U.S. cities

(05/30/2008) Honolulu, Los Angeles and metropolitan Portland have the smallest carbon footprint among American cities, while Cincinnati-Middletown area, Indianapolis, and Kentucky's Lexington-Fayette have the worst, according to a new report that analyzes carbon emissions from transportation and residential energy use by city dwellers.
Future cities will be more like ecosystems that enrich society and the environment

(05/28/2008) As The World Science Festival continues in New York this week, specialists in vastly diverse fields across scientific disciplines are coming together to talk about ideas, problems and solutions. From Astronomy to Bioacoustics, the dialogues about challenges and opportunities are rich and inspiring. At the front of this year's festival rests the issue of sustainability and how scientists, specialists and society will address the imminent environmental and economic trials we are sure to face in a rapidly changing and uncertain world.
Forest carbon credits could guide development in Congo

(05/28/2008) An initiative to reduce greenhouse gas emissions by offering carbon credits to countries that reduce deforestation may be one of the best mechanisms for promoting sustainable development in Central Africa says a remote sensing expert from the Woods Hole Research Center (WHRC). Dr. Nadine Laporte, an associate scientist with WHRC who uses remote sensing to analyze land use change in Africa, says that REDD could protect forests, safeguard biodiversity, and improve rural livelihoods in Democratic Republic of Congo (DRC) and other Central African nations.
Defaunation, like deforestation, threatens global biodiversity

(05/20/2008) Loss of wildlife is a subtle but growing threat to tropical forests, says a leading plant ecologist from Stanford University. Speaking in an interview with mongabay.com, Dr. Rodolfo Dirzo says that the disappearance of wildlife due to overexploitation, fragmentation, and habitat degradation is causing ecological changes in some of the world's most biodiverse tropical forests. He ranks defaunation — as he terms the ongoing biological impoverishment of forests — as one of the world's most significant global changes, on par with environmental changes like global warming, deforestation, and shifts in the nitrogen cycle.




Page 1 | Page 2 | Page 3 | Page 4 | Page 5 | Page 6 | Page 7 | Page 8 | Page 9 | Page 10 | Page 11