News articles on south america

---
Mongabay.com news articles on south america in blog format. Updated regularly.






Killings of environmental activists jumped by 20 percent last year
(04/20/2015) The assassination, murder, and extrajudicial killing of environmental activists rose by 20 percent last year, according to a new grim report by Global Witness. The organization documented 116 killings in 2014 across 17 countries with the highest number in Brazil, which saw 29 environmental and land defenders killed.
Lima to restore pre-Incan aqueducts to alleviate its water crisis
(04/16/2015) To tackle a looming water crisis, the city of Lima, Peru, is planning a series of green infrastructure projects, including the restoration of an ancient network of aqueducts in the mountains above the city. With a rapidly growing population of around 8.75 million Lima is the world's second largest desert city, and no stranger to water shortages.
Study finds abandoned pasture is 'a huge resource that is not being harnessed'
(04/09/2015) As tropical forests around the world are cleared for human development, scientists and conservationists are trying to find ways to both stem their loss and reclaim areas already deforested. In a recent study, researchers investigated restoration of abandoned agricultural land in Ecuador, finding that planting trees and even re-establishing pasture may help limit conversion of more forest to farmland.
Tiny Brazilian opossum could be farmers' friend
(04/07/2015) André Mendonça pops open the spring-loaded door on the shoebox-sized trap and peeks inside. Two bulging, black eyes glare back at him. He pulls the trap off the tree limb and shakes the stunned, sopping wet creature into a clear plastic bag. "One more!" he says excitedly.
Brazilian farmers urge return of big cats to Cerrado to protect crops from rampaging peccaries
(04/07/2015) Margie Peixoto was driving her pickup across her farm in the Brazilian state of Mato Grosso do Sul one February afternoon when she spotted some broken corn stalks and a trio of white-lipped peccaries ambling along the red-clay road as if they owned it. The moment these wild pig relatives spotted the truck, they snorted, snarled and disappeared into the head-high crop, where dozens more likely hid.
Illegal deforestation driven by EU appetite for beef, palm oil, soy, say new reports
(04/01/2015) A new report finds that the European Union is driving international trade in commodities grown on land cleared outside of the law. In 2012 alone, the report says, the EU imported $6.5 billion worth of illegally sourced beef, leather, palm oil and soy, which amounts to nearly one-fourth of all global trade and some 2.4 million hectares (59.3 million acres) of forest illegally cleared.
9 months after Amazonian oil pipeline spill, effects and fears linger
(03/30/2015) When Peru's state-run oil company pulled out of this small Kukama Indian village in mid-December after cleaning up an oil pipeline spill, residents thought life could slowly return to normal. But more than three months later, wisps of oil floating down the Cuninico River—along with a larger spill in the neighboring community of San Pedro—are a reminder that the problems are not over.
Photos: expedition to Amazon's white sands may have found new primate
(03/24/2015) Most people think of the Amazon rainforest as one massive, homogenous ecosystem—a giant castle of green. However, within the Amazon rainforest lie a myriad of distinct ecosystems, sporting unique characteristics and harboring endemic species. One of the rarer ecosystems in the Amazon is the white sands forest.
Road rage: scientists denounce $60 trillion infrastructure expansion
(03/14/2015) Last November, at the annual G-20 summit - for the 20 wealthiest of the world's nations - in Brisbane, Australia, a staggering commitment was made to invest $60 to $70 trillion worldwide in new infrastructure over the next 15 years. This is akin to doubling the current value of all global infrastructure put together.
Newly discovered Brazilian bird may number fewer than 10 individuals
(03/12/2015) In October 2002, a team of ornithologists at Murici in northeastern Brazil observed and recorded the call of a bird. At that time, the team believed they had chanced upon a rare bird previously described by other researchers as the Alagaos foliage-gleaner (Philydor novasei).
Endangered forests shrink as demand for soy rises
(03/10/2015) As battles over labeling genetically modified foods or displaying calorific breakdowns per serving rage on, it appears that a possibly more significant battle is in its infancy - where do all the ingredients on the package actually come from?
Photo essay: filming in the remote Amazon
(03/09/2015) You wake up at 4:30 AM, a little before the first rays of tropical sun begin to dance behind the treetops. You put on your wet clothes from the previous day, pack your bag, and pick up your tripod. The jungle is shrouded in a thick mist from the previous nights rain. As you walk, you recognize many of the strange calls that echo between the trees.
Newly described monkey species found in threatened Amazon forest
(03/06/2015) In 2011, Julio César Dalponte noticed a peculiar looking titi monkey on the bank of the Roosevelt River in Mato Grasso, Brazil. Titi monkeys, genus Callicebus, are common throughout South America, but this one had a flaming orange tail, light gray forehead stripe and ochre sideburns, which didn't match any known titi species.
Colombia proposes protected corridor across South America
(03/03/2015) Colombian President Juan Manuel Santos has announced plans to create the world's largest protected area, stretching from the Atlantic Ocean to the Andes Mountains. Santos plans to propose the protected environmental corridor during the UN climate talks in Paris later this year as a means to combat global warming.
How the Sahara keeps the Amazon rainforest going
(03/02/2015) Scientists have just uncovered an incredible link between the world's largest desert (the Sahara) and its largest rainforest (the Amazon). New research published in Geophysical Research Letters theorizes that the Sahara Desert replenishes phosphorus in the Amazon rainforest via vast plumes of desert dust blowing over the Atlantic Ocean.
Researchers propose improvements for Peru's protected areas
(02/26/2015) In a study published recently in PLOS ONE, researchers examined Peru's network of protected areas. They found that many of these don't exist in the areas most important for preserving the country's biodiversity and addressing its threats, and suggest alternatives to make the system more effective.
One of Brazil's rarest primates still holds out in single patch of rainforest
(02/26/2015) For many years, particularly after renowned naturalist Philip Hershkovitz of the Field Museum in Chicago published his valuable taxonomy of Neotropical Primates, Saimiri vanzolinii was considered to be a mere subspecies of the larger Bolivian squirrel monkey (Saimiri boliviensis). Today, it has the distinction of being one of the most range-restricted primates in all of the Neotropics.
Brazil arrests 'Amazon's biggest destroyer'

(02/25/2015) Authorities in Brazil have arrested a man they claim to be the single biggest deforester in the Amazon, according to a statement issued by IBAMA, Brazil's environmental protection agency.
Study finds Peru's protected areas aren't where they should be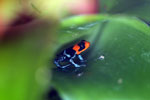 (02/25/2015) Many of the world's protected areas may not be located in the areas that need them the most, according to a recently published study in the journal PLoS ONE. The study examined the effectiveness of Peru's existing protected area system in holistically preserving the biodiversity in this megadiverse country, finding it inadequately protecting many of the country's species.
Partnering for conservation benefits Tacana people, Bolivian park
(02/25/2015) Kneeling in a small clearing amid tropical trees, Baldemar Mazaro skillfully arranges a circle of sticks and a noose of cord in the community of San Miguel de Bala. He hands a branch to a tourist and asks her to prod the sticks as if the branch were the nose of an animal snuffling around, looking for food.
Critically endangered bird gets new addition to its reserve
(02/24/2015) An unassuming brown bird, tiny both in body and population size, hovers on the edge of extinction as its habitat is cleared for agriculture and its nests are parasitized. In response, conservation organizations created a reserve expressly for the species' preservation in the late 1990s; now that reserve is being expanded to try to push one of the world's most endangered bird species farther back from the precipice.
Outgoing government wipes hard drives, slowing environmental progress in Peru
(02/23/2015) Non-profit organizations are working with the regional government of Loreto, in northeastern Peru, to replace documents and data reportedly lost or destroyed before newly-elected officials took office. Some hard disks had been removed from computers. Others had been deleted, password protected, or infected with viruses, according to regional government officials who took office at the beginning of the year.
Dams or indigenous land: the battle over the Munduruku frontier
(02/20/2015) The Munduruku indigenous tribe have begun to mark out the limits of their land, in an action that could halt the giant São Luiz do Tapajós hydroelectric dam, the apple of the Brazilian government's eye. Although sacred, this land will be flooded if the dam goes ahead. 'We are not leaving,' says the village chief.
Assessing carbon stock value of forests is tricky business, study finds
(02/19/2015) With financial incentives encouraging maintenance of carbon stocks and the increased popularity of carbon trading between countries, a forest has become economically a lot more than a clump of trees that supplements livelihoods. A forest now has an intrinsic value by just existing, a value that can be measured in economic terms.
Exclusive: Funai confirms that land threatened by dam projects belongs to indigenous tribe
(02/19/2015) The Brazilian government opposes granting traditional land to the Munduruku people since it would jeopardize seven proposed hydroelectric dams on the Tapajós River. For this reason, a year-old report by Funai that supports the Munduruku claim has not been officially published, but a copy of this report was obtained by the Brazilian publication Publica.
Brazilian indigenous populations grow quickly after first contact devastation

(02/18/2015) Indigenous communities in South America have long experienced devastating impacts from contact with Western society. In the Sixteenth Century, European colonists brought slavery, war, and violence, but disease proved the most devastating. In all, European contact destroyed over 95 percent of the native population.
How do parks affect the poor? Jury's still out, some experts say
(02/13/2015) In Peru's vast northeastern region, where roads are scarce and forests abundant, crackdowns on the illegal plundering of timber, fish, and wildlife are sporadic and expensive. To fill the gap, the Peruvian National Park Service and non-profit conservation organizations encourage community groups to patrol their lakes and forests and control fishing and hunting.
Mining activist released after being charged with terrorism, rebellion in Ecuador

(02/11/2015) Yesterday, mining and environmental activist, Javier Ramírez, walked out of an Ecuadorian courtroom with his freedom. Ramírez, who has long fought against a massive state-owned massive copper mine in the cloud forest village of Junin, was arrested in April last year and subsequently charged with rebellion, sabotage, and terrorism among other thing.
Innovating Brazil nuts: a business with roots in the rainforest
(02/11/2015) Scientist and entrepreneur turn to Brazil nuts to protect Peru's threatened forests. Sofía Rubio was eight years old when she decided she wanted to be a biologist. 'I would skip school to go to the woods with my father or mother,' who did research in what is now the Tambopata National Reserve in the southeastern Peruvian Amazon, she says.
Recently discovered, critically endangered bird gets its first reserve
(02/10/2015) In an 11-square mile strip of forest on the slopes of a plateau in northeastern Brazil lives an entire species, considered by scientists to be one of the most endangered birds in the world. Now, 18 years after it was first discovered by scientists, conservation groups have acquired 140 acres of land to establish the first-ever reserve for the Araripe manakin.
Video: innovative tourism helps protect forests in Amazonian Peru
(02/05/2015) A new short documentary highlights the innovative, locally-grown tourist ventures sprouting up in the buffer zone around Peru's Tambopata National Reserve. Not only do these tourist adventures--some specializing in rehabilitating wildlife, others in finding out how locals live, and some even in jungle yoga--help provide jobs and income in a region dominated by extractive industries, but they are also help to keep forests standing.
The Amazon's oil boom: concessions cover a Chile-sized bloc of rainforest
(02/04/2015) Hungry for oil revenue, governments and fossil fuel companies are moving even further into one of the world's last great wildernesses, according to a new study in the journal Environmental Research Letters. The total area set aside for oil and gas in the Western Amazon has grown by 150,000 square kilometers since 2008, now totaling more than 730,000 square kilometers—an area the size of Chile.
Mercury fish: gold mining puts downstream communities at risk in Peru
(02/02/2015) Artisanal, often illegal gold-mining, has swept across portions of the Peruvian Amazon over last decade, driven in part by a rising price in gold. The unregulated industry has resulted in widespread deforestation leading to an environmental disaster. Now a new study finds that mercury pollution has moved rapidly downstream and could be impacting communities at least 560 kilometers away.
Scientists rediscover endangered Andean toad in Ecuador
(01/30/2015) In 1970 researchers uncovered the Tandayapa Andean toad, previously unknown to science, in the Pichincha Province of Ecuador. Given that only a single individual was discovered, even after further exploration in the following years, the toad was soon presumed to be extinct. Forty-two years later, however, a research team rediscovered the species in Manduriacu, Ecuador.
When is a forest a forest? How definitions affect monitoring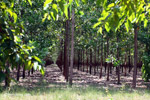 (01/29/2015) What exactly is a forest? With forest definitions differing from country to country, and primary forests, secondary forests, and even tree plantations all perceived collectively as "tree cover" by satellite data, how does one accurately keep tabs on land changes?
Community tourism fills niche around Tambopata National Reserve
(01/29/2015) When Víctor Zambrano retired from the military and returned to his family's old homestead outside the fast-growing jungle town of Puerto Maldonado in Peru, he got an unpleasant surprise. Strangers had moved in and cleared the trees to raise cattle. As Zambrano tells it, he ran up the Peruvian flag, chased the invaders off, and set to work planting 19,000 native tree seedlings.
Brazil's soy moratorium dramatically reduced Amazon deforestation
(01/23/2015) The moratorium on forest conversion established by Brazilian soy giants in 2006 dramatically reduce deforestation for soy expansion in the Amazon, and have been more effective in cutting forest destruction than the government's land use policy in the region, finds a study published today in the journal Science.
Indigenous territories play dual role as homelands and protected areas
(01/22/2015) Indigenous communities claim—and scientific evidence increasingly shows—that indigenous forested territories are as well protected as, or better protected than, government-designated parks. In areas under pressure from roads or development projects, deforestation rates are sometimes even lower in indigenous territories than in official protected areas.
Environmental wisdom: keeping indigenous stories alive
(01/21/2015) Enchanted lakes and magic hills: how traditional stories support conservation and abundance. 'Long ago, when animals were gente...' Those words, uttered countless times by indigenous Amazonian storytellers, blur the boundary between humans and other creatures in the forests and rivers, revealing a different view of the way human and non-human worlds intertwine.
A model forest? Regional park balances local needs and conservation
(01/21/2015) Regional conservation area safeguards subsistence and spirituality in the Peruvian Amazon. For Alfredo Rojas, the history of the remote villages along the Ampiyacu River is one of enslavement. Growing up here, Rojas listened to his parents tell stories of the rubber barons who beat and killed the Indians who failed to meet their latex quota.
Company chops down rainforest to produce 'sustainable' chocolate
(01/20/2015) A cacao grower with roots in Southeast Asia's palm oil industry has set up shop in the Peruvian Amazon. The CEO of United Cacao has told the international press that he wants to change the industry for the better, but a cadre of scientists and conservation groups charge that United Cacao has quietly cut down more than 2,000 hectares of rainforest.
Amazon gold rush destroying huge swaths of rainforest
(01/14/2015) The rainforests of South America face many threats. The deforestation occurring on the continent is among the highest in the world and results in losses of habitat, biodiversity and massive amounts of sequestered carbon. While the usual culprits such as farming, ranching and logging are well known, gold mining is fast extending its destructive reach into some of the world's most untouched landscapes, according to new research.
Road building spree hurts Amazon birds
(01/14/2015) A city-dwelling crow in Japan strategically drops a nut near a crosswalk into moving traffic. The bird then waits patiently for the light to turn before dropping down to the road and collecting the cracked nut in safety. While this type of animal behavior is fascinating, such adaptation to the human world is not possible for most bird species.
Deforestation climbing - along with fears - in the Amazon
(01/13/2015) Deforestation in the Brazil Amazon continues to pace well ahead of last year's rate, shows data released today by Imazon. According to the Brazilian NGO's analysis of satellite data, 1,373 square kilometers of rainforest was chopped down between August 2014 and December 2014, a 224 percent increase relative to the prior corresponding period a year before.
Time for a checkup: researchers examine the health of lowland tapirs
(01/07/2015) The Brazilian tapir may get a bad rap in Brazil, where referring to someone as a 'tapir' essentially equates to calling them an 'ass,' but history has shown that this species is deserving of a lot more respect. These hardy 'living fossils' have survived multiple extinction events since the Eocene, yet their ability to survive the ongoing Anthopocene extinction remains uncertain.
Peru's first environment minister dies at 74
(01/07/2015) Born to a poor family of coffee farmers on the western slopes of the Andes in 1940, Antonio Brack Egg became one of Peru's most respected ecologists and led the country in protecting its profound biodiversity. Completing his doctorate at the university of Wurzburg, Germany in 1973, Brack Egg started his life of Peruvian public service with the Ministry of Agriculture, working to reestablish threatened populations of vicuña (Vicugna vicugna), a relative of the llama, honored as Peru's national animal.
Top 10 HAPPY environmental stories of 2014
(12/29/2014) In what was widely seen as a possible breakthrough in the battle to coordinate some kind of response to global warming, China and the U.S. announced joint actions this year. On November 12th, the world's two most powerful countries surprised pretty much everyone by announcing that they would work together to tackle the crisis.
Ecuador sends aid money back to Germany over planned rainforest visit

(12/23/2014) A visit to a rainforest slated for oil drilling has blown up into a diplomatic row between Ecuador and Germany. Ecuador has said it will no longer partner with Germany on environmental issues and will return aid money, after the South American government discovered that German legislators were attempting to visit the much-embattled Yasuni National Park.
How a frog with a strange name is helping improve conservation in Brazil
(12/23/2014) Protecting the biodiversity of the Amazon basin is an immense undertaking, and to its credit the Brazilian government has a set procedure for doing so. However, there are gaps in the process that may prevent the authorities from fully protecting the species that call this place home. To investigate this, a recent study uses as an example the brilliant-thighed frog, a species that is found across the Amazon Basin—including the area surrounding the soon-to-be dammed Xingu River.
Genetics study sheds light on Chile's most endangered bird
(12/22/2014) A member of the Furnariidae family, the small brown and beige bird possesses rusty "spine-like" tail feathers and inhabits densely vegetated areas. Scientists estimate the total population to range from 140 to 500 individuals. In 2012 the IUCN declared the Masafuera Rayadito to be a Critically Endangered species.
Amazonian peatlands store mega carbon

(12/17/2014) Peatlands in the Peruvian Amazon store ten times the amount of carbon as undisturbed rainforest in adjacent areas, making them critical in the battle to fight climate change, finds a new study published in Environmental Research Letters.
Indigenous leader murdered before he could attend Climate Summit
(12/08/2014) Days before José Isidro Tendetza Antún was supposed to travel to the UN Climate Summit in Lima to publicly file a complaint against a massive mining operation, he went missing. Now, the Guardian reports that the body of the Shuar indigenous leader has been found, bound and buried in an unmarked grave on the banks of the Zamora River.
Initiative to restore 50M acres of degraded Latin American ecosystems by 2020
(12/07/2014) A coalition of governments and organizations today pledged to restore 20 million hectares (50 million acres) of degraded forests and ecosystems across Latin America by 2020 under an initiative that aims to curb boost rural incomes, fight climate change, and increase agricultural production. The effort is backed by $365 million from five impact investors.
How an indigenous community in Ecuador stood up to big oil - and won
(12/05/2014) The Sarayaku, a Kichwa indigenous people numbering 1,200 from the Ecuadorian Amazon, won a historic court case in 2012. The Inter-American Court of Human Rights ruled that the government of Ecuador must publicly apologize, consult with, and recompense the Sarayaku for allowing oil exploration by Argentine Compañia General de Combustibles on their territory without prior consultation
Giant stone face unveiled in the Amazon rainforest (video)
(12/04/2014) A new short film documents the journey of an indigenous tribe hiking deep into their territory in the Peruvian Amazon to encounter a mysterious stone countenance that was allegedly carved by ancient peoples. According to Handcrafted Films, which produced the documentary entitled The Reunion, this was the first time the Rostro Harakbut has been filmed.
New endangered bird species discovered in Brazil
(12/04/2014) The Bahian mouse-colored tapaculo (Scytalopus gonzagai) has only just been discovered by scientists in the heavily logged Atlantic Forest of southeast Brazil -- and it's already believed to be endangered.
Threatened indigenous forests store more than half the Amazon's carbon
(12/02/2014) A new study released today finds the total carbon load locked up in parts of the Amazon rainforest held by indigenous groups to be much higher than previously estimated – an amount that, if released, would be capable of destabilizing the earth's atmosphere. But because of flimsy land rights, these areas stand at risk of deforestation.
Island terror attack shuts Colombia's renowned 'blue lizard' park

(11/29/2014) A terror attack by Revolutionary Armed Forces of Colombia (FARC) on facilities on the island of Gorgona has prompted Colombian officials to close the World Heritage site "indefinitely" to tourists. Aviatur, Colombia's largest tourism operator which operates the only lodge on Gorgona, shortly thereafter announced it was suspending all operations on the island.
Amazon deforestation in Brazil drops 18% in 2013/2014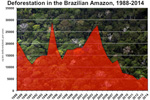 (11/26/2014) Figures published Wednesday by Brazil's National Space Research Institute (INPE) show that 4,848 square kilometers (1,871 square miles) of forest — an area about the size of the state of Rhode Island or the country of Brunei — were cleared between August 2013 and July 2014.
Chinese logging company takes over Guyana's forests
(11/26/2014) Foreign companies investing in Guyana's substantial forests are supposed to adhere to national laws and international agreements. But civil society leaders and activists inside and outside the South American country are crying foul, saying foreign corporations and government officials are paying lip service to the accords while quietly building a timber-harvesting empire in the country with few benefits for the average Guyanese.
Amazon deforestation moratorium extended 18 months
(11/25/2014) The Brazilian soy industry has extended its deforestation moratorium for another 18 months. The moratorium, which was established in 2006 after a high-profile Greenpeace campaign, bars conversion of forests in Brazilian Amazon for soy production. Independent analysis has shown it to be highly effective — just prior to the moratorium, soy accounted for roughly a fifth of recent deforestation, while today its share is less than one percent.
A tale of 2 Perus: Climate Summit host, 57 murdered environmentalists
(11/18/2014) On September 1st, indigenous activist, Edwin Chota, and three other indigenous leaders were gunned down and their bodies thrown into rivers. Chota, an internationally-known leader of the Asháninka in Peru, had warned several times that his life was on the line for his vocal stance against the destruction of his peoples' forests, yet the Peruvian government did nothing to protect him—or others.
Field plots offer biased view of the Amazon
(11/17/2014) Field plots in the Amazon are often not representative of the habitats surrounding them, potentially biasing extrapolations made across the region, argues a new paper published in the Proceedings of the National Academy of Sciences (PNAS). The research is based on advanced three-dimensional mapping of forest structure within field plots and in surrounding areas using sensors aboard the Carnegie Airborne Observatory, an airplane-based system.
Brazilian government silent as deforestation rises in the Amazon
(11/17/2014) Deforestation in the Brazilian Amazon continues to outpace last year's rate by a significant margin, reveals data released today by Imazon, a Brazilian non-profit. Imazon's analysis of satellite data shows that for the 3-month period ended October 31, 2014, deforestation is running 226 percent of last year's rate. Forest degradation, which often precedes outright clearing, is pacing 691 percent ahead of last year.
Local people are not the enemy: real conservation from the frontlines
(11/12/2014) Saving one of the world's most endangered primates means re-thinking conservation. When Noga Shanee and her colleagues first arrived in Northeastern Peru on a research trip to study the yellow-tailed woolly monkey (Oreonax flavicauda), she was shocked by what she observed.
New birds arise due to emigration not separation
(11/11/2014) A bird's eye view of speciation in the Neotropics. How long does it take for a new species to develop? Not long, it turns out. In fact, only a few thousand years — an evolutionary blink of an eye. A recent article published in Nature tracked neotropical bird speciation, or the process by which new species emerge.
New laws may turn Brazil's forests into mines
(11/07/2014) With the world's largest system of protected areas and a 70 percent drop in the deforestation rate of the Amazon over the past decade, Brazil has made huge strides in safeguarding what's left of its wilderness. However, this progress now hangs in the balance, with new laws threatening to turn many of the country's protected areas into mines and dams.
Brazilian tribes demarcate territory in bid to block dams
(11/06/2014) Indigenous communities in Brazil have taken the unusual step of demarcating their own land — without the approval of the Brazilian government — in a bid to block two dams they say threaten their territory and traditional livelihoods, report International Rivers and Amazon Watch, advocacy groups that are fighting the projects. Last week the Munduruku people annexed the 178,000-hectare Sawré Muybu territory after authorities failed to recognize their claims.
Facing severe drought, 'war effort' needed to save the Amazon, says scientist
(11/03/2014) Severe droughts in southern Brazil may be linked to deforestation and degradation of Earth's largest rainforest, argues a new report published by a Brazilian scientist. Reviewing data from roughly 200 studies, Antonio Donato Nobre of Brazil's National Institute for Space Research (INPE) warns that reducing deforestation will not be enough to restore the ecological function of the Amazon rainforest, which acts as a giant water pump that delivers precipitation across much of South America.
De-protection of Protected Areas ramps up in Brazil, 'compromises the capacity' of ecosystems
(10/31/2014) Brazil has reserved about 17.6 percent of its land (1.5 million square kilometers) to receive protection from unauthorized exploitation of resources. However, despite significant expansions in protected areas since the mid-2000s, the formation of Protected Areas has stagnated in the country since 2009, and many have had their protections completely revoked.
Pet trade likely responsible for killer salamander fungus
(10/30/2014) As if amphibians weren't facing enough—a killer fungal disease, habitat destruction, pollution, and global warming—now scientists say that a second fungal disease could spell disaster for dozens, perhaps hundreds, of species. A new paper finds that this disease has the potential to wipe out salamanders and newts across Europe, the Middle East, North Africa, and the Americas.
Conservationists propose Dracula Reserve in Ecuador
(10/24/2014) Deep in the dark, cool forests of Ecuador and Colombia live strange and mysterious organisms. Some inhabit the trees and others stay to the ground, and many are threatened by human encroachment. Because of this threat, Rainforest Trust has launched a Halloween fundraising drive to help pay for the creation of the Dracula Reserve--named for its dramatic inhabitant, the Dracula orchid.
Beef, palm oil, soy, and wood products from 8 countries responsible for 1/3 of forest destruction

(10/23/2014) Four commodities produced in just eight countries are responsible for a third of the world's forest loss, according to a new report. Those familiar with the long-standing effort to stop deforestation won't be surprised by the commodities named: beef, palm oil, soy, and wood products (including timber and paper). Nor will they be very surprised by most of the countries: Brazil, Indonesia, and Malaysia.
Gold mining expanding rapidly along Guiana Shield, threatening forests, water, wildlife
(10/22/2014) Gold mining is on the rise in the Guiana Shield, a geographic region of South America that holds one of the world's largest undisturbed tract of rainforest. A new mapping technology using a radar and optical imaging combination has detected a significant increase in mining since 2000, threatening the region's forests and water quality.
As Amazon deforestation falls, small farmers play bigger role in forest clearing
(10/14/2014) Smallholder properties account for a rising proportion of overall deforestation in Brazilian Amazon, suggesting that Brazil's progress in cutting forest loss through stricter law enforcement may be nearing the limits of its effectiveness, finds a new study published in the Proceedings of the National Academy of Sciences.
'River wolves' recover in Peruvian park, but still remain threatened inside and out (photos)
(10/14/2014) Lobo de río, or river wolf, is the very evocative Spanish name for one of the Amazon's most spectacular mammals: the giant river otter. This highly intelligent, deeply social, and simply charming freshwater predator almost vanished entirely due to a relentless fur trade in the 20th Century. But decades after the trade in giant river otter pelts was outlawed, the species is making a comeback.
'A remarkable conservation achievement': Ecuador reserve expands as forest disappears
(10/09/2014) A strip of rainforest running along the northwestern Ecuadorian coast and up through Colombia is one of the most biodiverse places in the world. Yet, less than 10 percent of Ecuador's portion remains intact, with more forest lost every year to human development. But a little more has been saved for now, with 500 hectares added to an area reserve.
An impossible balancing act? Forests benefit from isolation, but at cost to local communities
(10/07/2014) The indigenous people of the Amazon live in areas that house many of the Amazon's diverse species. The Rupununi region of Guyana is one such area, with approximately 20,000 Makushi and Wapishana people living in isolation. According to a recent study published in Environmental Modelling & Software, a simulation model revealed a link between growing indigenous populations and gradual local resource depletion.
Saving Peru's sea turtles and marine birds: conservationists and fishermen partner to tackle bycatch
(10/07/2014) Marine conservationists often view fisheries as an enemy of sorts, vacuuming up fish with little thought to the long-term consequences and using equipment that also ends up killing other species, i.e. bycatch like sea turtles and marine birds. However, Joanna Alfaro Shigueto, the President of the Peruvian NGOProDelphinus and winner of a 2012 Whitley Award, has chosen a different tact.
Use of mammals still prevalent in Brazil's Conservation Units
(10/06/2014) For as long as humans and animals have co-existed, people have utilized them as resources. Animals, and their parts, have been used for a variety of purposes, ranging from basic food to more esoteric practices such as in magical ceremonies or religion. A new study has found that the undocumented use of animals, particularly mammals, continues to occur in Brazil's protected areas known as Conservation Units.
Outcompeted: Species competition may result in geographic isolation
(10/03/2014) Scientists have long believed that gene flow and species dispersal is only interrupted by physical barriers, like mountain ranges, rivers or even the complete disappearance of a suitable habitat. But new research into the distribution of two mouse opossum species in South America suggests that other factors may play a role as well, such as competition and predation.
Dogs may be responsible for declining mammals in Brazil's agroforests
(09/26/2014) With an estimated population of 700 million individuals, domestic dogs are the most abundant carnivore in the world and are present everywhere that man has settled. Domestic dogs are not usually viewed as a huge threat to wildlife and native habitats, but according to a recent study dogs fit all three categories to be considered an invasive species and may be decimating mammals in agroforests in Brazil.
Diverse, deceptive, declining: orchids threatened by deforestation in South America
(09/26/2014) Pushing past a thick fern leaf, Crain stopped short, overcome by joy. As he broke into dance, his assistant peered curiously at the tiny lentil-shaped fruit dangling from a stem, and resolutely decided Crain was mad. After more than two years studying a rare Puerto Rican endemic orchid species, Crain had finally found his first specimen bearing fruit.




Page 1 | Page 2 | Page 3 | Page 4 | Page 5 | Page 6 | Page 7 | Page 8 | Page 9 | Page 10 | Page 11 | Page 12 | Page 13 | Page 14