News articles on primary forests

---
Mongabay.com news articles on primary forests in blog format. Updated regularly.





Next big idea in forest conservation? Incentivizing keeping primary forests intact


(02/07/2014) Much of Dr. Corey Bradshaw's work has a singular aim: to keep primary habitats and functioning ecosystems intact. According to Bradshaw, the existing system of carbon trading rules needs to be changed so that primary forests are given a higher value than other forms of land use. 'Nothing, can replace primary vegetation, both in terms of biodiversity value and other ecosystem services.'


Canada's biggest logger loses eco-certification


(12/17/2013) Resolute Forest Products, the largest industrial logging company in Canada, suffered a major setback this week when the Forest Stewardship Council (FSC) revoked three certifications for the forestry giant. According to Greenpeace, the company lost its certification in Quebec and Ontario due to several problems, including a lack of consent from the Crees nations and failure to safeguard high priority conservation areas.


Zero net deforestation is the wrong target, warn experts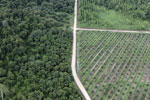 (11/14/2013) Environmental initiatives that target zero net deforestation may miss their mark when it comes to slowing climate change and protecting biodiversity, warns a commentary published in this week's issue of the journal Science. While zero net deforestation may seem like a worthy target in efforts to curb forest loss, Sandra Brown and Daniel Zarin argue that the goal is at best, ambiguous, and at worst, may lead to perverse outcomes for the world's forests.


Old-growth trees store half rainforest carbon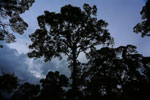 (08/07/2013) Large trees store store up to half the above-ground biomass in tropical forests, reiterating their importance in buffering against climate change, finds a study published in Global Ecology and Biogeography. The research, which involved dozens of scientists from more than 40 institutions, is based on data from nearly 200,000 individual trees across 120 lowland rainforest sites in Africa, Asia, and Latin America. It found that carbon storage by big trees varies across tropical forest regions, but is substantial in all forests.


Decades-long fight leads to old-growth forest protection in Tasmania


(06/25/2013) Almost 200,000 hectares of Tasmania's old growth forest have been world heritage listed, bringing hope that a three-decade fight between environmentalists, politicians and loggers is over. The World Heritage Committee has extended the heritage listed boundary of the Tasmanian Wilderness World Heritage Area by more than 170,000 hectares after accepting a proposal from the Australian government which will give the areas the highest level of environmental protection in the world.


Biosphere conservation: monumental action is critical to avert global environmental crisis


(05/20/2013) Human-caused changes to our biosphere—the global total of the world's ecosystems—are now so great and alarmingly rapid that human lives and societies undoubtedly face epic challenges in the near future as our biosphere deteriorates, planetary boundaries are reached, and tipping points exceeded. We may survive, we may painfully adapt, but it is a fair bet that grave hardship, loss, and sacrifice lay ahead. The nature and extent of impacts among human populations hinges on how successfully we respond to the biosphere crisis with extraordinary leadership, balanced solutions applied at global scales, and unprecedented cooperation—or not.


Global decline of big trees in old-growth forests worrying, argue scientists

(12/06/2012) The decline of large trees is putting biodiversity and forest health at risk globally, warn researchers writing in the journal Science.


Rodents have lowest diversity in primary forests in the Congo

(09/17/2012) For many animal families, diversity and abundance rises as one moves away from human-impacted landscapes, like agricultural areas, into untouched places, such as primary rainforests. However, a new study in mongabay.com's open access journal Tropical Conservation Science, shows that the inverse can also be true. In this case, scientists working in the Democratic Republic of Congo's (DRC) Maskao Forest found that both rodent diversity and abundance was lowest in primary forest.


Cambodia's largest lowland rainforest spared from new land concessions

(08/06/2012) Four economic land concessions have been cancelled in Cambodia's Prey Lang forest, known as the largest intact lowland forest in Southeast Asia, reports the Phnom Penh Post. The economic land concessions, totaling over 40,000 hectares, would have been used for rubber plantations.


Saving 'Avatar Grove': the battle to preserve old-growth forests in British Columbia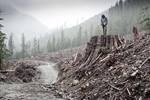 (07/23/2012) A picture is worth a thousand words: this common adage comes instantly to mind when viewing T.J. Watt's unforgettable photos of lost trees. For years, Watt has been photographing the beauty of Vancouver Island's ancient temperate rainforests, and documenting their loss to clearcut logging. The photographer and environmental activist recently helped co-found the Ancient Forest Alliance (AFA), a group devoted to saving the island's and British Columbia's (BC) last old-growth while working with the logging industry to adopt sustainable practices. This February the organization succeeded in saving Avatar Grove—which was only discovered in 2009—from being clearcut. The grove, a rare stand of massive and ancient trees named after the popular eco science-fiction movie, has become a popular tourist destination, providing a new economic incentive for communities to protect rather than cut Canada's last great forests.


Experts: sustainable logging in rainforests impossible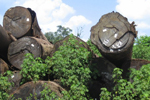 (07/19/2012) Industrial logging in primary tropical forests that is both sustainable and profitable is impossible, argues a new study in Bioscience, which finds that the ecology of tropical hardwoods makes logging with truly sustainable practices not only impractical, but completely unprofitable. Given this, the researchers recommend industrial logging subsidies be dropped from the UN's Reducing Emissions from Deforestation and Forest Degradation (REDD+) program. The study, which adds to the growing debate about the role of logging in tropical forests, counters recent research making the case that well-managed logging in old-growth rainforests could provide a "middle way" between conservation and outright conversion of forests to monocultures or pasture.


Industrial logging leaves a poor legacy in Borneo's rainforests


(07/17/2012) For most people "Borneo" conjures up an image of a wild and distant land of rainforests, exotic beasts, and nomadic tribes. But that place increasingly exists only in one's imagination, for the forests of world's third largest island have been rapidly and relentlessly logged, burned, and bulldozed in recent decades, leaving only a sliver of its once magnificent forests intact. Flying over Sabah, a Malaysian state that covers about 10 percent of Borneo, the damage is clear. Oil palm plantations have metastasized across the landscape. Where forest remains, it is usually degraded. Rivers flow brown with mud.


Greenpeace calls for global REDD standards to reduce negative impacts of forest carbon projects

(06/26/2012) Greenpeace has launched a consultation process to establish global standards for Reducing Emissions from Deforestation and Degradation (REDD+) projects.


IKEA logging old-growth forest for low-price furniture in Russia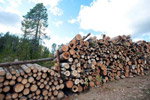 (05/30/2012) A new campaign is targeting IKEA, the world's biggest furniture retailer, for logging old-growth forests in the Karelia region of Russia. An alliance of groups, headed by the Swedish NGO Protect the Forest, allege that IKEA's subsidiary, Swedwood, is clearcutting thousands of hectares of old and biodiverse forests. But, Swedwood's 300,000 hectare concession is certified by the Forest Stewardship Council (FSC), generally considered the world's strongest forestry certifier.


Deforestation increases in the Congo rainforest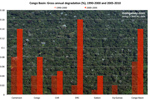 (03/20/2012) Deforestation in the Congo Basin has increased sharply since the 1990s, reports an extensive new assessment of forests in the six-nation region. Released by the Central African Forests Commission (COMIFAC) and members of the Congo Basin Forest Partnership, The State of the Forest finds that the region's annual gross deforestation rate doubled from 0.13 percent to 0.26 percent between the 1990s and the 2000-2005 period. Gross degradation caused by logging, fire, and other impacts increased from 0.07 percent to 0.14 percent on an annual basis. Despite the jump, rates in the Congo Basin remain well below those in Latin America and Southeast Asia, but the region is seen as a prime target for future agroindustrial expansion.


Tink frog calls allow researchers to measure population

(03/19/2012) Given their often tiny size and cryptic nature, how does one determine frog populations in the rainforest? Just eavesdrop. A new study in mongabay.com's open access journal Tropical Conservation Society (TCS) employed automated recorders to listen to amphibian calls to determine if the common tink frog (Diasporus diastema) could be found in recovering secondary forests in Costa Rica.


Alaskan fishermen tell government to focus on salmon, not logging

(03/12/2012) Alaskan fishermen and tour operators visited Washington D.C. last week to urge the federal government to shift the focus from logging to conservation in the Tongass rainforest. Local Alaskans along with NGOs Trout Unlimited, Alaska Program, and Sitka Conservation Society, made the case that conservation, including the restoration of fish habitat, was a far better strategy for the local economy and jobs than logging. The Tongass rainforest is currently the subject of a controversial logging proposal by the government for the indigenous-owned company, Sealaska.


U.S. legislation threatens oldest, tallest trees in Tongass rainforest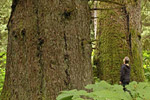 (02/27/2012) Up to 17 percent of the tallest old-growth trees in the Tongass temperate rainforest could be cut under new U.S. legislation, according to a report by Audubon Alaska. The report argues that the legislation under consideration (S 730 and HR 1408) would resurrect the banned practice of "high-grading," which allows loggers to select the largest, most-ancient trees across the forest for cutting despite their ecological importance. The legislation is a part of a controversial 65,000 acre logging concession in Tongass to Sealaska Corporation, which is owned by 20,000 members of Native communities, from the Tlingit, Haida and Tsimshian tribes.


Indonesia's moratorium will not significantly reduce emissions, but has other benefits, finds analysis

(02/27/2012) Indonesia's moratorium on new forest concessions alone "does not significantly contribute" to its goal of reducing greenhouse gas emissions 26 percent from a projected 2020 baseline, concludes a new analysis by the World Resources Institute (WRI). However the study says the moratorium does support the target in the long-term by creating a window for enacting governance reform needed to stop destructive business-as-usual approaches to forest management.


NASA satellite image shows extent of logging in Pacific Northwest

(02/22/2012) New satellite and space radar images by NASA shows the decline of forests in the Pacific Northwest, specifically in Washington and Oregon. Lost to development, agriculture, and large-scale logging, the maps apart of the National Biomass and Carbon Dataset (NBCD) show the patchy, fragmented nature of the forests in the two U.S. states.


Green groups: government moving too slowly on protecting Canada's Great Bear rainforest

(02/08/2012) Three environmental groups have submitted a letter to British Columbia Premier, Christy Clark, to ask the government to speed up the process of implementing the Great Bear Rainforest Agreement, which is meant to ensure 70 percent of old-growth forest is maintained.


Big trees, like the old-growth forests they inhabit, are declining globally


(01/26/2012) Already on the decline worldwide, big trees face a dire future due to habitat fragmentation, selective harvesting by loggers, exotic invaders, and the effects of climate change, warns an article published this week in New Scientist magazine. Reviewing research from forests around the world, William F. Laurance, an ecologist at James Cook University in Cairns, Australia, provides evidence of decline among the world's 'biggest and most magnificent' trees and details the range of threats they face. He says their demise will have substantial impacts on biodiversity and forest ecology, while worsening climate change.


Logging of primary rainforests not ecologically sustainable, argue scientists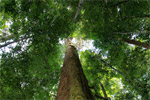 (01/25/2012) Tropical countries may face a risk of 'peak timber' as continued logging of rainforests exceeds the capacity of forests to regenerate timber stocks and substantially increases the risk of outright clearing for agricultural and industrial plantations, argues a trio of scientists writing in the journal Biological Conservation. The implications for climate, biodiversity, and local economies are substantial.


Photos: 46 new species found in little-explored Amazonian nation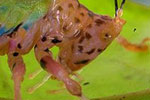 (01/25/2012) South America's tiniest independent nation still hides a number of big surprises: a three week survey to the sourthern rainforests of Suriname found 46 potentially new species and recorded nearly 1,300 species in all. Undertaken by Conservation International's (CI) Rapid Assessment Program (RAP) the survey found new species of freshwater fish, insects, and a new frog dubbed the "cowboy frog" for the spur on its heel. While Suriname may be small, much of its forest, in the Guyana Shield region of the Amazon, remains intact and pristine. The Food and Agriculture Organization (FAO) estimates that 91 percent of Suriname is covered in primary forests, however this data has not been updated in over two decades.


Locals clash with 'sustainable' FSC logging company in the Congo

(05/22/2011) Two separate protests against logging companies by local communities have turned violent in the Democratic Republic of Congo (DRC), leaving at least one dead. According to Greenpeace, one of the companies involved in the violence, Sodefor, is sustainably certified by the Forest Stewardship Council (FSC). Given that the industry in DRC is rife with social conflict and corruption, Greenpeace is advocating that FSC place a moratorium on certifying new industrial-style logging concessions in the central African nation.


Scientists to document impact of converting rainforest into oil palm plantations

(01/30/2011) Scientists have partnered with one of the world's largest palm oil producers to measure the impact of converting tropical forest into an oil palm plantation, reports Nature News.


With REDD, could financial markets become species' extinction risk?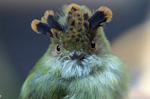 (01/06/2011) The emergence of a Reducing Emissions from Deforestation and Degradation (REDD) mechanism for protecting forests could introduce new risks for biodiversity by linking conservation finance to exotic financial derivatives, warn researchers writing in the journal Conservation Letters. Jacob Phelps, Edward L. Webb, and Lian P. Koh argue that REDD could effectively link the fate of some species to the short-term whims of the carbon market. Conservation projects funded primarily by REDD are most at risk of being undermined by declining in carbon prices or changing investor preference. The authors add that the short-term nature of REDD—which is seen as a stop gap measure of at most 30 years—may fail deliver benefits over the time-scale need to safeguard biodiversity.


Indonesia's forest protection plan at risk, says report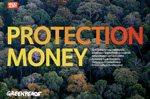 (11/25/2010) Industrial interests are threatening to undermine Norway's billion dollar partnership with Indonesia, potentially turning the forest conservation deal into a scheme that subsidizes conversion of rainforests and peatlands for oil palm and pulp and paper plantations, logging concessions, and energy production, claims a new report from Greenpeace.


Good stewards of forests at home outsource deforestation abroad

(11/24/2010) As more nations adopt better laws and policies to save and restore forests at home, they may, in fact, be outsourcing deforestation to other parts of the world, according to a new study in the Proceedings of the National Academy of Sciences (PNAS). Looking at six developing nations where forests are recovering—instead of receding—the study found only one of them did not outsource deforestation to meet local demand for wood-products and food, a process known as 'leakage'.


Scientists call upon Indonesia to recognize value of secondary forests

(11/18/2010) A group of scientists have called upon the governments of Indonesia and Norway to recognize the conservation value of logged-over and "degraded" forests under their partnership on reducing emissions from deforestation and degradation. The letter urges the Indonesian government to extend protection to forest areas that may not be pristine but still serve as important carbon sinks, house endangered wildlife, and provide livelihoods for communities.


RSPO to recognize secondary forests as conservation priority

(11/12/2010) The Roundtable on Sustainable Palm Oil (RSPO), a body that sets environmental standards for palm oil production, has passed a resolution to reconfirm that secondary and degraded forests can classified as High Conservation Value (HCV) areas. The designation could increase the area of forest conserved within oil palm plantations provided it has high conservation significance, such as serving as habitat for endangered species like orangutans, Sumatran tigers, and rhinos.


Corporations, conservation, and the green movement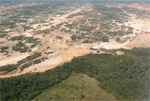 (10/21/2010) The image of rainforests being torn down by giant bulldozers, felled by chainsaw-wielding loggers, and torched by large-scale developers has never been more poignant. Corporations have today replaced small-scale farmers as the prime drivers of deforestation, a shift that has critical implications for conservation. Until recently deforestation has been driven mostly by poverty—poor people in developing countries clearing forests or depleting other natural resources as they struggle to feed their families. Government policies in the '60s, '70s, and '80s had a multiplier effect, subsidizing agricultural expansion through low-interest loans, infrastructure projects, and ambitious colonization schemes, especially in the Amazon and Indonesia. But over the past two decades, this has changed in many countries due to rural depopulation, a decline in state-sponsored development projects, the rise of globalized financial markets, and a worldwide commodity boom. Deforestation, overfishing, and other forms of environmental degradation are now primarily the result of corporations feeding demand from international consumers. While industrial actors exploit resources more efficiently and cause widespread environmental damage, they also are more sensitive to pressure from consumers and environmental groups. Thus in recent years, it has become easier—and more ethical—for green groups to go after corporations than after poor farmers.


Loss of old growth forest continues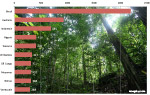 (10/06/2010) A new global assessment of forest stocks by the U.N. Food and Agriculture Organization (FAO) shows continuing loss of primary forests since 2005 despite gains in the extent of protected areas. FAO's Global Forest Resources Assessment 2010 reveals some 13 million hectares of forest were cleared between 2000 and 2010, down from around 16 million hectares per year during the 1990s. Loss of primary forest—mostly a consequence of logging—averaged 4.2 million hectares per year, down from 4.7 million hectares per year in the 1990s.


The effect of forest regeneration strategies on beetles

(09/27/2010) As conservationists attempt to find the best way to re-establish forests in abandoned areas, a new study in the open-access journal Tropical Conservation Science compares the impacts on bess beetles of different method to regeneration forest. Bess beetles are important dead wood-recyclers in the forest. Looking at three different forests in the Colombian Andes—natural regeneration, monoculture reforestation, and an old-growth forest as a baseline—researchers found that old-growth and natural regeneration had the highest diversity of bess beetles, while old-growth sported the greatest abundance of beetles.


Indonesia's forest conservation plan may not sufficiently reduce emissions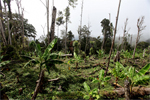 (08/25/2010) One third of Indonesia's greenhouse gas emissions from deforestation originate from areas not officially defined as 'forest' suggesting that efforts to reduce emissions from deforestation and degradation (REDD+) may fail unless they account for carbon across the country's entire landscape, warns a new report published by the World Agroforestry Centre (CGIAR). The policy brief finds that up to 600 million tons of Indonesia's carbon emissions 'occur outside institutionally defined forests' and are therefore not accounted for under the current national REDD+ policy, which, if implemented, would enable Indonesia to win compensation from industrialized countries for protecting its carbon-dense forests and peatlands as a climate change mechanism.


Audit finds palm oil company destroyed peatlands, but not primary forest


(08/10/2010) An environmental audit of palm oil company, PT SMART, found that the company had not cut primary rainforest, yet had destroyed carbon-rich peatlands; however the audit analyzed only 40 percent of PT SMART's holdings and investigated none of its plantations in New Guinea. A subsidiary of agricultural giant Sinar Mas, PT SMART has been accused in a number of reports by Greenpeace of both destroying high conservation value forests and draining peatlands. Greenpeace's reports caused both food giants Unilever and Nestle to drop PT SMART as a supplier of their palm oil, while Cargill stated it would wait to hear the results of the audit. Given the audit's results, both sides are claiming victory.


Rainforest destruction progresses in waves

(08/05/2010) Tropical forest degradation progresses in a series of "waves", with forests initially exploited for high value products like hardwoods and then eventually used for successively lower value goods like firewood and fodder, reports new research published in the Proceedings of the National Academy of Sciences.


Reforestation of rainforests sequesters more carbon than plantations

(08/03/2010) A new study in Ecological Management & Restoration has found that reforesting rainforest captures more carbon than monoculture plantation and even mixed species plantations. The research tested three projects in north-eastern Australia: a rainforest reforesting project using a variety of native trees, a mixed species plantation, and a monoculture plantation of conifers.


Illegal logging declining worldwide, but still 'major problem'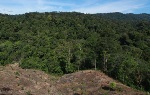 (07/15/2010) A new report by the Chatham House finds that illegal logging in tropical forest nation is primarily on the decline, providing evidence that new laws and international efforts on the issue are having a positive impact. According to the report, the total global production of illegal timber has fallen by 22 percent since 2002. Yet the report also finds that nations—both producers and consumers—have a long way to go before illegal logging is an issue of the past.


Rainforest scientists urge UN to correct "serious loophole" by changing its definition of 'forest'

(06/24/2010) The Association for Tropical Biology and Conservation (ATBC) has released a resolution urging the UN to change its definition for 'forest', before the controversial definition undermines conservation efforts, biodiversity preservation, carbon sequestration, and the nascent REDD (Reducing Emissions through Deforestation and forest Degradation).


A total ban on primary forest logging needed to save the world, an interview with activist Glen Barry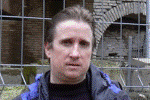 (06/02/2010) Radical, controversial, ahead-of-his-time, brilliant, or extremist: call Dr. Glen Barry, the head of Ecological Internet, what you will, but there is no question that his environmental advocacy group has achieved major successes in the past years, even if many of these are below the radar of big conservation groups and mainstream media. "We tend to be a little different than many organizations in that we do take a deep ecology, or biocentric approach," Barry says of the organization he heads. "[Ecological Internet] is very, very concerned about the state of the planet. It is my analysis that we have passed the carrying capacity of the Earth, that in several matters we have crossed different ecosystem tipping points or are near doing so. And we really act with more urgency, and more ecological science, than I think the average campaign organization."


Timber certification is not enough to save rainforests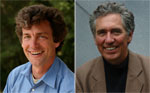 (06/02/2010) In the 1980s and 1990s pressure from activist groups led some of the world's largest forestry products companies and retailers to join forces with environmentalists to form the Forest Stewardship Council (FSC), a certification standard that aims to reduce the environmental impact of wood and paper production on natural forests. Despite initial skepticism on whether buyers would pay a premium for greener forest products, FSC quickly grew and by 2000 had become a standard in many markets, including Europe and the United States. Companies like Home Depot, Lowe's, and Ikea are today strong supporters of the FSC. But the FSC has not been without controversy. In recent years some activists have voiced concern about FSC standards as well as the credibility of auditors that certify timber operations. Among the initiative's supporters is the Rainforest Action Network (RAN), a group best known for its aggressive protest tactics. RAN says engagement with the FSC is better than the alternative: leaving the timber industry to devise its own sustainability standards.


New protected areas in Brazil contribute to major drop in Amazon deforestation rate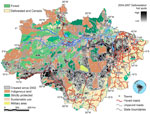 (06/01/2010) Protected areas in the Brazilian Amazon are proving highly effective in reducing forest loss in Earth's largest rainforest, reports a new study based on analysis of deforestation trends in and around indigenous territories, parks, military holdings, and sustainable use reserves. The research, published in the early edition of Proceedings of the National Academy of Sciences, finds that 37 percent of the recent decline in deforestation in the Brazilian Amazon can be attributed to newly established protected areas. Brazil designated some 709,000 square kilometers (274,000 sq mi) of Amazon forest — an area larger than the state of Texas — between 2002 and 2009 under its Amazon Protected Areas Program (ARPA). Meanwhile deforestation in the Brazilian Amazon fell by nearly three-quarters between 2004 and 2009.


Taking back the rainforest: Indians in Colombia govern 100,000 square miles of territory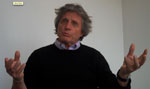 (05/10/2010) Indigenous groups in the Colombian Amazon have long suffered deprivations at the hands of outsiders. First came the diseases brought by the European Conquest, then came abuses under colonial rule. In modern times, some Amazonian communities were virtually enslaved by the debt-bondage system run by rubber traders: Indians could work their entire lives without ever escaping the cycle of debt. Later, periodic invasions by gold miners, oil companies, colonists, and illegal coca-growers took a heavy toll on remaining indigenous populations. Without title to their land, organization, or representation, indigenous Colombians in the Amazon seemed destined to be exploited and abused. But new hope would emerge in the 1980s, thanks partly to the efforts of Martin von Hildebrand, an ethnologist who would help indigenous Colombians eventually win control over 260,000 square kilometers (100,000 square miles) of Amazon rainforest—an area larger than the United Kingdom.


Paper company loses green certification after rainforest destruction in Indonesia

(04/18/2010) The Forest Stewardship Council (FSC), a global certifier of sustainably managed forest, has dropped another Indonesian company for the destruction of rainforests. Asia Paper Resources International Limited (APRIL), has had its certification suspended due to evidence of conversion of rainforests for acacia plantations, the destruction of 'High Conservation Value Forest', draining peatlands, as well as continuing conflicts with local communities. The decision was made by the Rainforest Alliances Smartwood, an accreditation program with the FSC.


Global deforestation slows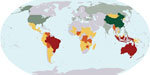 (03/25/2010) Global forest loss has diminished since the 1990s but still remains "alarmingly high", according to a preliminary version of a new assessment from the U.N. Food and Agriculture Organization (FAO). The report, Global Forest Resources Assessment 2010 (FRA 2010), shows that global forest loss slowed to around 13 million hectares per year during the 2000s, down from about 16 million hectares per year in the 1990s. It finds that net deforestation declined from about 8.3 million hectares per year in the 1990s to about 5.2 million hectares per year in the 2000s, a result of large-scale reforestation and afforestation projects, as well as natural forest recovery in some countries and slowing deforestation in the Amazon.


Oil palm plantations support fewer ant species than rainforest

(03/02/2010) Oil palm plantations support substantially less biodiversity than natural forests when it comes to ant species, reports new research published in Basic and Applied Ecology. Tom Fayle, a University of Cambridge biologist, and colleagues sampled ant populations in Danum Valley Conservation Area, a rainforest, and nearby oil palm plantations in Sabah, a state Malaysian Borneo. The researchers counted 16,000 worker ants from 309 species in the natural forest but only in 110 species at the oil palm plantation.


Rich logging countries open logging loophole in plan to reduce deforestation

(12/15/2009) While one tropical forest policy group saw hopeful signs emerging in the most recent revision of the negotiating text on the reducing emissions from deforestation and degradation (REDD) mechanism at climate talks in Copenhagen, activist groups are warning that there remains a substantial logging loophole for developed countries.


Destruction of old-growth forests looms over climate talks


(12/08/2009) Destruction of old-growth or primary forests looms large in discussions in Copenhagen over a scheme to compensate tropical countries for reducing emissions from deforestation and degradation (REDD). Some environmental groups are pressing for conservation of old-growth forests — the most carbon-dense, and biologically-rich state of forests — to be the centerpiece of REDD, while industry and other actors are pushing for "sustainable forest management" or logging using reduced-impact techniques to be the primary focus of REDD.


In absence of measures to address consumption, REDD may fail to protect forests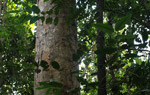 (12/02/2009) Rising demand for timber and agricultural products could work against a proposed initiative to reduce emissions from deforestation and degradation (REDD), warns a new report from the Environmental Investigation Agency (EIA). The briefing, Putting the Brakes on Drivers of Forest Destruction: A Shared Responsibility, says that investment in REDD will not be enough to protect forests if the underlying drivers of deforestation — namely consumption — are not addressed. It urges negotiators to re-insert critical text that has been dropped from the working text on REDD ahead of next week's climate change conferences in Copenhagen.



Page 1 | Page 2