News articles on oceans

---
Mongabay.com news articles on oceans in blog format. Updated regularly.





EBay bid to name new shrimp species raises $2,900 for conservation from NBA star

(12/07/2009) Former NBA basketball player for the Chicago Bulls, Luc Longley, has won the EBay auction to name a wild looking red-polka dotted shrimp species. Longley won with a bid of 3,600 Australian dollars (2,900 US dollars): all of the funds go to the Australian Marine Conservation Society (AMCS). He named the shrimp Lebbeus clarehanna as a gift for his daughter, Clare Hanna Longley's fifteenth birthday.


Extinctions on the rise in the Galapagos: fishing and global warming devastating islands' species



(12/03/2009) We may never see again the Galapagos black-spotted damselfish, the beautiful 24-rayed sunstar, or the Galapagos stringweed. These species from Galapagos waters may all very well be extinct. Other species are on the brink, such as the Galapagos penguin and the Floreana cup coral. A new report in Global Change Biology reveals that in just a matter of decades, overfishing and climate change has devastated the Galapagos' unique and famous ecosystems.


Not just the polar bear: ten American species that are feeling the heat from global warming

(12/01/2009) A new report, America's Hottest Species, highlights a variety of American wildlife that are currently threatened by climate change from a small bird to a coral reef to the world's largest marine turtle.


Sushi lovers may be eating Critically Endangered species without knowing it

(11/24/2009) Restaurants sampled in New York and Colorado are serving up bluefin tuna without informing their customers know they are dining on an endangered species, according to a new study in PLoS ONE. Using DNA barcoding researchers from the Sackler Institute for Comparative Genomics at the American Museum of Natural History found that nearly a third of tuna sampled in one restaurant in Colorado and thirty restaurants in New York served bluefin tuna, and nine of the restaurants did not label the tuna as bluefin.


Videos and Photos: over 17,000 species discovered in waters beyond the sun's reach


(11/23/2009) Deep, deep below the ocean's surface, in a world of ever-present darkness, one would expect few, if any, species would thrive. However, recent expeditions by the Census of Marine Life (CoML) have found an incredible array of strange, diverse, and amazing creatures. To date a total of 17,650 species are now known to live in frigid, nearly lightless waters beyond the photic zone—where enough light occurs for photosynthesis—approximately 200 meters deep. Nearly 6,000 of these occur in even harsher ecosystems, below depths of 1,000 meters or 0.62 miles down.


Using fish as livestock feed threatens global fisheries

(11/18/2009) Fish doesn't just feed humans. Millions of tons of fish are fed every year to chickens, pigs, and even farmed fish even in the midst of rising concerns over fish stocks collapses around the world. Finding an alternative to fish as livestock feed would go a long way toward preventing the collapse of fish populations worldwide according to a new paper in Oryx.


Oceans' ability to sequester carbon diminishing

(11/18/2009) A new study—the first of its kind—has completed an annual accounting of the oceans' intake of carbon over the past 250 years, and the news is troubling. According to the study, published in Nature, the oceans' ability to sequester carbon is struggling to keep-up with mankind's ever-growing emissions. Since 2000 researchers estimate that while every year the oceans continue to sequester more anthropogenic carbon emission, the overall proportion of carbon taken in by the oceans is declining.


Record year for CO2 emissions, even with economic slowdown

(11/17/2009) 8.7 billion tons of carbon dioxide was emitted into the earth's atmosphere in 2008, a growth of 2 percent despite the economic crisis. This averages out to each person contributing a record high of 1.3 tons of carbon, according to a report in the journal Nature Science. While the global recession slowed the growth of fossil fuel emissions for the first time this decade, it did not lower emissions altogether.


Coastal habitats may sequester 50 times more carbon than tropical forests by area


(11/16/2009) Highly endangered coastal habitats are incredibly effective in sequestering carbon and locking it away in soil, according to a new paper in a report by the IUCN. The paper attests that coastal habitats—such as mangroves, sea grasses, and salt marhses—sequester as much as 50 times the amount of carbon in their soil per hectare as tropical forest. "The key difference between these coastal habitats and forests is that mangroves, seagrasses and the plants in salt marshes are extremely efficient at burying carbon in the sediment below them where it can stay for centuries or even millennia."


Actions taken to save sharks 'disappointing'

(11/15/2009) Environmentalists say that the International Commissions for the Conservation of Atlantic Tuna (ICCAT) did not do enough in their yearly meeting to protect the ocean's sharks.


ICCAT fails to protect critically endangered tuna—again

(11/15/2009) The International Commissions for the Conservation of Atlantic Tuna (ICCAT) ignored the advice of its scientists to end fishing of the Atlantic bluefin tuna. Instead ICAAT set a quota of 13,500 tons of fish. This is not the first time ICCAT has flouted its own researchers' advice: it has repeatedly set quotas well-above its researchers' recommendations.


Declaration calls for more wilderness protected areas to combat global warming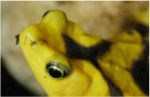 (11/11/2009) Meeting this week in Merida, Mexico, the 9th World Wilderness Congress (WILD9) has released a declaration that calls for increasing wilderness protections in an effort to mitigate climate change. The declaration, which is signed by a number of influential organizations, argues that wilderness areas—both terrestrial and marine—act as carbon sinks, while preserving biodiversity and vital ecosystem services.


Costa Rica proposes to downgrade Las Baulas National Park, threatening leatherback sea turtles


(11/11/2009) Costa Rica is considered by many to be a shining example of environmental stewardship, preserving both its terrestrial and marine biodiversity while benefiting from being a popular tourist location. However, a new move by the Costa Rican government has placed their reputation in question. In May of this year the President of Costa Rica, Oscar Arias, presented a law to the legislature that would downgrade Las Baulas from a National Park to a 'mixed property wildlife refuge'. The downgrading would authorize a number of development projects that conservationists say would threaten the park's starring resident: the leatherback turtle.


Coral reef troubles indicate broader ecological problems

(11/10/2009) Today, many of our planet's natural areas are seriously threatened by human incursion, overexploitation and global warming: Less than a fifth of the world's original forest cover remains in unfragmented tracts, while just one-third of coastal mangroves survive to protect coastlines from storms and erosion. But none of these are declining as rapidly as coral reefs. By revealing what could be in store for other natural systems, reefs resemble the proverbial canary in a coal mine.


California's great white sharks are a distinct population

(11/04/2009) Researchers have long thought that white sharks migrated across oceans, but a new study in the Proceedings of the Royal Society B shows that the population in the northeastern Pacific Ocean, along California, hasn't mixed with other white sharks for tens of thousands of years.


Atlantic bluefin tuna should be banned internationally: ICCAT scientists

(10/29/2009) Scientists with the International Commission for the Conservation of Atlantic Tuna (ICCAT) have said in a new report that a global ban on Atlantic bluefin tuna fishing is justified. ICCAT meets in November to decide if they will follow their scientist's recommendations.


Protests over tuna industry development plans in Papua New Guinea

(10/21/2009) People from the area of Madang in Papua New Guinea are protesting government plans, supported by the World Bank's International Finance Cooperation (IFC), to build large-scale industrial tuna canneries and docks, labeled the Pacific Marine Industrial Zone (PMIZ). Over 700 people showed up and marched at the Madang Provincial Governmental Headquarters on October 15th, despite the protest being banned by local police.


Satellite lasers show melting of Greenland, Antarctic worse than expected

(09/23/2009) Resaerchers examining 43 million satellite measurements of Antarctica's thinning ice sheets and 7 million of Greenland's, show that the ice is melting faster than expected. Published in Nature the research is the most comprehensive picture to date of the melting glaciers, allowing scientists to better predict how sea levels may rise.


New species of ghostshark discovered off California's coast

(09/22/2009) The discovery of Eastern Pacific black ghostshark Hydrolagus melanophasma is notable for a number of reasons. It is the first new species of cartilaginous fish—i.e fish whose skeletons are made entirely of cartilage, such as sharks, rays, and skate—to be described in California water since 1947. It is also a representative of an ancient and little-known group of fish.


Whale skeleton reveals species unknown to science

(09/22/2009) The importance of a whale to the oceanic ecosystem does not end with its life. After dying, a whale's body sinks to the bottom of the ocean and becomes food for many species, some of whom specialize on feeding on these corpses.


Photos: new deep sea species discovered off the Canary Islands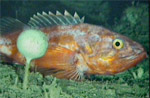 (09/21/2009) Owned by Spain, but located just off the northwest coast of Africa, the Canary Islands sport a wide variety of marine life, including five species of marine turtles, ten species of sharks and rays, and innumerable fish and invertebrates. However, a new expedition has gone beyond the known, sending a robot to depths of 500 meters to discover the secrets of the Canary Island's deep sea.


On the edge of extinction, Fiji petrels observed at sea for the first time

(09/15/2009) The Critically Endangered Fiji petrel has been observed at sea for the first time by BirdLife International and NatureFiji-MareqetiViti. First recorded in 1855 from one specimen found on Gau Island, Fiji, the rare seabird disappeared from scientific view for 130 years. Beginning in 1984 a handful of 'grounded' Fiji petrels Pseudobulweria macgillivrayi were found after landing on village roofs in Gau, but this is the first observation of the bird in its element: at sea.


Huge demand for omega-3 fatty acids depleting oceans worldwide for aquaculture

(09/09/2009) The ever-growing demand for fish and fish oil due to their omega-3 fatty acids has led to exponential growth in the aquaculture industry—and depletion of the world's oceans. While aquaculture is farmed fish, the fish are fed with wild marine species.


Plastic pollution in oceans inspires international event

(09/03/2009) For the past decade, an annual volunteer drive involving thousands of divers from all over the world has taken place in an effort to lessen the plastic content of the ocean. This year's International Cleanup Day is scheduled for September 19th and registration is open to certified divers and other volunteers who would like to do their part to save a choking ocean.


No killing yet as season begins for dolphin slaughter made famous by The Cove

(09/02/2009) Due to the new documentary The Cove, the town of Taiji, Japan is suddenly famous, or perhaps more aptly, infamous. Winner of the documentary award at the Sundance Film Festival, the film uncovers a cove in Taiji where over two thousand dolphins are slaughtered every year due to the billion dollar dolphin entertainment industry. Their dolphin's meat is then labeled as fish and given to children for school lunches, even though as top level predators the meat is heavily tainted with mercury.


Political heat rising on climate change, but does the United States feel it?

(09/02/2009) The UN Summit on Climate Change isn't for three months, yet the political temperature has been rising steadily over the summer. The heat is especially focused on the three big players at the summit: China, India, and the United States.


Oil spill off Australia potential 'disaster' for marine wildlife

(08/30/2009) Oil is leaking from an offshore drilling rig in the Timor Sea near Australia's Northwest coast. Authorities say it will be weeks before the leak is plugged: they are awaiting the arrival of a drilling rig from Singapore to plug the leak.


Plastic Vortexes Leaching Chemicals into World's Oceans

(08/20/2009) While scientists have acknowledged the existence of billions of pounds of plastic containers, Styrofoam, and similar waste have created massive oceanic trash vortexes (floating islands of garbage), little is known of the effects of the dissolution of these materials into the water.


Hardly indestructible, plastics begin decomposing in ocean within a year, spreading harmful chemicals

(08/20/2009) Scientists had assumed that plastics were basically indestructible. While floating plastic in the ocean was dangerous to particular species of marine life which consumed them or got snared by them, the scientists thought that the threat didn't extend beyond this. However, a new study shows that plastic in the ocean may be quite insidious. Researchers found that so-called indestructible plastics actually decompose in the ocean, releasing potentially toxic substances throughout the seas.


Newly discovered deep sea worms throw bioluminescent 'bombs'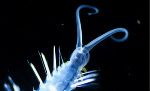 (08/20/2009) Researchers from Scripps Institution of Oceanography at UC San Diego have announced in Science the discovery of seven new species of deep sea worms, five of which drop orb-like parts of their body which cause a brilliant green display of bioluminescence. For this reason researchers have nicknamed them the 'green bombers'. The worms are not just new species, but a clade of animals entirely unknown to science until now.


Record global ocean temperature in July

(08/19/2009) The world's ocean surface temperature was the warmest on record for July, breaking the previous record set in 1998, reports NOAA's National Climatic Data Center. At 62.56°F (16.99°C), ocean temperatures were 1.06°F (0.59°C) above the 20th century average.


Biofuel company eyes dead zone in the Gulf of Mexico for creating fish-powered fuel

(08/18/2009) 'Dead zones' in the ocean are called such for a reason. Every year agricultural run-off, especially fertilizer, floods the oceans with an abundance of nutrients leading to algae blooms, i.e. massive explosions of phytoplankton. The demise of these blooms, and the rise of bacteria feeding on them, eventually starves the entire area of oxygen creating a 'dead zone' where the vast majority marine life can't survive. Considered by most to be an environmental catastrophe, a new company is looking at dead zones in a different light: fuel and profit.


Loss of Great Barrier Reef due to global warming would cost Australia $37.7 billion

(08/12/2009) A recent study reports that the loss of Australia's Great Barrier Reef due to climate change poses a catastrophe not just for marine life, but would cost $37.7 billion during the next century.


Greenpeace drops boulders in Swedish waters to protect marine life from bottom trawling

(08/10/2009) Activists with Greenpeace have begun placing massive granite rocks in Swedish waters to prevent fishing boats from bottom trawling in sensitive areas.


Increasing pollution in US beaches

(07/31/2009) A recent water quality assessment by the Natural Resources Defense Council cites that the levels of ocean pollution required more than 20,000 mandatory closing and advisory days at beaches across the United States this year. Pollution and contamination levels have not been diminishing, and this was the fourth consecutive year for beach closures to reach record numbers.


Global fisheries begin to show signs of recovery where management is strong

(07/30/2009) New research reveals hopeful signs that overfished marine ecosystems can recover provided adequate protections. The two-year study, publish in the journal Science, found that efforts to reduce overfishing are beginning to succeed in five of the ten large marine ecosystems examined, suggesting that "sound management can contribute to the rebuilding of fisheries."


Extinction debt can last millions of years

(07/29/2009) Extinction can be set in motion millions of years before a species' actual demise, suggesting that present-day drivers of habitat destruction and degradation may have already doomed many species to eventual extinction, report researchers writing in Proceedings of the Royal Society B online.


Global ocean temperatures at warmest level since 1880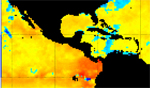 (07/21/2009) Global ocean temperatures rose to the warmest on record, according to data released last week by the National Oceanic and Atmospheric Administration (NOAA). The combined average global land and ocean surface temperature for June was second-warmest since global recording-keeping began in 1880. NOAA also reported a return of el Niño, raising the prospect of dryness—and risk of forest fires—in Southeast Asia.


20-foot-long washes up on New York beach

(07/15/2009) A 20-foot-long, 5,000 pound basking shark washed up on a Long Island beach yesterday, reports CNN.


Protection of land crabs critical to the conservation of coastal tropical forests

(07/13/2009) The impact of land crabs on the near-ocean forests in which they live has long been overlooked, with emphasis placed instead on water levels, salinity, and other abiotic influences. However, a new research synthesis published in Biological Reviews shows that land crab influence is among the most important factors affecting tropical forest growth along coasts, on islands, and in mangroves.


NASA reveals dramatic thinning of Arctic sea ice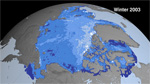 (07/07/2009) Arctic sea ice thinned dramatically between the winters of 2004 and 2008, with thin seasonal ice replacing thick older ice as the dominant type of sea ice for the first time on record, report NASA researchers. Scientists from NASA and the University of Washington used observations from NASA's Ice, Cloud and land Elevation Satellite (ICESat) to make the first Arctic Ocean basin-wide estimate of the thickness and volume of sea ice cover. The researchers found that overall Arctic sea ice thinned about 17.8 centimeters (7 inches) a year, for a total of 67 cm (2.2 feet) over the four winters from 2004 to 2008. The total area covered by thick older ice that survives one or more summers ("multi-year ice") shrank 42 percent or 1.54 million square kilometers (595,000 square miles), leaving thinner first-year ice ("seasonal ice") as the dominant type of ice in the region.


Did fish poisoning drive Polynesian colonization of the Pacific?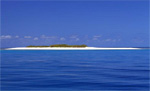 (07/07/2009) The reasons behind the colonization of the Pacific islands have long been sources of controversy and fascination. Now a new study looks into toxic fish poisoning as a possible migration catalyst. Between AD 1000 and 1450, Polynesian colonization of the South Pacific flourished. The voyages that were undertaken in the discovery of these new lands were very dangerous and the people who conducted them undoubtedly had good reasons to do so. Researchers from the Florida Institute of Technology have performed research which shows that toxic ciguatera fish poisoning would provide sufficient impetus for such risky voyages.


Coastal seagrass disappearing as quickly as coral reefs and rainforests

(06/30/2009) Findings from the first comprehensive global survey of coastal seagrass ecosystems are nothing to cheer about. Fifty-eight percent of seagrass meadows are declining, according to an international team of scientists who compiled data from 215 studies and 1,800 observations of seagrass habitat beginning in 1879. Since that year, 29 percent of seagrass ecosystems have vanished entirely.


Over 30 percent of open ocean sharks and rays face extinction


(06/25/2009) The first global study of open ocean (pelagic) sharks and rays found that 32 percent of the species are threatened with extinction largely due to overfishing and bycatch, making pelagic sharks and rays more threatened than birds (12 percent), mammals (20 percent), and even amphibians (31 percent), which are considered to be undergoing an extinction crisis. The situation worsens when only sharks taken in high-seas fisheries are considered: 52 percent of these species are threatened.


What is the crop productivity and environmental impact of too much or too little fertilizer?



(06/18/2009) While the use of synthetic fertilizer has greatly increased agricultural production globally—helping to feed a global population that is not slowing down—it has brought with it high environmental costs. Fertilizer runoff has polluted many coastal regions creating 'dead zones' where the ocean is starved of oxygen by the influx of nitrogen. Synthetic fertilizers have also polluted the air with ammonia, and sent emissions of nitrous oxide into the atmosphere, contributing to global warming.


New report predicts dire consequences for every U.S. region from global warming


(06/17/2009) Government officials and scientists released a 196 page report detailing the impact of global warming on the U.S. yesterday. The study, commissioned in 2007 during the Bush Administration, found that every region of the U.S. faces large-scale consequences due to climate change, including higher temperatures, increased droughts, heavier rainfall, more severe weather, water shortages, rising sea levels, ecosystem stresses, loss of biodiversity, and economic impacts.


Will jellyfish take over the world?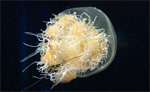 (06/16/2009) It could be a plot of a (bad) science-fiction film: a man-made disaster creates spawns of millions upon millions of jellyfish which rapidly take over the ocean. Humans, starving for mahi-mahi and Chilean seabass, turn to jellyfish, which becomes the new tuna (after the tuna fishery has collapsed, of course). Fish sticks become jelly-sticks, and fish-and-chips becomes jelly-and-chips. The sci-fi film could end with the ominous image of a jellyfish evolving terrestrial limbs and pulling itself onto land—readying itself for a new conquest.


UN calls for global ban on plastic bags to save oceans

(06/09/2009) The UN's top environmental official called for a global ban on plastic bags yesterday. "Single use plastic bags which choke marine life, should be banned or phased out rapidly everywhere. There is simply zero justification for manufacturing them anymore, anywhere," said Achim Steiner, executive director of the U.N. Environment Program.


10 ways you can help protect oceans

(06/08/2009) Monday June 8th, 2009 is World Ocean Day, which the United Nations launched to raise awareness about oceans and coastal ecosystems. Roughly 80 percent of life on Earth depends on oceans and coasts, while more than a third of the humanity lives in coastal areas or on small islands. Oceans provide mankind with more than $21 trillion annually in goods and services, including food, energy, transportation, and recreation. But oceans and coastal ecosystems are increasingly under threat from pollution, unsustainable fishing practices, destruction of habitats, and the effects of increased carbon dioxide emissions (warmer temperatures and ocean acidification). In recognition of the importance of maintaining healthy marine ecosystems, The Nature Conservancy is offering a set of ten tips to help to protect these resources for future generations.


Marine scientist calls for abstaining from seafood to save oceans


(06/08/2009) In April marine scientist Jennifer Jacquet made the case on her blog Guilty Planet that people should abstain from eating seafood to help save life in the ocean. With fish populations collapsing worldwide and scientists sounding warnings that ocean ecosystems—as edible resources—have only decades left, it is perhaps surprising that Jacquet's call to abstain from consuming seafood is a lone voice in the wilderness, but thus far few have called for seafood lovers to abstain.



Page 1 | Page 2 | Page 3 | Page 4 | Page 5 | Page 6 | Page 7 | Page 8 | Page 9 | Page 10 | Page 11 | Page 12 | Page 13 | Page 14 | Page 15 | Page 16 | Page 17 | Page 18