News articles on leopards

---
Mongabay.com news articles on leopards in blog format. Updated regularly.






Zambia lifts hunting ban on big cats

(06/01/2015) Nine months after Zambia lifted its general trophy hunting ban—including on elephants—the country has now lifted its ban on hunting African lions and leopards. The Zambia Wildlife Authority (ZAWA) lifted the ban after surveying its big cat populations and setting new regulations.
Photos: Amur leopard population hits at least 65
(02/26/2015) Most of the world's big predators are in decline, but there are some happy stories out there. This week, WWF announced that the Amur leopard population has grown to a total of 65-69 cats. This represents a more than doubling of the population in eight years. Still, the Critically Endangered subspecies remains perilously close to extinction.
Cats' best friend? A new role for guard dogs in South Africa
(07/09/2014) While there has been a surge of recovery and reintroduction programs to combat predator decline, human population growth and limited protected areas have led to increased rates of human-wildlife conflicts in many regions of the world. A study published recently tested the ability of trained guarding dogs to protect livestock in South Africa and found it to be highly effective, protecting humans and predators alike.
Four donors pledge $80 million for big cats

(06/03/2014) Four donors from around the world have pledged $80 million to cat conservation group, Panthera. The money will fund projects working to preserve tigers, lions, jaguars, cheetahs, leopards, snow leopards, and cougars over ten years.
Over 75 percent of large predators declining
(01/09/2014) The world's top carnivores are in big trouble: this is the take-away message from a new review paper published today in Science. Looking at 31 large-bodied carnivore species (i.e those over 15 kilograms or 33 pounds), the researchers found that 77 percent are in decline and more than half have seen their historical ranges decline by over 50 percent. In fact, the major study comes just days after new research found that the genetically-unique West African lion is down to just 250 breeding adults.
Curious bears take 'selfies' with camera traps
(12/26/2013) 'Selfies' are all the rage this year, and even bears have jumped on the trend. Especially the shaggy-coated, termite-loving sloth bears (Melursus ursinus), who seem particularly fascinated by the cameras that scientists have put up in forests to secretly capture their stealthy moves.
Unraveling the secrets of one of the world's most mysterious big cats
(12/22/2013) The Sunda clouded leopard has always been shrouded in mystery. Only declared a separate species from its mainland cousin, the Borneo clouded leopard, in 2006, the IUCN lists the cat as Endangered. The distinction between the Borneo clouded leopard (Neofelis nebulas) and the Sunda clouded leopard (Neofelis diardi) was made by ground-breaking molecular coding technologies and anatomy studies of the two species. Although it is Borneo's largest predator, very little is known about the Sunda leopard. As a medium-sized, well-camouflaged and mostly nocturnal animal, the leopard has evaded researchers since its discovery eight years ago.
Camera traps reveal Amur leopards are breeding in China (photos)
(11/26/2013) Good news today about one of the world's rarest mammals: camera traps in China's Wangqing Nature Reserve have captured the first proof of breeding Amur leopards in the country, according to the Wildlife Conservation Society (WCS). The photos show a mother Amur leopard with two cubs. A recent survey by WWF-Russia estimated the total wild population of Amur leopards at just 50 individuals, but that's a population on the rise (from a possible nadir of 25) and expanding into long-unused territory.
Protecting predators in the wildest landscape you've never heard of
(09/10/2013) The Serengeti, the Congo, the Okavango Delta: many of Africa's great wildernesses are household names, however on a continent that never fails to surprise remain vast wild lands practically unknown to the global public. One of these is the Ruaha landscape: covering 51,800 square kilometers (20,000 square miles) of southern Tanzania's woodlands and savannah, Ruaha contains the largest population of elephants in East Africa, over 500 bird species, and a wealth of iconic top predators, including cheetah, hyena, wild dogs, leopard, and—the jewel in its crown—10 percent of the world's lions. But that's not all, one of Africa's least-known and secretive tribal groups, the Barabaig, also calls Ruaha home.
Snowy tigers and giant owls: conservation against the odds in Russia's Far East
(05/28/2013) The Russian Far East is one of the wildest places on Earth: where giant tigers roam snow-covered forests and the world's biggest owls stalk frozen rivers. Bordering northern China and North Korea, the forests of Primorye are known for the diversity of habitats, including coastal forests along the Sea of Japan, vast coniferous forests in the Sikhote-Alin mountains, and even steppe. These diverse ecosystems also makes the forests a hotspot for endangered species, including Amur tigers (Panthera tigris altaica), Blakiston's fish owls (Bubo blakistoni), and one of the world's rarest big cats, Amur leopards (Panthera pardus orientalis), which number only 30-50 animals.
Scientists capture one of the world's rarest big cats on film (photos)
(05/21/2013) Less than a hundred kilometers from the bustling metropolis of Jakarta, scientists have captured incredible photos of one of the world's most endangered big cats: the Javan leopard (Panthera pardus melas). Taken by a research project in Gunung Halimun-Salak National Park, the photos show the magnificent animal relaxing in dense primary rainforest. Scientists believe that fewer than 250 mature Javan leopard survive, and the population may be down to 100.
Amur leopard population rises to 50 animals, but at risk from tigers, poachers
(04/09/2013) In the remote Russian far east, amid pine forests and long winters, a great cat may be beginning to make a recovery. A new survey estimates that the Amur leopard (Panthera pardus orientalis) population has risen to as many as 50 individuals. While this may not sound like much, it's a far cry from the a population that may have fallen to just 25 animals. Sporting the heaviest coat of any leopard, the Amur leopard largely hunts hoofed animals, such as deer and boar, in a forest still ruled by the Siberian tiger.
Three developing nations move to ban hunting to protect vanishing wildlife
(01/21/2013) Three developing countries have recently toughened hunting regulations believing the changes will better protect vanishing species. Botswana has announced it will ban trophy hunting on public lands beginning in 2014, while Zambia has recently banned any hunting of leopards or lions, both of which are disappearing across Africa. However, the most stringent ban comes from another continent: Costa Rica—often considered one of the "greenest" countries on Earth—has recently passed a law that bans all sport hunting and trapping both inside and outside protected areas. The controversial new law is considered the toughest in the Western Hemisphere.
In the kingdom of the black panther
(01/15/2013) The black panther has a mythical aura: Rudyard Kipling chose the animal for one of his heroes in the Jungle Book, in the 1970s it became the symbol of an African-American socialist party, while comic guru Stan Lee selected the stunning feline for his first black superhero. But the real black panther isn't an actual species, instead it's a rare dark pigmentation found most commonly in leopards, but also occasionally in jaguars and other wild cats. The rarity of the black panther—not to mention its striking appearance—has added to their mystery. However, recent studies have found that black panthers, in this case 'black leopards,' are astoundingly common in one part of the world: the Malayan peninsula.
Photos: Chinese leopard wins camera trap contest
(11/27/2012) The third annual BBC Wildlife Magazine Camera Trap Photo of the Year contest has produced some stunning and surprising images, including a snow leopard sticking its tongue out, a rare giant pangolin, and wrestling monitor lizards. But the winner this year was the perfect shot of a young leopard in China.
Development halted in crucial wildlife corridor in Malaysia
(11/07/2012) Kenyir Wildlife Corridor in northeast Malaysia is teeming with wildlife: elephants, gibbons, tigers, tapirs, and even black panthers (melanistic leopards) have been recorded in the 60 kilometer (37 mile) stretch of forest. In fact, researchers have recorded over 40 mammal species (see species list below), including 15 threatened with extinction according to the IUCN Red List. When these findings were presented by scientists to the Terengganu state government action followed quickly: all development projects have been halted pending a government study.
Leopard poaching is a bigger problem in India than previously believed
(10/31/2012) A recent study conducted by wildlife trade monitoring group TRAFFIC uncovered unnerving statistics about the illegal trade of leopards (Panthera pardus) in India: at least four leopards have been poached every week for the past decade in the country. The study, entitled Illuminating the Blind Spot: A study on illegal trade in Leopard parts in India, highlights the severity of leopard poaching from 2001 to 2010, despite preventative measures established in 1972 by the Wildlife Protection Act (WLPA) that prohibit the sale of leopard parts in India.
Illegal hunting threatens iconic animals across Africa's great savannas, especially predators
(10/25/2012) Bushmeat hunting has become a grave concern for species in West and Central Africa, but a new report notes that lesser-known illegal hunting in Africa's iconic savannas is also decimating some animals. Surprisingly, illegal hunting across eastern and southern Africa is hitting big predators particularly hard, such as cheetah, lion, leopard, and wild dog. Although rarely targets of hunters, these predators are running out of food due to overhunting and, in addition, often becoming victims of snares set out for other species.
Tigers vs. coal in India: when big energy meets vanishing cats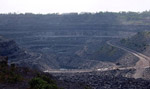 (08/01/2012) Burning coal fuels climate change, causes acid rain, and spreads toxic pollutants into the environment, but now a new Greenpeace report warns that coal may also imperil the world's biggest feline: the tiger. Home to world's largest population of tigers—in this case the Bengal subspecies (Panthera tigris tigris)—India is also the world's third largest coal producer. The country's rapacious pursuit of coal—it has nearly doubled production since 2007—has pushed the industry into tiger territory, threatening to destroy forests and fragment the tiger's already threatened population.
Animal picture of the day: leopard with giant prey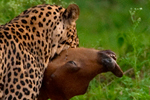 (07/19/2012) It's true: a leopard cannot change its spots—even after eight years! Using a computer program that looks at leopard spot patterns, researchers were able to identify the above leopard, which was snapped by an Indian photographer, with a leopard individual photographed eight years before by camera trap. This Indian leopard (Panthera pardus fusca) is known as BPL-123, and has made its home in India Bandipur Tiger Reserve.