News articles on gasoline

---
Mongabay.com news articles on gasoline in blog format. Updated regularly.





U.S. boosts fuel economy standard to 54.5 mpg

(08/29/2012) The Obama administration finalized rules that will boost the national fuel economy standard for cars and light trucks to 54.5 miles per gallon for the 2025 model year.


Emissions from palm oil biodiesel highest of major biofuels, says EU

(01/30/2012) Greenhouse gas emissions from palm oil-based biodiesel are the highest among major biofuels when the effects of deforestation and peatlands degradation are considered, according to calculations by the European Commission. The emissions estimates, which haven't been officially released, have important implications for the biofuels industry in Europe.


Palm oil does not meet U.S. renewable fuels standard, rules EPA

(01/27/2012) The U.S. Environmental Protection Agency (EPA) ruled on Friday that palm oil-based biofuels will not meet the renewable fuels standard due to carbon emissions associated with deforestation.


Oil companies in the UK are big users of palm oil biodiesel

(08/17/2009) British motorists are unwittingly big consumers of palm oil produced on rainforest lands in southeast Asia, reports The Times.


Smart biofuels that don't hurt people or the environment are possible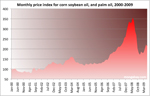 (07/16/2009) Sustainable biofuels can be a reality but only in combination with reductions in fuel demand and increased productivity on existing agricultural lands, argue researchers writing in the journal Science. Five years ago biofuels were seen as a panacea for the world's energy hunger and the need to address climate change, but increased production of biofuels soon contributed to a clutch of problems, including competition with food, resulting in rising prices, and large-scale conversion of rainforests and tropical grasslands for feedstocks, resulting in biodiversity loss and increased greenhouse gas emissions. Environmentalists and scientists condemned many biofuels — including ethanol produced from Midwestern corn ethanol and biodiesel generated from European rapeseed and Southeast Asian palm oil — as a short-sighted energy solution. Some biofuels were found to be even worse for the environment, and more costly, than conventional gasoline. However some researchers remain optimistic that smart biofuel production could help meet energy demand without hurting people or the planet. In a Science Policy Forum piece, David Tilman and colleagues explore some of these options, noting that biofuels can be produced in substantial quantities at low environmental cost


Cellulosic ethanol healthier, better for the environment, than corn ethanol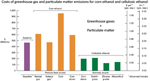 (02/03/2009) Ethanol produced from switchgrass, prairie biomass, and Miscanthus will reduce the environmental and health impacts of expanded biofuels production relative to using corn as a feedstock, report researchers writing in the journal Proceedings of the National Academy of Sciences.


Obama pushes for better mileage standards

(01/27/2009) President Obama has moved to allow states set automobile emission rules, opening the door for more fuel efficient vehicles. Monday Obama signed a memorandum requiring the Environmental Protection Agency (EPA) to reconsider California's application to set tighter auto emissions and fuel efficiency standards than required under federal law. Should the waiver be granted, automakers would be forced to sell more fuel efficient vehicles if they want to do business in the state.


Tool helps overcome miles-per-gallon illusion

(12/17/2008) A new tool helps motorists evaluate the fuel efficiency of their vehicle in terms that more accurately reflect the cost of driving than miles-per-gallon (MPG).


US government: $28 carbon price would raise gas prices by 25 cents

(10/08/2008) A national carbon price under a cap-and-trade system would have a limited impact on gasoline prices, reports a new study by the Congressional Budget Office (CBO). The report estimates that a carbon price of $28 per ton — a bit less than current carbon prices in the European market — would boost gas prices by 25 cents per gallon, while a $200 per ton tax would increase prices by less then $2. The findings suggest that the cost of climate change legislation may be lower than claimed by industry, but also indicate that efforts to curb Americans' driving habitats via a carbon tax or cap-and-trade scheme may be of limited effectiveness. A $2 increase in the price of gas would still leave U.S. fuel prices well below those in most of the world.


Europe cuts biofuel targets to 4% in 2015, 6% in 2020

(09/12/2008) The E.U. voted to relax biofuels targets following widespread criticism of their social, economic, and environmental impacts. Thursday the European Parliament's Industry and Energy Committee said it would push a plan calling for a 5 percent share of renewables in transport fuel by 2015 and a 10 percent target by 2020, a reduction from the 20 percent target set forth in March 2007. The plan effectively cuts targets for biofuels produced from conventional feedstocks to four percent in 2015 and six percent in 2020.


$4 gas translates to fewer driving deaths

(07/11/2008) Rising gas prices have trigger a drop in traffic deaths as motorists drive less and slow down, reports a researcher at the University of Alabama at Birmingham.


U.S. may allow corn farming on conservation land

(06/23/2008) The U.S. Department of Agriculture may allow farmers to plant corn on million of acres of conservation land to bolster the food supply in response to flooding in the Midwest and record high prices spurred by demand for domestic ethanol production, according to a report in the New York Times.


Biofuel production on abandoned lands could meet 8% of global energy needs

(06/23/2008) Using abandoned agricultural lands for biofuel production could help meet up to 8 percent of global energy needs without compromising food supplies or diminishing biologically-rich habitats, reports a new study published in the journal Environmental Science and Technology.


Miles-per-gallon misrepresents gains in fuel efficiency from scrapping worst gas-guzzlers

(06/20/2008) The use of miles-per-gallon instead of gallons-per-distance to measure fuel-efficiency may be clouding Americans' judgement when it comes to choosing whether to take the worst gas-guzzling vehicles off the road, argues a new paper published in the journal Science.


Cellulosic biofuels may be viable alternative to gas within 5 years

(06/02/2008) A new institute in the San Francisco Bay Area is seeking to make cellulosic biofuel an economically viable alternative to corn ethanol and gasoline within the next five years. The Joint BioEnergy Institute (JBEI), a partnership between three national laboratories and three Bay Area universities, was formed in June 2007 after the U.S. Department of Energy awarded the institute a $125 million grant to develop better methods for making liquid biofuels from the natural cellulose in trees and grasses. JBEI researchers expect cellulosic biofuels to yield more energy, produce less greenhouse gases, and have less impact on the environment than other alternatives to gasoline, such as corn ethanol.