News articles on extinction

---
Mongabay.com news articles on extinction in blog format. Updated regularly.






12 fish species go extinct in lake near Istanbul

(09/24/2008) Turkey has lost twelve species of fish to pollution in Lake Sapanca. Lake Sapanca used to be one of Turkey's most bio-diverse lakes. A decade ago the lake's water was pristine enough to be pumped directly to Istanbul for citizen use, but due to rising pollution it no longer serves as a source for the city water.
Palawan's wildlife faces extinction risk due to mining, pet trade

(09/17/2008) Scientists warn that species on the Philippine island of Palawan are rapidly headed toward extinction due to habitat loss and the illegal wildlife trade. Last week ornithologist Aldrin Mallari presented a paper showing that all of Palawan's endangered species inhabited lowland forest, according to an article in the Philippine Daily Inquirer. Lowland forest is broadly open to human development in Palawan, whereas areas above a thousand meters are protected.
Thought-to-be-extinct frog rediscovered in Australia

(09/11/2008) Scientists have rediscovered a thought-to-be-extinct species of frog in a creek in Northern Australia. The find offers hope that some species have survived a fungal epidemic that has devastated the amphibians of Queensland.
Independent of climate, forest cover in southern Amazon may fall to 20% by 2016

(09/03/2008) Forest cover in the "Arc of Deforestation" of southern Amazonia will decline to around 20 percent 2016 due to continued logging and conversion of forests for cattle pasture and soy farms, report researchers writing in the journal Environmental Conservation. Analyzing high resolution satellite data from 1984 through 2004 for the Alta Floresta region in northern Mato Grosso, Fernanda Michalski, Carlos Peres and Iain Lake of the University of East Anglia found that forest cover declined from from 91.1 percent to 41.7 percent between 1984 and 2004. They note that while the deforestation rate has slowed to around 2 percent per year since peaking at more than 8 percent annually in late 1980s to mid-1990s, renewed expansion of road networks will enable loggers to increasingly exploit remaining forests, leading to degradation and likely eventual conversion for agricultural use. Overall Michalski and colleagues forecast that forest cover in Alta Floresta will fall to 21 percent by 2016, a decline of 77 percent since 1984.
Researchers devise new comparison of mass extinction events

(09/02/2008) Researchers have created a new way to compare historical mass extinction events. The scoring system, presented in the early online edition of the journal Proceedings of the National Academy of Sciences, works by multiplying the number of taxa — species, genera, and families — that went extinct by the inverse of the time it took to produce a measure dubbed "greatness", which represents the magnitude of the event. Using the system, Celal Sengor and colleagues from Istanbul Teknik Universitesi of Turkey rank the Cretaceous-Tertiary (K-T) event — when the dinosaurs were extinguished in a flash by an asteroid strike or mass oceanic poisoning by a spasm of volcanic activity — as the greatest mass extinction in history. The Permian, which featured a greater loss of species (90-95 percent of marine species and 70 percent of land species) but played out over a longer period to time some 250 million years ago, ranks third after the Silurian, which occurred around 440 million years ago.
Scientists condemn Bush plan for endangered species

(08/27/2008) The Ecological Society of America has come down handily against the Bush Administration's proposed changes to the Endangered Species Act (ESA). The changes would eliminate the requirement for independent scientific review of federal projects, such as roads, dams, and mines, instead allowing federal agencies to conduct internal evaluations and then proceed as they see fit.
The extinction of the baiji a 'wake-up call' to conserve vaquita and other cetaceans

(08/25/2008) In December of 2006 an expedition spent six weeks surveying the Yangtze River in China for one of the world's rarest cetaceans, the baiji. Also known as 'The Goddess of the Yangtze' the shy river-dolphin had roamed the river for millions of years locating fish with echolocation. The survey came back empty-handed without a spotting a single dolphin. Dr. Jay Barlow, a member of the surveying team, described his emotions on the expedition's findings in an interview with Mongabay.com: "I was stunned. I knew the species was in trouble, but I did not think they were already gone. We really had not seen the extinction of a large mammal species in 50 years, so we grew complacent."
Amphibians face mass extinction

(08/11/2008) Amphibians are in big trouble. At least one third of the world's 6,300 known species are threatened with extinction, while at least 200 species have gone extinct over the past 20 years. Worryingly the outbreak of a deadly fungal disease, chytridiomycosis, is spreading throughout the tropics leaving millions of victims. A new study, published in the early edition of the Proceedings of the National Academy of Sciences, warns that there is "little time to stave off a potential mass extinction" of frogs, salamanders, and caecilians.
7 steps to solve the global biodiversity crisis

(08/11/2008) Many biologists believe Earth is entering a sixth mass extinction event, one that has is the direct of human activities, including over-exploitation, habitat destruction and introduction of alien species and pathogens. Climate change — largely driven by anthropogenic forces — is expected to soon increase pressure on Earth's biodiversity. With population and per-capita consumption expected to grow significantly by the mid 21st century, there seems little hope that species loss can be slowed. Nevertheless, writing in the journal PNAS, Stanford biologists Paul R. Ehrlich and Robert M. Pringle suggest seven steps to help improve the outlook for the multitude of species that share our planet.
Three American mussel species lost to extinction

(08/10/2008) After a five year review, the U.S Fish and Wildlife Service has asked to take three mussels species off the Endangered Species List due to the belief that the mussels are extinct. The three species were all native to the Tennessee River and are thought to have gone extinct due to drastic changes in water conditions, including pollution and dams.
48% of primates threatened with extinction

(08/05/2008) 48 percent of the world's primate species are at risk of extinction, according to the first comprehensive review of the world's primates since 2003. The results were released as an update to the IUCN Red List at the 22nd International Primatological Society Congress in Edinburgh, Scotland.
Moving species may be only way to save them from climate change

(07/17/2008) Desperate times call for desperate measures, according to a new paper in Science. conservation scientists from the US, the UK, and Australia are calling for the consideration of a highly controversial conservation technique: assisted migration. According to the policy piece, species would be relocated to sites "where they do not currently occur or have not been known to occur in recent history".
Birds face higher risk of extinction than conventionally thought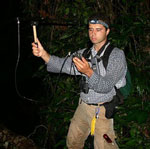 (07/14/2008) Birds may face higher risk of extinction than conventionally thought, says a bird ecology and conservation expert from Stanford University. Dr. Cagan H. Sekercioglu, a senior research scientist at Stanford and head of the world's largest tropical bird radio tracking project, estimates that 15 percent of world's 10,000 bird species will go extinct or be committed to extinction by 2100 if necessary conservation measures are not taken. While birds are one of the least threatened of any major group of organisms, Sekercioglu believes that worst-case climate change, habitat loss, and other factors could conspire to double this proportion by the end of the century. As dire as this sounds, Sekercioglu says that many threatened birds are rarer than we think and nearly 80 percent of land birds predicted to go extinct from climate change are not currently considered threatened with extinction, suggesting that species loss may be far worse than previously imagined. At particular risk are marine species and specialists in mountain habitats.
1/3 of corals face extinction

(07/10/2008) Nearly one-third of reef-building corals are vulnerable to extinction, according to an assessment of 845 species of coral. Rising temperatures, increased incidence of disease, and human disturbance are driving the trend.
New math shows that threat of extinction is underestimated globally

(07/07/2008) For some species the odds of survival may have changed. According to a new study current extinction models have underestimated the threat of extinction by not factoring in differences among individuals in a population. Such differences include the ratio of males to females, size and health of animals, and individual behvaioral patterns. A study conducted by Brett Melbourne of University of Colorado, Boulder and Alan Hastings of the University of California, Davis, shows that the new model speeds the extinction time for some species up to 100 times what was previously thought.
Welcome to the Jungle: An Introduction to the End of the Industrial Era

(07/03/2008) The existing state of industrial civilization has brought our planet and global populations into a worldwide crisis unprecedented in the history of life on Earth. Human activities have sent many living systems into decline or collapse, brought about the 6th mass extinction of biodiversity, upset our planet's biogeochemical cycles, and rapidly and dangerously altered our climate. We stand at the bifurcation point of our species: whether or not we are able to question the maladaptive behvaiors which have brought about these travesties and adapt on a global scale will determine the course of human evolution and the survival of a multitude of living organisms with which we share this planet. As the only reflectively conscious organism to have existed, we also hold the fate of (reflective) sentience itself in our actions. I believe our chance at pulling ourselves out of this mess is through an analytical dissection of human nature and behvaior — to expose, extract, examine, revise and communicate the elements of our existence which drive us into maladaptive behvaiors followed by an application of technology and action grounded in a new and emerging understanding of humanity and our position in the biosphere.
Tropical biodiversity on "a trajectory toward disaster"

(06/26/2008) Despite recent debate over the extent of regenerating secondary forest cover, the effectiveness of protected areas and tropical extinctions protections, global biodiversity remains under great threat, warn scientists writing in the journal Frontiers in Ecology and the Environment.
Caribbean Monk Seal is officially declared extinct

(06/10/2008) The NOAA fish service has officially declared the Caribbean Monk Seal extinct. The seal--the first to go extinct by human causes--has not had a confirmed sighting for fifty-six year. Many scientists believe sightings that have followed the last confirmation were probably of Hooded Seals and not the Caribbean Monk.
50 species per day discovered in 2006

(05/27/2008) 16,969 species were discovered in 2006 according to a report compiled by Arizona State University's International Institute for Species Exploration, the International Commission on Zoological Nomenclature, the International Plant Names Index, and Thompson Scientific.
Invasive Species: Toad-ally out of control

(05/18/2008) Throughout warm, wet climates around the world lurks a camouflaged combatant seldom known beyond those who experience first hand its awesome destructive powers. It is an ingeniously crafted destroyer equipped with a host of specially developed chemical toxins, a lightening fast attack, and the ability to easily navigate across both water and land. This devious tool is not a creation of human engineering or military research and development but a product of a much more ancient and refined process: evolution. And until human intervention it was neither ecologically harmful nor an invasive pest but a well-integrated part of ecosystems throughout South and Central America. Meet Bufo marinus — the cane toad: exemplary proof of how human short-sightedness and misuse of biological control agents often leads to the catastrophic mismanagement of our natural world in the form of a large, squat, hungry toad.
Global wildlife declines 30% in 30 years

(05/16/2008) In honor of Endangered Species Day, the Wildlife conservation Society (WCS) has released a list of twelve critically endangered species, which it considers the 'rarest of the rare'. The list spreads widely throughout the animal kingdom, including insects, mammals, birds, reptiles, amphibians, and fish.
New cures for human ailments under threat by global extinction crisis

(04/24/2008) In the film Medicine Man, a researcher in the Amazon discovers a cure for cancer in a rare ant. However, a logging company arrives at the wrong moment and, despite protestations from the main characters, the company destroys the tract of rainforest where the ant once survived.
Humans, and global warming, responsible for extinction of mammoths

(03/31/2008) The combination of human hunting pressure and climate change was responsible for the extinction in woolly mammoths, claims new research published in the open-access journal PLoS Biology. Scientists have long debated whether climate change or human hunting were the more important driver in the demise of North America's megafauna towards the end of the last Ice Age. Now new modeling by David Nogues-Bravo, a biologist at the National Museum of Natural Sciences in Madrid, Spain, and colleagues supports the theory that synergistic effects of warming climate and new human predators drove mammoths to extinction.
No global warming link to dying frogs?
(03/25/2008) Scientists have fired another salvo in the heated debate over the role of climate change in the global decline of amphibians. Writing in the March 25 issue of PLoS Biology, a team of researchers led by Karen Lips of Southern Illinois University-Carbondale report finding "no evidence to support the hypothesis that climate change has been driving outbreaks of amphibian chytridiomycosis" -- a disease blamed for large-scale die-offs of amphibians. Other researchers have argued that climate shifts are worsening the outbreak of the fungal disease.
Half of Madagascar's amphibians may still await discovery

(03/11/2008) Madagascar is one of the most unique places on Earth for wildlife. When the public thinks of Madagascar's fauna most likely they think of one of the fifty species of lemur. Yet, Madagascar possesses a wealth of endemic wildlife outside of these unique prosimians. For example, to frog-lovers Madagascar is a paradise. The only amphibians living on Madagascar are frogs; the island is devoid of toads, salamanders, or newts. But what it lacks in other amphibians it makes up for in the number and beauty of its frogs. Currently, 240 frogs have been catalogued in Madagascar, 99 percent of which are endemic. Yet, amphibian expert Dr. Franco Andreone believes that, according to recent field studies, this may only be half of the frogs that actually live in Madagascar. Dr. Andreone believes the final tally could reach 500 species!





Saving forgotten species: An interview with Carly Waterman, Program Coordinator of EDGE

(02/28/2008) In January 2007 a new conservation initiative arrived with an unusual level of media attention. The attention was due to the fact that the organization was doing things differently—very differently. Instead of focusing their efforts on the usual conservation-mascots like the panda or tiger, they introduced the public to long-ignored animals: photos of the impossibly unique aye-aye and a baby slender loris wrapped around a finger appeared in newsprint worldwide. The new initiative EDGE (Evolutionary Distinct and Globally Endangered), launched by the Zoological Society of London, was not concerned with an animal's perceived popularity, rather the chose their focal species on a combined measurement of a species' biological uniqueness and its vulnerability to extinction. Consequently, they hoped to make celebrities out of animals (big and small) most people had never heard of: the hairy-eared dwarf lemur, anyone?





Widespread butterflyfish may go extinct due to global warming, pollution

(02/24/2008) The Chevroned Butterflyfish, a colorful fish found in tropical oceans around the world, faces extinction due to overexploitation, pollution and climate change, report researchers writing in the journal Behavioural Ecology and Sociobiology. Despite its widespread distribution, the species could be doomed by its specialized feeding habitats: the Chevroned Butterflyfish (Chaetodon trifascialis) feeds on only one type of coral.





The Panamanian golden frog declared extinct by BBC Natural History crew

(02/04/2008) A national symbol of Panama has been declared extinct by BBC filmmakers. The crew was in Panama to film the unique frog for David Attenborough's most recent series on reptiles and amphibians, entitled Life in Cold Blood. The filmmakers achieved their objective and captured the golden frog on film, including rarely seen behvaior.







Photos: Top 100 most threatened amphibians named

(01/21/2008) Due to numerous factors--including habitat destruction, pollution, climate change, and chytrid fungus--amphibians are probably the most threatened taxon of species in the world. Dr Jonathan Baillie, head of the EDGE organization which has just established an amphibian program, stated that "tragically, amphibians tend to be the overlooked members of the animal kingdom, even though one in every three amphibian species is currently threatened with extinction, a far higher proportion than that of bird or mammal species." To help save these species on the brink, EDGE, apart of the Zoological Society of London, has compiled a list of the hundred most threatened and evolutionary distinct amphibians.







As amphibians leap toward extinction, alliance pushes "The Year of the Frog"

(12/31/2007) With amphibians experiencing dramatic die-offs in pristine habitats worldwide, an alliance of zoos, botanical gardens and aquariums has launched a desperate public appeal to raise funds for emergency conservation measures. Scientists say that without quick action, one-third to one-half the world's frogs, toads, salamanders, newts and caecilians could disappear.





Migrating frogs fare poorly when habitat altered

(12/19/2007) Habitat loss and fragmentation are putting amphibians already threatened by climate change, pesticides, alien invasive species, and the outbreak of a deadly fungal infection at greater risk of extinction, reported a study published in Science last week.





Global warming will significantly increase bird extinctions

(12/06/2007) Where do you go when you've reached the top of a mountain and you can't go back down? It's a question increasingly relevant to plants and animals, as their habitats slowly shift to higher elevations, driven by rising temperatures worldwide. The answer, unfortunately, is you can't go anywhere. Habitats shrink to the vanishing point, and species go extinct. That scenario is likely to be played out repeatedly and at an accelerating rate as the world continues to warm, Stanford researchers say.





Amphibian extinction may be worse than thought

(10/31/2007) Amphibian extinction rates may be higher than previously thought, according to new DNA analysis that found more than 60 unrecognized species in the Guiana Shield of South America.





Scientists find treatment for killer frog disease

(10/29/2007) New Zealand scientists have found a treatment for a disease blamed for the death of millions of amphibians worldwide, according to a report from BBC News. However, at best, the cure would only be applicable to captive populations. The disease is killing many amphibians in apparently pristine habitats.





16,306 species threatened with extinction

(09/12/2007) 16,306 of 41,415 species on the IUCN Red List are threatened with extinction, reports the World conservation Union (IUCN). The total number of known extinct species now stands at 785, while a further 65 are only found in captivity or in cultivation. One in four mammals, one in eight birds, one third of all amphibians and 70% of the world's assessed plants on the 2007 IUCN Red List are considered at risk.





Rare Chinese river dolphin sighting in doubt

(09/01/2007) A prominent researcher is skeptical of last week's reported sighting of the baiji, the Chinese river dolphin declared extinct earlier this year, according to the New York Times. The sighting near Tongling city in Anhui Province -- widely reported in Chinese and Western media -- was captured on video.









European blood-sucker falls victim to global warming

(08/26/2007) Europe's only known land leech may be on the brink of extinction due to shifts in climate, report researchers writing in the journal Naturwissenschaften. The findings are significant because they suggest that "human-induced climate change without apparent habitat destruction can lead to the extinction of populations of cold-adapted species that have a low colonization ability," according to the authors.







Climate change claims a snail

(08/12/2007) The Aldabra banded snail (Rachistia aldabrae), a rare and poorly known species found only on Aldabra atoll in the Indian Ocean, has apparently gone extinct due to declining rainfall in its niche habitat. While some may question lamenting the loss of a lowly algae-feeding gastropod on some unheard of chain of tropical islands, its unheralded passing is nevertheless important for the simple reason that Rachistia aldabrae may be a pioneer. As climate change increasingly brings local and regional shifts in precipitation and temperature, other species are expected to follow in its path.






Page 1 | Page 2 | Page 3 | Page 4 | Page 5 | Page 6 | Page 7 | Page 8 | Page 9 | Page 10 | Page 11