News articles on energy

---
Mongabay.com news articles on energy in blog format. Updated regularly.






Will earthquake slow dam-building spree in China?

(05/14/2008) Monday's 7.9 magnitude earthquake in Sichuan province left more than 15,000 dead, 26,000 missing, and 64,000 injured, according to state media. The quake also "seriously damaged" two hydroelectric stations in Maoxian county, leading authorities to warn that the dams could burst. More than 2,000 troops were sent to work on the Zipingku Dam, a dam said to be in "great danger" of collapse upriver from Dujiangyan, the city at the quake's epicenter.
After acquittal, fear of open season on activists in the Amazon rainforest

(05/14/2008) Bishop Flavio Giovenale was crushed by the acquittal last week of a rancher accused of ordering the killing of a crusading American nun — and not just because he admired Dorothy Stang. Giovenale, who spends much of his time battling child prostitution, police corruption and drug abuse, fears the verdict means it's open season again on activists in the Amazon jungle state of Para.
46% of Brazil's energy comes from renewable sources

(05/13/2008) Preliminary data from Brazil's energy ministry shows that bioenergy derived from sugar cane surpassed hydroelectric power as Brazil's secondary largest source of energy in 2007, reports Biopact.
No longer a fan of Earth Day

(05/01/2008) After April 22nd of this year, I am no longer a fan of Earth Day. It has become a strange pseudo-holiday that allows individuals, governments, corporations, and the media to focus a miniscule spotlight on our environmental crises, and then breathe a sigh of relief over the following days and weeks as they to go back to their old ineffectual ways. It is a day to stem the guilt of the sorry state of our natural—and 'civilized'—world. It is not a day where environmental education actually reaches the masses, or when people wake to the need—not the luxury—to change our ways. It is the opposite: a chance to feel good about our time's greatest crisis.
Mutant algae may fuel cars

(04/02/2008) Chemically-modified algae may become key to the production of hydrogen gas which seen by researchers as a next-generation fuel source.
Markets could save forests: An interview with Dr. Tom Lovejoy

(03/20/2008) Market mechanisms are increasingly seen as a way to address environmental problems, including tropical deforestation. In particular, compensation for ecosystem services like carbon sequestration — a concept known by the acronym REDD for "reducing emissions from deforestation and degradation" — may someday make conservation a profitable enterprise in which carbon traders are effectively saving rainforests simply by their pursuit of profit. Protecting rainforests and their resident biodiversity would be an unintentional, but happy byproduct of profit-seeking endeavors.
China's emissions growth 2-4 times greater than expected

(03/11/2008) China's carbon dioxide emissions are growing far faster than anticipated according to according to a new analysis by economists at the University of California, Berkeley, and the University of California, San Diego. The study, published in the Journal of Environmental Economics and Management, estimates China will see an 11 percent annual growth rate in CO2 emissions between 2004 and 2010, two to four times the 2.5 to 5 percent growth rate estimated by the Intergovernmental Panel on Climate Change.
Cellulosic energy may trigger dramatic collapse in the Amazon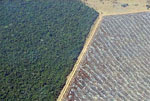 (03/11/2008) Next generation biofuels may trigger the ecological collapse of the Amazon frontier and could have profoundly unexpected economic consequences for the region, warns a paper published in Philosophical Transactions of the Royal Society B. Dr. Donald Sawyer writes that "interacting with climate change and land use, the upcoming stage of cellulosic energy could result in a collapse of the new frontier into vast degraded pasture." The shift could increase the incidence and severity of fires, reduce rainfall in key agricultural zones, exacerbate forest die-back and climate change, and worsen social instability. Sawyer says that while difficult to anticipate, the worst outcomes could likely be avoided be promoting "intensified and more sustainable use" of already cleared areas, minimizing new deforestation, and encouraging "sustainable use of natural resources by local communities."
Corn ethanol is worsening the Gulf dead zone

(03/10/2008) Proposed legislation that will expand corn-ethanol production in the United States will worsen the growing "dead zone" in the Gulf of Mexico and hurt marine fisheries, report researchers writing in the Proceedings of the National Academy of Sciences (PNAS).
Record food prices to climb through 2010

(03/06/2008) The U.N. expects record high food prices to continue through 2010, driving hunger and poverty in the world's poorest countries, said a top U.N. official Thursday.
Toyota, GM: Hydrogen fuels cells are not viable

(03/05/2008) Executives from General Motors Corp. and Toyota Motor cast doubts yesterday about the viability of hydrogen fuel cells for mass-market production in the near term, reports The Wall Street Journal. The executives said electric cars will be a better way to cut emissions and improve fuel efficiency.
Arizona seeks to become the 'Persian Gulf' of solar energy

(02/22/2008) With a Spanish company's plans to dramatically expand solar capacity in the desert southwest of Phoenix, Arizona Governor Janet Napolitano said Arizona could become the "Persian Gulf of solar energy," according to the Associated Press.
World fertilizer prices surge 200% in 2007, hurting the poor

(02/20/2008) World fertilizer prices surged by more than 200 percent in 2007, as farmers sought to maximize corn production for ethanol, according to the International Center for Soil Fertility and Agricultural Development (IFDC). Poor African farmers were hardest hit by the increase.
UN: biofuels are starving the poor by driving up food prices

(02/14/2008) Echoing sentiments increasingly expressed by politicians, scientists, and advocates for the poor, the U.N. Food and Agriculture Organization warned that the world's poorest people are suffering as a result of the push to use food crops for biofuel production.
New World Record for Solar-to-Grid Conversion Efficiency

(02/13/2008) Sandia National Laboratories and Stirling Energy Systems (SES) set a new solar-to-grid system conversion efficiency record by achieving a 31.25 percent net efficiency, nearly a 2 point gain of the previous record of 29.4 percent set in 1984.
Carbon tax would make China greener and reduce warming risks

(02/07/2008) Driven by booming economic growth and rapid urbanization, China's carbon dioxide emissions are surging. At the same time, forecasts suggest climate change will have an immense impact on the country, with rising sea levels projected to swamp key industrial areas and diminished rainfall reducing agricultural output. Given this outlook, a new policy paper published in Science argues that China will need to embark on a cleaner path to growth, one that is less dependent on coal. The authors say that international assistance in the form of carbon funds could help persuade Chinese leadership to move towards more environmentally-friendly energy technologies.
Biofuels are worsening global warming

(02/07/2008) Converting native ecosystems for production of biofuel feed stocks is worsening the greenhouse gas emissions they are intended to mitigate, reports a pair of studies published in the journal Science. The studies follow a series of reports that have linked ethanol and biodiesel production to increased carbon dioxide emissions, destruction of biodiverse forest and savanna habitats, and water and air pollution.
New program pays Canadians for energy efficiency gains

(01/20/2008) As I write this article, CBS News is having a Sunday evening prime-time, hour long special on global warming. What is alarming is both the extent of how bad the situation is for the planet, the impact on wildlife (e.g . Polar Bear populations dwindling dangerously low due to reduced glaciers) and the alleged refusal of certain governments to acknowledge both that there is a fact based problem and that we are running out of time to reduce its effects on the air we breathe, our environments, our forests and its wildlife population.
Indonesia seeks to cut fuel subsidies via biofuels

(01/15/2008) Biofuels will make up 10 percent of Indonesia's fuel transport consumption by 2010 under a plan announced Monday by a senior government official, according to Reuters. The initiative could ease the economic impact of fuel subsidies - currently some of the highest in the world - in Indonesia, while boosting demand for locally produced bioenergy crops including palm oil, jatropha, sugar cane and cassava.
E.U. may ban palm oil biodiesel

(01/15/2008) The E.U. may ban imports of certain biofuel feedstocks that damage the environment, reports The New York Times. Environmentalists say some biofuels like palm oil are driving the destruction of biologically-rich rainforests and may produce more emissions than conventional fossil fuels.
Switchgrass a better biofuel source than corn

(01/07/2008) Switchgrass yields more than 540 percent more energy than the energy needed to produce and convert it to ethanol, making the grassy weed a far superior source for biofuels than corn ethanol, reports a study published in Proceedings of the National Academy of Sciences (PNAS).
Leading biofuels wreak environmental havoc

(01/03/2008) Biofuels made from world's dominant energy crops -- including corn, soy, and oil palm -- may have worse environment impacts than conventional fossil fuels, reports a study published in the journal Science.
New process turns chicken fat into biodiesel

(12/20/2007) Chemical engineers at the University of Arkansas have devised a way to convert chicken fat into biodiesel fuel. The process advances efforts to "develop commercially viable fuel out of plentiful, accessible and low-cost feedstocks and other agricultural by-products," according to the researchers.
Will carbon credits-for-forests scheme be undermined by carbon negative bioenergy?

(12/18/2007) The Indonesian government has signed an agreement with energy giant Total E&P Indonesia on a carbon capture and storage scheme that could eventually lead to the development of carbon negative bioenergy production in the southeast Asian country, reports Biopact. The deal raises fears that feedstock for production could lead to large-scale deforestation of the country's remaining forests and undermine efforts to push forest conservation-for-carbon credits (or REDD) initiatives.
35-mpg mileage target will save consumers $22 billion a year in gas costs

(12/03/2007) The recently passed 35-miles per gallon target for the U.S. car fleet will save American consumers $22 billion a year in gasoline costs assuming an average price of $2.55 according to the Union of Concerned Scientists. However price premiums on fuel-efficient technologies could eat into these savings, reports an article in the Wall Street Journal.
Could the carbon market save the Amazon rainforest?

(11/29/2007) The global carbon market could play a key role in saving the Amazon from the effects of climate change and economic development, which could otherwise trigger dramatic ecological changes, reports a new paper published in Science. The authors argue that a well-articulated plan, financed by carbon markets, could prevent the worst outcomes for the Amazon forest while generating economic benefits for the region's inhabitants.
Cooking oil, palm oil biodiesel can reduce emissions relative to diesel

(11/28/2007) A lifecycle analysis of biodiesel by Australia's Commonwealth Scientific and Industrial Research Organization (CSIRO) shows that using palm oil derived from existing plantations can be an effective biofuel feedstock for reducing greenhouse gas emissions relative to conventional diesel fuel. However, palm oil sourced from rainforest and peatlands generating emissions 8 to 21 times greater than those from diesel.
Is the oil-palm industry using global warming to mislead the public?

(11/23/2007) Members of the Indonesian Palm Oil Commission are distributing materials that misrepresent the carbon balance of oil-palm plantations, according to accounts from people who have seen presentations by commission members. These officials are apparently arguing that oil-palm plantations store and sequester many times the amount of CO2 as natural forests, and therefore that converting forests for plantations is the best way to fight climate change. In making such claims, these Indonesian representatives evidently are ignoring data that show the opposite, putting the credibility of the oil-palm industry at risk, and undermining efforts to slow deforestation and rein in greenhouse gas emissions.
Termites may produce cleaner biofuels

(11/23/2007) Termites may be the key to greener, more effective biofuels, report scientists writing in the November 22 edition of the journal Nature.
Wind could supply baseline electrical power

(11/22/2007) Wind power, long considered to be as fickle as wind itself, can be groomed to become a steady, dependable source of electricity and delivered at a lower cost than at present, according to scientists at Stanford University.
New system tracks CO2 emissions of 50,000 power plants worldwide

(11/14/2007) A new online database allows users to track carbon dioxide (CO2) emissions of 50,000 power plants worldwide. The system, called CARMA—Carbon Monitoring for Action, was developed by the Center for Global Development (CGD), an policy and research group.
Planned logging of Woodlark Island for biofuels opposed by islanders and scientists

(11/12/2007) On Woodlark Island, one-hundred and seventy miles from Papua New Guinea, a struggle is occurring between islanders and biofuel company Vitroplant Ltd. The company is planning to clear much of the island's forest for oil palm plantations to produce biofuels. Vitorplant Ltd.'s contract specifies that they would deforest 60,000 hectares of land for plantations; Woodlark Island is 85,000 hectares in total, meaning over 70% of the island would be converted. Last week, one hundred islanders (out of a total population of 6,000) traveled to the capital of Milne Bay Province, Alotau, to voice their concern over the plans to turn their forested island into plantations.
Greenwashing the palm oil industry

(11/12/2007) A new report from Greenpeace alleges that members of the Roundtable on Sustainable Palm Oil -- an industry-driven initiative to clean up palm oil production -- are using palm oil derived by clearing endangered rainforests and draining carbon-rich peatlands on the Indonesian island of Sumatra.
Oil palm does not store more carbon than forests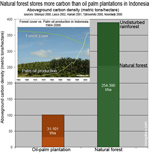 (11/08/2007) Officials from the Indonesian ministry of agriculture and the palm oil industry are distributing materials that misrepresent the carbon balance oil palm plantations, according to accounts from people who have seen presentations by members of the Indonesian Palm Oil Commission. Ministry of agricultural officials are apparently arguing that oil palm plantations store and sequester many times the amount of CO2 as natural forests and therefore converting forests for plantations is the best way to fight climate change. In making such claims, these Indonesian officials are ignoring data that show the opposite, putting the credibility of the oil palm industry at risk, and undermining efforts to slow deforestation and reign in greenhouse gas emissions.






Page 1 | Page 2 | Page 3 | Page 4 | Page 5 | Page 6 | Page 7 | Page 8 | Page 9 | Page 10 | Page 11 | Page 12 | Page 13 | Page 14 | Page 15 | Page 16 | Page 17 | Page 18 | Page 19