News articles on droughts

---
Mongabay.com news articles on droughts in blog format. Updated regularly.






Zoo races to save extreme butterfly from extinction
(08/15/2013) In a large room that used to house aquatic mammals at the Minnesota Zoo, Erik Runquist holds up a vial and says, 'Here are its eggs.' I peer inside and see small specks, pale with a dot of brown at the top; they look like a single grain of cous cous or quinoa. Runquist explains that the brown on the top is the head cap of the larva, a fact that becomes more clear under a microscope when you can see the encased larva squirm. I'm looking at the eggs of a Poweshiek skipperling, a species that is more imperiled than pandas, tigers, or bluewhales. Once superabundant, only several hundred Poweshiek skipperlings may survive on Earth today and the eggs I'm looking at are the only ones in captivity.
Fracking sucks up all the water from Texas town

(08/15/2013) Beverly McGuire saw the warning signs before the town well went dry: sand in the toilet bowl, the sputter of air in the tap, a pump working overtime to no effect. But it still did not prepare her for the night last month when she turned on the tap and discovered the tiny town where she had made her home for 35 years was out of water.
Featured video: stemming human-caused fires in the Amazon

(04/09/2013) A new series of 5 films highlights how people use fire in the Amazon rainforest and how such practices can be mitigated. Collectively dubbed "Slash & Burn" each film explores a different aspect of fire-use in the Amazon. In recent years the Amazon has faced unprecedented droughts, possibly linked to climate change and vast deforestation, making the issue of human-started fires even more important.
Innovative idea: wildlife income may help people withstand drought in Africa

(03/18/2013) Getting local people to become invested in wildlife conservation is not always easy, especially in parts of the world where protected areas are seen as taking away natural resources from local communities. This tension lies around Gonarezhou National Park in Zimbabwe, where a growing population of livestock herders competes with wildlife.
Climate change already pummeling U.S. according to government report

(01/14/2013) Climate change is on the march across the U.S. according to a new draft report written by U.S. government scientists with input from 240 experts. It documents increasing and worsening extreme weather, rising sea levels, and ocean acidification among other impacts. Released Friday for public review, the report will be officially launched later this year or early in 2014.
World Bank: 4 degrees Celsius warming would be miserable
(11/20/2012) A new report by the World Bank paints a bleak picture of life on Earth in 80 years: global temperatures have risen by 4 degrees Celsius spurring rapidly rising sea levels and devastating droughts. Global agriculture is under constant threat; economies have been hampered; coastal cities are repeatedly flooded; coral reefs are dissolving from ocean acidification; and species worldwide are vanishing. This, according to the World Bank, is where we are headed even if all of the world's nations meet their pledges on cutting greenhouse gas emissions. However, the report also notes that with swift, aggressive action it's still possible to ensure that global temperatures don't rise above 4 degrees Celsius.
Obama breaks climate silence at press conference

(11/14/2012) At a news conference today, a question by New York Times reporter Mark Landler pushed President Obama to speak at some length about climate change. In his answer, Obama re-iterated his acceptance of climate science and discussed how progress on tackling climate change might proceed in his second term, though he also noted that he wouldn't put action on the climate ahead of the economy. President Obama made a small reference to climate change in his victory speech following his historic re-election last Tuesday, but his answer today was the most the president has talked about the issue at any length since at least Hurricane Sandy.
It's not just Sandy: U.S. hit by record droughts, fires, and heatwaves in 2012
(11/05/2012) As the devastation wrought by Hurricane Sandy—killing over 100 people and producing upwards of $50 billion in damage along the U.S. East Coast—has reignited a long-dormant conversation on climate change in the media, it's important to note that this is not the only weird and wild weather the U.S. has seen this year. In fact, 2012 has been a year of record-breaking weather across the U.S.: the worst drought in decades, unprecedented heatwaves, and monster forest fires. While climatologists have long stated that it is not yet possible to blame a single extreme weather event on climate change, research is showing that rising temperatures are very likely increasing the chances of extreme weather events and worsening them when they occur.
From 'fertilizer to fork': food accounts for a quarter of the world's greenhouse gas emissions

(11/01/2012) Growing, transporting, refrigerating, and wasting food accounts for somewhere between 19-29 percent of the world's greenhouse gas emissions in 2008, according to a new analysis by the CGIAR Research Program on Climate Change, Agriculture and Food Security (CCAFS). In hard numbers that's between 9.8 and 16.9 billion tonnes of carbon dioxide, more than double the fossil fuel emissions of China in the same year. Over 80 percent of food emissions came from production (i.e. agriculture) which includes deforestation and land use change.
One in eight people suffer from malnutrition worldwide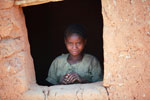 (10/16/2012) In a world where technology has advanced to a point where I can instantly have a face-to-face conversation via online video with a friend in Tokyo, nearly 870 million people, or one in eight, still suffer from malnutrition, according to a new UN report. While worldwide hunger declined from 1990 to 2007, progress was slowed by the global economic crisis. Over the last few years, numerous and record-breaking extreme weather events have also taken tolls on food production. Currently, food prices hover just below crisis levels.
Over 70 percent of Americans: climate change worsening extreme weather

(10/10/2012) According to a new poll, 74 percent of Americans agree that climate change is impacting weather in the U.S., including 73 percent who agreed, strongly or somewhat, that climate change had exacerbated record high temperatures over the summer. The findings mean that a large majority of Americans agree with climatologists who in recent years have found increasingly strong evidence that climate change has both increased and worsened extreme weather events.
Climate and culture: abrupt change and rapid response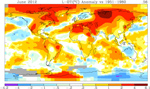 (08/06/2012) As the world experiences record heat, increased drought and fires, unprecedented ice melt and similar extreme weather anomalies decades before expected, climatologists have been forced to reconsider previous climate change projections and research techniques. Less than a decade ago, scientific consensus considered warming of more than 2 C and atmospheric levels of carbon dioxide near 450 parts per million (ppm) as acceptable or "safe". Revised climate science literature and expert opinion now regard safe atmospheric levels of carbon dioxide as below 350 ppm, or less than 1 C rise in average planetary temperature. Many researchers and environmentalists, however, recognize that the present deviation from pre-industrial temperatures of 0.8 C may be unacceptable to prevent runaway climate change and widespread disasters.
Extreme heatwaves 50 to 100 times more likely due to climate change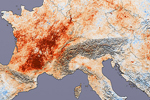 (08/05/2012) A recent rise in deadly, debilitating, and expensive heatwaves was caused by climate change, argues a new statistical analysis published in the Proceedings of the National Academy of Sciences (PNAS). Climatologists found that extreme heatwaves have increased by at least 50 times during the last 30 years. The researchers, including James Hansen of NASA, conclude that climate change is the only explanation for such a statistical jump.
Drought pits farmers against frackers

(08/01/2012) Drought has created a standoff over water supplies in the U.S. Midwest between energy producers and farmers, reports Bloomberg. Natural gas and oil producers have been forced to seek new water sources as they mull calls from farmers and activists to recycle their water, a practice that would make 'fracking' more expensive.
U.S. drought could set in motion global food crisis

(07/23/2012) The U.S. is suffering drought levels not seen in over 50 years—and drawing comparisons to the Dust Bowl—with 56 percent of the contiguous U.S. in moderate to extreme drought. Some experts fear that the drought, and resulting hikes in food prices, could propel another global food crisis like those seen in 2008 and 2010.
Deja vu: U.S. undergoes hottest 12 months on record...again and again

(07/12/2012) According to new data from the National Oceanic and Atmospheric Administration (NOAA)'s National Climatic Data Center, the last twelve months have been the warmest on record for the contiguous United States. This record, set between July 2011 through June 2012, beat the last consecutive twelve month record set only a month earlier between June 2011 and May 2012, which in turn beat the previous record holder, you guessed it: May 2011 through April 2012.
Climate change increased the probability of Texas drought, African famine, and other extreme weather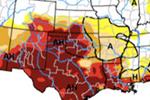 (07/11/2012) Climate change is here and its increasing the chances for crazy weather, according to scientists. A prestigious group of climatologists have released a landmark report that makes the dramatic point that climate change is impacting our weather systems—and in turn our food crops, our economies, and even our lives—here-and-now. The new report in the American Meteorological Society is first of what is intended to be an annual offering that will attempt to tease out the connections between climate change and individual extreme weather events, such as heatwaves, droughts and floods.
As U.S. sees record heat, extreme weather pummels 4 continents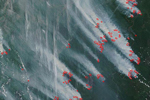 (07/10/2012) It's not only the U.S. that has experienced record-breaking extreme weather events recently, in the last couple months extreme weather has struck around the world with startling ferocity. In addition to the much-covered heatwaves, wildfires, and droughts in the U.S., killer floods struck India, the worst drought yet recorded plagued South Korea, and massive forest fires swept through Siberia to name just a few.
The vanishing Niger River imperils tourism and livelihoods in the desert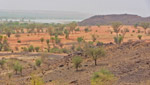 (06/04/2012) Severely affected by recent turmoil across its northern frontiers, Nigerien tourism pins hope on river valley attractions to play a major role in rebuilding its tourism industry in the upcoming years. Even though the river itself is threatened. Located in the heart of the Sahel Region, the vast desert lands of Niger have captivated European tourists seeking a taste of its immensely varied natural landscapes.
Thousands worldwide to "connect the dots" between climate change and extreme weather this weekend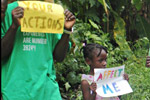 (05/03/2012) On Saturday, May 5th vulnerable populations from the United States to Bangladesh will "connect the dots" between devastating extreme weather and climate change in a global day of action organized by 350.org. The nearly 1,000 events occurring in over half of the world's nations are meant to highlight to governments, media, and the public that climate change is impacting lives through an increase in number and intensity of devastating weather events, such as droughts, heatwaves, and floods.