News articles on deep-sea

---
Mongabay.com news articles on deep-sea in blog format. Updated regularly.





Controversial deep sea mining project approved in Papua New Guinea, first of its kind

(08/09/2012) The Papua New Guinea government has granted a 20-year license for copper and gold mining around a mile (1.6 kilometers) below the ocean's surface, jump-starting the world's first commercial deep sea mining venture. Undertaken by Canadian company, Nautilus Minerals, the venture will mine deep sea hydrothermal vents off the coast of New Britain. However, the project faces stiff concern from local activists, fishermen, and environmentalists.


New tiny crustacean discovered in deep sea off Europe (photo)

(06/20/2012) Scientists have pulled up a tiny new species of 'squat lobster' from a deep sea mountain at 1,410 meters below sea level off the coast of Spain. Dubbed Uroptychus cartesi, this is only the fourth species in this genus from the eastern Atlantic Ocean, although there are over hundred unique species in the Pacific and Indian ocean. The new species measures just 5-7 centimeters.


Photos: scientists find new species at world's deepest undersea vent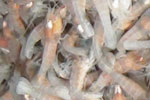 (01/10/2012) It sounds like a medieval vision of hell: in pitch darkness, amid blazing heat, rise spewing volcanic vents. But there are no demons and devils down here, instead the deep sea vent, located in the very non-hellish Caribbean sea, is home to a new species of pale shrimp. At 3.1 miles below (5 kilometers) the sea's surface, the Beebe Vent Field south of the Cayman islands, is the deepest yet discovered.


'Lost world' dominated by Yeti crabs discovered in the Antarctic deep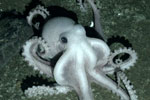 (01/03/2012) Scientists have discovered a deep sea ecosystem dominated by hairy pale crabs off of Antarctica. The new species of "Yeti crabs" survive alongside many other likely new species, including a seven-armed meat-eating starfish, off of hydrothermal vents, which spew heat and chemicals into the lightless, frigid waters. According to the paper published in PLoS ONE, this is the first discovery of a hydrothermal vent ecosystem in the Southern Ocean though many others have been recorded in warmer waters worldwide.


Giant one-celled organisms discovered over six miles below the ocean's surface

(10/23/2011) Imagine a one-celled organism the size of a mango. It's not science fiction, but fact: scientists have cataloged dozens of giant one-celled creatures, around 4 inches (10 centimeters), in the deep abysses of the world's oceans. But recent exploration of the Mariana Trench has uncovered the deepest record yet of the one-celled behemoths, known as xenophyophores.


Photo: expedition discovers 20% of world's squids, including new species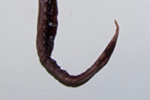 (11/18/2010) An expedition to the seamounts of the southern Indian Ocean has proven that the region is a biodiverse hotspot for squids. To date, the expedition has identified 70 species of squid comprising 20% of the world's known squid species. But that's not all: they have also uncovered new species. At just over 2 feet long (27 inches or 70 centimeters), a species of squid found by the expedition proves to a brand new member of the chiroteuthid family. Squids from this family, which number around a dozen known species, employ bioluminescent organs to attract unwary prey.


Photos: weird new species discovered in deep sea trench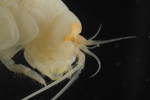 (10/18/2010) Fish were not expected to be able to survive so deep, but scientists have captured footage of a new species of a scavenger-hunting snailfish swimming at an astounding 7,000 meters below the surface. The video, taken from an 8,000 meter-deep sea trench in the Southeast Pacific Ocean, showed a level of biodiversity that surprised seasoned marine biologist, who have previously surveyed five other deep sea trenches.


The biology and conservation of declining coral reefs, an interview with Kristian Teleki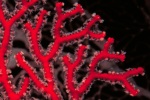 (08/15/2010) Coral reefs are often considered the "rainforests of the sea" because of their amazing biodiversity. In fact, coral reefs are one of the most diverse ecosystems on earth. It is not unusual for a reef to have several hundred species of snails, sixty species of corals, and several hundred species of fish. While they comprise under 1% of the world's ocean surface, one-quarter of all marine species call coral reefs their home. Fish, mollusks, sea stars, sea urchins, and more depend on this important ecosystem, and humans do too. Coral reefs supply important goods and services–from shoreline protection to tourism and fisheries–which by some estimates are worth $375 billion a year.


What is the most unexplored ecosystem on Earth?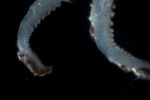 (08/02/2010) One should be forgiven for thinking that the most under-explored ecosystem in the world is tropical rainforests or cave systems since new species are frequently uncovered in such places. But new research in the open-access journal PLoS ONE finds that the least explored part of the world is the deep sea, especially what lies beneath the open ocean. Ironically, not only does this ecosystem remain the least explored, it is also the world's largest habitat.


Oil disaster threatens Gulf of Mexico's deep water titans



(07/19/2010) As I discovered in the course of researching my book, No Rain in the Amazon: How South America's Climate Change Affects the Entire Planet (Palgrave, 2010), the oil industry has had a poor record when it comes to protecting aquatic sea life. Take for example the manatee, which has been put at risk from the Amazon to the Gulf of Mexico as a result of the oil industry. One of the most outlandish creatures on the planet, the shy and retiring manatee, which gets its name from an American Indian word meaning "Lady of the Water," was first described as a cross between a seal and hippo. The creature has a wonderfully round body, mostly black skin the texture of vinyl, a bright pink belly, a diamond-shaped tail and a cleft lip.


Photos: the penis-like mushroom and other top 10 new species of 2009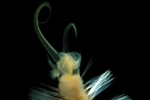 (05/23/2010) The International Institute for Species Exploration at Arizona State University has released its annual top 10 list of new species discovered last year. This time the list includes a two inch penis-like mushroom, a minnow named after Bram Stoker's world-famous horror-character, a bomb-throwing deep sea worm, a giant carnivorous plant named after TV personality and conservationist David Attenborough, and a beautifully patterned frogfish.


Close to a billion species: ocean exploration reveals shocking diversity of tiny marine life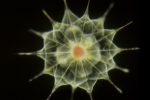 (04/19/2010) Biologists worldwide may have to start re-evaluating their estimates of the number of species on Earth, since expeditions documenting the oceans' tiniest species have revealed shocking diversity: in the tens of millions of species, at least, and according to one researcher "closer to a billion". Fourteen field projects sent out by the Census of Marine Life focused on the oceans' smallest inhabitants: microbes, zooplankton, and tiny burrowing species inhabiting the deep sea bed. What they found was astounding.


First footage captured of giant sea serpent of the deep: the oarfish

(02/09/2010) Scientists have captured what they believe to be the first footage ever of the oarfish, the species likely responsible for legends told of sea serpents.


Photos: Gelatinous Blobfish in danger

(01/26/2010) A species dubbed "the world's most miserable-looking fish" is at risk of extinction due to poor fishing practices, reports The Daily Telegraph.


Whale skeleton reveals species unknown to science

(09/22/2009) The importance of a whale to the oceanic ecosystem does not end with its life. After dying, a whale's body sinks to the bottom of the ocean and becomes food for many species, some of whom specialize on feeding on these corpses.


Photos: new deep sea species discovered off the Canary Islands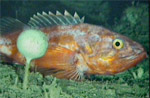 (09/21/2009) Owned by Spain, but located just off the northwest coast of Africa, the Canary Islands sport a wide variety of marine life, including five species of marine turtles, ten species of sharks and rays, and innumerable fish and invertebrates. However, a new expedition has gone beyond the known, sending a robot to depths of 500 meters to discover the secrets of the Canary Island's deep sea.


Newly discovered deep sea worms throw bioluminescent 'bombs'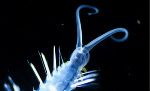 (08/20/2009) Researchers from Scripps Institution of Oceanography at UC San Diego have announced in Science the discovery of seven new species of deep sea worms, five of which drop orb-like parts of their body which cause a brilliant green display of bioluminescence. For this reason researchers have nicknamed them the 'green bombers'. The worms are not just new species, but a clade of animals entirely unknown to science until now.