News articles on Coral Reefs and climate change

---
Mongabay.com news articles on Coral Reefs and climate change in blog format. Updated regularly.






Human impacts are 'decoupling' coral reef ecosystems
(03/09/2015) There is a growing consensus among scientists that we have entered the age of the Anthropocene, or the epoch of humans. In other words, at some point between the 12,000 years separating the beginning of agriculture and the Industrial Revolution, humans became the dominant source of change on the planet, shaping everything from the land to the atmosphere to even the geologic record where we etch our reign.
Corals thriving despite acidified conditions in remote Pacific bay
(02/25/2014) Scientists have discovered a small island bay in the Pacific which could serve as a peephole into the future of the ocean. Palau's Rock Island Bay harbors a naturally occurring anomaly – its water is acidified as much as scientists expect the entire ocean to be by 2100 as a result of rising carbon dioxide emissions.
Protected forests linked to healthy coral reefs in Fiji
(01/27/2014) Increasing forest protection in the right areas could increase benefits up to 10.4 percent to coral reef condition, according to a recent study of Fiji's forests and reefs in Marine Policy. Benefits from protected forests such as improved water quality due to decreased runoff and increased distribution of the vegetation are more closely linked to coral reef health than previously thought.
Scientists discover a new coral in the French Polynesia
(12/20/2013) With humans scattered throughout the globe, it is hard to imagine lands still unexplored or species undocumented. Yet, on the remote French Polynesian Gambier Islands a new coral reef species has been found thriving in underwater lagoons. Echinophyllia tarae was discovered by marine biologist Francesca Benzoni and the research crew members of the Tara Oceans International Research Expedition.
Sea and storm: coastal habitats offer strongest defense
(10/11/2013) Surging storms and rising seas threaten millions of U.S. residents and billions of dollars in property along coastlines. The nation's strongest defense, according to a new study by scientists with the Natural Capital Project at the Stanford Woods Institute for the Environment, comes from natural coastal habitats.
Governments should respond to ocean acidification 'as urgently as they do to national security threats'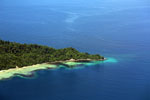 (10/03/2013) The oceans are more acidic now than they have been for at least 300m years, due to carbon dioxide emissions from burning fossil fuels, and a mass extinction of key species may already be almost inevitable as a result, leading marine scientists warned on Thursday. An international audit of the health of the oceans has found that overfishing and pollution are also contributing to the crisis, in a deadly combination of destructive forces that are imperiling marine life, on which billions of people depend for their nutrition and livelihood.
Mesoamerican Reef needs more local support, says report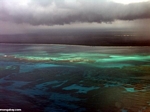 (09/13/2013) From massive hotel development through the agriculture industry, humans are destroying the second largest barrier reef in the world: the Mesoamerican Reef. Although global climate change and its effects on reefs via warming and acidification of coastal waters have made recent headlines, local human activities may destroy certain ecosystems before climate change has a chance to do it. The harmful effects of mining, agriculture, commercial development, and fishing in coastal regions have already damaged more than two-thirds of reefs across the Caribbean, in addition to worsening the negative effects of climate change.
Google Earth presents fish-eye view of coral reefs

(08/20/2013) You can now visit up-close and personal some of the world's most imperiled ecosystems on Google Earth: coral reefs. The Google team is working with scientists to provide 360 degree panoramas, similar to Google street-view, to give armchair ecologists a chance to experience the most biodiverse ecosystems under the waves.
Warnings of global ecological tipping points may be overstated
(03/05/2013) There's little evidence that the Earth is nearing a global ecological tipping point, according to a new Trends in Ecology and Evolution paper that is bound to be controversial. The authors argue that despite numerous warnings that the Earth is headed toward an ecological tipping point due to environmental stressors, such as habitat loss or climate change, it's unlikely this will occur anytime soon—at least not on land. The paper comes with a number of caveats, including that a global tipping point could occur in marine ecosystems due to ocean acidification from burning fossil fuels. In addition, regional tipping points, such as the Arctic ice melt or the Amazon rainforest drying out, are still of great concern.
Typhoon Bopha decimated coral reefs
(01/24/2013) When Typhoon Bopha, also known as Pablo, ran ashore on Mindanao, it was the largest tropical storm it ever hit the Philippine island. In its wake the massive superstorm left over 1,000 people were dead and 6.2 million affected with officials saying illegal logging and mining worsened the scale of the disaster. However, the Category 5 typhoon also left a trail of destruction that has been less reported: coral reefs.
Threatened Galapagos coral may predict the future of reefs worldwide
(11/07/2012) The Galapagos Islands have been famous for a century and a half, but even Charles Darwin thought the archipelago's list of living wonders didn't include coral reefs. It took until the 1970s before scientists realized the islands did in fact have coral, but in 1983, the year the first major report on Galapagos reef formation was published, they were almost obliterated by El Niño. This summer, a major coral survey found that some of the islands' coral communities are showing promising signs of recovery. Their struggle to survive may tell us what is in store for the rest of the world, where almost three-quarters of corals are predicted to suffer long-term damage by 2030.
Great Barrier Reef loses half its coral in less than 30 years
(10/01/2012) The Great Barrier Reef has lost half of its coral cover in the last 27 years, according to a new study released today in the Proceedings of the National Academy of Sciences (PNAS). Based on over 2,000 surveys from 1985 to this year the study links the alarming loss to three impacts: tropical cyclone damage, outbreaks crown-of-thorns starfish that devour corals, and coral bleaching.
Coral reefs in Caribbean on life support

(09/11/2012) Only 8 percent of the Caribbean's reefs today retain coral, according to a new report by the International Union for Conservation of Nature (IUCN). With input and data from 36 scientists, the report paints a bleak picture of coral decline across the region, threatening fisheries, tourism, and marine life in general.
Coral calcification rates fall 44% on Australia's Great Barrier Reef

(09/04/2012) Calcification rates by reef-building coral communities on Australia's Great Barrier Reef have slowed by nearly half over the past 40 years, a sign that the world's coral reefs are facing a grave range of threats, reports a new study published in the Journal of Geophysical Research - Biogeosciences.
Strangest island in the Caribbean may be a sanctuary for critically endangered coral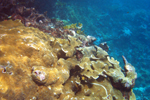 (07/16/2012) Don't feel bad if you've never heard of Navassa Island, even though it's actually part of the U.S. according to the Guano Islands Act of 1856. This uninhabited speck between Haiti and Jamaica, barely bigger than New York City's Central Park, has a bizarre and bloody history—and may be a crucial refuge for endangered coral in the Caribbean.
2,600 scientists: climate change killing the world's coral reefs
(07/10/2012) In an unprecedented show of concern, 2,600 (and rising) of the world's top marine scientists have released a Consensus Statement on Climate Change and Coral Reefs that raises alarm bells about the state of the world's reefs as they are pummeled by rising temperatures and ocean acidification, both caused by greenhouse gas emissions. The statement was released at the 12th International Coral Reef Symposium.
Featured video: Google Earth highlights imperiled coral reefs around the world

(04/18/2012) A new video by Google Earth and the World Resources Institute (WRI) highlights the world's many endangered coral reefs. A part of the WRI's Reefs at Risk program, the video highlights regional and global threats to the oceans' most biodiverse ecosystem. According to the WRI, a stunning 75 percent of the world's reefs are currently threatened.
Researchers challenge idea that marine reserves promote coral recovery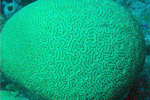 (11/09/2011) Fleshy whorls of thick brown algae blanket the once-vibrant corals in Glover's Reef, Belize. According to a controversial study published August 14 in the journal Coral Reefs, a decade of marine reserve protection has failed to help these damaged Caribbean corals recover.
Unanimous agreement among scientists: Earth to suffer major loss in species
(11/09/2011) The thylacine, the dodo, the great auk, the passenger pigeon, the golden toad: these species have become symbols of extinction. But they are only the tip of the recent extinction crisis, and according to a survey of 583 conservation scientists, they are only the beginning. In a new survey in Conservation Biology, 99.5 percent of conservation scientists said a serious loss in biodiversity was either 'likely', 'very likely', or 'virtually certain'. The prediction of a significant loss of species is not surprising—scientists have been warning for decades that if global society continues with business as usual the world will suffer from mass extinction—what is perhaps surprising is the practically unanimous expectation that a global biodiversity decline will occur.
Coral reef biodiversity may be vastly underestimated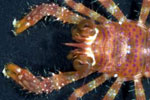 (11/03/2011) Researchers with the Smithsonian have catalogued almost as many crab species on tropical coral reef bits measuring just 20.6 square feet (6.3 square meters) as in all of Europe's seas, finds a new paper in PLoS ONE. The team used DNA barcoding to quickly identify a total of 525 crustaceans (including 168 crab species) from dead coral chunks taken from seven sites in the tropics, including the Indian, Pacific and Caribbean oceans.
Ocean prognosis: mass extinction
(06/20/2011) Multiple and converging human impacts on the world's oceans are putting marine species at risk of a mass extinction not seen for millions of years, according to a panel of oceanic experts. The bleak assessment finds that the world's oceans are in a significantly worse state than has been widely recognized, although past reports of this nature have hardly been uplifting. The panel, organized by the International Program on the State of the Ocean (IPSO), found that overfishing, pollution, and climate change are synergistically pummeling oceanic ecosystems in ways not seen during human history. Still, the scientists believe that there is time to turn things around if society recognizes the need to change.
Coral crisis: 75% of the world's coral reefs in danger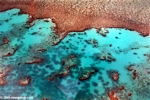 (02/23/2011) Marine scientists have been warning for years that coral reefs, the most biodiverse ecosystems in the ocean, are facing grave peril. But a new comprehensive analysis by the World Resources Institute (WRI) along with twenty-five partners ups the ante, finding that 75% of the world's coral reefs are threatened by local and global impacts, including climate change. An updating of a 1996 report, the new analysis found that threats had increased on 30% of the world's reefs. Clearly conservation efforts during the past decade have failed to save reefs on a large-scale.
Beyond gloom: solutions to the global coral reef decline

(11/10/2010) The world's coral reefs are in trouble. Due to a variety of factors—including ocean acidification, warming temperatures from climate change, overfishing, and pollution—coral cover has decline by approximately 125,000 square kilometers in the past 50 or so years. This has caused some marine biologists, like Charlie Veron, Former Chief Scientist of the Australian Institute of Marine Science, to predict that coral reefs will be largely extinguished within a century. This year alone, large-scale coral bleaching events, whereby coral lose their symbiotic protozoa and become prone to disease and mortality, were seen off the coasts of Indonesia, the Philippines, and some Caribbean islands. However a new paper in Trends in Ecology and Evolution attempts to dispel the gloom over coral reefs by pointing to strategies, and even some successes, to save them.
Carbon emissions hurting coral recruitment

(11/08/2010) While research has shown that ocean acidification from rising CO2 levels in the ocean imperils the growth and survival mature coral reefs, a new study has found that it may also negatively impact burgeoning corals, by significantly lowering the success of coral recruitment. A study in the Proceedings of the National Academy of Sciences (PNAS) has found that coral recruitment could fall by 73% over the next century due to increasing acidification.
Majority of Americans confused on climate change basics

(10/17/2010) Most Americans don't understand the basics of climate change, according to a new poll by researchers with Yale. The poll found that over half of Americans deserve an 'F' on basic understanding of climate science and climate change, while only 1% would receive an 'A'.
Losing nature's medicine cabinet
(10/04/2010) In all the discussions of saving the world's biodiversity from extinction, one point is often and surprisingly forgotten: the importance of the world's species in providing humankind with a multitude of life-saving medicines so far, as well as the certainty that more vital medications are out there if only we save the unheralded animals and plants that contain cures unknown. Already, species have provided humankind everything from quinine to aspirin, from morphine to numerous cancer and HIV-fighting drugs. "As the ethnobotanist Dr. Mark Plotkin commented, the history of medicine can be written in terms of its reliance on and utilization of natural products," physician Christopher Herndon told mongabay.com. Herndon is co-author of a recent paper in the journal Biotropica, which calls for policy-makers and the public to recognize how biodiversity underpins not only ecosystems, but medicine.
Colossal coral bleaching kills up to 95 percent of corals in the Philippines

(09/23/2010) It is one of the most worrisome observations: fast massive death of coral reefs. A severe wide-scale bleaching occurred in the Philippines leaving 95 percent of the corals dead. The bleaching happened as the result of the 2009-2010 El Niño, with the Indian Ocean and Southeast Asia waters experiencing significant thermal increase especially since the beginning of 2010.
Massive coral bleaching in Indonesia

(08/16/2010) A large-scale bleaching event due to high ocean temperatures appears to be underway off the coast of Sumatra, an Indonesian island, reports the Wildlife Conservation Society (WCS).
The biology and conservation of declining coral reefs, an interview with Kristian Teleki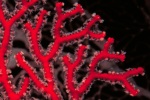 (08/15/2010) Coral reefs are often considered the "rainforests of the sea" because of their amazing biodiversity. In fact, coral reefs are one of the most diverse ecosystems on earth. It is not unusual for a reef to have several hundred species of snails, sixty species of corals, and several hundred species of fish. While they comprise under 1% of the world's ocean surface, one-quarter of all marine species call coral reefs their home. Fish, mollusks, sea stars, sea urchins, and more depend on this important ecosystem, and humans do too. Coral reefs supply important goods and services–from shoreline protection to tourism and fisheries–which by some estimates are worth $375 billion a year.
Amazing reefs: how corals 'hear', an interview with Steve Simpson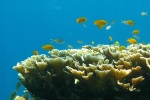 (07/21/2010) Corals aggregate to form vast reefs, which are home to numerous species and provide vital ecological services such as protecting shorelines. However, coral reefs are one of the most threatened ecosystems in the world due to many factors, such as global warming and ocean acidification. Recent research by Simpson and his team of scientists has shown that corals, rather than drifting aimlessly after being released by their parent colonies and by chance landing back on reefs, instead find their way purposefully to reefs by detecting the sound of snapping shrimps and grunting fish on the reef. However, that discovery also means that the larvae might struggle to find reefs when human noises, like drilling or boats, mask the natural ocean sounds.
World failing on every environmental issue: an op-ed for Earth Day
(04/22/2010) The biodiversity crisis, the climate crisis, the deforestation crisis: we are living in an age when environmental issues have moved from regional problems to global ones. A generation or two before ours and one might speak of saving the beauty of Northern California; conserving a single species—say the white rhino—from extinction; or preserving an ecological region like the Amazon. That was a different age. Today we speak of preserving world biodiversity, of saving the 'lungs of the planet', of mitigating global climate change. No longer are humans over-reaching in just one region, but we are overreaching the whole planet, stretching ecological systems to a breaking point. While we are aware of the issues that threaten the well-being of life on this planet, including our own, how are we progressing on solutions?
Healthy coral reefs produce clouds and precipitation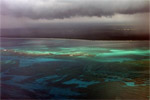 (03/03/2010) Twenty years of research has led Dr. Graham Jones of Australia's Southern Cross University to discover a startling connection between coral reefs and coastal precipitation. According to Jones, a substance produced by thriving coral reefs seed clouds leading to precipitation in a long-standing natural process that is coming under threat due to climate change.
If protected coral reefs can recover from global warming damage

(01/10/2010) A study in the Caribbean has found that coral reefs can recover from global warming impacts, such as coral bleaching, if protected from fishing. Marine biologists have long been worried that coral reefs affected by climate change may be beyond recovery, however the new study published in PLoS ONE shows that alleviating another threat, overfishing, may allow coral reefs to cope with climate change.
Climate change causing irreversible acidification in world's oceans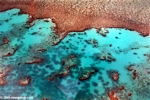 (12/15/2009) A new study from the Secretariat of the Convention on Biological Diversity has synthesized over 300 reports on ocean acidification caused by climate change. The report finds that increasing acidification will lead to irreversible damage in the world's oceans, creating a less biodiverse marine environment. Released today the report determines that the threat to marine life by ocean acidification must be considered by policymakers at the UN Climate Change Conference in Copenhagen.
Photos: ten beloved species threatened by global warming

(12/14/2009) The International Union for the Conservation of Nature (IUCN) has released a list of ten species that are likely to be among the hardest hit by climate change, including beloved species such as the leatherback sea turtle, the koala, the emperor penguin, the clownfish, and the beluga whale. The timing of the list coincides with the negotiations by world leaders at the UN Climate Change Conference to come up with an international agreement to combat climate change.
Extinctions on the rise in the Galapagos: fishing and global warming devastating islands' species

(12/03/2009) We may never see again the Galapagos black-spotted damselfish, the beautiful 24-rayed sunstar, or the Galapagos stringweed. These species from Galapagos waters may all very well be extinct. Other species are on the brink, such as the Galapagos penguin and the Floreana cup coral. A new report in Global Change Biology reveals that in just a matter of decades, overfishing and climate change has devastated the Galapagos' unique and famous ecosystems.
Zoos call for deeper emission cuts to save life on Earth

(11/30/2009) To save species around the world zoos say deeper emission cuts are needed than governments are currently proposing. Over 200 zoos worldwide have signed a petition calling on governments to set the target of atmospheric carbon below 350 parts per million (ppm) far lower than most government targets.
New report predicts dire consequences for every U.S. region from global warming
(06/17/2009) Government officials and scientists released a 196 page report detailing the impact of global warming on the U.S. yesterday. The study, commissioned in 2007 during the Bush Administration, found that every region of the U.S. faces large-scale consequences due to climate change, including higher temperatures, increased droughts, heavier rainfall, more severe weather, water shortages, rising sea levels, ecosystem stresses, loss of biodiversity, and economic impacts.
Coral reef loss in Caribbean leads to ongoing fish declines
(04/30/2009) Analyzing 48 surveys of Caribbean fish populations over fifty years, from 1955-2007, a new meta-study has found that fish populations in the famously clear waters began to drop in the mid-90s, leading to a consistent decline that hasn't stopped. The study published in Current Biology discovered a region-wide decline of about 3-6 percent per year in three out of six trophic groups of fish, i.e. groupings of species categorized by their place on the food chain. The declines didn't show major differences between species targeted by fishermen and those that are not, implying that overfishing isn't the only cause of the decline in the Caribbean.
Seven new species of deep sea coral discovered

(03/09/2009) In the depths of the Papahānaumokuākea Marine National Monument, which surrounds ten Hawaiian islands, scientists discovered seven new species of bamboo coral. Supported by the National Ocean and Atmospheric Administration (NOAA), the discoveries are even more surprising in that six of the seven species may represent entirely new genus of coral.
Indonesian coral reef recovering after devastating tsunami and years of destructive fishing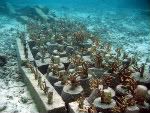 (01/05/2009) On December 26th, 2004 an earthquake recorded at a magnitude of 9.3 in the Indian Ocean created a massive tsunami that struck nations across the region. Enormous waves took the lives of nearly 250,000 people while destroying cities and towns in minutes. The tsunami also caused extensive environmental damage, including reef systems along many coastal areas. Four years after the tsunami researchers from the Wildlife Conservation Society (WCS) have returned to site of the disaster to survey the damaged reefs and work with local communities on preserving this important resource. After exploring sixty sites of coral reef off the coasts of Aceh, Indonesia, the scientists report that reefs damaged by the 2004 tsunami are on the path to recovery.
Ocean acidification is killing the Great Barrier Reef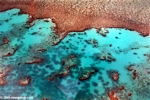 (01/01/2009) Since 1990 the growth of coral in Australia's Great Barrier Reef has slowed its lowest rate in at least 400 years as a result of warming waters and ocean acidification, report researchers writing in Science. The finding portends a bleak near-term future for the giant reef ecosystem as well as calcifying marine organisms around the world.
'Safe' CO2 level may destroy the fishing industry, wreck reefs

(09/23/2008) An atmospheric carbon dioxide concentration of 450 parts-per-million (ppm) — a target level deemed safe by the United Nations Framework Convention on Climate Change (UNFCCC) — would be devastating to marine ecosystems warn scientists writing in the journal Geophysical Research Letters.
The long-ignored ocean emergency and what can be done to address it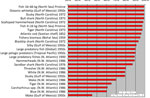 (08/18/2008) This year has been full of bad news regarding marine ecosystems: one-third of coral species threatened with extinction, dead-zones spread to 415 sites, half of U.S. reefs in fair or bad condition, increase in ocean acidification, tuna and shark populations collapsing, and only four percent of ocean considered pristine. Jeremy Jackson, director of the Scripps Center for Marine Biodiversity and Conservation at the University of California, San Diego, synthesizes such reports and others into a new paper, published in the journal Proceedings of the National Academy of Sciences, that boldly lays out the scope of the oceanic emergency and what urgently needs to be done.
Climate change will increase the erosion of coral reefs

(07/28/2008) Coral reefs are particularly susceptible to climate change. Warming waters have been shown to bleach coral, killing off symbiotic algae that provide them with sustenance, and often leading to the death of the coral itself. Much attention has been placed on bleaching coral, but now scientists have discovered an additional danger to coral reefs in a warming world: erosion.
Coral susceptibility to bleaching due to small differences in symbiotic relationship

(07/22/2008) Coral reefs are now considered the second most threatened group of animals in the world, with nearly one-third of corals listed as endangered (amphibians retain the dubious honor of being number one). Although corals face many threats, the greatest is bleaching caused by warming oceans due to climate change. However, some coral populations are more susceptible to bleaching than others, even including corals of the same species. New research has uncovered that the reason lies in small differences in the symbiotic relationship between corals and their symbionts, small marine animals and protozoa. Such differences, however minuscule, have a huge impact on the likelihood of a coral's ability to survive warming oceans.
Moving species may be only way to save them from climate change

(07/17/2008) Desperate times call for desperate measures, according to a new paper in Science. conservation scientists from the US, the UK, and Australia are calling for the consideration of a highly controversial conservation technique: assisted migration. According to the policy piece, species would be relocated to sites "where they do not currently occur or have not been known to occur in recent history".
1/3 of corals face extinction

(07/10/2008) Nearly one-third of reef-building corals are vulnerable to extinction, according to an assessment of 845 species of coral. Rising temperatures, increased incidence of disease, and human disturbance are driving the trend.
Good news for reefs: giant coral structure found off Brazil

(07/07/2008) Amid a series of dire reports on the status of coral reefs, scientists announced the discovery of a reef off the southern coast of Brazil's Bahia state that doubles the size of the Southern Atlantic Ocean's largest and richest reef system, the Abrolhos Bank.
U.S. coral reefs in trouble

(07/07/2008) Nearly half of U.S. coral reefs are in "poor" or "fair" condition according to a new study by the National Oceanic and Atmospheric Administration (NOAA).
CO2 emissions could doom fishing industry

(07/03/2008) Aside from warming climate, rising carbon dioxide emissions are contributing to ocean acidification, threatening sea live, warn researchers writing in the journal Science. This trend makes it all the more important to reduce emissions, argue the authors.
Microbes could be the key to coral death

(04/02/2008) Coral reefs could be dying out because of changes to the microbes that live in them just as much as from the direct rise in temperature caused by global warming, according to scientists speaking today at the Society for General Microbiology's 162nd meeting being held this week at the Edinburgh International Conference Centre.
Expedition finds inverted pyramid where sharks dominate marine ecology

(02/25/2008) A survey of a remote Pacific archipelago turned up pristine coral reefs that could offer a "baseline" for measuring the human impact on reefs worldwide, report researchers from the Scripps Institution of Oceanography (SIO) at the University of California at San Diego.
Widespread butterflyfish may go extinct due to global warming, pollution

(02/24/2008) The Chevroned Butterflyfish, a colorful fish found in tropical oceans around the world, faces extinction due to overexploitation, pollution and climate change, report researchers writing in the journal Behavioural Ecology and Sociobiology. Despite its widespread distribution, the species could be doomed by its specialized feeding habitats: the Chevroned Butterflyfish (Chaetodon trifascialis) feeds on only one type of coral.
Why are oceans at risk from global warming?

(02/17/2008) Climate change is putting the world's oceans at risk by increasing the temperature and acidity of seawater, and altering atmospheric and oceanic circulation, warned a panel of scientists this week at the American Association for the Advancement of Science (AAAS) annual meeting in Boston.
Natural ocean thermostat may protect some coral reefs

(02/07/2008) Natural processes may prevent oceans from warming beyond a certain point, helping protect some coral reefs from the impacts of climate change, new research finds. The study provides evidence that an ocean "thermostat" may be helping regulate sea-surface temperatures in a biologically diverse region of the western Pacific.
Global warming will degrade 98% of coral reefs by 2050

(12/13/2007) Ocean acidification caused by human-induced carbon dioxide emissions could dramatically alter the planet's coral reefs and marine food chains, warns research published in the December 14 issue of Science and presented at the fall meeting of the American Geophysical Union (AGU) in San Francisco.
"Weird" algae key to survival of coral reefs

(08/31/2007) A team of coral researchers has taken a major stride towards revealing the workings of the mysterious "engine" that drives Australia's Great Barrier Reef, and corals the world over.
Coral reefs declining faster than rainforests

(08/08/2007) Coral reefs in the Pacific Ocean are dying faster than previously thought due to costal development, climate change, and disease, reports a study published Wednesday in the online journal PLoS One. Nearly 600 square miles of reef have disappeared per year since the late 1960s, a rate twice that of tropical rainforest loss.
Hurricanes can help coral reefs

(07/17/2007) A close call with a hurricane can be beneficial to a stressed coral reef, reports a study published in Proceedings of the National Academy of Sciences (PNAS).
Coral diseases largely result from human activities

(05/17/2007) The apparent increase in infectious disease among coral is likely the result of environmental change and, as such, researchers should focus on understanding the relationship between coral diseases and environmental changes, rather than the diseases themselves, argues a paper published in the August 2007 issue of the Journal of Experimental Marine Biology and Ecology.
Global warming is killing coral reefs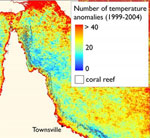 (05/07/2007) A new study provides further evidence that climate change is adversely affecting coral reefs. While previous studies have linked higher ocean temperatures to coral bleaching events, the new research, published in PLoS Biology, found that climate change may increasing the incidence of disease in Great Barrier Reef corals. Omniously, the research also shows that healthy reefs, with the highest density of corals, are hit the hardest by disease.
Some corals may survive acidification caused by rising CO2 levels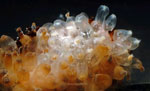 (03/29/2007) Several studies have shown that increased atmospheric carbon dioxide levels are acidifying the world's oceans. This is significant for coral reefs because acidification strips carbonate ions from seawater, making it more difficult for corals to build the calcium carbonate skeletons that serve as their structural basis. Research has shown that many species of coral, as well as other marine microorganisms, fare quite poorly under the increasingly acidic conditions forecast by some models. However, the news may not be bad for all types of corals. A study published in the March 30 issue of the journal Science, suggests that some corals may weather acidification better than others.
Some corals can adapt to ocean acidification

(07/06/2006) While scientists warn that increasing ocean acidity will doom marine animals that build skeletons and structural elements out of calcium carbonate, new research has found that corals can change their skeletons, building them out of different minerals depending on the chemical composition of the seawater around them. However, the research provides further evidence that corals are extremely sensitive to rapid environmental change and will be negatively affected by increased carbon dioxide levels in the short-term.
Increasingly acidic oceans damaging to marine life

(07/05/2006) Carbon dioxide emissions are altering ocean chemistry and putting sea life at risk according to a new report released today. The report, "Impacts of Ocean Acidification on Coral Reefs and Other Marine Calcifiers," summarizes known effects of increased atmospheric carbon dioxide on marine organisms that produce calcium carbonate skeletal structures, such as corals. Oceans worldwide absorbed approximately 118 billion metric tons of carbon between 1800 and 1994 according to the report, resulting in increased ocean acidity, which reduces the availability of carbonate ions needed for the production of calcium carbonate structures.
Severe damage expected for Caribbean coral reefs in 2006

(07/04/2006) Caribbean Sea temperatures have reached their annual high two months ahead of schedule according to a report from The Associated Press. Scientists are concerned that the region's coral reefs may suffer even worse damage than last year when 70 percent of coral was bleached in some areas.
Madagascar's reefs escape damage from global warming

(06/22/2006) A survey of coral along Madagascar's northeast coast suggests that they island's reef may have so far escaped the damaging effects of warmer ocean temperatures attributed to global climate change. Researchers from conservation International (CI), a leading conservation group, found that the region's coral reefs have avoided the bleaching that has affected other Indian Ocean reefs. The scientists believe that cool water currents from adjacent deep ocean areas have helped offset the warming effects of climate change.
Global warming may cause permanent damage to coral reefs

(05/15/2006) Global warming has had a more devastating impact on coral reefs than previously believed says a new study published in the Proceedings of the National Academy of Sciences. The research, the first to show the long-term impact of rising sea temperatures on coral and fish communities, suggests that "large sections of coral reefs and much of the marine life they support may be wiped out for good," according to a news release from the University of Newcastle upon Tyne, an institution involved in the project.
Corals may survive global warming by gorging themselves

(04/26/2006) A new study published in Nature says some coral are able to survive bleaching events by gorging themselves. An experiment with Hawaiian corals showed that when bleached, one species sharply increased its intake of food, increasing the likelihood that it would survive elevated water temperatures.
Damaged Caribbean reefs under attack

(04/10/2006) After experiencing one of the most devastating coral bleaching events on record during September and October of 2005, reefs in the Caribbean are under attack from deadly diseases according to Reuters.
Recent Coral Bleaching at Great Barrier Reef

(04/05/2006) An international team of scientists are working at a rapid pace to study environmental conditions behind the fast-acting and widespread coral bleaching currently plaguing Australia's Great Barrier Reef. NASA's satellite data supply scientists with near-real-time sea surface temperature and ocean color data to give them faster than ever insight into the impact coral bleaching can have on global ecology. Australia's Great Barrier Reef is a massive marine habitat system made up of 2,900 reefs spanning over 600 continental islands. Though coral reefs exist around the globe, researchers actually consider this network of reefs to be the center of the world's marine biodiversity, playing a critical role in human welfare, climate, and economics. Coral reefs are a multi-million dollar recreational destinations, and the Great Barrier Reef is an important part of Australia's economy.
Climate change threatens coldwater reefs

(04/03/2006) Increasing amounts of atmospheric carbon dioxide, driven by the burning of fossil fuels, are dissolving into the oceans, causing them to become slightly more acidic. This change in seawater chemistry could harm deep-sea calcifying animals like corals.
Pacific Ocean getting warmer and more acidic

(03/31/2006) The Pacific Ocean is getting warmer and more acidic, while the amount of oxygen is decreasing, due to increased absorption of atmospheric carbon dioxide say scientists from the National Oceanic and Atmospheric Administration's Pacific Marine Environmental Laboratory and the University of Washington.
Caribbean reefs suffer severe coral bleaching event

(12/20/2005) The Caribbean experienced one of the most devastating coral bleaching events on record during September and October while hurricanes battered the Gulf of Mexico. In response, NASA and National Oceanic and Atmospheric Administration have sent a team to assess the situation.
Coral reefs decimated by 2050, Great Barrier Reef's coral 95% dead

(11/17/2005) Australia's Great Barrier Reef could lose 95 percent of its living coral by 2050 should ocean temperatures increase by the 1.5 degrees Celsius projected by climate scientists. The startling and controversial prediction, made last year in a report commissioned by the World Worldwide Fund for Nature (WWF) and the Queensland government, is just one of the dire scenarios forecast for reefs in the near future. The degradation and possible disappearance of these ecosystems would have profound socioeconomic ramifications as well as ecological impacts says Ove Hoegh-Guldberg, head of the University of Queensland's Centre for Marine Studies.