News articles on biodiversity

---
Mongabay.com news articles on biodiversity in blog format. Updated regularly.





Photos of new species discovered in the Greater Mekong

(12/15/2008) More than 1,000 previously unknown species have been discovered in the Greater Mekong, a region comprising Cambodia, Laos, Myanmar (Burma), Thailand, Vietnam and the Yunnan Province of China, in the past decade, according to a new report from WWF.


Neither slow nor stupid, manatees are killed by boats because they can't hear them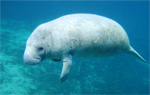 (12/12/2008) Last year 73 manatees were killed by boats in Florida, despite two decades of manatee-related protections. In fact, manatee deaths due to boat collisions have only increased since protections were implanted. A recent study at the Florida Atlantic University has finally revealed why boats are so dangerous to manatees: the manatee cannot run from what it does not hear.


Elephants die significantly earlier in zoos than in wild

(12/11/2008) A new study from Science provides disturbing evidence that one of the zoos' most popular animals, the elephant, faces a far shorter lifespan in captivity than in the wild. The findings raise new ethical and scientific questions regarding the rightness of keeping elephants in captivity and the causes of their shorter life-spans.


Chad's elephant population falls by two-thirds in two years

(12/11/2008) Civil strife of Chad — a consequence of the calamity in Darfur — is taking a toll on the country's elephant population, reports the Wildlife Conservation Society (WCS) which has launched an emergency appeal for funds to support conservation efforts in the country.


Why do different species of bird lay different numbers of eggs?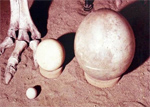 (12/10/2008) Clutch size varies greatly between bird species. Researchers now have a better idea why. Analyzing data on clutch size, biology, and habitat for 5,290 species of birds, a team of biologists — Walter Jetz (UC San Diego), Cagan H. Sekercioglu (Stanford University), and Katrin Böhning-Gaese (Johannes Gutenberg-Universität) — developed a model to predict variations in the number of eggs a species lays. They found clutch sizes are consistently largest in cavity nesters and in species occupying seasonal environments. The findings add depth and complexity to previous research that has shown short-lived species — ones that face high predation or have low survival rates among offspring — tend to lay more eggs than longer-lived species, which invest more resources in raising their offspring.


What allows rainforests to grow so wildly?

(12/10/2008) Molybdenum, a rare trace element, is the secret to rainforests' lush growth, reports research published in the journal Nature Geoscience.


Tropical species face high extinction risk

(12/10/2008) Tropical plant species face an inherently high extinction risk due to small populations and restricted ranges relative to temperate species, reports research published in PLoS ONE. These traits leave them vulnerable to habitat disturbance and climate change.


Fear and conservation

(12/10/2008) How does fear shape the behavior and conservation of deer, moose and antelope, not to mention carnivores such as wolves, bears, and even tigers? What is the natural state of wildlife, and how do animals know or learn which species to ignore or fear? Should we reintroduce predators to former habitats, even though the prey animals may be unprepared for their return?


Wildlife banking gets a marketplace

(12/09/2008) Ecosystem Marketplace, a site that provides information on markets and payment schemes for ecosystem services, has launched what it is calling the "first information clearinghouse" for the species credit trading industry.


Salvage logging offers hope for forests, communities devastated by industrial logging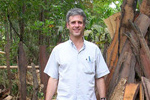 (12/04/2008) As currently practiced, logging is responsible for large-scale destruction of tropical forests. Logging roads cut deep into pristine rainforests, opening up once remote areas to colonization, subsistence and industrial agriculture, wildlife exploitation, and other forms of development. Timber extraction thins the canopy, damages undergrowth, and tears up soils, reducing biodiversity and leaving forests more vulnerable to fire. Even selective logging is damaging. Nevertheless demand for wood products continues to grow. China is expected to import more than 100 million cubic meters of industrial roundwood by 2010, much of which will go into finished products shipped off to Europe and the United States. As much as 60 percent of this is illicitly sourced. Meanwhile in Brazil domestic hunger for timber is fueling widespread illegal logging of the Amazon rainforest. Armed standoffs between environmental police and people employed by unlicensed operators are increasingly common. Tropical Salvage, a Portland, Oregon-based producer of wood products, is avoiding these issues altogether by taking a different approach to meet demand for products made from high-quality tropical hardwoods. The company salvages wood discarded from building sites, unearthed from mudslides and volcanic sites, and dredged from rivers in Indonesia and turns it into premium wood products. In the process, Tropical Salvage is putting formers loggers to work and supporting a conservation, education and reforestation project on Java.


TV footage leads to discovery of strange and rare monkey

(12/04/2008) After showing archival TV footage of a critically endangered species of primate to local villagers, conservationists have discovered a previously unknown population of the Tonkin snub-nosed monkey in a remote forested area of northern Vietnam. The find the offers new hope for the species, which is down to 200 individuals in two of Vietnam's northern-most provinces — Tuyen Quang and Ha Giang.


Degraded grasslands better option for palm oil production relative to rainforests, finds study

(12/03/2008) Producing biofuels from oil palm plantations established on degraded grasslands rather than tropical rainforests and peat lands would result in a net removal of carbon from the atmosphere rather than greenhouse gas emissions, report researchers writing in Conservation Biology. The results confirm that benefits to climate from biofuel production depend greatly on the type of land used for feedstocks.


REDD may harm forest people, alleges report

(12/02/2008) A new report finds that the World Bank is not doing enough to protect indigenous rights under its mechanism to reduce emissions from deforestation and forest degradation (REDD).


Insect intelligence: paper wasps display strong long-term memory

(12/01/2008) A recent study in Current Biology finds that paper wasps are capable of remembering rivals a week after initially meeting. As a highly social insect, the discovery proves that the paper wasps' social interactions are based on applied memory rather than simple instinct. The finding overturns many ideas about the intelligence of insects.


Niche-based distribution modeling may help improve effectiveness of protected areas

(12/01/2008) Niche-based distribution modeling may help researchers evaluate the effectiveness of protected areas, especially in regions lacking comprehensive databases of species distribution, reports a new analysis published in the December issue of Tropical Conservation Science.


Tropical dry forest fragments important to conserving reptile biodiversity in Colombia

(12/01/2008) An important task in tropical conservation is to understand which species are particularly vulnerable to extinction, and identify the characteristics that put them at risk. Because habitat loss and fragmentation are at the root of the global extinction crisis, an extensive collection of literature has developed around profiling species assemblages in fragmented landscapes. It is also clear that species may respond differently to fragmentation, but many species experience direct or indirect negative effects, sometimes resulting in local extirpation in habitat patches.


Lack of information may slow conservation response to amphibian crisis

(12/01/2008) The Neotropics harbor between 30-50% of the world's reptiles and amphibians, but dramatic declines in both groups have been observed over recent decades. While a number of factors have been cited, many of the causes of reptile and amphibian declines are still poorly understood. The situation is paralleled by a lack of information of the natural history, ecology, and behavior of many species.


The number of endangered amphibians in Peru may be underestimated

(12/01/2008) The number of threatened amphibian species in Peru may be significantly underestimated, increasing the risk that conservation decisions will fail to account for their needs, report researchers writing in the December issue of Tropical Conservation Science.


Rural depopulation to have biodiversity impacts

(12/01/2008) Urbanization -- and accompanying rural abandonment -- may have profound implications for global biodiversity and therefore should factor into conservation planning, argue researchers writing in the December issue of Tropical Conservation Science.


Co-management of conservation areas offers multiple benefits

(12/01/2008) The Serengeti (Tanzania, East Africa)—one of the flagship conservation areas of the world—is the focus of a new paper published in the December issue of Tropical Conservation Science by Jafari R Kideghesho and Paul E Mtoni. The authors argue that conservation in the Serengeti needs to be approached as co-management involving sharing of power, responsibilities, and rights and duties between the government and local resource users. They advocate for intensive community involvement and reactivation of local traditional institutions in co-management approaches.


New hope of curing amphibian plague

(11/28/2008) Amphibians worldwide are in trouble. One of the most endangered animal groups, amphibians are increasingly threatened by habitat loss, pollution, and climate change. However the largest threat is chytridiomycosis, a devastating disease caused by a parasitic chytrid fungus known as Batrachochytrium dendrobatidis, otherwise known as Bd.


A new reason to ban whaling: your health

(11/28/2008) Health officials have recommended a ban on the eating of pilot whales, a traditional food source, in the Faroe Islands, reports New Scientist. The build-up of toxins — which bioaccumulate up the food chain as predators feed on tainted organisms — have rendered whale meat harmful to humans.


Invasive ant interferes with gecko's role in pollinating endangered plant

(11/28/2008) Invasive ants are destroying the symbiotic relationship between a colorful gecko and a critically endangered flower on the island of Mauritius, reports New Scientist citing research published by Dennis Hansen and Christine Müller in the journal Biotopica.


Captive breeding of monster Amazon fish could feed people and save it from depletion

(11/26/2008) A new technique for sexing a giant Amazon fish may help create a sustainable source of protein in South America, report researchers writing in Fish Physiology and Biochemistry.


Guide to reducing emissions through forest conservation released

(11/26/2008) Ahead of next week's climate meeting in Poznań, Poland, the Global Canopy Programme — an alliance of 37 scientific institutions in 19 countries — has launched a layman's guide to a proposed mechanism for cutting greenhouse gas emissions by reducing deforestation. Deforestation and land use change accounts for roughly 20 percent of global greenhouse gas emissions — a larger share than all the world's cars, trucks, ships, and airplanes combined.


Carbon market could pay poor farmers to adopt sustainable cultivation techniques

(11/26/2008) The emerging market for forest carbon could support agroforestry programs that alleviate rural poverty and promote sustainable development, states a new report issued by the World Agroforestry Center (ICRAF).


Cameroon moves to protect rarest gorilla

(11/26/2008) The government of Cameroon has created a national park to help protect the world's most endangered great ape: the Cross River gorilla, reports the Wildlife Conservation Society (WCS), a group that provided scientific and technical support for the initiative.


Madagascar denies 'land grab' by South Korean conglomerate

(11/22/2008) Officials from Madagascar are denying they have reached an agreement to turn over half the island nation's arable land to a South Korean corporation for food production, reports Reuters. The controversial deal — which would have paid Madagascar nothing and turned over 1.3 million hectares to produce corn and palm oil for export at a time when one-third of country's children are malnourished — was reported last week by the Financial Times.


A cure for the Tasmanian devil's strange and fatal cancer?

(11/21/2008) Researchers have announced that two Tasmanian devils have survived a cancer devastating their species after receiving inoculations of dead tumor cells, according to the International Herald. However, the inoculations have not worked on every devil – despite being inoculated four devils died from the cancer during the work.


Bush seeks to gut endangered species protections in final weeks

(11/20/2008) The Bush Administration is expected to publish rules that relax protections for endangered species ahead of tomorrow's deadline in order for them to take effect immediately, reports the Associated Press.


Photos of living gremlin discovered in Indonesia

(11/19/2008) Scientists have rediscovered a long-lost species of primate on a remote island in Indonesia. Conducting a survey of Mount Rore Katimbo in Lore Lindu National Park on the island of Sulawesi, a team led by Sharon Gursky-Doyen of Texas A&M University captured three pygmy tarsiers, a tiny species of primate that was last collected in 1921 and was assumed to be extinct until 2000 when two scientists studying rats accidently trapped and killed an individual. Gursky-Doyen's team spent two months using 276 mist nets to capture the gremlin-like creatures so they could be fitted with radio collars and tracked. One other individual was spotted but eluded capture.


Studying world's rarest penguin leads to the discovery of a new species

(11/19/2008) Researching one of the world's most endangered penguins in New Zealand, the yellow-eyed penguin, has led to a remarkable discovery. DNA from 500-year-old penguin fossils has shown that the country was once home to not just one penguin species, but two. The DNA has resurrected an unknown extinct penguin, which researchers have named the Waitaha Penguin.


California joins effort to fight global warming by saving rainforests

(11/19/2008) California has joined the battle to fight global warming through rainforest conservation. In an agreement signed yesterday at a climate change conference in Beverly Hills, California, Governor Arnold Schwarzenegger pledged financial assistance and technical support to help reduce deforestation in Brazil and Indonesia. The Memorandum of Understanding commits the California, Illinois and Wisconsin to work with the governors of six states and provinces within Indonesia and Brazil to help slow and stop tropical deforestation, a source of roughly 20 percent of global greenhouse gas emissions.


New rules establish market for saving rainforests through carbon trading

(11/18/2008) A new carbon accounting standard will bolster efforts to reduce greenhouse gas emissions resulting from deforestation, thereby creating a financial incentive for saving rainforests, say backers of the initiative, known as the Voluntary Carbon Standard (VCS).


Coordinated effort needed to cut deforestation via carbon markets

(11/18/2008) The Coalition for Rainforest Nations — a group of 40 tropical countries seeking compensation in the form of carbon credits for protecting their forest cover — will ask the United Nations at next month's climate conference in Poland to establish a single body to coordinate forest carbon trading, reports Reuters from a workshop on Reducing Emissions from Deforestation and Forest Degradation (REDD) meeting in Milan, Italy.


Korean demilitarized zone has become pristine wildlife habitat

(11/17/2008) In 1953 when the Korean War ended, South and North Korea agreed to a demilitarized zone (DMZ) between the two nations: 2.5 miles wide and 155 miles long. Residents were moved out of the area and access became restricted to military only. While the DMZ is known as a region of international tension, it has also become pristine wildlife habitat.


Mosques Support Sea Turtle Conservation in Malaysia

(11/17/2008) This week almost 500 mosques around the Malaysian state of Terengganu will present sermons on turtle conservation, reported the New Strait Times.


Conflict in PNG between govt and landowners over REDD carbon trading

(11/17/2008) The government of Papua New Guinea is facing criticism over its plan to seek compensation via the carbon market for protecting the country's rainforests, reports Australian Broadcasting Corporation News (ABC News).


Cheetah conservationist awarded for renewable energy product that helps wildlife

(11/14/2008) Dr. Laurie Marker, founder and Executive Director of the Cheetah Conservation Fund (CCF), has been awarded $50,000 by the Tech Museum of Innovation for her organization's Bushblok program which uses a high-pressure extrusion process to convert invasive, habitat-destroying bush into a clean-burning fuel log. Bushblok provides an alternative to products such as firewood, coal, lump charcoal and charcoal briquettes that are costly or result in environmental harm.


Scientists can't explain cause of amphibian extinction crisis

(11/13/2008) Scientists have yet to conclusively explain the underlying cause of global declines in amphibian populations, according to a study published in the journal Proceedings of the National Academy of Sciences. The research says that two leading theories for the demise of amphibians — both related to the emergence and spread of the deadly chytrid fungus — are not supported by scientific data.


IP laws not helping indigenous people protect traditional knowledge (repost)

(11/13/2008) Promoting capacity for self-governance rather than using conventional systems governing intellectual property rights may be a more effective way to safeguard traditional knowledge of indigenous groups, argues a new report published by an international team of IP experts. Released at an IP conference convened by Sciences Po, a French research institute, and The Innovation Partnership, a Canadian NGO, the report details how traditional knowledge is treated in Brazil, Kenya and Northern Canada. It finds significant differences in the effectiveness of IP laws and policies in protecting the wisdom and knowledge accumulated by indigenous communities.


Prioritizing amphibian species for captive breeding to save them from extinction

(11/13/2008) Frogs, toads, salamanders and other amphibians are disappearing at an alarming rate. Of approximately 6,000 amphibian species in the world, about one third are classified as threatened or endangered. A disease caused by a chytrid fungus has devastated frogs living in mid to high elevation streams worldwide. Amphibians also face habitat destruction as forests and wetlands are developed and polluted by agricultural chemicals. In Panama, highland frog populations west of the Canal have declined at an alarming rate.


Supreme Court lifts ban on sonar testing, whales lose

(11/12/2008) A Supreme Court decision will allow the Navy to continue its of sonar in training exercises off the coast of California, a defeat for environmental groups who say sonar is harmful to whales, reports the Associated Press.


Factoring social and economic instability into ecological catastrophe and the decline of western civilization

(11/12/2008) When proposing and exploring solutions to environmental crises we rarely, if ever, consider social and geopolitical factors such as massive refugee migrations, economic market instability and collapse, wars for resources, the peaking of oil, civil uprisings/riots, and the rise of fascism/military oppression. If we hope to create lasting and effective solutions to environmental issues of the 21st Century it is clear we must consider facets beyond the realm of traditional environmental science and shift towards multi-disciplinary systems-level approaches. In addition to the long list of existing and impending environmental crises (passing points-of-no-return in tropical deforestation and climate change, widespread coral bleaching, and the accelerating mass extinction of biodiversity) we must recognize and adapt to the effects of current and emerging social issues (resource wars, economic collapse, and the rise of fascism).


Caspian seal numbers plummet 90%

(11/12/2008) Caspian Seal populations have declined 90% in the past 100 years, prompting the IUCN to switch their designation from Vulnerable to Endangered.


Limestone karsts - islands of biodiversity in Asia - under threat from mining

(11/10/2008) Researchers have devised a scientific methodology for prioritizing conservation of limestone karsts, biologically-rich outcroppings found in Southeast Asia and other parts of the world. The findings are significant because karsts — formed millions of years ago by sea life — are increasingly threatened by mining and other development


New species of flying lemurs discovered

(11/10/2008) A new study has found that colugos or flying lemurs are twice as diverse as previously believed.


Hundreds of rare and bizarre marine species discovered

(11/09/2008) The evolutionary origin of deep sea octopuses, new species populating an underwater "continent", 12,000 amphipods crowding a square meter in the Gulf of Mexico, massive gatherings of white sharks in the middle of the Pacific: these are just a few highlights from the Census of Marine Life (COML)'s fourth report.


In final weeks, President Bush aims to extend his environmental legacy

(11/09/2008) On Tuesday, November 4th, the people of the United States elected a new president, Senator Barack Obama. Many feel a new day is coming on a number of issues, including the environment. However the Bush Administration has 72 days left in its term and appears hopeful to use every one of those to make last-minute changes to environmental rules that will have wide-ranging impacts on the nation's endangered species, air, water, parks, and undeveloped land. As the administration has done since taking office eight years ago, it is working toward such policies—all of them controversial—to benefit industry at the cost of the environment and health safeguards.


New gecko species discovered

(11/08/2008) A previously unknown species of gecko has been discovered in the South Pacific by French scientists, reports the Associated Press.



Page 1 | Page 2 | Page 3 | Page 4 | Page 5 | Page 6 | Page 7 | Page 8 | Page 9 | Page 10 | Page 11 | Page 12 | Page 13 | Page 14 | Page 15 | Page 16 | Page 17 | Page 18 | Page 19 | Page 20 | Page 21 | Page 22 | Page 23 | Page 24 | Page 25 | Page 26 | Page 27 | Page 28 | Page 29 | Page 30 | Page 31