News articles on animals

---
Mongabay.com news articles on animals in blog format. Updated regularly.






Salmon-Crested Cockatoo to be protected under ESA

(05/27/2011) The salmon-crested cockatoo is now listed as a threatened species under the Endangered Species Act (ESA). Native to islands in eastern Indonesia, the parrot is at risk due to logging in its lowland rainforest habitat, the conversion of forest to agricultural lands, and the domestic and international pet trade.
Photos: new bat uncovered in the Caribbean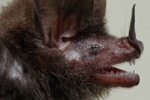 (05/26/2011) Researchers have declared a new species of bat from the Caribbean island of St. Vincent. While the new bat had been documented before, it was long believed to be a member of a similar species that is found throughout South America and a few Caribbean Islands, that is until PhD student Peter Larsen noticed it was far larger than its relative down south.
On the edge of extinction, Philippine eagles being picked off one-by-one

(05/23/2011) Down to a few hundred individuals, every Philippine eagle is important if the species is to survive. However, the Philippine Eagle Foundation (PEF) has recently announced that people continue to illegally trap and keep eagles captive. Since December the organization has taken-in four confiscated Philippine eagles (Pithecophaga jefferyi), according to The Philippine Star. One died of a fungal infection after confiscation, while two others has suffered serious injuries.
Photos: the top ten new species discovered in 2010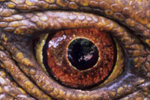 (05/23/2011) If we had to characterize our understanding of life on Earth as either ignorant or knowledgeable, the former would be most correct. In 250 years of rigorous taxonomic work researchers have cataloged nearly two million species, however scientists estimate the total number of species on Earth is at least five million and perhaps up to a hundred million. This means every year thousands of new species are discovered by researchers, and from these thousands, the International Institute for Species Exploration at Arizona State University selects ten especially notable new species.
Uncovering the private lives of Amazon wildlife through camera traps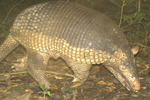 (05/20/2011) One of the best words to describe Amazon wildlife, including large mammals and birds, is cryptic. A person can spend a day trekking through the dense green and brown foliage of the Amazon and see nothing more than a few insects, maybe a frog here and there if they have good eyes. In fact, researchers have spent years in the jungle and never seen a jaguar, let alone a tapir. Some species like the bushdog and the giant armadillo are even more cryptic. Almost never encountered by people, in some parts of the Amazon they have taken on a mythic status, more rumor around the fire than reality. However, camera traps—automated cameras that take a flash photo whenever an animal triggers an infrared sensor—in the Amazon have begun to reveal long-sought information about the presence and abundance of species, providing new data on range and territories. And even at times giving glimpses into the private lives of species that remain largely shrouded in mystery.
US southern forests face bleak future, but is sprawl or the paper industry to blame?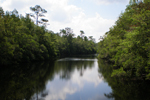 (05/19/2011) More people, less forests: that's the conclusion of a US Forest Service report for forests in the US South. The report predicts that over the next 50 years, the region will lose 23 million acres (9.3 million hectares) largely due to urban sprawl and growing populations amid other factors. Such a loss, representing a decline of over 10 percent, would strain ecosystem services, such as water resources, while potentially imperiling over 1,000 species. However, Dogwood Alliance, which campaigns for conservation of southern forests criticizes the new report for underplaying the role of clearcutting natural forests for the paper industry in the south.
New paper stirs up controversy over how scientists estimate extinction rates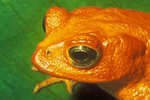 (05/19/2011) A new paper in Nature negating how scientists estimate extinction rates has struck a nerve across the scientific community. The new paper clearly states that a mass extinction crisis is underway, however it argues that due to an incorrect method of determining extinction rates the crisis isn't as severe as has been reported. But other experts in the field contacted disagree, telling mongabay.com that the new the paper is 'plain wrong'. In fact, a number of well-known researchers are currently drafting a response to the day-old, but controversial paper.
3,000 amphibians, 160 land mammals remain undiscovered—that is if they don't go extinct first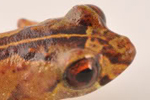 (05/18/2011) Remote little-explored rainforests probably harbor the majority of undiscovered amphibians and land mammals according to a new study in Proceedings of the Royal Society B. The study calculated that it's likely 33% of the world's amphibians and 3% of terrestrial mammals still remain unknown. However, the paper also found that these undiscovered species are likely in worse peril of extinction than already-described species.
Red rodent shows up at Colombian nature lodge after 113 years on the lam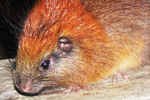 (05/18/2011) The red-crested tree rat (Santamartamys rufodorsalis) had not been recorded since 1898 and was thought possibly extinct—that is until one showed up at 9:30 PM on May 4th at a lodge in El Dorado Nature Reserve in northern Colombia. 'He just shuffled up the handrail near where we were sitting and seemed totally unperturbed by all the excitement he was causing,' said Lizzie Noble, a British volunteer with Fundacion ProAves.
Down to 50, conservationists fight to save Javan Rhino from extinction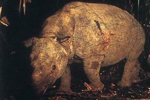 (05/17/2011) Earlier this year, the International Rhino Foundation launched Operation Javan Rhino to prevent the extinction of the critically endangered Javan Rhinoceros (Rhinoceros sondaicus), formerly found in rain forests across Southeast Asia. Operation Javan Rhino is a multi-layered project which links field conservation, habitat restoration, and management efforts with the interests of local governments and communities. The following is an interview with Susie Ellis, Executive Director of the International Rhino Foundation.
Bear bile trade, both legal and illegal, ubiquitous in Asia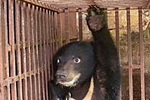 (05/16/2011) Surveying 13 nations and territories in Asia, the wildlife trade organization TRAFFIC found that the bear bile trade remains practically ubiquitous in the region. In many cases the trade, which extracts bile from captive bears' gall bladders for sale as a pharmaceutical, flouts both local and international law, including Appendix I of Convention on International Trade in Endangered Species of Wild Fauna and Flora (CITES ).
Ten-year-old takes on KFC for destroying US forests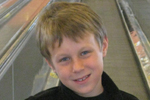 (05/15/2011) Cole Rasenberger's quest to save forests in the US South started as a school assignment to 'be an activist' about something important to him. However, after learning from Dogwood Alliance that coastal forests in North Carolina are being destroyed to make throw-away paper packaging for big fast food companies—such as McDonalds and KFC—Cole Rasenberger, at the age of 8, became more than an activist; he became an environmental leader! He started by targeting McDonalds directly. With the help of 25 friends, and his elementary school administration, he got every student in his school to sign postcards to McDonalds. In all, Cole sent 2,250 postcards to McDonalds.
North America's tiniest turtle vanishing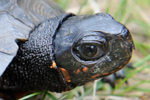 (05/12/2011) Despite decades of conservation work, populations of North America's smallest turtle, the bog turtle (Glyptemys muhlenbergii), is continuing to decline. Habitat destruction, invasive plants, road-kill, and the illegal pet trade have all played a role in the bog turtle historic decline, but researchers are now reporting increased mortalities across bog turtle populations, bringing fears of disease or an as-yet-unnamed environmental issue.
Cambodia's wildlife pioneer: saving species and places in Southeast Asia's last forest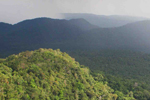 (05/11/2011) Suwanna Gauntlett has dedicated her life to protecting rainforests and wildlife in some of the world's most hostile and rugged environments and has set the trend of a new generation of direct action conservationists. She has designed, implemented, and supported bold, front-line conservation programs to save endangered wildlife populations from the brink of extinction, including saving the Amur Tiger (also known as the Siberian Tiger) from extinction in the 1990s in the Russian Far East, when only about 80 individuals remained and reversing the drastic decline of Olive Ridley sea turtles along the coast of Orissa, India in the 1990s, when annual nestings had declined from 600,000 to a mere 8,130. When she first arrived in Cambodia in the late 1990s, its forests were silent. 'You couldn't hear any birds, you couldn't hear any wildlife and you could hardly see any signs of wildlife because of the destruction,' Gauntlett said. Wildlife was being sold everywhere, in restaurants, on the street, and even her local beauty parlor had a bear.
Belief and butchery: how lies and organized crime are pushing rhinos to extinction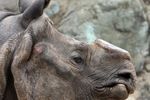 (05/11/2011) Few animals face as violent, as well organized, and as determined an enemy as the world's rhinos. Across the globe rhinos are being slaughtered in record numbers; on average more than one rhino is killed by poachers everyday. After being shot or drugged, criminals take what they came for: they saw off the animal's horn. Used in Traditional Chinese Medicine, which claims that it has curative properties, rhino horn is worth more than gold and cocaine on the black market. However, science proves all this cash and death is based on a lie. 'There is no medicinal benefit to consuming rhino horn. It has been extensively analyzed in separate studies, by different institutions, and rhino horn was found to contain no medical properties whatsoever,' says Rhishja Larson.
Distressed Place and Faded Grace in North Sulawesi
(05/10/2011) The Nantu Wildlife Reserve is located in northern Sulawesi's Minehasa Peninsula, in Gorontalo Province. Sulawesi is among the largest of Indonesia's some seventeen thousand islands. Its shape is bizarre: a sinuous sprawling monkey, with lavish tail, poised to leap the straits of Makassar. Sulawesi lies to the north of Bali and Lombok and to the east of Borneo. Alfred Russell Wallace, the nineteenth century English explorer and natural scientist of broad expertise, spent a lot of time in Sulawesi's northern peninsula, casting his curiosity and observation with such singular acuity that his mind apprehended "Darwin's theory of evolution" independently from and possibly before Darwin. His work described the zone of transition between the Asian and Australian zoographic regions and was so accurate and thorough in its logic that today, some one-hundred and fifty years later, the zone is named Wallacea.
No limbs or sight needed: bizarre new lizard uncovered in Cambodia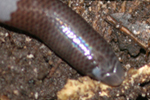 (05/09/2011) A new species of legless lizard has been discovered in Cambodia. Herpetologist Neang Thy uncovered, literally, the new species when he turned over a log in the species-rich Cardamom Mountains. While the new lizard looks like a snake or a big earthworm, it is in fact a lizard belong to the Dibamidae family. These bizarre reptiles spend much of their lives burrowing underground for insects, which has allowed them to lose the need for limbs.
Fight for flamingos: Tanzania to mine in world's most important flamingo breeding ground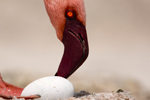 (05/09/2011) It's not easy to find a single word to describe witnessing hundreds of thousands of flamingos filling up a shallow lake in the Great Rift Valley of East Africa. 'Spectacle' comes to mind, but even this is not wholly accurate for the surreal pink crowd. However one describes it, this biological wonder may be under threat as Tanzania plans to mine in a flamingo breeding ground that is not only regionally important, but globally. Astoundingly, over half of the world's lesser flamingos (between 65-75%) are born in a single lake in northern Tanzania: Lake Natron.
Over a thousand geckos freed from criminal taxi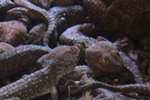 (05/08/2011) Over a thousand tokay geckos (Gekko gecko) were found in a single trunk of a taxi by the Wildlife Rapid Response Team (WRRT), forestry officials, and military police in Cambodia. WRRT is wildlife-crimes program run by Wildlife Alliance. Boxes filled the taxi's trunk. In the boxes were bags stuffed with 1,027 tokay geckos, of which nineteen had perished.
Forgotten species: the endearing Tenkile tree kangaroo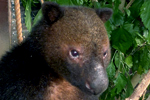 (05/03/2011) With their long snout, furry body, soft eyes, and, at times, upright stance, tree kangaroos often remind me of the muppets. Of course, if there were any fairness in the world, the muppets would remind me of tree kangaroos, since kangaroos, or macropods, have inhabited the Earth for at least 5 million years longer than Jim Henson's muppets. But as a child of the 1980s, I knew about muppets well before tree kangaroos, which play second fiddle in the public imagination to their bigger, boxing cousins. This is perhaps surprising, as tree kangaroos possess three characteristics that should make them immensely popular: they are mammals, they are monkey-like (and who doesn't like monkeys?), and they are desperately 'cute'.
Road building plan in Sumatran park threatens Critically Endangered tigers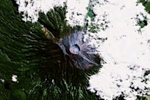 (05/03/2011) A plan to build four wide roads through Kerinci Seblat National Park in the Indonesian island of Sumatra threatens one of the world's most viable populations of the Critically Endangered Sumatran tiger subspecies (Panthera tigris sumatrae), reports the AP. Less than 500 Sumatran tigers remain in the wild with the population continuing to decline due to habitat loss from palm oil and paper plantations, poaching, and prey declines.
New eco-tour to help save bizarre antelope in 'forgotten' region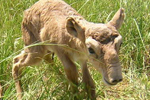 (05/01/2011) Imagine visiting a region that is largely void of tourists, yet has world-class bird watching, a unique Buddhist population, and one of the world's most bizarre-looking and imperilled mammals: the saiga. A new tour to Southern Russia hopes to aid a Critically Endangered species while giving tourists an inside look at a region "largely forgotten by the rest of the world," says Anthony Dancer. Few species have fallen so far and so fast in the past 15 years as Central Asia's antelope, the saiga. Its precipitous decline is reminiscent of the bison or the passenger pigeon in 19th Century America, but conservationists hopes it avoids the fate of the latter.
With 24 eyes, box jellyfish are constantly looking up

(04/28/2011) Lacking brains does not mean box jellyfish are incapable of complex visual behavior, according to a new study in Current Biology. Researchers have known for over a century that box jellyfish support an astounding two-dozen eyes. Now, they are beginning to find out how these eyes are used: four of a box jellyfish's 24 eyes are always peering up out of the water finds the new study. These four eyes, no matter how the body is oriented, allow the jellyfish to navigate their shallow, obstacle-filled habitats, such as mangroves—and keep them from straying too far from home.
Scientists scramble to save dying amphibians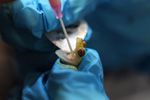 (04/28/2011) In forests, ponds, swamps, and other ecosystems around the world, amphibians are dying at rates never before observed. The reasons are many: habitat destruction, pollution from pesticides, climate change, invasive species, and the emergence of a deadly and infectious fungal disease. More than 200 species have gone silent, while scientists estimate one third of the more than 6,500 known species are at risk of extinction. Conservationists have set up an an emergency conservation measure to capture wild frogs from infected areas and safeguard them in captivity until the disease is controlled or at least better understood. The frogs will be bred in captivity as an insurance policy against extinction.
In spite of poaching, Nepal's rhino population on the rise

(04/27/2011) Good news for rhinos is rare recently, but a new census shows that Nepal's one-horned rhino (Rhinoceros unicornis) population has increased by 23% since 2008 even in the face of poaching. In total 534 rhinos survive in Nepal, a rise of 99 individuals from 3 years ago.
Rise in wildlife tourism in India comes with challenges

(04/27/2011) A line of tourist jeeps clogs the road in a dry forest, as all eyes—and cameras—are on a big cat ambling along the road ahead; when the striped predator turns for a moment to face the tourists, voices hush and cameras flash: this is a scene that over the past decade has becoming increasingly common in India. A new study in Conservation Letters surveyed ten national parks in India and found that attendance had increased on average 14.9% from 2002-2006, but while rising nature tourism in India comes with education and awareness opportunities, it also brings problems.
Save the Frogs Day focuses on banning Atrazine in US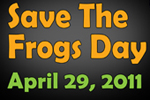 (04/26/2011) This year's Save the Frogs Day (Friday, April 29th) is focusing on a campaign to ban the herbicide Atrazine in the US with a rally at the steps of the Environmental Protection Agency (EPA). Kerry Kriger, executive director of frog-focused NGO Save the Frogs! and creator of Save the Frogs Day, says that Atrazine is an important target in the attempt to save amphibians worldwide, which are currently facing extinction rates that are estimated at 200 times the average. "Atrazine weakens amphibians' immune systems, and can cause hermaphroditism and complete sex reversal in male frogs at concentrations as low as 2.5 parts per billion," Kriger told mongabay.com.
Elephants: the gardeners of Asia's and Africa's forests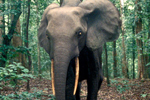 (04/25/2011) It seems difficult to imagine elephants delicately tending a garden, but these pachyderms may well be the world's weightiest horticulturalist. Elephants both in Asia and Africa eat abundant amounts of fruit when available; seeds pass through their guts, and after expelled—sometimes tens of miles down the trail—sprouts a new plant if conditions are right. This process is known by ecologists as 'seed dispersal', and scientists have long studied the 'gardening' capacities of monkeys, birds, bats, and rodents. Recently, however, researchers have begun to document the seed dispersal capacity of the world's largest land animal, the elephant, proving that this species may be among the world's most important tropical gardeners.
What does Nature give us? A special Earth Day article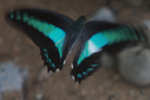 (04/22/2011) There is no question that Earth has been a giving planet. Everything humans have needed to survive, and thrive, was provided by the natural world around us: food, water, medicine, materials for shelter, and even natural cycles such as climate and nutrients. Scientists have come to term such gifts 'ecosystem services', however the recognition of such services goes back thousands of years, and perhaps even farther if one accepts the caves paintings at Lascaux as evidence. Yet we have so disconnected ourselves from the natural world that it is easy—and often convenient—to forget that nature remains as giving as ever, even as it vanishes bit-by-bit. The rise of technology and industry may have distanced us superficially from nature, but it has not changed our reliance on the natural world: most of what we use and consume on a daily basis remains the product of multitudes of interactions within nature, and many of those interactions are imperiled. Beyond such physical goods, the natural world provides less tangible, but just as important, gifts in terms of beauty, art, and spirituality.
Warmer temperatures may be exterminating pika populations one-by-one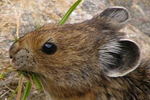 (04/21/2011) The last decade has not been a good one for the American pika (Ochotona princeps) according to a new study in Global Change Biology. Over the past ten years extinction rates have increased by nearly five times for pika populations in the Great Basin region of the US. Examining extinctions of pike populations in the region over the past 110 years, researchers found that nearly half of the extinction events occurred since 1999.
Scientists follow rise of mercury pollution in seabird feathers

(04/18/2011) Analyzing the feathers of the black-footed albatross (Phoebastria nigripes) going back to 1880. researchers have uncovered rising levels of the toxic methylmercury in the endangered birds that is generally consistent with rising mercury emissions in the Pacific region. Methylmercury is a more toxic compound than mercury that binds with organic molecules when it is released through industrial processes, such as burning coal and other fossil fuels.
The great penguin rescue: far-flung community cooperates, sacrifices to save 4,000 penguins from oil spill

(04/18/2011) One of the world remotest communities, the UK's Tristan da Cunha archipelago, has come together to save 4,000 endangered penguins following a devastating oil spill, reports the Guardian. Last month a freighter ran aground on Nightingale Island releasing 1,500 tons of oil, potentially devastating the local population of northern rockhopper penguins (Eudyptes moseleyi), which are listed as Endangered by the IUCN Red List. However, fortunately for the penguins, the tiny community of 260 people living on the Tristan da Cunha archipelago were unwilling to give up on the oiled birds.
US wolves lose to politics

(04/17/2011) A 'rider' attached to the most recent budget passed this week in the US congress has stripped gray wolves from the protection of the Endangered Species Act, a first in the law's nearly 40-year-history. The rider, which was signed into law under the budget on Friday by US President Barack Obama, hands gray wolves (Canis lupus) in Montana, Idaho, Utah, Washington, and Oregon from Federal protection to state control. Hunting is expected to begin soon.
Vietnam creates reserve for newly-discovered, nearly-extinct mammal, the saola

(04/14/2011) The Vietnam government and local people have approved a Saola Natural Reserve to protect one of the world's most endangered—and most elusive—mammals. Only discovered by the outside world in 1992, the saola (Pseudoryx nghetinhensis) inhabits the lush forests of the Annamite Mountains. No one knows how many saola remain, but it has been classified as Critically Endangered as it is likely very few. Recently, conservationist William Robichaud told mongabay.com that the saola was "perhaps the most spectacular zoological discovery of the 20th century", comparing it only to the discovery of the okapi in central Africa in 1900.
From the Serengeti to Lake Natron: is the Tanzanian government aiming to destroy its wildlife and lands?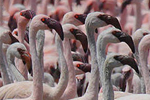 (04/14/2011) What's happening in Tanzania? This is a question making the rounds in conservation and environmental circles. Why is a nation that has so much invested in its wild lands and wild animals willing to pursue projects that appear destined not only to wreak havoc on the East African nation's world-famous wildlife and ecosystems, but to cripple its economically-important tourism industry? The most well known example is the proposed road bisecting Serengeti National Park, which scientists, conservationists, the UN, and foreign governments alike have condemned. But there are other concerns among conservationists, including the fast-tracking of soda ash mining in East Africa's most important breeding ground for millions of lesser flamingo, and the recent announcement to nullify an application for UNESCO Heritage Status for a portion of Tanzania's Eastern Arc Mountains, a threatened forest rich in species found no-where else. According to President Jakaya Kikwete, Tanzania is simply trying to provide for its poorest citizens (such as communities near the Serengeti and the Eastern Arc Mountains) while pursuing western-style industrial development.
Opposition rises against Mekong dam as governments ponder decision
(04/13/2011) As the governments of Laos, Thailand, Cambodia, and Vietnam ready to meet on April 19th to decide whether or not to move forward on the Xayaburi Dam, critics of Mekong River hydroelectric project have warned that the dam will devastate freshwater biodiversity and impact the livelihoods of hundreds of thousands, if not more. Last month a coalition of 263 organizations from 51 countries released a letter in opposition of the dam's construction.
Noise in oceans leads to 'severe acoustic trauma' in octopus, squid

(04/12/2011) Researchers have documented for years how noise pollution impacts dolphins in whales, but a new study in Frontiers in Ecology and the Environment finds that even low intensity noise can severely injure cephalopods, which include octopus, squid, and cuttlefish. The injuries are bad enough to possibly lead to stranding and death, thereby providing a feasible explanation for a number of recent strandings, including giant squid washing ashore in Spain.
Giant fish help grow the Amazon rainforest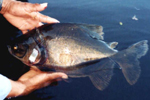 (04/12/2011) A fruit in the flooded Amazon falls from a tree and plops in the water. Before it can even sink to the floor, a 60-pound monster fish with a voracious appetite gobbles it. Nearly a week later—and miles away—the fish expels its waste, including seeds from the fruit eaten long ago and far away. One fortunate seed floats to a particularly suitable spot and germinates. Many years later the new fruit tree is thriving, while the same monster-fish returns from time-to-time, waiting for another meal to drop from the sky. This process is known as seed-dispersal, and while researchers have studied the seed-dispersal capacity of such species as birds, bats, monkeys, and rodents, one type of animal is often overlooked: fish.
Antarctic penguins losing to climate change through 80% krill decline

(04/11/2011) Climate change has hit species of Antarctic penguins by causing a staggering decline in their prey: krill. A new study in the Proceedings of the National Academy of Sciences (PNAS) has found that both chinstrap penguins (Pygoscelis antarcticus) and Adélie penguins (Pygoscelis adeliae) have seen their populations decline likely do to less krill, instead of habitat changes. Since 1970 krill populations have fallen by 80% in the Southern Ocean surrounding Antarctica. Because krill require sea ice to reproduce, shrinking sea ice from climate change has made it more difficult for them to breed.
A new rhino species?

(04/11/2011) Using genetic data and re-assessing physical evidence, scientists write that they have uncovered a new species of rhino, long considered by biologists as merely a subspecies. Researchers write in an open access PLoS ONE paper published last year that evidence has shown the northern white rhino is in fact a distinct species from the more commonly known—and far more common—southern white rhino. If the scientific community accepts the paper's argument it could impact northern white rhino conservation, as the species would overnight become the world's most endangered rhino species with likely less than ten surviving.
Cambodian prime minister cancels titanium mine project citing impact on biodiversity and local people

(04/11/2011) In a surprise move, the Cambodian Prime Minister, Sandech Hun Sen, has cancelled a titanium strip mine project in one of Southeast Asia's last great intact forest ecosystems, the Cardamom Mountains. According to a press release sent out by the Cambodian government the mine was canceled due to "concerns of the impact on the environment, biodiversity and local livelihoods" of villagers. The mine, which was planned to sit directly in the migration route for the largest population of Asian elephants in Cambodia, had been largely opposed by locals in the region who spent years developing eco-tourism in the region.
New method to measure threat of extinction could help conservationists prioritize

(04/07/2011) Researchers have developed a new method to predict how close species are to extinction. Dubbed SAFE (Species Ability to Forestall Extinction) the researchers believe the new tool, published in the Frontiers in Ecology and Environment, should help conservationists select which species to focus on saving and which, perhaps controversially, should be let go.
The value of the little guy, an interview with Tyler Prize-winning entomologist May Berenbaum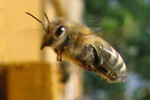 (04/06/2011) May Berenbaum knows a thing or two about insects: in recognition of her lifelong work on the interactions between insects and plants, she has had a character on The X-Files named after her, received the Public Understanding of Science and Technology Award for her work in making science accessible to the public, and this year has been awarded the prestigious Tyler Environmental Prize. "Winning the Tyler Prize is an incredible honor—most of my scientific heroes have been Tyler Prize winners and I'm exceedingly grateful to be considered worthy of being included among their ranks," Berenbaum told mongabay.com in an interview. "The Prize is also tremendously enabling—because the money is unrestricted I can use it to carry out projects that have been difficult to fund."
Iconic cheetah, Chewbaaka, dies

(04/05/2011) The symbol of the Cheetah Conservation Fund (CCF), a male cheetah named Chewbaaka has passed away. At the age of 16, Chewbaaka outlived most cheetahs in the wild, but was killed from wounds suffered after a rabid kudu leapt into his enclosure.
The saola: rushing to save the most 'spectacular zoological discovery' of the 20th Century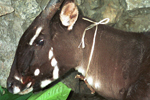 (04/04/2011) The saola (Pseudoryx nghetinhensis) may be the most enigmatic, beautiful, and endangered big mammal in the world—that no one has ever heard of. The shy ungulate looks like an African antelope—perhaps inhabiting the wide deserts of the Sahara—but instead it lives in the dense jungles of Vietnam and Laos, and is more related to wild cattle than Africa's antelopes. The saola is so unusual that is has been given its own genus: Pseudoryx, due to its superficial similarities to Africa's oryx. In the company of humans this quiet forest dweller acts calm and tame, but has yet to survive captivity long. Yet strangest of all, the 200 pound (90 kilogram) animal remained wholly unknown to science until 1992.
Bats worth billions

(04/03/2011) US agriculture stands to lose billions in free ecosystem services from the often-feared and rarely respected humble bat. According to a recent study in Science bats in North America provide the US agricultural industry at least $3.7 billion and up to a staggering $53 billion a year by eating mounds of potentially pesky insects. Yet these bats, and their economic services, are under threat by a perplexing disease known as white-nose syndrome (WNS) and to a lesser extent wind turbines.
Photo: new vipers discovered in Asia's rainforests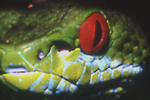 (03/30/2011) Researchers have discovered two new species of pitviper in Southeast Asia. After collecting snakes throughout the Asian tropics—Thailand, Laos, Vietnam, and Cambodia—researchers were able to parse out a more complex set of species than had been recognized. One of the new vipers has been dubbed Cryptelytrops rubeus for its ruby-colored eyes.





What's behind the 85% decline of mammals in West Africa's parks?

(03/28/2011) A recent, well-covered study found that African mammals populations are in steep decline in the continent's protected areas. Large mammal populations over forty years have dropped by 59% on average in Africa [read an interview on the study here] and by 85% in west and central Africa, according to the study headed by Ian Craigie, which links the decline to continuing habitat degradation as well as hunting and human-wildlife conflict. However, a new opinion piece in mongabay.com's open access journal Tropical Conservation Science argues that this study missed an important factor in central and west Africa where the decline in mammals was the worst: rainfall.





India says tiger numbers up, but expert raises doubts

(03/28/2011) According to the Indian government tigers have gone up by 225 individuals in the past four years, from 1,411 big cats to 1,636 today, a 16% increase. The new census, however, also counts 70 tigers in the Sundarbans, which were not included in the past census, making the new grand total 1,706 Bengal tigers (Panthera tigris tigris). But don't raise champagne glasses just yet, renowned conservationist with Wildlife Conservation Society (WCS) and tiger expert, Dr. Ullas Karanth, sees serious issues with the new tally, including a methodology that "has not been made public in a scientifically acceptable manner" and depends on a big count every few years instead of comprehensive and reliable year-by-year tracking methods. Despite such doubts, the news has generally been greeted with accolades.




Page 1 | Page 2 | Page 3 | Page 4 | Page 5 | Page 6 | Page 7 | Page 8 | Page 9 | Page 10 | Page 11 | Page 12 | Page 13 | Page 14 | Page 15 | Page 16 | Page 17 | Page 18 | Page 19 | Page 20 | Page 21 | Page 22 | Page 23 | Page 24 | Page 25 | Page 26 | Page 27 | Page 28 | Page 29 | Page 30 | Page 31 | Page 32 | Page 33 | Page 34 | Page 35 | Page 36 | Page 37 | Page 38 | Page 39 | Page 40 | Page 41 | Page 42 | Page 43 | Page 44 | Page 45 | Page 46 | Page 47 | Page 48 | Page 49 | Page 50 | Page 51 | Page 52 | Page 53 | Page 54 | Page 55 | Page 56 | Page 57