News articles on Ethnobotany

---
Mongabay.com news articles on Ethnobotany in blog format. Updated regularly.






What we can learn from uncontacted rainforest tribes
(11/26/2014) If you have ever wondered about the connection between hallucinogenic frogs, uncontacted peoples, conservation, and climate change — and who hasn't? — check out this TED talk from ethnobotanist Mark Plotkin. An ethnobotanist by training, Plotkin serves as President of the Amazon Conservation Team. Plotkin took a few minutes from his busy schedule to answer a few questions from Mongabay.
Helping the Amazon's 'Jaguar People' protect their culture and traditional wisdom
(02/11/2014) Tribes in the Amazon are increasingly exposed to the outside world by choice or circumstance. The fallout of outside contact has rarely been anything less than catastrophic, resulting in untold extinction of hundreds of tribes over the centuries. For ones that survived the devastation of introduced disease and conquest, the process of acculturation transformed once proud cultures into fragmented remnants, their self-sufficiency and social cohesion stripped away, left to struggle in a new world marked by poverty and external dependence
Shamans and indigenous spiritual leaders unite in Malibu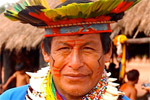 (11/09/2011) Just north of Los Angeles on a bluff overlooking the Pacific Ocean is a special piece of ancient tribal land. Prehistoric artifacts and burials indicate that occupation occurred there as early as 6000 BC. It was this primeval site on a crisp October night recently where the Wishtoyo Foundation and the Chumash people, in cooperation with the Amazon Conservation Team, held 'A Summit of Indigenous Spiritual Leaders.'
Taking back the rainforest: Indians in Colombia govern 100,000 square miles of territory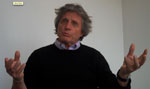 (05/10/2010) Indigenous groups in the Colombian Amazon have long suffered deprivations at the hands of outsiders. First came the diseases brought by the European Conquest, then came abuses under colonial rule. In modern times, some Amazonian communities were virtually enslaved by the debt-bondage system run by rubber traders: Indians could work their entire lives without ever escaping the cycle of debt. Later, periodic invasions by gold miners, oil companies, colonists, and illegal coca-growers took a heavy toll on remaining indigenous populations. Without title to their land, organization, or representation, indigenous Colombians in the Amazon seemed destined to be exploited and abused. But new hope would emerge in the 1980s, thanks partly to the efforts of Martin von Hildebrand, an ethnologist who would help indigenous Colombians eventually win control over 260,000 square kilometers (100,000 square miles) of Amazon rainforest—an area larger than the United Kingdom.
How rainforest shamans treat disease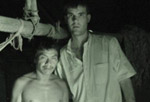 (11/10/2009) Ethnobotanists, people who study the relationship between plants and people, have long documented the extensive use of medicinal plants by indigenous shamans in places around the world, including the Amazon. But few have reported on the actual process by which traditional healers diagnose and treat disease. A new paper, published in the Journal of Ethnobiology and Ethnomedicine, moves beyond the cataloging of plant use to examine the diseases and conditions treated in two indigenous villages deep in the rainforests of Suriname. The research, which based on data on more than 20,000 patient visits to traditional clinics over a four-year period, finds that shamans in the Trio tribe have a complex understanding of disease concepts, one that is comparable to Western medical science. Trio medicine men recognize at least 75 distinct disease conditions—ranging from common ailments like fever [këike] to specific and rare medical conditions like Bell's palsy [ehpijanejan] and distinguish between old (endemic) and new (introduced since contact with the outside world) illnesses. In an interview with mongabay.com, Lead author Christopher Herndon, currently a reproductive medicine physician at the University of California, San Francisco, says the findings are a testament to the under-appreciated healing prowess of indigenous shaman.
Research into drugs derived from natural products declining

(07/09/2009) Although the majority of drugs available today have been derived from natural products, research into nature-based pharmaceuticals has declined in recent years due to high development costs and the drug approvals process. However this trend is likely to reverse due to new approaches and technologies, according researchers from the University of Alberta.
IP laws not helping indigenous people protect traditional knowledge (repost)

(11/13/2008) Promoting capacity for self-governance rather than using conventional systems governing intellectual property rights may be a more effective way to safeguard traditional knowledge of indigenous groups, argues a new report published by an international team of IP experts. Released at an IP conference convened by Sciences Po, a French research institute, and The Innovation Partnership, a Canadian NGO, the report details how traditional knowledge is treated in Brazil, Kenya and Northern Canada. It finds significant differences in the effectiveness of IP laws and policies in protecting the wisdom and knowledge accumulated by indigenous communities.
An interview a shaman in the Amazon rainforest

(07/28/2008) Deep in the Suriname rainforest, an innovative conservation group is working with indigenous tribes to protect their forest home and culture using traditional knowledge combined with cutting-edge technology. The Amazon Conservation Team (ACT) is partnering with the Trio, an Amerindian group that lives in the remote Suriname-Brazil border area of South America, to develop programs to protect their forest home from illegal gold miners and encroachment, improve village health, and strengthen cultural ties between indigenous youths and elders at a time when such cultures are disappearing even faster than rainforests. In June 2008 mongabay.com visited the community of Kwamalasamutu in Suriname to see ACT's programs in action. During the visit, Amasina, a Trio shaman who works with ACT, answered some questions about his role as a traditional healer in the village.
Colombia creates rainforest reserve to protect medicinal plants

(06/11/2008) Colombia today announced the creation of a rainforest reserve dedicated to the protection of medicinal plants. The Orito Ingi-Ande Medicinal Flora Sanctuary encompasses 10,626 hectares of biologically-rich tropical rainforest ranging in altitude from 700 to 3300 meters above sea level. The sanctuary is based on an initiative launched by local indigenous communities with the support of the Amazon conservation Team (ACT), an innovative NGO working with native peoples to conserve biodiversity, health, and culture in South American rainforests. Members of the communities — which include the Kofán, Inga, Siona, Kamtsá, and Coreguaje tribes — combined their rich knowledge of medicinal plants with cutting-edge technology to determine the placement and extent of the reserve. Their contributions to the effort are reflected in the name of the reserve, according to ACT.
Dirt-munching helps protect chimps from malaria

(01/10/2008) Soil ingestion helps chimps protect themselves from malaria, reports a new study published in the journal Naturwissenschaften. Apparently geophagy, as the deliberate behvaior is known, increases the potency of ingested plants with anti-malarial properties.
Amazon rainforest children to get medicinal plant training from shamans

(11/21/2007) The Amazon conservation Team (ACT) -- a group using innovative approaches to preserving culture and improving health among Amazonian rainforest tribes -- has been awarded a $100,000 grant from Nature's Path, an organic cereal manufacturer. The funds will allow ACT to address one of the most pressing social concerns for Amazon forest dwellers by expanding its educational and cultural "Shamans and Apprentice" program for indigenous children in the region.
7-year old nature guide becomes Belize environmental hero as adult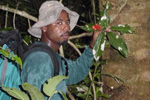 (11/16/2007) Each year hundreds of thousands of nature-oriented tourists visit Belize to see the Central American country's spectacular coral reefs, biodiverse rainforests, and ancient Mayan ruins. However few visitors realize that Belize's natural resources are at risk. Timber and oil extraction, agricultural encroachment, coastal development, pollution and unrestrained tourism are all increasing threats to Belizean ecosystems. Unless something is done to address these concerns, within a generation these pressures could present considerable problems for Belize. Dr. Colin Young, head of the environmental science program at Galen University in Belize, says that while he is greatly concerned about these issues, there is still time to ensure healthy forests and reefs in Belize.
70% of new drugs come from Mother Nature

(03/20/2007) Around 70 percent of all new drugs introduced in the United States in the past 25 years have been derived from natural products reports a study published in the March 23 issue of the Journal of Natural Products. The findings show that despite increasingly sophisticated techniques to design medications in the lab, Mother Nature is still the best drug designer.
Amazon Indians use Google Earth, GPS to protect forest home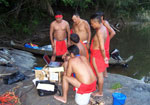 (11/15/2006) Deep in the most remote jungles of South America, Amazon Indians are using Google Earth, Global Positioning System (GPS) mapping, and other technologies to protect their fast-dwindling home. Tribes in Suriname, Brazil, and Colombia are combining their traditional knowledge of the rainforest with Western technology to conserve forests and maintain ties to their history and cultural traditions, which include profound knowledge of the forest ecosystem and medicinal plants. Helping them is the Amazon conservation Team (ACT), a nonprofit organization working with indigenous people to conserve biodiversity, health, and culture in South American rainforests.
Indians are key to rainforest conservation efforts says renowned ethnobotanist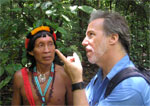 (10/31/2006) Tropical rainforests house hundreds of thousands of species of plants, many of which hold promise for their compounds which can be used to ward off pests and fight human disease. No one understands the secrets of these plants better than indigenous shamans -medicine men and women - who have developed boundless knowledge of this library of flora for curing everything from foot rot to diabetes. But like the forests themselves, the knowledge of these botanical wizards is fast-disappearing due to deforestation and profound cultural transformation among younger generations. The combined loss of this knowledge and these forests irreplaceably impoverishes the world of cultural and biological diversity. Dr. Mark Plotkin, President of the non-profit Amazon conservation Team, is working to stop this fate by partnering with indigenous people to conserve biodiversity, health, and culture in South American rainforests. Plotkin, a renowned ethnobotanist and accomplished author (Tales of a Shaman's Apprentice, Medicine Quest) who was named one of Time Magazine's environmental "Hero for the Planet," has spent parts of the past 25 years living and working with shamans in Latin America. Through his experiences, Plotkin has concluded that conservation and the well-being of indigenous people are intrinsically linked -- in forests inhabited by indigenous populations, you can't have one without the other. Plotkin believes that existing conservation initiatives would be better-served by having more integration between indigenous populations and other forest preservation efforts.
Medicinal Plants could help poverty alleviation in Sub-Saharan Africa -- World Bank report

(11/03/2005) Dryland areas in Sub-Saharan Africa have a niche opportunity to use selected multipurpose medicinal plants to halt land degradation, and at the same time provide culturally acceptable healthcare, food, and a sustainable source of income by developing niche markets, according to the new World Bank report Capitalizing on the Bio-Economic Value of Multi-Purpose Medicinal Plants for the Rehabilitation of Drylands in Sub-Saharan Africa.
Rainforest plant helps treat psoriasis

(07/14/2005) A compound dervied from an Amazon-rainforest tree is effective in the treatment of the skin disease psoriasis according to a study released in late June in the Journal of the Federation of American Societies for Experimental Biology.
How did rainforest shamans gain their boundless knowledge on medicinal plants?

(05/14/2005) For thousands of years, indigenous people have extensively used rainforest plants for their health needs -- the peoples of Southeast Asian forests used 6,500 species, while Northwest Amazonian forest dwellers used 1300 species for medicinal purposes. Perhaps more staggering than their boundless knowledge of medicinal plants, is how shamans and medicinemen could have acquired such knowledge. There are over 100,000 plant species in tropical rainforests around the globe, how did indigenous peoples know what plants to use and combine especially when so many are either poisonous or have no effect when ingested. Many treatments combine a wide variety of completely unrelated innocuous plant ingredients to produce a dramatic effect.