News articles on Ecotourism

---
Mongabay.com news articles on Ecotourism in blog format. Updated regularly.








Conservationists announce program to protect East Africa's largest elephant population
(03/12/2015) The Wildlife Conservation Society (WCS) and the Tanzanian government have launched an ambitious new initiative to protect East Africa's largest population of elephants (Loxodonta Africana). With funds from USAID, the plan aims to reduce poaching and protect biodiversity - including the area's 25,000 elephants- across an 115,000 square kilometer ecosystem.
Protected areas receive 8 billion visits a year, but still underfunded
(02/25/2015) The world loves its protected areas, according to a new study in the open access PLOS Biology. U.S. and UK researchers estimated that the world's protected areas received eight billion visits every year. Moreover, the research found that the world's 140,000 protected areas likely brought in at least $600 billion to national economies.
How black rhinos and local communities help each other in Namibia
(01/07/2015) Africa's rhinos are in a state of crisis. Poaching for their horn has resulted in the deaths of thousands of animals and pushed the continent's two species—the white and black rhino—against the wall. Yet, despite the crisis, there are pockets of rhino territory where poaching remains rare and rhinos live comparatively unmolested. Indeed, one of the brightest spots for rhinos is in Namibia.
Stuff of fairy tales: stepping into Europe's last old-growth forest
(07/09/2014) There is almost nothing left of Europe's famed forests, those that provided for human communities for millennia and gave life to the world's most famous fairytales. But straddling the border between Poland and Belarus, the Bialowieza Forest is Europe's last lowland old-growth forest, parts of which have never been cut by man.
Broken promises no more? Signs Sabah may finally uphold commitment on wildlife corridors
(06/23/2014) Five years ago an unlikely meeting was held in the Malaysian state of Sabah to discuss how to save wildlife amid worsening forest fragmentation. Although the meeting brought together longtime adversaries—conservationists and the palm oil industry—it appeared at the time to build new relationships and even point toward a way forward for Sabah's embattled forests.
Bears, cats, and mystery mammals: camera traps in 'paper park' prove it's worth protecting
(06/09/2014) Can a single photograph change the fate of a park? A new conservation group, HabitatID, believes so, and is putting this belief into action. Setting up camera traps in Cambodia's Virachey National Park, the group hopes that photos of charismatic and endangered species will help reinvigorate protection for a park that has been abandoned by conservation groups and underfunded by the government.
Ecotourism pays: study finds lower poverty where nature-based tourism is prevalent
(02/25/2014) A new study has quantified a point long advocated by advocates of setting aside protected areas: ecotourism pays. The research, published in Proceedings of the National Academy of Sciences (PNAS), finds that communities neighboring conservation areas in Costa Rica had lower rates of poverty relative to other areas.
Two kids, one year, from the Amazon to the Arctic: the environmental adventure of a lifetime
(02/19/2014) The Kraft family—Larry, Lauri, Jamie (age 8), and Jason (age 6)—are on the trip of a lifetime, a round-the-world tour with an environmental focus. Currently in India, the family has already made their way through the Amazon, Vietnam, Costa Rica, Australia, and the Galapagos, among other wild places. Still left on their itinerary: the Arctic. But the trip isn't all fun and games, instead the Kraft's are using the year abroad to learn first hand about global environmental issues and solutions.
How hunters have become key to saving Bulgaria's capercaillie
(02/04/2014) Surprising clatter cuts through the silence in the snowy forest shortly before sunrise. The powerful clicking sounds like a dropping Ping-Pong ball before culminating in a loud pop resembling the opening of a champagne bottle. This sound is heard clearly and far. Propped on a thick pine tree branch, with a peacock-fanned tale, relaxed wings and head pointing skyward, a western capercaillie is singing. The song terminates with a low-frequency sound similar to scraping a fork to the bottom of a frying pan. It's exactly during those last few moments of singing that something unusual happens: the male bird goes temporarily deaf. Hence the species' common name in Bulgarian—deaf bird.
Lao ecotourism project wins responsible travel award for innovation
(11/11/2013) An ecotourism project in a remote part of Laos has won the prestigious World Responsible Tourism Award for Best for Responsible Wildlife Experience. The Nam Nern Night Safari, an ecotour in Lao PDR's Nam Et-Phou Louey National Protected Area in Houaphan Province, was recognized by the World Travel Mart for its innovative approach to generating benefits for local communities.
Nature tours in Costa Rica: an economic alternative to palm oil?
(10/16/2013) Oil palm plantations have been rapidly expanding across the tropics for the better part of the past twenty years due to high returns from palm oil production. But palm oil isn't necessarily the most profitable form of land use in wildlife-rich areas, as one conservation entrepreneur is demonstrating in Costa Rica.David Lando Ramirez, a landowner in Sarapiqui, northeastern Costa Rica, has converted a small patch of oil palm into a thriving ecotourism business centered around people's love of the Central American nation's stunning diversity of birds.
Mammal-watching: one man's obsession to see the world's mammals
(10/16/2013) There are more than 5,000 different mammal species across the globe, but with this number being dwarfed by the 10,000 bird species, it is little wonder that bird-watching has become the most common wildlife watching hobby in the world. While there are thousands of websites dedicated to ornithology enthusiasts, with information detailing the best places to see particular species and how to find them, similar resources about mammals remain scarce.
The hidden Caribbean: sustainable tourism arrives in the Dominican Republic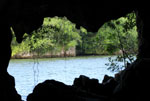 (07/18/2013) Finding true ecotourism companies isn't easy. While the tourism industry worldwide has latched onto the term 'ecotourism,' in many cases it's more propaganda than reality. Especially in heavily-touristed areas—like the Caribbean Islands—it's difficult to find efforts that are actually low impact, sustainable as possible, and educational. However, some companies are beginning to make headway in a region known for all-inclusive resorts and big cruises. One such company is the relatively young Explora! Ecotour in the Dominican Republic, run by passionate naturalists, Manny Jimenes and Olyenka Sang.
Saving Gorongosa: E.O. Wilson on protecting a biodiversity hotspot in Mozambique
(05/30/2013) If you fly over the Great African Rift Valley from its northernmost point in Ethiopia, over the great national parks of Kenya and Tanzania, and follow it south to the very end, you will arrive at Gorongosa National Park in central Mozambique. Plateaus on the eastern and western sides of the park flank the lush valley in the center. Dramatic limestone cliffs, unexplored caves, wetlands, vast grasslands, rivers, lakes, and a patchwork of savanna and forest contribute to the incredible diversity of this park. What makes this place truly unique, however, is Mount Gorongosa—a towering massif that overlooks the valley below.
Luxury nature travel with a philanthropic twist
(05/23/2013) A hundred years ago, nature-oriented travel to places like tropical Africa and Asia was often associated with big game hunting. Today cameras have mostly replaced guns as nature-lovers travel to the far-reaches of the globe to see wildlife, experience rugged mountains, and explore remote beaches. But nature-based travel isn't necessarily ecotourism — there can be detrimental social and environmental impacts from tourism. While most people associate these problems with mass-market tourism, they can also result from low-volume, high-end travel that fails to respect local customs, supports abusive practices, or encourages wantonly wasteful resource consumption.
Why responsible tourism is the key to saving the mountain gorilla
(05/13/2013) The sunlight poured through the canopy, casting dappled shade over Makara, a large silverback mountain gorilla, as he cast his eyes around the forest clearing, checking on the members of his harem. A female gorilla reclined on a bank of dense vegetation of the most brilliant green, clutching her three day old infant close to her chest, and elsewhere, two juvenile gorillas played around a small tree, running rings around it until one crashed into the other and they rolled themselves into a roly-poly ball of jet black fluff that came to a halt a few meters in front of our delighted group.
Conservation without supervision: Peruvian community group creates and patrols its own protected area
(04/30/2013) When we think of conservation areas, many of us think of iconic National Parks overseen by uniformed government employees or wilderness areas purchased and run from afar by big-donor organizations like The Nature Conservancy, Wildlife Conservation Society, WWF, or Conservation International. But what happens to ecosystems and wildlife in areas where there's a total lack of government presence and no money coming in for its protection? This is the story of one rural Peruvian community that took conservation matters into their own hands, with a little help from a dedicated pair of primate researchers, in order to protect a high biodiversity cloud forest.
Proposed coal plant threatens Critically Endangered Philippine cockatoo
(04/02/2013) One kilometer off the Philippine island of Palawan lies the Rasa Island Wildlife Sanctuary; here forest grows unimpeded from a coral island surrounded by mangroves and coral reefs. Although tiny, over a hundred bird species have been recorded on the island along with a major population of large flying foxes, while in the waters below swim at least 130 species of coral fish, three types of marine turtles, and that curious-looking marine mammal, dugongs. Most importantly, perhaps, the island is home to the world's largest population of Philippine cockatoos (Cacatua haematuropygia), currently listed as Critically Endangered. But, although uninhabited by people, Rasa Island may soon be altered irrevocably by human impacts.
Beyond the resorts: traveling the real and wild Dominican Republic (photos)
(01/29/2013) For its stunning variety of ecosystems, the Dominican Republic is like a continent squished into half an island. Lowland rainforests, cloud forests, pine forests, dry forests, mangroves, savannah, coastal lagoons, salt lakes, a rift valley, karst land formations, four mountain ranges—including the highest mountain in the Caribbean—and not to mention some of the best beaches, snorkeling, and scuba diving in the hemisphere can all be reached within just a few hours drive of the capital, Santo Domingo. Yet, bizarrely, most tourists who visit the Dominican Republic never venture out of their all-inclusive resort, missing out on some of the most stunning landscapes—and accessible wildlife viewing—in the Caribbean.
Telling the story of the father of sea turtle conservation
(01/21/2013) In 1959, visionary Archer Carr founded the world's first conservation group devoted solely to sea turtles. Working with these marine denizens in Costa Rica, Carr was not only instrumental in changing local views of the turtles—which at the time were being hunted and eaten at unsustainable rates—but also in establishing basic practices for sea turtle conservation today. Now a new film by Two-Head Video, Inc. tells the story of Carr's work and the perils still facing marine turtles today.
Gold mine approved in French Guiana's only national park
(01/15/2013) Tensions have risen in the small Amazonian community of Saül in French Guiana after locals discovered that the French government approved a large-scale gold mining operation near their town—and inside French Guiana's only national park—against their wishes. Run by mining company, Rexma, locals and scientists both fear that the mine would lead to deforestation, water pollution, and a loss in biodiversity for a community dependent on the forest and ecotourism.
Legislation leaves future of world's largest temperate rainforest up in the air
(11/27/2012) Although unlikely to pass anytime in the near term, recurring legislation that would hand over 80,000 acres of the Tongass Rainforest to a Native-owned logging corporation has put local communities on guard in Southeast Alaska. "The legislation privatizes a public resource. It takes land that belongs to all of us, and that all of us have a say in the use and management of, and it gives that land to a private for-profit corporation," Andrew Thoms, Executive Director of the Sitka Conservation Society, told mongabay.com in a recent interview.
Madagascar gets biggest protected area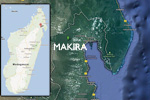 (08/17/2012) Madagascar officially designated its largest protected area in a region renowned for its tropical rainforests and rich diversity of wildlife, including 20 species of lemurs, reports the Wildlife Conservation Society (WCS), a group that was instrumental in establishing the park. Makira Natural Park covers some 372,470 hectares of forest in northeastern Madagascar, the most biodiverse part of the island nation.
Saving 'Avatar Grove': the battle to preserve old-growth forests in British Columbia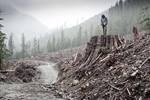 (07/23/2012) A picture is worth a thousand words: this common adage comes instantly to mind when viewing T.J. Watt's unforgettable photos of lost trees. For years, Watt has been photographing the beauty of Vancouver Island's ancient temperate rainforests, and documenting their loss to clearcut logging. The photographer and environmental activist recently helped co-found the Ancient Forest Alliance (AFA), a group devoted to saving the island's and British Columbia's (BC) last old-growth while working with the logging industry to adopt sustainable practices. This February the organization succeeded in saving Avatar Grove—which was only discovered in 2009—from being clearcut. The grove, a rare stand of massive and ancient trees named after the popular eco science-fiction movie, has become a popular tourist destination, providing a new economic incentive for communities to protect rather than cut Canada's last great forests.
Protecting jaguars a good business decision for ranchers

(06/20/2012) Live jaguars are worth considerably more for ecotourism than they livestock they kill, according to a study presented at the annual meeting of the Association for Tropical Biology and Conservation in Bonito, Brazil.
Saving Indonesia's monkey with a heart-shaped bottom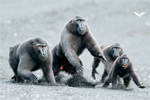 (06/05/2012) North Sulawesi is one of the world's most beautiful places. Verdant forests and stunning coral reefs, combined with high levels of species endemism, make it a top biodiversity hotspot. But pressure on the region's natural resources is mounting. Mining projects, conversion of forests for plantations, overfishing, and the expansion of a commercial bushmeat trade is endangering some of Sulawesi's most charismatic animals, including the distinctive Sulawesi crested black macaque. Found only in North Sulawesi, the crested black macaque could be one of Indonesia's most iconic conservation symbols, but relatively few people know of its existence. And the locals who do may be inclined to eat it as a delicacy.
Exploring Asia's lost world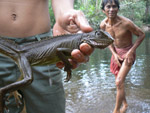 (05/03/2012) Abandoned by NGOs and the World Bank, carved out for rubber plantations and mining by the Cambodian government, spiraling into a chaos of poaching and illegal logging, and full of endangered species and never-explored places, Virachey National Park may be the world's greatest park that has been written off by the international community. But a new book by explorer and PhD student, Greg McCann, hopes to change that. Entitled Called Away by a Mountain Spirit: Journey to the Green Corridor, the book highlights expeditions by McCann into parts of Virachey that have rarely been seen by outsiders and have never been explored scientifically, including rare grasslands that once housed herds of Asian elephants, guar, and Sambar deer, before poachers drove them into hiding, and faraway mountains with rumors of tigers and mainland Javan rhinos.
Turkey's rich biodiversity at risk
(03/28/2012) Turkey: the splendor of the Hagia Sophia, the ruins of Ephesus, and the bizarre caves of the Cappadocia. For foreign travelers, Turkey is a nation of cultural, religious, and historic wonders: a place where cultures have met, clashed, and co-created. However, Turkey has another wealth that is far less known: biodiversity. Of the globe's 34 biodiversity hotspots, Turkey is almost entirely covered by three: the Caucasus, the Irano-Anatolian, and the Mediterranean. Despite its wild wealth, conservation is not a priority in Turkey and recent papers in Science and Biological Conservation warn that the current development plans in the country, which rarely take the environment into account, are imperiling its species and ecosystems.
Tourism for biodiversity in Tambopata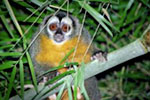 (02/27/2012) Research and exploration in the Neotropics are extraordinary, life-changing experiences. In the past two decades, a new generation of collaborative projects has emerged throughout Central and South America to provide access to tropical biodiversity. Scientists, local naturalists, guides, students and travelers now have the chance to mingle and share knowledge. Fusion programs offering immersion in tropical biology, travel, ecological field work, and adventure often support local wilderness preservation, inspire and educate visitors.
Margaret Southern: small efforts can add up to big impact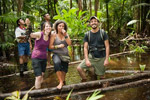 (02/13/2012) Margaret Southern writes about international conservation strategies and projects for The Nature Conservancy's editorial strategy team. She also writes about green living for TNC's Cool Green Science blog. She recently started All Hands On Earth, an organization which informs the public about the little things anyone can do to make a positive impact on the planet. Southern's newest project is Picnic for the Planet, an Earth Day celebration, which begins next month.
Saving the world's biggest river otter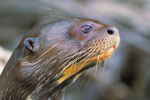 (01/30/2012) Charismatic, vocal, unpredictable, domestic, and playful are all adjectives that aptly describe the giant river otter (Pteronura brasiliensis), one of the Amazon's most spectacular big mammals. As its name suggest, this otter is the longest member of the weasel family: from tip of the nose to tail's end the otter can measure 6 feet (1.8 meters) long. Living in closely-knit family groups, sporting a complex range of behavior, and displaying almost human-like capricious moods, the giant river otter has captured a number of researchers and conservationists' hearts, including Dutch conservationist Jessica Groenendijk.
Will Taiwan save its last pristine coastline?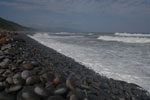 (01/05/2012) Voters in the January 14 Taiwanese presidential election will decide the fate of the island's last pristine wilderness known as the Alangyi Trail. Amongst the three candidates, only one (Tsai Ing-wen from the Democratic Progressive Party) may support the conservation of Alangyi Trail and its coastline. One of the top domestic stories of 2011 were the efforts by the Pingtung County government, indigenous tribes, and NGOs to preserve the Alangyi Trail, according to the Taiwan Environmental Information Center. Alangyi is now a major issue reflecting steadily growing environmental concern amongst the Taiwanese, but its fate is sadly uncertain.
The other side of the Penan story: threatened tribe embraces tourism, reforestation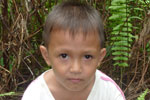 (12/19/2011) News about the Penan people is usually bleak. Once nomadic hunter-gatherers of the Malaysian state of Sarawak on Borneo, the indigenous Penan have suffered decades of widespread destruction of their forests and an erosion of their traditional culture. Logging companies, plantation developments, massive dams, and an ambivalent government have all played a role in decimating the Penan, who have from time-to-time stood up to loggers through blockades, but have not been successful in securing recognition of legal rights to their traditional lands. Yet even as the Penan people struggle against the destruction of their homelands, they are not standing still. Several Penan villages have recently begun a large-scale reforestation program, a community tourism venture, and proclaimed their a portion of their lands a "Peace Park."
Ecotourism isn't bad for wildlife in the Amazon

(11/23/2011) Ecotourism doesn't hurt biodiversity, and in some cases may even safeguard vulnerable areas, concludes a new study from the Amazon in Mammalian Biology. Surveying large mammals in an ecotourism area in Manu National Biosphere, the researchers found that ecotourists had no effect on the animals. However, the researchers warn that not all ecotourism is the same, and some types may, in fact, hurt the very animals tourists come to see.
Seahorses under stress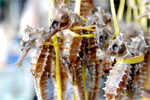 (11/21/2011) With about 25 million seahorses sold each year, global consumption of seahorses is massive. They're used in traditional Asian medicine and also sold as curios and aquarium pets. Over the last decade, overexploitation and habitat degradation have prompted declines of between 15 to 70 percent in many seahorse populations. Marine biologist and author Helen Scales notes there is much still unknown about seahorses.
Loango National Park lodge to re-open

(09/21/2011) A renowned ecotourism lodge will re-open in Gabon's Loango National Park more than a year after it suspended operations due to a dispute with authorities over flight access to the region.
South Sudan's choice: resource curse or wild wonder?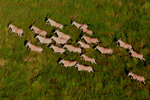 (07/11/2011) After the people of South Sudan have voted overwhelmingly for independence, the work of building a nation begins. Set to become the world's newest country on July 9th of this year, one of many tasks facing the nation's nascent leaders is the conservation of its stunning wildlife. In 2007, following two decades of brutal civil war, the Wildlife Conservation Society (WCS) surveyed South Sudan. What they found surprised everyone: 1.3 million white-eared kob, tiang (or topi) antelope and Mongalla gazelle still roamed the plains, making up the world's second largest migration after the Serengeti. The civil war had not, as expected, largely diminished the Sudan's great wildernesses, which are also inhabited by buffalo, giraffe, lion, bongo, chimpanzee, and some 8,000 elephants. However, with new nationhood comes tough decisions and new pressures. Multi-national companies seeking to exploit the nation's vast natural resources are expected to arrive in South Sudan, tempting them with promises of development and economic growth, promises that have proven uneven at best across Africa.
How do tourists view the Serengeti?

(06/27/2011) Serengeti National Park in Tanzania, an immense expanse of East African savanna, is a world famous tourist destination because of its plentiful megafauna, particularly the great migrating herds of wildebeest. Yet despite huge visitor numbers and the annual revenue of millions of US dollars, local poverty and increasing population continue to imperil the reserve. A new study in mongabay.com's open-access journal Tropical Conservation Science found that while tourists to the Serengeti overall report a high degree of satisfaction with their trip, they are concerned about the future of the ecosystem.
Environment versus economy: local communities find economic benefits from living next to conservation areas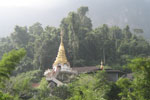 (06/12/2011) While few would question that conserving a certain percentage of land or water is good for society overall, it has long been believed that protected areas economically impoverish, rather than enrich, communities living adjacent to them. Many communities worldwide have protested against the establishment of conservation areas near them, fearing that less access and increased regulations would imperil their livelihoods. However, a surprising study overturns the common wisdom: showing that, at least in Thailand and Costa Rica, protected areas actually boost local economies and decrease poverty.
Cambodia's wildlife pioneer: saving species and places in Southeast Asia's last forest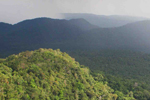 (05/11/2011) Suwanna Gauntlett has dedicated her life to protecting rainforests and wildlife in some of the world's most hostile and rugged environments and has set the trend of a new generation of direct action conservationists. She has designed, implemented, and supported bold, front-line conservation programs to save endangered wildlife populations from the brink of extinction, including saving the Amur Tiger (also known as the Siberian Tiger) from extinction in the 1990s in the Russian Far East, when only about 80 individuals remained and reversing the drastic decline of Olive Ridley sea turtles along the coast of Orissa, India in the 1990s, when annual nestings had declined from 600,000 to a mere 8,130. When she first arrived in Cambodia in the late 1990s, its forests were silent. 'You couldn't hear any birds, you couldn't hear any wildlife and you could hardly see any signs of wildlife because of the destruction,' Gauntlett said. Wildlife was being sold everywhere, in restaurants, on the street, and even her local beauty parlor had a bear.
New eco-tour to help save bizarre antelope in 'forgotten' region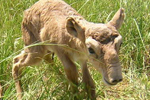 (05/01/2011) Imagine visiting a region that is largely void of tourists, yet has world-class bird watching, a unique Buddhist population, and one of the world's most bizarre-looking and imperilled mammals: the saiga. A new tour to Southern Russia hopes to aid a Critically Endangered species while giving tourists an inside look at a region "largely forgotten by the rest of the world," says Anthony Dancer. Few species have fallen so far and so fast in the past 15 years as Central Asia's antelope, the saiga. Its precipitous decline is reminiscent of the bison or the passenger pigeon in 19th Century America, but conservationists hopes it avoids the fate of the latter.
Rise in wildlife tourism in India comes with challenges

(04/27/2011) A line of tourist jeeps clogs the road in a dry forest, as all eyes—and cameras—are on a big cat ambling along the road ahead; when the striped predator turns for a moment to face the tourists, voices hush and cameras flash: this is a scene that over the past decade has becoming increasingly common in India. A new study in Conservation Letters surveyed ten national parks in India and found that attendance had increased on average 14.9% from 2002-2006, but while rising nature tourism in India comes with education and awareness opportunities, it also brings problems.
From the Serengeti to Lake Natron: is the Tanzanian government aiming to destroy its wildlife and lands?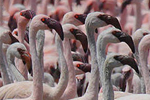 (04/14/2011) What's happening in Tanzania? This is a question making the rounds in conservation and environmental circles. Why is a nation that has so much invested in its wild lands and wild animals willing to pursue projects that appear destined not only to wreak havoc on the East African nation's world-famous wildlife and ecosystems, but to cripple its economically-important tourism industry? The most well known example is the proposed road bisecting Serengeti National Park, which scientists, conservationists, the UN, and foreign governments alike have condemned. But there are other concerns among conservationists, including the fast-tracking of soda ash mining in East Africa's most important breeding ground for millions of lesser flamingo, and the recent announcement to nullify an application for UNESCO Heritage Status for a portion of Tanzania's Eastern Arc Mountains, a threatened forest rich in species found no-where else. According to President Jakaya Kikwete, Tanzania is simply trying to provide for its poorest citizens (such as communities near the Serengeti and the Eastern Arc Mountains) while pursuing western-style industrial development.
Cambodian prime minister cancels titanium mine project citing impact on biodiversity and local people

(04/11/2011) In a surprise move, the Cambodian Prime Minister, Sandech Hun Sen, has cancelled a titanium strip mine project in one of Southeast Asia's last great intact forest ecosystems, the Cardamom Mountains. According to a press release sent out by the Cambodian government the mine was canceled due to "concerns of the impact on the environment, biodiversity and local livelihoods" of villagers. The mine, which was planned to sit directly in the migration route for the largest population of Asian elephants in Cambodia, had been largely opposed by locals in the region who spent years developing eco-tourism in the region.
Pet trade, palm oil, and poaching: the challenges of saving the 'forgotten bear'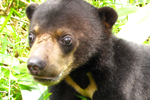 (03/20/2011) Siew Te Wong is one of the few scientists who study sun bears (Ursus malayanus). He spoke with Laurel Neme on her "The WildLife" radio show and podcast about the interesting biological characteristics of this rare Southeast Asian bear, threats to the species and what is being done to help them. Sun bears are the smallest of the eight bear species. They're about half the size of a North American black bear and typically sport a tan crescent on their chests. Similar to the "moon bear," or Asian black bear, the sun bear's name comes from this marking, which looks like a rising or setting sun.
Into Colombia's Sierra Nevada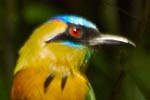 (03/11/2011) The highest coastal mountain on the planet rises 18,942 feet (5,775-meters) above the Caribbean Sea; it's snow-capped peaks piercing through the clouds some 24 miles from an idyllic tropical beach. But to the casual visitor, the Sierra Nevada of Santa Marta in Colombia does not seem so grandiose. It slopes up and down until it disappears into the clouds, jealously concealing its tropical glacier. Somewhere up there, shrouded in mystery, like an ancient treasure, hides the most impressive summit in the Caribbean. People living along this part of the coastline say the snows of the Sierra are visible from some beaches, but to me they remain elusive even after many trips to the region. To catch a glimpse of the snows from the Caribbean would be a welcoming gift, but I have really come here to experience the Sierra, whatever it would reveal.
Parks key to saving India's great mammals from extinction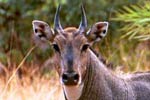 (02/24/2011) Krithi Karanth grew up amid India's great mammals—literally. Daughter of conservationist and scientist Dr. Ullas Karanth, she tells mongabay.com that she saw her first wild tigers and leopard at the age of two. Yet, the India Krithi Karanth grew up in may be gone in a century, according to a massive new study by Karanth which looked at the likelihood of extinction for 25 of India's mammals, including well-known favorites like Bengal tigers and Asian elephants, along with lesser known mammals (at least outside of India) such as the nilgai and the gaur. The study found that given habitat loss over the past century, extinction stalked seven of India's mammals especially: Asiatic lions, Bengal tigers, wild dogs (also known as dholes), swamp deer, wild buffalo, Nilgiri Tahr, and the gaur. However, increasing support of protected areas and innovative conservation programs outside of parks would be key to saving India's wildlife in the 21st Century.
Cambodia approves titanium mine in world's 'most threatened forest'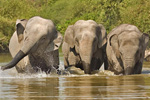 (02/15/2011) The Cambodian government has approved a mine that environmentalists and locals fear will harm wildlife, pollute rivers, and put an end to a burgeoning ecotourism in one of the last pristine areas of what Conservation International (CI) recently dubbed 'the world's most threatened forest'. Prime Minister, Hun Sen, approved the mine concession to the United Khmer Group, granting them 20,400 hectares for strip mining in Cambodia's Cardamom Mountains. The biodiverse, relatively intact forests of the Cardamom Mountains are a part of the Indo-Burma forest hotspot of Southeast Asia, which CI put at the top of their list of the world's most threatened forests. With only 5% of habitat remaining, the forest was found to be more imperiled than the Amazon, the Congo, and even the forests of Indonesia and Malaysia.
India pledges to protect cat-crazy rainforest

(02/14/2011) The Jeypore-Dehing lowland rainforest in Assam, India is home to a record seven wild cat species, more than any other ecosystem on Earth. While it took wildlife biologist Kashmira Kakati two years of camera-trapping to document the seven felines, the announcement put this forest on the map—and may very well save it. A year after the record was announced, officials are promising to pursue permanent preservation status for the forest, which is threatened by logging, poaching, oil and coal industries, and big hydroelectric projects.
As South Sudan eyes independence, will it choose choose to protect its wildlife?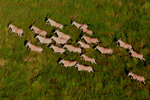 (02/11/2011) After the people of South Sudan have voted overwhelmingly for independence, the work of building a nation begins. Set to become the world's newest country on July 9th of this year, one of many tasks facing the nation's nascent leaders is the conservation of its stunning wildlife. In 2007, following two decades of brutal civil war, the Wildlife Conservation Society (WCS) surveyed South Sudan. What they found surprised everyone: 1.3 million white-eared kob, tiang (or topi) antelope and Mongalla gazelle still roamed the plains, making up the world's second largest migration after the Serengeti. The civil war had not, as expected, largely diminished the Sudan's great wildernesses, which are also inhabited by buffalo, giraffe, lion, bongo, chimpanzee, and some 8,000 elephants. However, with new nationhood comes tough decisions and new pressures. Multi-national companies seeking to exploit the nation's vast natural resources are expected to arrive in South Sudan, tempting them with promises of development and economic growth, promises that have proven uneven at best across Africa.
Paradise & Paradox: a semester in Ecuador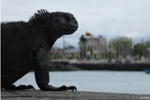 (02/02/2011) A semester abroad is an opportunity to live a sort of compacted life. In a few short months you seem to gain the experience of a much longer time and make enough memories to fill years. I recall a weeklong trip to the Alvord Desert with a field biology class from Portland Community College: the adventure of living out of a van, conducting research, and experiencing a place with classmates turned colleagues and professors turned friends who knew the desert like the backs of their hands. In that regard, it had a lot in common with my semester in Ecuador, but I can't think of anything that could have prepared me for a four month stay in a small South American country that I knew very little about.
'Environmental and social aggression': oil exploration threatens award-winning marine protected area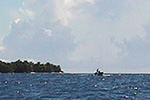 (12/01/2010) The Seaflower Marine Protected Area (MPA), which recently won top honors at the Convention on Biological Diversity (CBD) in Japan, is now under threat by planned oil exploration in the region, according to the Providence Foundation which is devoted to protecting the area. Proposed blocs for exploration by the Colombian government lie in the North Cays adjacent to the park, and perhaps even inside MPA boundaries. Spreading over 65,000 square kilometers (6.5 million hectares), Seaflower MPA lies within the Colombian Caribbean department known as the Archipelago of San Andres, Old Providence and Santa Catalina. This richly diverse Archipelago is home to a known 57 coral species, over 400 fish, and some 150 birds, as well as the ethnic and cultural minority: the Raizal people. The prospect of massive infrastructure or, even worse, oil spills in the area could devastate the park and locals' livelihoods.
Massive shark sanctuary declared in the Coral Triangle

(11/17/2010) A shark sanctuary has been declared around the Raja Ampat islands in Indonesia. Larger than Denmark, the new sanctuary covers 17,760 square miles (46,000 square kilometers) of one of the world's richest marine biodiverse region, the Coral Triangle. Protections not only cover sharks, but dugongs, marine turtles, mobulas, and manta rays as well. In addition, reef bombing and fishing for the aquarium trade are banned.
Ecotourism brings home the bacon in the Peruvian Amazon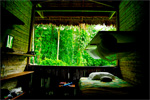 (11/15/2010) Ecotourism is one of the most profitable uses of tropical forest in the Tambopata area of the Peruvian Amazon, according to a study released on 29 September in the journal PLoS ONE. In 2002 Peru's government passed legislation to allow ecotourism-controlled zones in the Tambopata region of southeastern Peru. Policymakers hoped such zones would preserve spectacular rainforest habitats while bringing in steady money. Critics have wondered, though, whether the strategy can succeed in the face of other profitable―yet destructive―ventures on pristine forested land.
Island nation announces Ukraine-sized sanctuary for whales and dolphins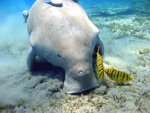 (10/24/2010) Dolphins, whales, and dugongs will be safe from hunting in the waters surrounding the Pacific nation of Palau. At the Convention on Biological Diversity (CBD) in Nagoya, Japan, Palau's Minister of the Environment, Natural Resources and Tourism, Harry Fritz, announced the establishment of a marine mammal sanctuary covering over 230,000 square miles (60,000 square kilometers) of the nation's waters, an area the size of Mongolia.
Environmentalists must recognize 'biases and delusions' to succeed

(10/18/2010) As nations from around the world meet at the Convention on Biological Diversity in Nagoya, Japan to discuss ways to stem the loss of biodiversity worldwide, two prominent researchers argue that conservationists need to consider paradigm shifts if biodiversity is to be preserved, especially in developing countries. Writing in the journal Biotropica, Douglas Sheil and Erik Meijaard argue that some of conservationists' most deeply held beliefs are actually hurting the cause.
Exploring Kenya's sky island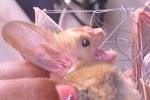 (08/18/2010) Rising over 2,500 meters from Kenya's northern desert, the Mathews Range is a sky island: isolated mountain forests surrounded by valleys. Long cut off from other forests, 'sky islands' such as this often contain unique species and ecosystems. Supported by the Nature Conservancy, an expedition including local community programs Northern Rangelands Trust and Namunyak Conservancy recently spent a week surveying the mountain range, expanding the range of a number of species and discovering what is likely a new insect.
Camp merges technology and conservation for local students

(08/03/2010) From July 23-25, Taiwanese undergraduates held a camp in Bukit Lawang, Sumatra, that taught local high school students to use technology as a conservation tool. The Taiwanese volunteers aimed to help local people in this popular rainforest tourism destination to use the Internet to research and promote sustainable tourism practices. The high school students, who had no formal training in using the Internet, learned to use email, produce a blog, conduct research, and use GPS devices to create a map of part of the local trail system.
Plight of the Bengal: India awakens to the reality of its tigers—and their fate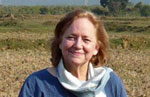 (06/06/2010) Over the past 100 years wild tiger numbers have declined 97% worldwide. In India, where there are 39 tiger reserves and 663 protected areas, there may be only 1,400 wild tigers left, according to a 2008 census, and possibly as few as 800, according to estimates by some experts. Illegal poaching remains the primary cause of the tiger's decline, driven by black market demand for tiger skins, bones and organs. One of India's leading conservationists, Belinda Wright has been on the forefront of the country's wildlife issues for over three decades. While her organization, the Wildlife Protection Society of India (WPSI), does not carry the global recognition of large international NGOs, her group's commitment to the preservation of tigers, their habitat, and the Indian people who live with these apex predators, is one reason tigers still exist.
Banning Tiger Tourism in India: a perspective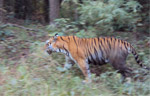 (05/05/2010) A debate rages in India over a proposal to ban tiger tourism in India. Proponents of the ban say tiger tourism is intrusive and disturbs tigers and wildlife in tiger reserves. Opponents say that among all the threats to the tiger, tourism is the least potent and raises awareness. Shubhobroto Ghosh of TRAFFIC India weighs in on the issue after seeing his first wild tiger in the flesh.
Sharks swim safe around the Maldives

(03/11/2010) Sharks that dwell in the Maldives can breathe a sigh of relief: the island nation has declared 90,000 square kilometers of the Indian Ocean a safe-haven for sharks, banning shark fishing as well as any trade in shark fins.
Secrets of the Amazon: giant anacondas and floating forests, an interview with Paul Rosolie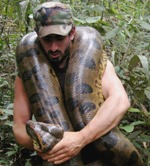 (03/10/2010) At twenty-two Paul Rosolie has seen more adventure than many of us will in our lifetime. First visiting the Amazon at eighteen, Rosolie has explored strange jungle ecosystems, caught anaconda and black caiman bare-handed, joined indigenous hunting expeditions, led volunteer expeditions, and hand-raised a baby giant anteater. "Rainforests were my childhood obsession," Rosolie told Mongabay.com. "For as long as I can remember, going to the Amazon had been my dream […] In those first ten minutes [of visiting], cowering under the bellowing calls of howler monkeys, I saw trails of leaf cutter ants under impossibly large, vine-tangled trees; a flock of scarlet macaws crossed the sky like a brilliant flying rainbow. I saw a place where nature was in its full; it is the most amazing place on earth."
Where two worlds collide: visiting Tabin Wildlife Reserve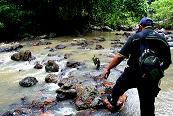 (02/21/2010) The vehicle stopped on the way into Tabin Wildlife Reserve as a troupe of pig-tailed macaques began making their way across the road. In a flash a domestic dog, which may or may not have been 'ownerless', ambushed the group. Chaos erupted as the big predator fell upon the community. As quickly as it began it was all over and the dog was rushing over with an infant monkey in its mouth, leaving the macaques' screeching out their helplessness. As my uncustomary welcome to Tabin Wildlife Reserve shows: the park is a meeting of two worlds. On the left side of the road leading into the reserve is a massive oil palm plantation, on the right is the rainforest and the many species the reserve protects. Tabin, therefore, gives the visitor a unique up-close view of the debate raging in Borneo and throughout much of Southeast Asia over conservation and environment versus oil palm plantations.
Coup leaders sell out Madagascar's forests, people
(01/27/2010) Madagascar is renowned for its biological richness. Located off the eastern coast of southern Africa and slightly larger than California, the island has an eclectic collection of plants and animals, more than 80 percent of which are found nowhere else in the world. But Madagascar's biological bounty has been under siege for nearly a year in the aftermath of a political crisis which saw its president chased into exile at gunpoint; a collapse in its civil service, including its park management system; and evaporation of donor funds which provide half the government's annual budget. In the absence of governance, organized gangs ransacked the island's biological treasures, including precious hardwoods and endangered lemurs from protected rainforests, and frightened away tourists, who provide a critical economic incentive for conservation. Now, as the coup leaders take an increasingly active role in the plunder as a means to finance an upcoming election they hope will legitimize their power grab, the question becomes whether Madagascar's once highly regarded conservation system can be restored and maintained.
Palm oil both a leading threat to orangutans and a key source of jobs in Sumatra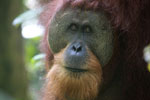 (09/24/2009) Of the world's two species of orangutan, a great ape that shares 96 percent of man's genetic makeup, the Sumatran orangutan is considerably more endangered than its cousin in Borneo. Today there are believed to be fewer than 7,000 Sumatran orangutans in the wild, a consequence of the wildlife trade, hunting, and accelerating destruction of their native forest habitat by loggers, small-scale farmers, and agribusiness. Gunung Leuser National Park in North Sumatra is one of the last strongholds for the species, serving as a refuge among paper pulp concessions and rubber and oil palm plantations. While orangutans are relatively well protected in areas around tourist centers, they are affected by poorly regulated interactions with tourists, which have increased the risk of disease and resulted in high mortality rates among infants near tourist centers like Bukit Lawang. Further, orangutans that range outside the park or live in remote areas or on its margins face conflicts with developers, including loggers, who may or may not know about the existence of the park, and plantation workers, who may kill any orangutans they encounter in the fields. Working to improve the fate of orangutans that find their way into plantations and unprotected community areas is the Orangutan Information Center (OIC), a local NGO that collaborates with the Sumatran Orangutan Society (SOS).
New rainforest reserve in Congo benefits bonobos and locals

(05/25/2009) A partnership between local villages and conservation groups, headed up by the Bonobo Conservation Initiative (BCI), has led to the creation of a new 1,847 square mile (4,875 square kilometer) reserve in the Democratic Republic of Congo (DRC). The reserve will save some of the region's last pristine forests: ensuring the survival of the embattled bonobo—the least-known of the world's four great ape species—and protecting a wide variety of biodiversity from the Congo peacock to the dwarf crocodile. However, the Kokolopori Bonobo Reserve is worth attention for another reason: every step of its creation—from biological surveys to reserve management—has been run by the local Congolese NGO and villages of Kokolopori.
Population of Asian elephants discovered in Malaysian park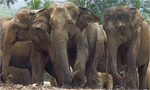 (01/15/2009) A population of 631 Asian elephants has been documented in Malaysia's Taman Negara National Park, reports the Wildlife Conservation Society (WCS). The population may be the largest in Southeast Asia. Scientists from WCS and Malaysia's Department of Wildlife and National Parks (DWNP) counted elephant dung piles to estimate the protected area's population size. There were no previous scientific population surveys for elephants in the park.
New Costa Rica guide offers insight on responsible tourism

(08/04/2008) Costa Rica is the world's most popular destination for rainforest tourism thanks to its spectacular biodiversity, relative ease-of-access and safety, and many natural attractions. In 2007 nearly 2 million tourists visited the country, generating almost 2 billion in revenue -- more than the combined income from bananas and coffee.
Birds face higher risk of extinction than conventionally thought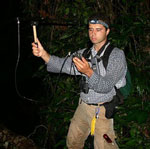 (07/14/2008) Birds may face higher risk of extinction than conventionally thought, says a bird ecology and conservation expert from Stanford University. Dr. Cagan H. Sekercioglu, a senior research scientist at Stanford and head of the world's largest tropical bird radio tracking project, estimates that 15 percent of world's 10,000 bird species will go extinct or be committed to extinction by 2100 if necessary conservation measures are not taken. While birds are one of the least threatened of any major group of organisms, Sekercioglu believes that worst-case climate change, habitat loss, and other factors could conspire to double this proportion by the end of the century. As dire as this sounds, Sekercioglu says that many threatened birds are rarer than we think and nearly 80 percent of land birds predicted to go extinct from climate change are not currently considered threatened with extinction, suggesting that species loss may be far worse than previously imagined. At particular risk are marine species and specialists in mountain habitats.
Rwanda launches reforestation project to protect chimps, drive ecotourism

(03/17/2008) conservationists in Rwanda have launched an ambitious reforestation project that aims to create a forest corridor to link an isolated group of chimpanzees to larger areas of habitat in Nyungwe National Park. The initiative, called the Rwandan National conservation Park, is backed by the Rwandan government, the Great Ape Trust of Iowa, and Earthpark, a group seeking to build an indoor rainforest in the U.S. Midwest.
Advice for your first visit to the rainforest

(03/03/2008) Harry S. Pariser has been writing travel guides and articles for many years now. His most recent guide is Explore Costa Rica which has extensive information about the nation and its rainforests.
7-year old nature guide becomes Belize environmental hero as adult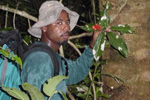 (11/16/2007) Each year hundreds of thousands of nature-oriented tourists visit Belize to see the Central American country's spectacular coral reefs, biodiverse rainforests, and ancient Mayan ruins. However few visitors realize that Belize's natural resources are at risk. Timber and oil extraction, agricultural encroachment, coastal development, pollution and unrestrained tourism are all increasing threats to Belizean ecosystems. Unless something is done to address these concerns, within a generation these pressures could present considerable problems for Belize. Dr. Colin Young, head of the environmental science program at Galen University in Belize, says that while he is greatly concerned about these issues, there is still time to ensure healthy forests and reefs in Belize.
Afghanistan's recovery effort drives poaching of rare wildlife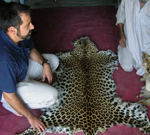 (08/07/2007) Few people associate Afghanistan with wildlife and it would come as a surprise to many that the war-torn, but fledging democracy is home to snow leopards, Persian leopards, five species of bush dog, Marco Polo Sheep, Asiatic Black Bear, Brown Bears, Striped Hyenas, and numerous bird of prey species. While much of this biodiversity has survived despite years of civil strife, Afghanistan's wildlife faces new pressures from the very people who are charged with rebuilding the country: contractors and the development community are driving the trade in rare and endangered wildlife. This development, coupled with lack of laws regulating resource management and growing instability, complicate efforts to protect the country's wildlife. Working to address these challenges is Dr. Alex Dehgan, Afghanistan Country Director for the Wildlife conservation Society (WCS). WCS is working to implement the Afghanistan Biodiversity conservation Program, a three-year project funded by the US Agency for International Development to promote wildlife and resource conservation in the country.
Wildlife tourism can be detrimental to monkeys

(07/15/2007) Tourism is causing changes in primate behvaior and may be increasing infant mortality and the transmission of disease, reports a study published in the October edition of the International Journal of Primatology.
An interview with author and eco-lodge pioneer Jack Ewing

(06/12/2007) In 1970 a young man went to Costa Rica, a place he initially confused with Puerto Rico, on an assignment to accompany 150 head of cattle. 37 years and several lifetimes' worth of adventures later, Jack Ewing runs a eco-lodge that serves as a model for a country now considered the world leader in nature travel.
Plan to bring lions, elephants to U.S. excludes Africans
(05/22/2007) Writing in the June 2007 Scientific American one of the scientists who helped put forth a radical proposal to reintroduce historical megafauna -- including camels, cheetah, elephants, and lions -- revisits the scheme, reviewing its basic points and refuting some of the criticism the plan received from the general public and other conservation biologists.
Rare mountain gorillas in Uganda on the increase
(04/20/2007) High endangered mountain gorillas in Uganda are increasing, reports a new census by the Uganda Wildlife Authority, the Wildlife conservation Society, the Max Planck Institute of Anthropology and other groups. The population of gorillas in Bwindi Impenetrable National Park has increased from 320 in 2002 to 340 today. A 1997 study found 300 gorillas, indicating that the park population has increased by 20 percent over the past decade. Aggressive conservation measures have been the key say researchers.
Photos of world's tiniest owl, recently found in Peru

(03/23/2007) One of the world's smallest owls was spotted for the first time in the wild by researchers monitoring the Area de Conservacion Privada de Abra Patricia -- Alto Nieva, a private conservation area in northern Peru, South America. Biologists consider the Long-whiskered Owlet (Xenoglaux loweryi) "a holy grail of South American ornithology."
World's only blue lizard heads toward extinction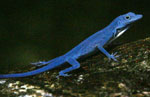 (03/07/2007) High above the forest floor on the remote Colombian island of Gorgona lives a lizard with brilliant blue skin, rivaling the color of the sky. Anolis gorgonae, or the blue anole, is a species so elusive and rare, that scientists have been unable to give even an estimate of its population. Due to the lizard&spod;s isolated habitat and reclusive habits, researchers know little about the blue anole, but are captivated by its stunning coloration.
Ecuadorian brothers show conservation-based microentrepreneurship possible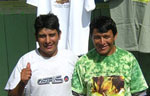 (03/07/2007) Tropical rainforests are declining across most of the world. Since the close of the 1990s deforestation rates have only accelerated as growing levels of consumption and consistent population growth paint an increasingly bleak future for the world's forests and their resident biodiversity. These trends make it easy to lose hope. As such, stories that show local people earning a livelihood from biodiversity conservation are an inspiration.
Responsible tourism: How to travel ethically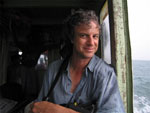 (11/27/2006) Ecotourism is hot. Travel companies everywhere are slapping eco-friendly labels on their tours and hotels to attract green-minded visitors. Alas some "ecotourism" is not really good for the environment or local people. That three-week round-the-world eco-tour via private jet for just $42,950 will generate a lot of greenhouse gases as you're flying between plush lodges that import food and staff from other places. Likewise those wood carvings purchased in tourist centers may come not from indigenous artisans but a factory turning endangered rainforest hardwoods into throwaway tourist items. Heavy anchors dropped on reefs are good neither for the coral reef ecosystem nor the sustainability of the local tourism industry. So what's a true "ecotourist" to do? Is it really possible to travel without trampling culture and tradition and further soiling the environment?





Eco vacationers engage in cutting-edge environmental research

(10/24/2006) There is a species of vacationer who, like me, cannot do what vacationers are meant to do: relax. I am incapable of lying on a beach and sipping an umbrella drink while listening drowsily to reggae hits. I need to be doing something. And given the deteriorating state of our planet, I would prefer it be something useful. This is not about moral strength. It's simply a case of obstinate curiosity, and a certain kind of incurable restlessness. For people like me, there exists the "volunteer vacation." Habitat for Humanity is among the best-known organizations to arrange such trips, but there are others whose missions focus on environmental rather than social causes. Global Vision and the Earthwatch Institute, for example, offer motivated travelers the opportunity to transport their curiosity and energy to exotic locales.





When elephants attack. Surviving an elephant charge in the Congo rainforest of Gabon

(06/26/2006) The elephant charges. The ground trembles. Hearts racing, we are now sprinting through the forest dodging vegetation as the elephant plows right through it. The problem with being chased by an elephant, aside from their obvious size advantage, is they can run faster than you. While wild elephants can be dangerous animals under the right circumstances, other creatures are responsible for more deaths in Africa. Topping the list is the hippo, whose penchant for capsizing canoes that come too close results in the dumping of passengers who often can't swim. Buffalo, crocodiles, and lions are directly responsible for more deaths and injuries.





Jungle trekking in Malaysia's Taman Negara

(03/21/2006) Taman Negara is Malaysia's largest and best-known national park. Spanning 4343 square kilometers, the protected forest area is home to some of southeast Asia'apos;apos;s rarest creatures including tigers, the Malaysian tapir, forest elephants, and the Sumatran rhino. Scientists believe that these rainforests may be the oldest on Earth. Untouched by glaciers during recent ice ages, Taman Negara'apos;apos;s forests have remained largely the same for some 130 million years. This stability produces some of the highest levels of biodiversity on Earth: more than 350 species of birds, 14000 species of plants, and 210 species of mammals can be found in Taman Negara.





Mozambique Gets World Bank conservation, Tourism Project

(12/05/2005) More of Mozambique's natural ecosystems will be conserved, and thus draw more tourism to the country, thanks to a World Bank-funded project that aims to promote economic growth through sustainable use of natural resources.





Exploring freshwater fish habitats in the rainforest of Peru

(11/26/2005) This fall the editor of mongabay.com, a leading environmental science and tropical freshwater fish information site, traveled to the Peruvian Amazon and examined habitats for freshwater fish. As a result of this effort, two new biotope descriptions have been posted on the site. The descriptions include underwater photographs for those interested in replicating the natural conditions of these habitats.





What to pack for your visit to the rainforest

(09/26/2005) Visiting a tropical rainforest promises to be a memorable experience. Rainforests house around half the world's plant and animal species and are home to indigenous people who live in ways quite unlike those in the western world.





Builder of rainforest canopy walkways believes conservation can be profitable

(09/20/2005) This month's issue of The Ecological Finance Review details Greenheart conservation Company, a for-profit company that designs, builds and operates conservation based canopy walkways (canopy trails) and other nature-based attractions around the world. Operating on the premise that conservation can be economically viable, Greenheart believes that is has already become a "model of how to shift gears from an industrial to a green economy." Greenheart has developed or is developing canopy walkways in Peru, Nigeria, Madagascar, Ghana, Brazil, Guyana, the United Kingdon, and Canada.





Ecotourism in the rainforest, a guide to your first visit

(09/14/2005) The rainforest is an incredible place. Having having realistic expectations about your experience, being prepared, and knowing what to bring will make your trip run more smoothly. Hopefully your initial visit to the rainforest will be the first of many.





Guidelines to promote a sustainable tourism

(09/08/2005) With massive growth in tourism predicted in the coming years, two United Nations agencies have teamed up to produce a set of guidelines to help governments around the world to promote a sustainable tourism that spreads prosperity while avoiding harm to the environment and local communities.






Page 1 | Page 2