Jeremy Hance
mongabay.com
February 07, 2011
From 1950 to 2006 the United Nation Food and Agriculture Agency (FAO) estimated that 12,700 metric tons of fish were caught in the Arctic, giving the impression that the Arctic was a still-pristine ecosystem, remaining underexploited by the world's fisheries. However, a recent study by the University of British Colombia Fisheries Center and Department of Earth and Ocean Sciences throws cold water on this widespread belief. According to the study, published in Polar Biology, the total Arctic catch from 1950 to 2006 is likely to have been nearly a million metric tons, almost 75 times the FAO's official record.

"Ineffective reporting, due to governance issues and a lack of credible data on small-scale fisheries, has given us a false sense of comfort that the Arctic is still a pristine frontier when it comes to fisheries," explains lead author Dirk Zeller, a senior research fellow at University of British Colombia's Fisheries Centre, in a press release. "We now offer a more accurate baseline against which we can monitor changes in fish catches and to inform policy and conservation efforts."

Decades of lack of transparency have created the vast difference between the FAO official numbers and the study's findings. Although Arctic fisheries spread over three countries: the US, Russia, and Canada. FAO received fisheries data only from Russia totaling 12,700 metric tons over 56 years of fishing. However, by compiling available government reports, records from indigenous communities, and anthropological records the study was able to show that Russia's was in fact heavily fishing its northern waters, catching some 770,000 metric tons.

While the US National Marine Fisheries Service's Alaska branch reports zero catches to the FAO in the Arctic, data from the Alaska Department of Fish and Game shows that the catch is actually around 89,000 metric tons. Canada also reports a zero catch to the FAO, but likely catches some 94,000 metric tons in the Arctic.

"Our work shows a lack of care by the Canadian, U.S. and Russian governments in trying to understand the food needs and fish catches of northern communities," says renowned fisheries expert Daniel Pauly, leader of the Sea Around Us Project at University of British Colombia, which has been studying the impact of fisheries on marine ecology for over a decade.

Researchers argue such underreporting threatens the web of life making up the Arctic ecosystem, which is already gravely imperiled by climate change impacts, including sea ice loss. This January was the lowest ice extent on record for the month.

"Conservation efforts in the Arctic have so far focused on the exploitation of marine mammals—seals and polar bears are frankly easy on the eye and plain to see," explains Zeller. "None of them would survive, however, if we allow over-exploitation of fish in this delicate but so-far neglected ecosystem."



CITATION: D. Zeller, S. Booth, E. Pakhomov, W. Swartz and D. Pauly. Arctic fisheries catches in Russia, USA, and Canada: baselines for neglected ecosystems. Polar Biology. DOI: 10.1007/s00300-010-0952-3.

















Related articles

The ocean crisis: hope in troubled waters, an interview with Carl Safina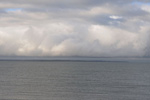 (02/07/2011) Being compared—by more than one reviewer—to Henry Thoreau and Rachel Carson would make any nature writer's day. But add in effusive reviews that compare one to a jazz musician, Ernest Hemingway, and Charles Darwin, and you have a sense of the praise heaped on Carl Safina for his newest work, The View from Lazy Point: A Natural Year in an Unnatural World. Like Safina's other books, The View from Lazy Point focuses on the beauty, poetry, and crisis of the world's oceans and its hundreds-of-thousands of unique inhabitants. Taking the reader on a journey around the world—the Arctic, Antarctic, and the tropics—Safina always returns home to take in the view, and write about the wildlife of his home, i.e. Lazy Point, on Long Island. While Safina's newest book addresses the many ways in which the ocean is being degraded, depleted, and ultimately imperiled as a living ecosystem (such as overfishing and climate change) it also tweezes out stories of hope by focusing on how single animals survive, and in turn how nature survives in an increasingly human world. However, what makes Safina's work different than most nature writing is his ability to move seamlessly from contemporary practical problems to the age-old philosophical underpinnings that got us here. By doing so, he points a way forward.


Record high fish consumption keeps populations imperiled

(02/01/2011) More people than ever are eating more fish than ever, according to a new report by the United Nations covering the year 2008. At the same time, fish populations in the world's oceans continue to decline threatening marine ecosystems, food security, and the fishing industry itself.


World has run out of fishing grounds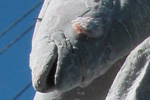 (12/06/2010) The world's oceans can no longer accommodate fisheries expansion, confirms a study conducted by joint effort between the University of British Columbia and the National Geographic Society. The study is the first of its kind to analyze the geographic expansion of global fisheries. Published in the journal PLoS ONE, the study lends additional credence to reports that current fishing practices are unsustainable. Researchers holistically determined the ecological footprint of commercial fisheries by looking at primary production—the tiny organisms that make up the bottom of the food chain—and calculating the amount necessary to support current fishing yields around the world from 1950 to 2005. The study finds that the amount of primary production required to maintain commercial fishing at current levels far exceeds that which exists.


In the midst of marine collapse will we save our last ocean?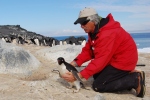 (07/05/2010) Imagine an ocean untouched by oil spills: a sea free of pollution, invasive species, dead zones, and over-exploitation; waters where marine animals exist in natural abundance and play ecological roles undimmed by mankind. Such a place may sound impossible in today's largely depleted oceans, but it exists: only discovered in 1841, the Ross Sea spreads over nearly a million kilometers adjacent to the Antarctic continent. Here killer whales, penguins, sea birds, whales, and giant fish all thrive. However, even with its status as the world's 'last ocean', the Ross Sea has not escaped human impact. Over the last 15 years commercial fisheries have begun to catch one of its most important species in the ecosystem to serve them up on the dinner plates of the wealthy.