Land rights activist Bill Kayong was shot dead last year in Miri, Sarawak. Representatives of a palm oil plantation company were charged with his murder, but were later acquitted.
Their acquittal was denounced by many observers, who see it as yet another blow against indigenous communities in the fight for their land.
NGOs in Sarawak and around the world report failures by the Sarawak government to uphold indigenous land rights, and failures by international banks and investors to ensure their investments are conflict-free.
Investigators urge more accountability when it comes to international financing of development ventures. They also say retail customers could "act as change agents and raise the bar for banks' respect for indigenous rights."
On June 21 last year in Sarawak, Malaysia, opposition politician and indigenous rights campaigner Bill Kayong was shot dead through the window of his pickup truck as he waited at traffic lights on his way to work in the coastal city of Miri.
Kayong was a popular land rights activist, whose killing has called focus to land and human rights issues in Sarawak, particularly in relation to the expansion of industrial agriculture onto land traditionally owned and occupied by indigenous communities.
Kayong was one of 200 "land and environmental defenders" killed around the world in 2016 as a result of industry-driven violence, according to a report by NGO Global Witness. The report highlights agribusiness – as well as mining, logging and hydroelectric projects – as a key driver in these killings.
A July statement by the Asia Indigenous Peoples Pact, a regional human rights advocacy organization, notes the high numbers of killings occurring in Southeast Asia as well the large proportion of indigenous victims, and spotlights what they say is a failure of justice in Kayong's case, among others.
The statement decries the documented instances of violence as "only the tip of the iceberg" when it comes to threats against indigenous community leaders and activists "who are criminalized, jailed, tortured, harassed, threatened and face other reprisals" in large numbers "for legitimately defending their rights and those of the communities."
The "upward trend" in rights violations and industry-linked violence – Global Witness estimates that, on average, four people are killed every week – has triggered increased scrutiny of investment in operations that encroach on indigenous land and forest for industrial use.
Recent reports by NGOs in Scandinavia and the U.S. contribute to a growing body of research and advocacy that are working to increase transparency and demanding accountability from financial institutions on the impacts of their investments in Southeast Asia and beyond.
'A devastating blow'
According to media outlets like whistleblower website Sarawak Report, the alleged assassination of Bill Kayong followed a string of threats and assaults against community members and others involved in a long-running legal battle with the Tung Huat Niah Plantation oil palm company over they say was a takeover of their traditional land.
These alleged incidents included a firebombing, a knife attack and an assault on Kayong's boss, Member of Parliament Michael Teo, which left him with a collarbone broken in three places.
Kayong also reported "unrelenting verbal threats" over months from Lee himself and gangsters allegedly paid by him; Kayong said he often received up to 20 calls a day.
The co-directors and major shareholders of Tung Huat Niah Plantation are Stephen Lee Chee Kiang and his father, Lee Sie Tong, the temenggong – or government-appointed administrative head – of Miri. Lee Sie Tong has close political ties to one of Sarawak's ruling political parties, according to Sarawak Report.
Lee Chee Kiang and two associates had been charged with abetting the murder of Kayong, but at the trial the High Court judge ruled that no credible case against them had been presented. They were acquitted in June, much to the dismay of many civil society groups and representatives.
Prominent land rights lawyer and PKR party state chairman Baru Bian described the ruling as "a devastating blow" and said the handling of the case "made a mockery" of the justice system in Sarawak.
"The trial will be remembered for the supposed key prosecution witnesses switching sides during the trial, while many named witnesses from the communities who could have testified to give useful evidence were not called," Bian said in a June 6 statement.
"Once again, the message to the natives of Sarawak is that there is nothing that can be done to stop the oppression of their communities and the denial of their rights."
The denial of native land rights in Sarawak, and in Malaysia generally, has been well documented, notably by the country's human rights commission, SUHAKAM, in its 2013 National Inquiry into the Land Rights of Indigenous Peoples.
The inquiry report described a litany of failures to uphold indigenous land rights in the law, policies and practices of the Sarawak government. They include a limited definition of "occupation" in the Sarawak Land Code, the "inconsistent and dissolute" administrative handling of native customary rights (NCR) applications, the transfer of responsibility for excising NCR land from commercial leases to the company leaseholders themselves, the failure to act on police reports and reports of pollution, and the failure to provide a mechanism to handle complaints.
According to the report, "administrative responses [from the Sarawak government on NCR issues have] brought about fear and negative repercussions, such as arrests of those who stand up for their rights to land, negative statements and threats against NGOs and persons who assist the natives struggle for their land rights, and appealing against court decisions that were in favor of NCR."
SUHAKAM also notes that indigenous communities in Sarawak had been having some slow and limited success in getting their land rights recognized through the courts. However, in a December 2016 ruling that overturned two previous higher court decisions on the issue, the Malaysian Federal Appeals Court ruled in favor of the state government that Sarawak law did not recognize communities' customary rights to communal territory (pemakai menoa) and forests (pulau galau), but only to land that had been cleared and cultivated (temuda).
The decision doused the legal chances of many native customary rights cases before the courts, of which there were at least 200. Indigenous organizations in the state were "appalled" and "gravely concerned" by it, and described it as a recipe for further conflict.
In his statement, Baru Bian called for the Sarawak government to act urgently on the issue "to prevent any other tragedies."
International NGOs say the failure of governments to uphold indigenous rights and a lack of accountability through legal and political systems is one factor driving increased scrutiny of the finance behind "high-risk" sectors such as oil palm and timber.
The Sarawak state government did not respond to requests for comment.
Investor accountability – or lack thereof
Since the release of the UN Guiding Principles on Business and Human Rights in 2011, there has been an increasing focus on investor accountability, says Frida Arounsavath, a researcher at Sweden-based financial sector watchdog Swedwatch. The organization published a recent report on the role of foreign investment in Borneo.
The UN guiding principles provide a clear framework of responsibility and required actions for both businesses and investors, Arounsavath says, and "tie" them to international human rights conventions – such as the United Nations Declaration on the Rights of Indigenous Peoples and the International Labor Organization's Convention 169 on Indigenous and Tribal Peoples – regardless of the laws in the country where operations are carried out.
Arounsavath spent three weeks in Borneo investigating cases of indigenous communities affected by development projects for which she interviewed lawyers, environmentalists and other civil society representatives for the Swedwatch report. She also surveyed the major Scandinavian banks to ascertain their practices and levels of awareness.
One of the case histories she documented was the 20-year land conflict between the community of Long Teran Kanan, on the Tinjar River in Sarawak, and a joint venture oil palm plantation with state-owned Pelita, which is now majority owned by IOI Group, one of Malaysia's biggest corporations and a major producer of palm oil.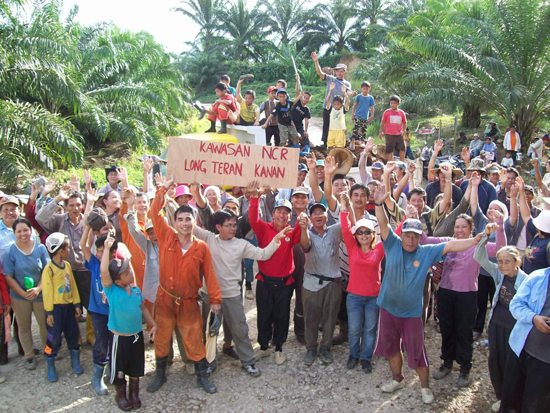 Residents of Long Teran Kanan told researchers that for most of them, the first time they heard about the oil palm plantation was when heavy machinery appeared in 1997.
"They came in without consulting us – the landowners," one woman said. "They brought heavy machines operated by Indonesian workers to clear our gardens and trees. I was scared and cried."
According to IOI-Pelita, as documented in the report, the company cleared and planted over 4,000 hectares of the 9,000‑hectare concession they'd been granted by the government with oil palm. The report found much of this overlapped with community land.
"When our peoples' farmland, gardens and land were desecrated for the development of the plantation, that is when our freedom and our livelihoods turned from bad to worse," said a community elder interviewed for the report.
As rural indigenous Sarawakians, the community was already poor, Arounsavath said, and their standard of living dropped further with the loss of access to wild game and forest foods as well as land for cultivation.
When IOI acquired the plantation in 2006, the company didn't move to remedy the situation or engage in mediation in good faith, according to Swedwatch and other NGOs. Critics say that after the Long Teran Kanan community lodged a complaint with the Roundtable on Sustainable Palm Oil, IOI failed for years to meet the conditions for dispute mediation set by the industry organization.
Swedwatch's research showed banks would generally investigate rights issues in a supply chain only after a complaint has been lodged against a client company. The organization attributes the onus of proof in high-risk operating environments like Sarawak to banks and investors, and in its report urges the need for these entities to fully embrace the responsibility of their position and establish comprehensive and proactive due diligence processes.
Following sustained pressure from international rights and environment groups and significant negative publicity, including the release of the Swedwatch report, in May this year IOI announced its commitment to a new conflict resolution process with the aim of returning land rights to the community.
IOI spokesperson Karen Liew told Mongabay significant progress had been made on the issues raised in the reports since they were published and that the company was working in collaboration with NGOs and the Long Teran Kanan communities on an action plan, which it expects to release in August.
She said that IOI was "fully committed" to resolving the issues raised in relation to the Long Teran Kanan case "in full conformance to all RSPO standards" even though some of the issues predated IOI's involvement in the joint venture company. (Read IOI's full statement here.)
Bank ignorance 'inexcusable'
The need for investors to undertake enhanced due diligence to ensure they are not financing deforestation or human rights violations is echoed in a report released in June by U.S.-based Rainforest Action Network (RAN).
The reports by RAN, Swedwatch and another by Norwegian NGO The Future in our Hands include various case studies of palm oil companies and supply chains where serious environmental or human rights abuses have been documented, including Wilmar, Felda and IOI.
According to Abigail Abrash Walton, an academic from Antioch University in New England who specializes in socially responsible investment, banks no longer have any reason to be ignorant of the contexts in which they are investing.
"It is inexcusable, in this day and digitally connected age, for banks to plead ignorance of the human rights and environmental conditions affecting indigenous people and forests in Borneo and elsewhere around the world," Abrash Walton told Mongabay.
"Bank decision-makers' actions are out of alignment with their duties, under international standards and their own internal policies."
Through its online "Forests and Finance" database, RAN linked $92 billion worth of Southeast Asian forest sector investment to major companies and banks around the world.
Among the key findings from analysis of the data was that Japanese and Malaysian banks, which usually do not have forestry and human rights policies for corporate financing, are the largest financiers of the sector.
According to RAN "Forests and Finance" advisor Hana Heineken, ignorance of conditions can also come at the cost of corporate brand damage. She cites IOI, which suffered a drop of nearly 20 percent in its share price after its RSPO certification was suspended over environmental issues in other areas of its operations, as "a very clear example" of the potential impacts to a business of not following standards.
"Now, more and more, investors realize that these ESG risks, what used to be called 'non-financial risks' – the environmental, social, governance, risks – are actually relevant for the long-term performance of their investments," she said.
'A critical and urgent need' for international pressure
Frida Arounsavath believes that with deforestation and the dispossession of indigenous people increasing, along with the crucial need to mitigate climate change, there is a great urgency for the implementation of international standards.
On her visit to Sarawak last year, where people involved in the indigenous rights movement were mourning the loss of Bill Kayong, Arounsavath was told that international pressure was the only thing that could change the status quo in the Malaysian state.
"There is a critical and urgent need for banks and investors to become active, informed enforcers of indigenous rights, and to put pressure on companies and governments to improve the situation of affected communities," the Swedwatch report states. "By requesting information and improvements from their banks, retail customers could act as change agents and raise the bar for banks' respect for indigenous rights."
According to the office of PKR state chairman Baru Bian, the office of Malaysian Attorney-General Tan Sri Mohamed Apandi Ali has filed an appeal against the court's acquittal of Stephen Lee Chee Kiang and the other two men accused of abetting Bill Kayong's murder. The trial of the man charged with firing the gun will resume in August.
Mongabay sought comment from Tung Huat Niah Plantation in Sarawak but was told that director Stephen Lee Chee Kiang could not be contacted.
Felda Global Ventures did not respond by deadline to a request for comment.
Wilmar told Mongabay that the company's teams were "working tirelessly" to ensure compliance with company policy in its supply chain, and that it had responded promptly to all allegations raised against its own or its suppliers' operations and was maintaining "an open dialogue" with those who raised them.
"More importantly, we are engaging independent experts to try and find long-term solutions to labour issues and deforestation monitoring," a company representative said in an email. "Collective action is needed for real and sustainable change in the palm oil industry and we hope to see more constructive collaborations amongst stakeholders."
FEEDBACK: Use this form to send a message to the editor of this post. If you want to post a public comment, you can do that at the bottom of the page.